How to Dress Like – Jennie Kim of Blackpink
I think I like creating inspired looks more than finding exact items.

Today's post is the first of another new series on Ash Talks Kpop. In the past I've written how to blog posts and I forgot how much fun they are to create.
My goal with ATK is to be the ultimate source for all things related to fashion in Kpop. So, I think doing more how to's and other informative posts will help me achieve that goal.
The point of this series is to break down the common fashion items and outfit patterns various idols (mostly female) wear and create inspired looks based off what they wear. This time around I mostly stuck with items that could be found at less expensive stores like Shein, Walmart, and Target.
For some items, I chose them because they look similar to the pricer designer item and others I chose to include because they just looked better, but I know I could find a cheaper version somewhere else.
I used the app ShopLook to build these outfits, and although they have a decent library, I still had to add my own items to the library. I've used Fashmates in the past to create similar outfits, and I redownloaded that app to my phone as well. So idk, I may switch between the two until I decide which I like more.
Anyway, let's get started!
Jennie is the offical fashionista of Blackpink. There are soooo many outfits I could choose from to recreate, but she mostly sticks to four main outfit uniforms: high waist skinny jeans and a cropped shirt, a cropped shirt with an a-line or tennis skirt, dresses (babydoll, mini, or floral flowy) and baggy high waist jeans with a cropped shirt.
She also wears a lot of high waist shorts, but we'll save that for another post. She tends to wear a mostly neutral colors, but she doesn't shy away from color. So let's look at four specific outfits I created.
Look 1
This first uniform is the crop top and high waist skinny jeans combo. Jennie frequently wears high waist pants and jeans. For this outfit, Jennie is wearing a green UNIF shirt. You can still find it floating around the internet for about $30. You can easily find a similar ruffled crop top and pair it with some black high waist skinny jeans to create a similar outfit to Jennie's look.
The baguette style bag has become trendy again. You can find a similar style bag just about anywhere. I chose a faux Prada bag to go with this outfit because that's a trendy bag again.
And let's face it, Jennie would have the real thing in multiple colors. I have no idea what shoes she was wearing on this day, so I just chose a pair of white Adidas. Blackpink is frequently wearing Adidas, so I figured that was a safe choice for this outfit.
Look 2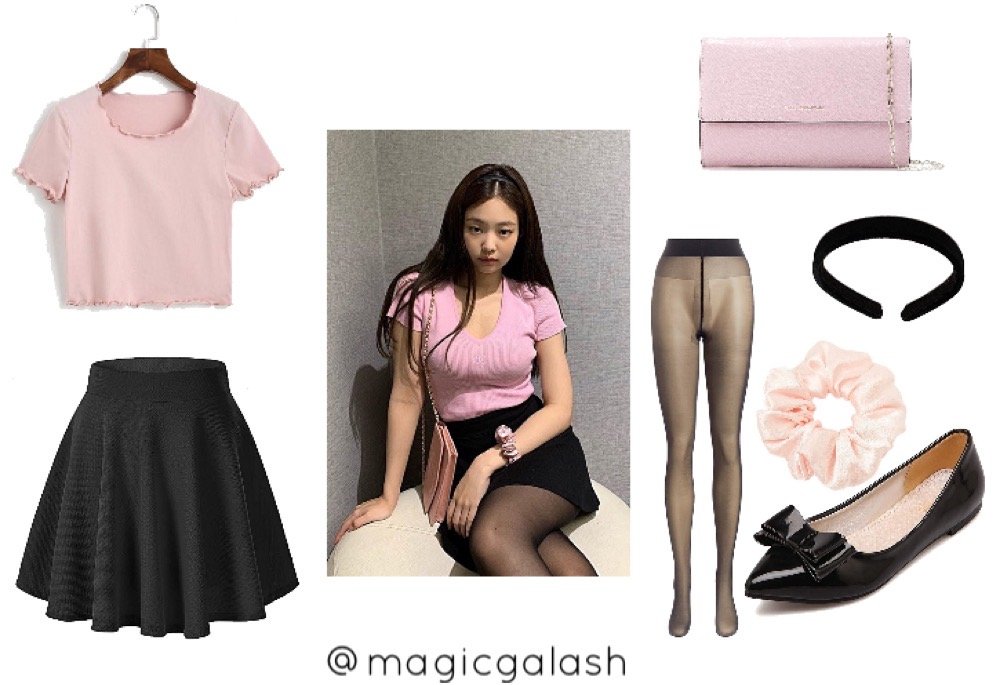 Jennie and Chanel go together like cereal and milk. So this second look is super feminine and just one of my favorite outfits Jennie has worn. It's also pretty easy to recreate. I see a line skirts like this one all the time at H&M.
In fact, that's where I bought mine. If Jennie isn't wearing a crop top, she'll tuck her shirt into her pants, skirt, etc. I think that's how she's styled here. To make things easier, I picked a baby pink crop top for this outfit. This top could also work well with the black skinny jeans from the previous look.
I chose a pink wallet purse that looked similar to the Chanel bag in Jennie's picture. This one is still around $110, but this is one of those items I chose strictly for looks. I'm sure you could find a cheaper price bag at a TJ MAXX or Target.
Because this is another outfit where the shoes aren't shown, I just went with what I thought was cute and would fit this look. I love bows and I think for this outfit in particular these bow flats enhance the cute feminine vibe here.
Look 3
This third outfit uniform was tricky to put together. Along with almost always wearing Chanel, Jennie frequently wears mini dresses and baby doll dresses. I found a close dress to what she wears here, but instead of white with black accents, it's black with white accents.
I chose bow shoes again, I know. I was surprised to see these are from Walmart. They're too cute to be from Walmart, so I had to include them. I needed other people to witness this miracle.
I like the additional detail of having something on heels. It could be rhinestones, flowers, stripes, something that make the shoe have something interesting going on. I hate boring shoes.
They have their purpose, but 9 times out of 10, I'm going with a statement shoe. The headband here is the exact same from the previous look. There are tons of black headband options out there. I just decided to keep it simple. The faux pears are from Target.
Look 4
Alright, the final look of this blog post. We're back to a casual Jennie look. This picture is from one of her fansites (Paint It Black) and I hate I had to crop their logo out, but it would have been a pain to format on ShopLook.
Anyway, here we have Jennie in high waist pants again, but this time the pants of choice are light wash denim. These are baggy and look similar to a pair Lisa has worn in the past. This is just very much a Lisa outfit.
This casual look covers Jennie's last outfit uniform, and that's what I'm lumping into the streetwear/trendy looks. Pattern wise, I think the crop top I picked out for this recreation is pretty close. I could probably find a closer top and cardigan at Forever 21.
The bag included here is another random 90s shoulder bag that's popular at the moment. And I brought back those white Adidas shoes because they look close to what Jennie wear in the picture.
---
I hope this helped give y'all some inspiration for how to put together some of Jennie's memorable looks. If you have an outfit in particular you'd like me to recreate, a specific idol, comments, complaints, let me know below. You can find links to all these items on my ShopLook account. Or, if you'd like to buy Jennie inspired outfits, check out Unnielooks. You can get 10% off your order with my code "ASH". Don't forget to follow me on Twitter.
Until the next post,
take care!
Ash♥♥♥♥