A new series on the blog!
 There's so much that happens in the world of Kpop and sometimes I post my thoughts and opinions on Twitter or Tumblr but most of the time I keep them to myself. And that's boring, so I thought this series would be a great opportunity to share some of those semi-controversial opinions here. If there's a couple of big topics or one thing in particular I have a lot to say I'll put it in a separate post and link them in the weekly recap. Side note I haven't decided on if I like recap or roundup more. But basically this will be broken down into:
Big stories I want to dive into cause I got some thots on the topic
Smaller stories I want to talk about but I don't have as much to say about it
And current and upcoming comebacks that were announced.
So, let's get started!
---
BangBangCon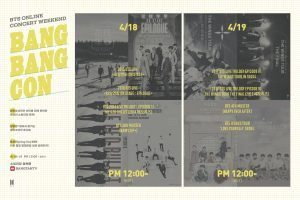 Man…oh maaaannn. I enjoyed both days of BangBangCon so much. For y'all who don't know, BTS and Big Hit decided to stream some of their older concerts for fans on YouTube for free. It was about 8ish hours although by 5am I was exhausted and went to bed. So, I missed the 3rd Muster and Love Yourself Seoul. But I just lived for 2015 The Most Beautiful Moment BTS and Wings/You Never Walk Alone era BTS. That was the era where I was new Army, so those eras mean so much to me and make me sentimental af.
 I went to Love Yourself: Speak Yourself [The Final] Seoul Live Viewing back in October 2019. It was such a blast hanging out with other Army in the theater and experiencing BTS with other people who love them as much as I. I kinda got the same feeling reading everyone's live Tweets while we're all huddled up at home watching these concerts. I really hope Big Hit does something like this again in the future.
While on the topic of BTS, it was also announced this week they're working on a new album and have a new docu series on the way. I still haven't watched Burn The Stage so ya girl gotta catch up before this new series is out.
---
NCT Dream Comeback & Fixed Unit
Dreamzens won again this week. SM announced NCT Dream will no longer have graduations, Mark is coming back and the new group will be similar to NCT U. It sounds like it will be a rotational group so some comebacks may not include certain members, which will be great for Mark and Haechan since they have their 127 duties along with other subunits.
But this is what we wanted all along. NO ONE thought it was a good idea to kick members out after we've spent a year or more getting to know them and getting used to the group dynamic. Idk why it took SM so long to realize that. Anyway, the Dreamies are getting ready to release Reload and it looks amazing. I'm so excited for this comeback and the future of NCT Dream.
---
SM Paid Virtual Concerts
And because SM can't let us have anything nice for long, they thought now, during a pandemic where people have lost jobs, received reduced pay or are just being financially conservative because times are uncertain, to charge fans $30 okay $29.99 on V Live but still for a virtual concert. $120 if you're a fan of all four groups. Now while I think it's great to have live concerts of SuperM, NCT 127, NCT Dream, and WayV…ummmm no. Just no. Not at this price point. If they had these tickets between $5-$10 a concert, I'd be on board. It probably would have drawn in some Kpop fans that don't really pay attention to these groups. But at such a steep entry it turns people away, even stans.
I'm also in agreement with EXO-Ls who are pissed EXO isn't a part of the line up. Most of the group hasn't enlisted yet. So why isn't SM promoting them better? They barely let them promote Obsession. This is the perfect time to do a virtual EXO concert for fans.
I'm not saying don't attend the concerts if you have the financial means and want to support the boys. My anger is 1000% directed at SM. BTS had ALL of their Korean albums reenter the US iTunes Chart just after day one of BangBangCon Day 1. That's obviously going to be decent for royalties, granted I'm not sure what the breakdown is for international music platforms are version Korean ones but I'm sure money was made from that.
I saw people talking about signing up for the official Army membership on Weverse which is like $80 after the kit gets shipped internationally, money made there. And there's no telling how many people bought BT21 and other BTS related merch during these days. So again, other ways money was indirectly made for Big Hit and BTS. These paid concerts SM is doing over the next few weeks could have been a good public relations moment but instead they decided to be greedy, again.
---
Other Events That Happened This Week
OUI entertainment announced Donghan is/was recovering from a tonsillectomy. I was wondering where he was. He'd be quiet on Instagram, but he recently uploaded a selfie so it looks like he's recovering well. Shout out to What The Kpop for being the first and one of the few English speaking Kpop new sites to cover this. I appreciate their detailed coverage of smaller artists and groups, not just the popular and larger acts.
Minzy is free from another agency. I hope she finds a label that know what to do with her or start her own one woman agency liiikkeeee..
My mother, Cheetah, who announced this week she's starting her own agency. I'm ready. I can't wait for the bangers.
Irene and Seulgi will be a part of the first Red Velvet subunit. There isn't a lot of information out yet but LET'S GOOOOOOOOOOOOOOO.
Lisa from Blackpink made another dance video and Blinks everywhere lost their damn minds.
Produce 101 Season 2 is being re-investigated. Don't worry Wanna One is safe. Short version is they're going after the producer and chief producer of the show specifically because the prosecution decided the first investigation which reveled there was voter manipulation involved, the investigation it's self was insufficient.
Oh and I can't believe I almost forgot to mention NewKidd had their 1 year anniversary. They debuted with Tu eres on April 25th last year.
---
Current Comebacks & Upcoming Releases
(G) IDLE sweeping music shows. They're currently on 4 wins with Oh My God.
Apink beginning to sweep music shows with wins for Dumhdurum. They went from 3 to 5 in a blink of an eye omgg.
Imfact released a digital single called Lie and I really like it. I almost missed it.
Got7 has a new mini album out called Dye. It's ight. I'm not much of a Got7 stan anymore. I hit them up whenever JB, Yugyeom, or Youngjae release something more R&B. Here's their new music video for the title track from the album, Not by the Moon.
April is back with a new mini album. Their 7th mini album, Da Capo is out and the music video for LALALILALA is my favorite they've released so far. I haven't listened to Da Capo yet. I'm interested in it now.
Solar from Mamamoo released Spit it out and you know what? Mamamoo pisses me off hogging all this damn talent. Spit it out slaps and Solar did a wonderful job. I look forward to more solo music like this from her.
Twice announced a June comeback. 
Oh My Girl is getting ready to make a comeback with one of THE most creative and interesting mini album packaging I've ever seen. I'm hype.
GWSN is coming baaaacckkkk. They're one of my favorite rookie girl groups. I love how editoral the teaser are for Bazooka.
Chungha has a prerelease single called Stay Tonight on the way. We're so close to a full length album. Idk what to do with myself. Oh yeah, and she's got a song with Zion. T that will be released on May 12th.
Astro will be making a comeback on May 7th. It will be their 7th mini album and the title track is called Knock. The teaser pics….THE TEASER PICS. So handsome. The styling is A1. I'm so ready for this.
Jongup from B.A.P is releasing his solo album and a binch is hyyyypppppeeeee. I've had Try My Luck on repeat for what feels like years now. His album will also be out May 7th.
Nu'est, Monsta X and Day6 all are coming back on May 11th and WOW a binch is gonna be busy next month huh. I don't feel like searching up all three links confirming, so here's The Seoul Story's tweet about it lol.
Park Jihoon has a May comeback in the works along with our favorite cloud Ha Sungwoon.
Lastly, Baekhyun and TXT are also jumping in on the May comeback train. I love to see it.
---
Alright, I think that covers everything I wanted to talk about this week lol. I know this was a long post and I appreciate y'all who made it this far. Thanks for reading. I'll be back next week with another Kpop round up. Until then, Take Care!
Ash♥♥♥♥