Guys, Donghan found another boygroup to call home!!!
I'm not sure if I've made it obvious on here, but I'm a huge Kim Donghan stan. I loveeee that guy. He wasn't initially one of my favorite JBJ members, but I fell in love quickly.
I watched both season one and two of Produce 101 while they were airing. So when I discovered some of my faves would form the group we now know as JBJ (Just Be Joyful) I was hype.
I was skeptical when he released his first solo album D-DAY back in June 2018. Donghan was never a strong vocalist to me. So I wasn't sure if he could keep my attention for a full song. I was proven wrong with "Sunset".
Donghan reminds me of Selena Gomez. She makes bops, but she can't sing. And tbh that's Donghan. Of his three mini albums, D-DAY is the best from start to finish. "GOOD NIGHT KISS" is my favorite Donghan song though. I might like the styling a bit better for D-NIGHT too, but that's a post for a different day.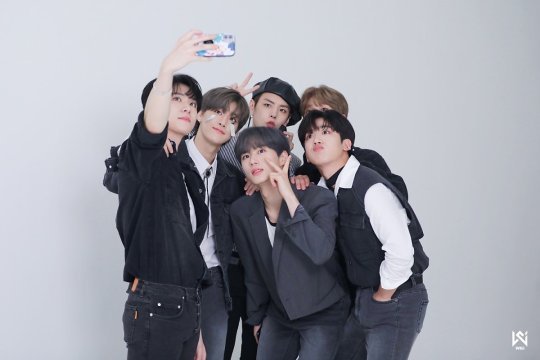 Donghan got his first solo music show win with "Sunset". But it felt like as he released more solo music, all the hype from JBJ started to die down.
So when I learned he was going to be a part of another boy group, I thought it was an excellent career move. He can always go back to release solo music, but there's a short window of time you can get into a group.
I like that the WEi boys have a mix of idols from other groups. Daehyeon, the leader and main rapper is a former member of Rainz. Rainz along with JBJ was a group formed from fan favorites from the second season of Produce 101.
Yongha, one of WEi's vocalist, is a former 1THE9 member. Junseo, their youngest member and vocalist also was in 1THE9. Yohan, another vocalist in WEi was a part of X1 (the group formed from the fourth season of Produce 101, Produce x 101).
And lastly Seokhwa, their main vocalist, ranked 35th on Produce x 101. Not bad considering he was an independent trainee and didn't have a company backing him.
When I watched "Twilight" music video for the first time I felt they all had equal footing. So that just shows how well they mesh talent and professional wise.
And speaking of "Twilight" I love this song. It gets better every listen. It's expected considering Hui from Pentagon and Flow Blow helped produce it with Daehyeon. It's an upbeat pop song with some R&B elements.
Love me a track with R&B in it. My favorite part of "Twilight" is the instrumentals. I love the whistling and the hurutututu part. Both appear in the chorus, and I love we have a real chorus in the song.
The styling in "Twilight" is perfect. I love the white and black group outfits are the same, just different colors. We love a Canadian tuxedo moment. The red velvet blazers with the black pants giving us bellhop teas.
Love it. The black, blue, and white group look? Can't go wrong with that one. Lastly, the white/tan look where they're in the forest? I love that shit too. The styling was top tier in "Twilight". Consider this section a mini fashion review.
Album wise I enjoyed IDENTITY: First Sight. "Hug You" is my current favorite song from the album. It has the same sound as "Twilight" for the most part. I hope Daehyeon continues to produce and get credits on WEi's music. I like his style.
I'm looking forward to seeing how "Twilight" era goes for WEi. I think they have a chance at getting their first win, but it's gonna be a group effort to get it in before TXT, BLACKPINK, Seventeen, and Twice come back.
What are y'alls thoughts on "Twilight" and WEi? I'm adding them to my boygroup stan list for now. Hopefully they continue to keep the momentum up. If you haven't listened to "Twilight" yet, check it out below! Follow me on Twitter and Instagram.
Take care!
Ash♥♥♥