It's about time I talk about my other queen 👑
Before I get to "I'm Not Cool", I think I gotta give some background to my love of Hyuna. When I decided to go down the rabbit hole of Kpop back in October 2014, Hyuna was still riding the wave of "Red" and her third mini album, A Talk. I was OBSESSED (still am, tbh) with "Red" and black hair, Hyuna.
I couldn't log into Tumblr without seeing gifs and pictures of Hyuna from the "Red" music video. My first actual comeback while being a Hyuna fan was "Roll Deep" and her fourth mini album A+. I need to go back and talk about both A Talk and A+ eras. So from that point onwards I've been there for every Hyuna release, including the last bits of 4Minute's run in Kpop.
One of my favorite Hyuna quotes I have saved is this one:
"There are people who would not like me no matter what I do. I used to be hurt by that before. But I started thinking differently. There's noting I can do except to do my best."
I uh think that's the only Hyuna quote I have saved other than songs lyrics. Side note, if I were to get a Kpop tattoo, I'd be a Hyuna one for sure. She's got some excellent one-liners.
Anyway, I just love that she's still out here making bangers, dressing over the top, and living her best life.
I mentioned in my IU post that I wasn't sure when Hyuna's mini album was being released. It actually came out on January 28th along with "I'm Not Cool". The album is also called I'm Not Cool. Idk how I missed that. "Flower Shower" is on here.
I meant to do a music video fashion post on it. I decided not to… I don't remember why, though. It wasn't my favorite Hyuna song, but the video is stunning, and she looks gorgeous throughout. And the live stage outfits were cute too. So I'm just gonna drop my top three favorite outfits here for now:
1.) The Carolina Herrera yellow mini dress
3.) The white dress with flower head piece
I may revisit "Flower Shower" era, including the live performance looks too. Let me know if y'all are interested in this idea.
While we're on the topic of b-sides on I'm Not Cool, l wanna mention "Show Window". It's my favorite song from I'm Not Cool. I love when Hyuna has these slower paced songs where she just sings. "Run & Run" and "Mirror" have the same vibes. If you're just used to songs like "Roll Deep" and "I'm Not Cool", you gotta listen to Hyuna's midtempo songs.
Alright, let's talk about the clothes in "I'm Not Cool". There's so many looks to discuss, so let's get into it!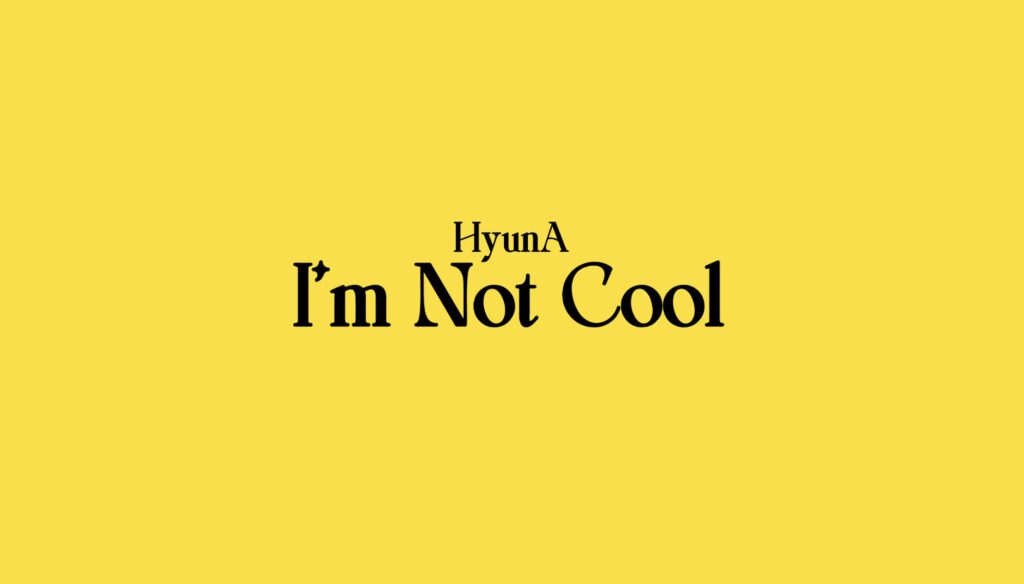 ---
Look 1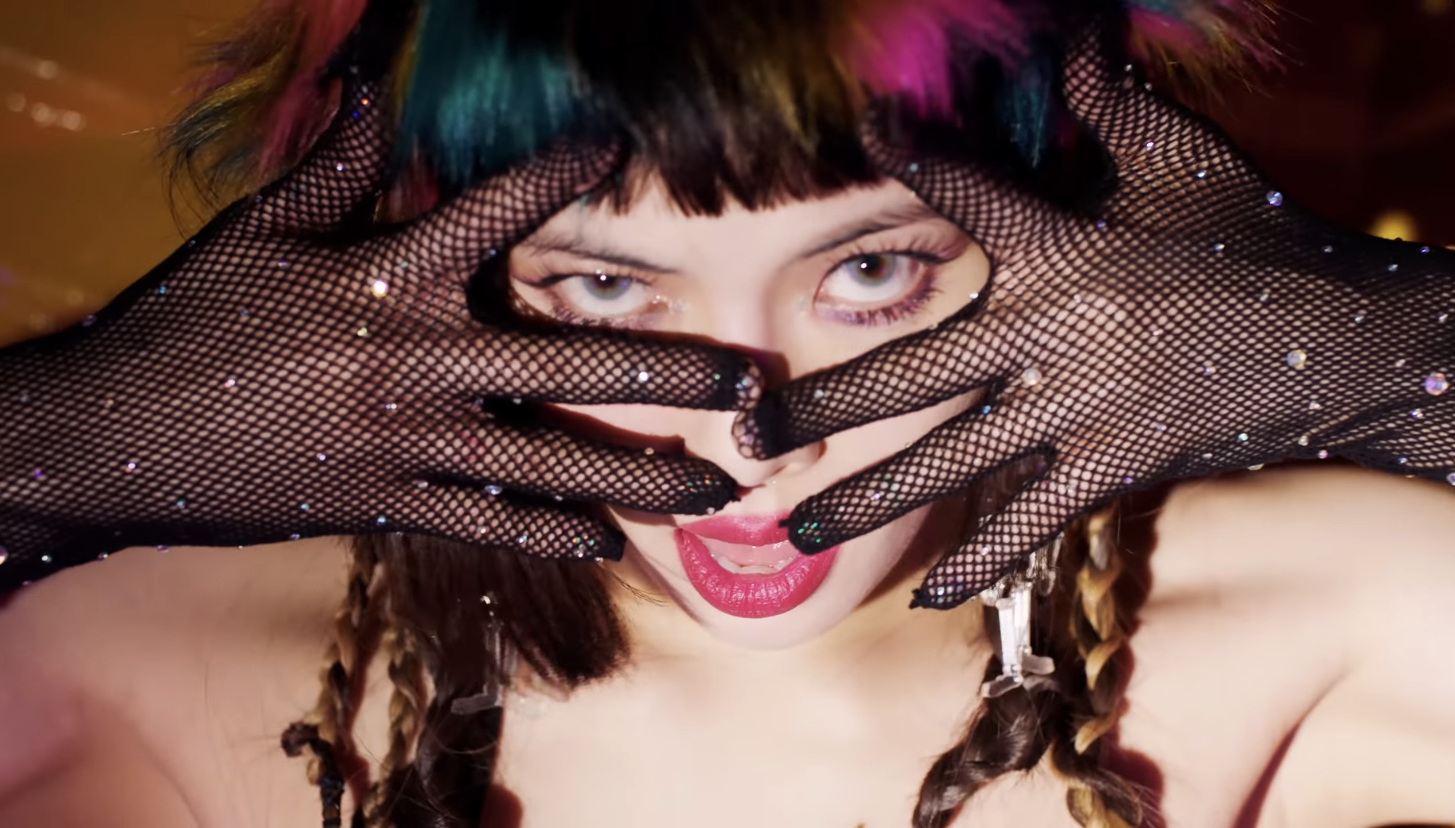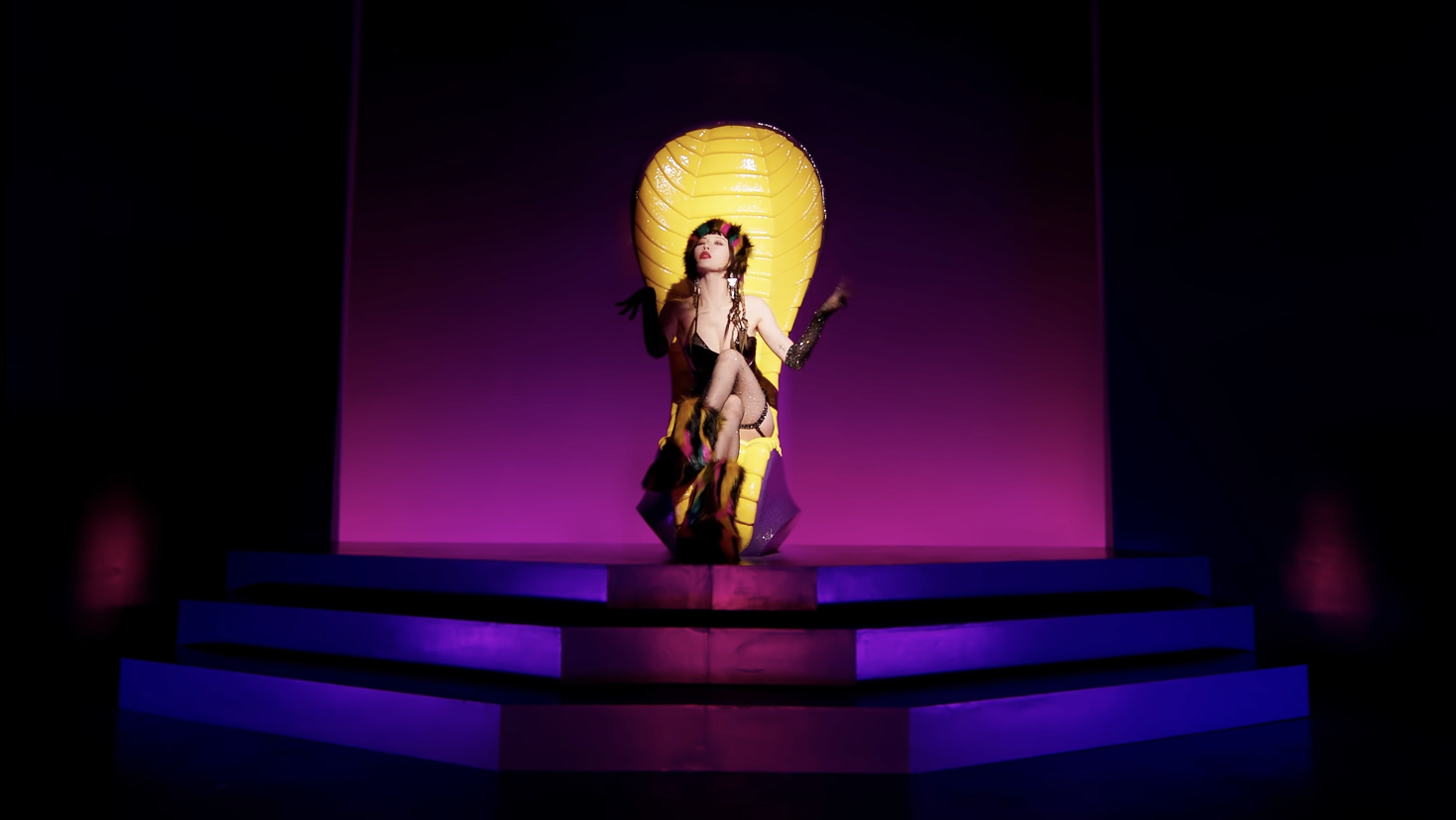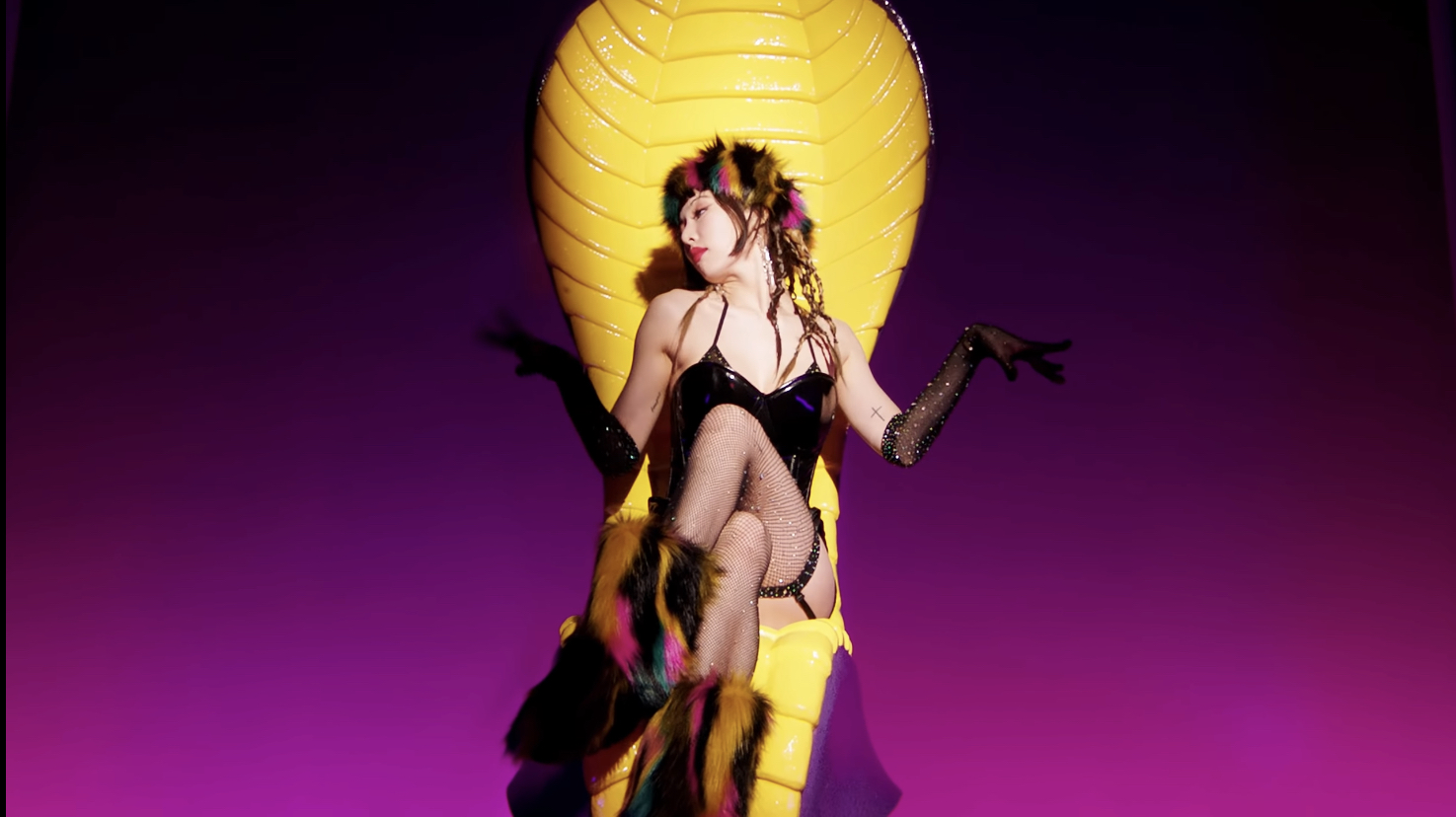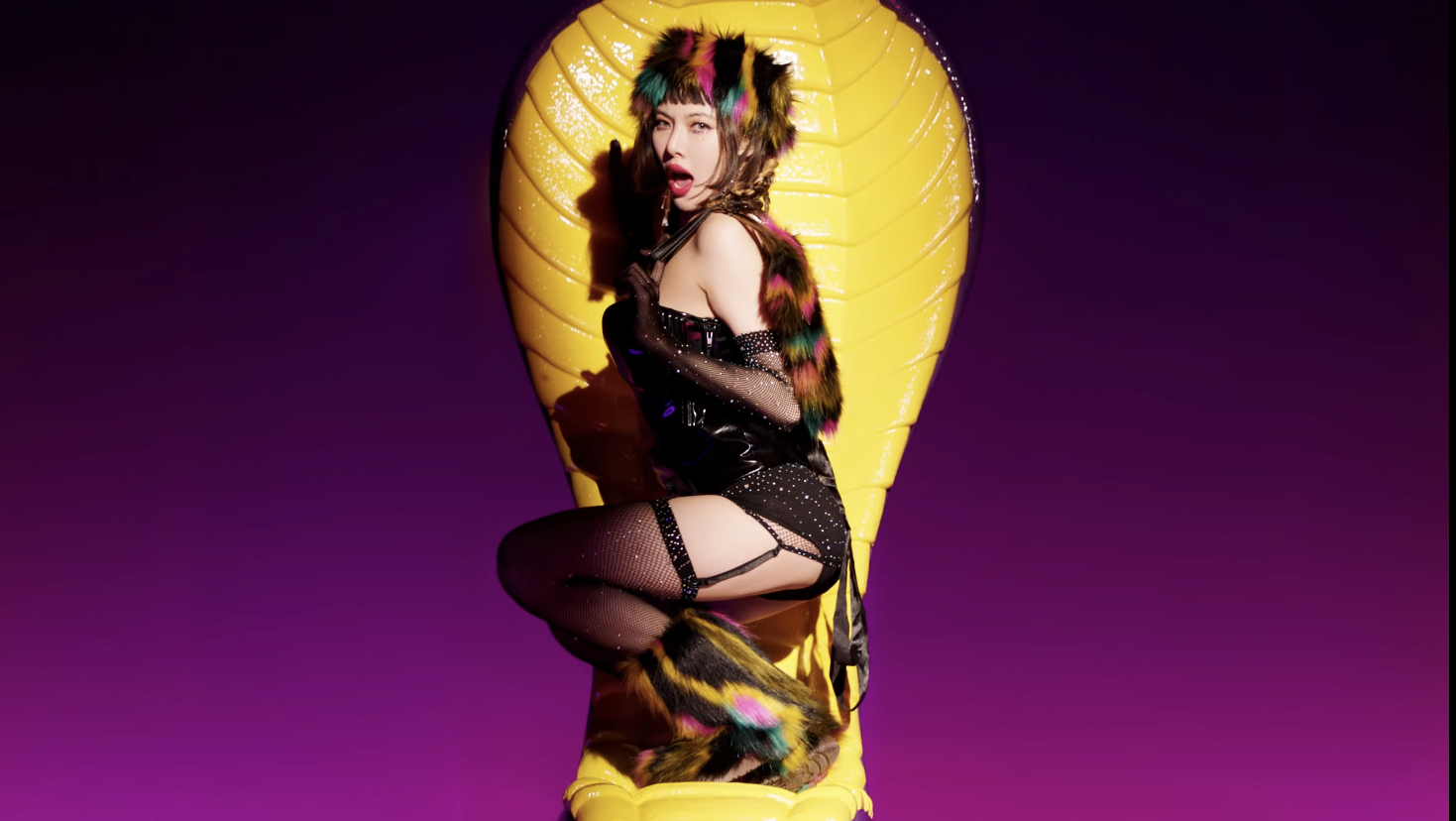 My favorite parts of this outfit are the fur accents. I love the complementary colors in this scene. It's so simple, and I have no idea what the hell this chair is Hyuna is sitting on, but it just works.
Look 2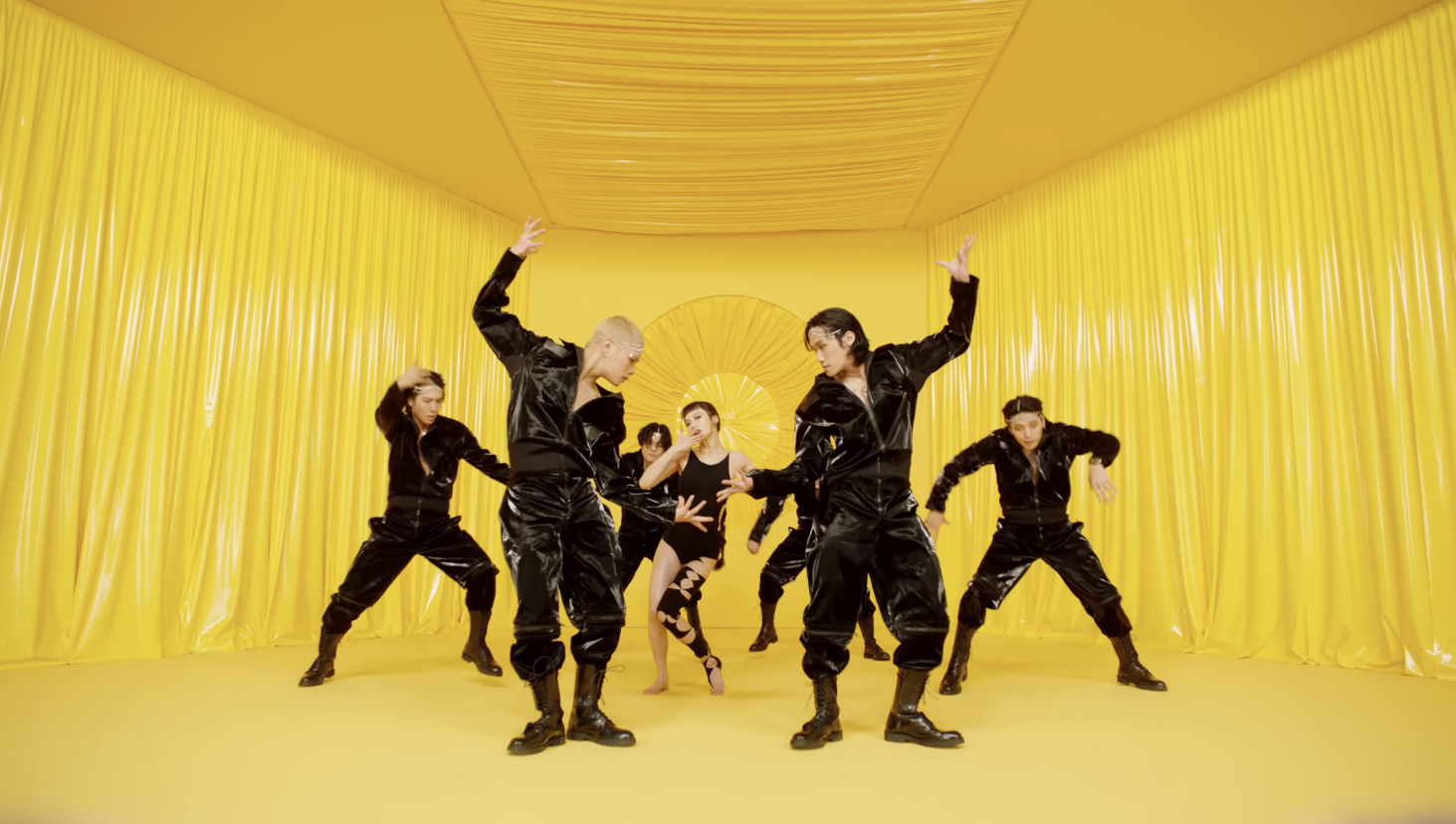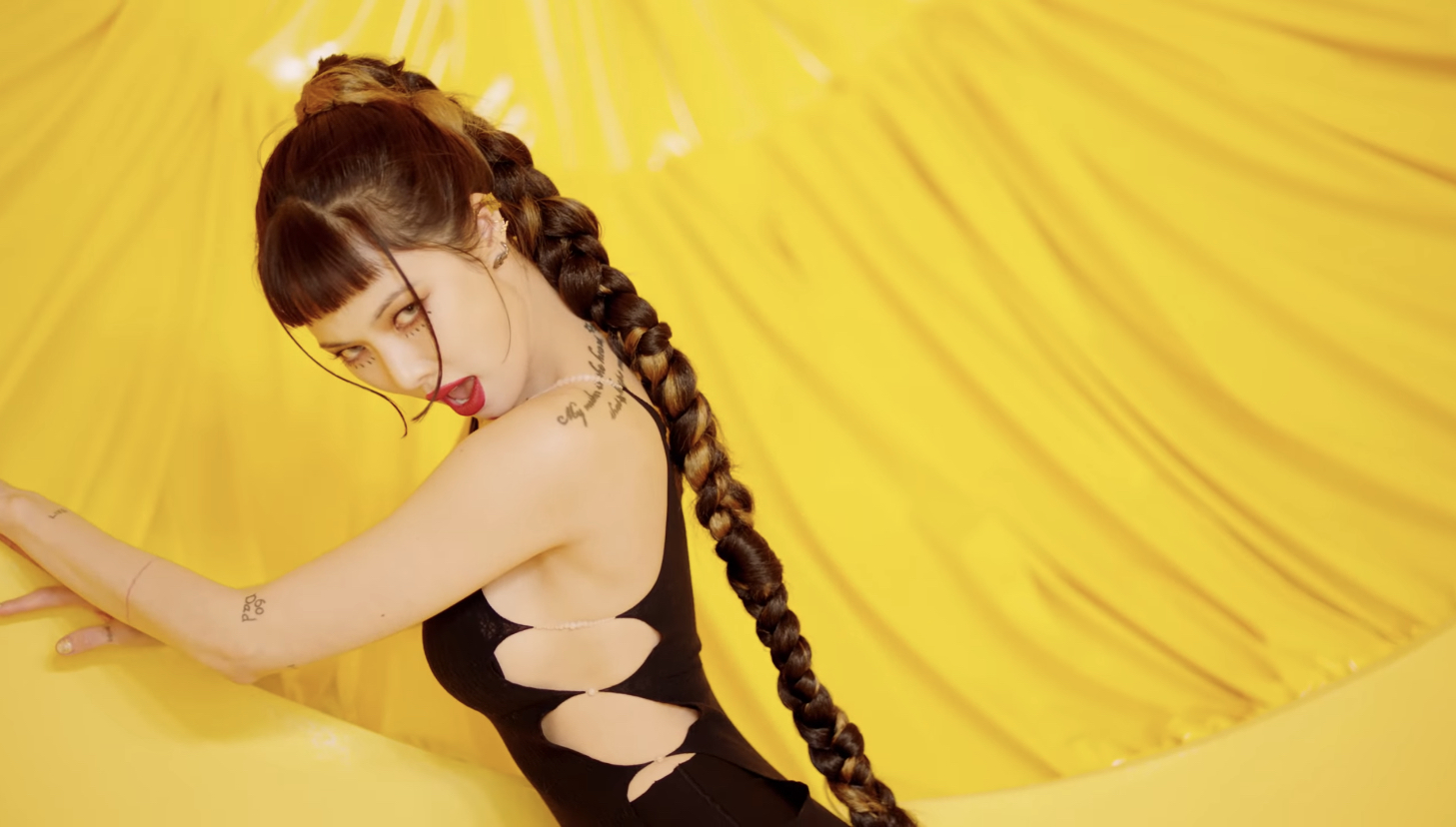 This second look is similar to the first in its skin showing? Let me explain. The first look is more or a multipiece lingerie set. Whereas this look is more of a leotard with a leg missing. Okay, this isn't working.
I'm just gonna talk about the third picture here. I love this current trend of slits or missing parts of pants, shirts, dresses, etc. This mixed with the long braided ponytail is genius. I love that shot so much.
The backgrounds in "I'm Not Cool" are so bright. I love the use of colors throughout this video. It reminds me a bit of the French film "The Umbrellas of Cherbourg".
The backup dancers have cute outfits too. I like the ripped tights to match Hyuna's look.
Look 3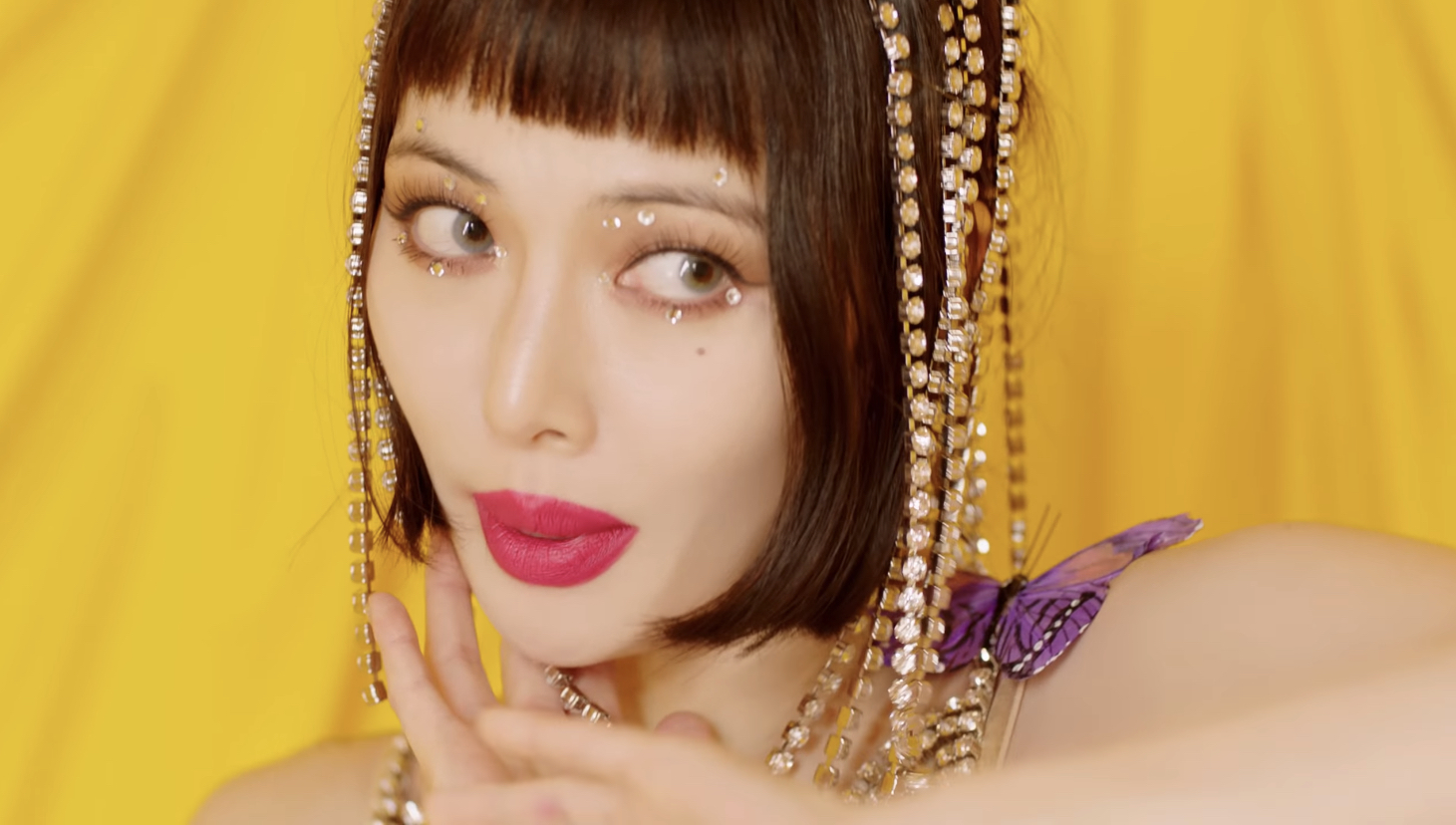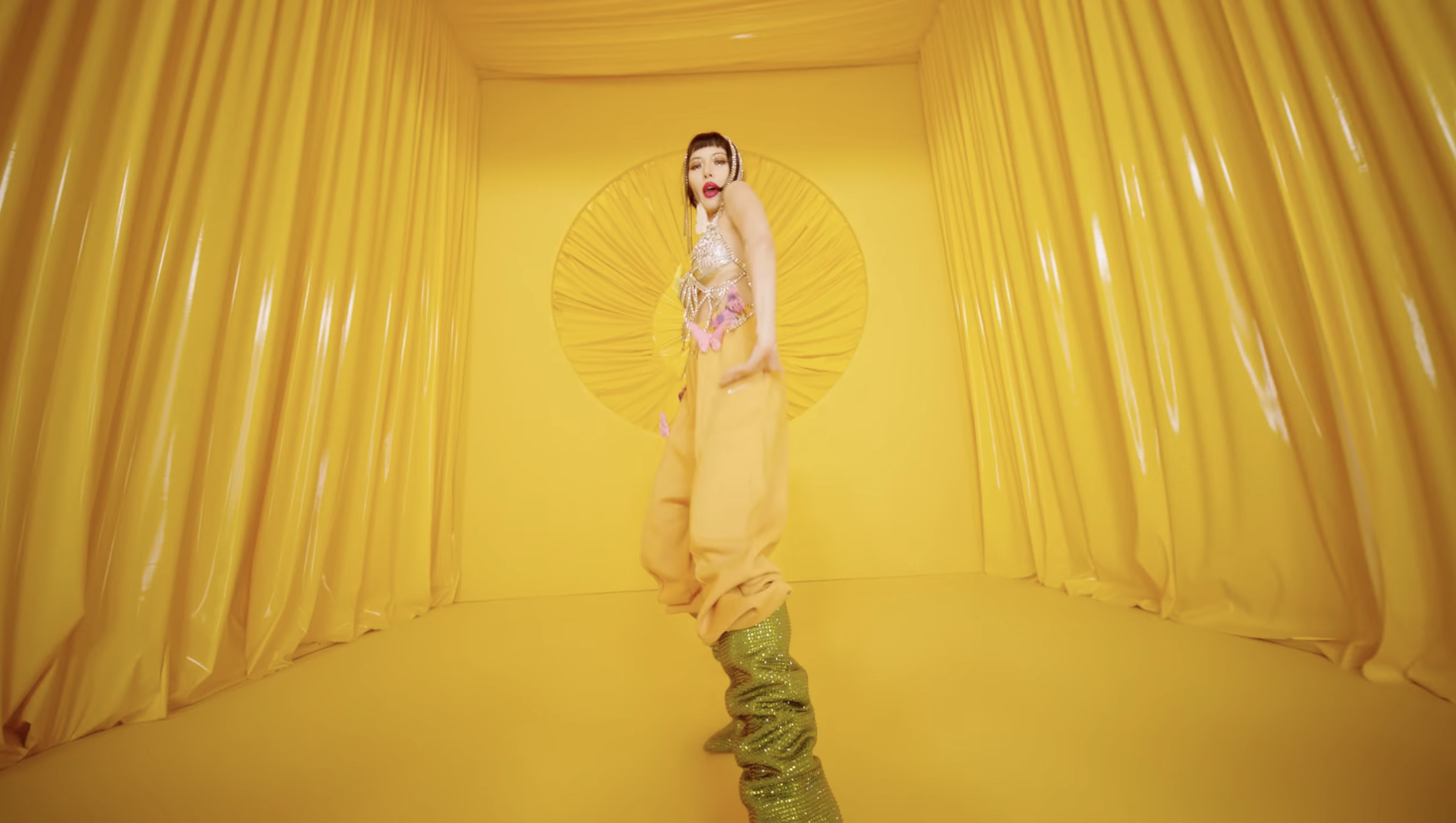 This must have been one of Hyuna's favorite looks because it's on the cover of I'm Not Cool. It works well as a headshot. But I don't understand what's going on with these pants.
I love the boots. I love the butterflies. I just don't like these pants. Her eye make up here is also super pretty. I love when rhinestones, stickers, glitter, etc are used in eye makeup.
Look 4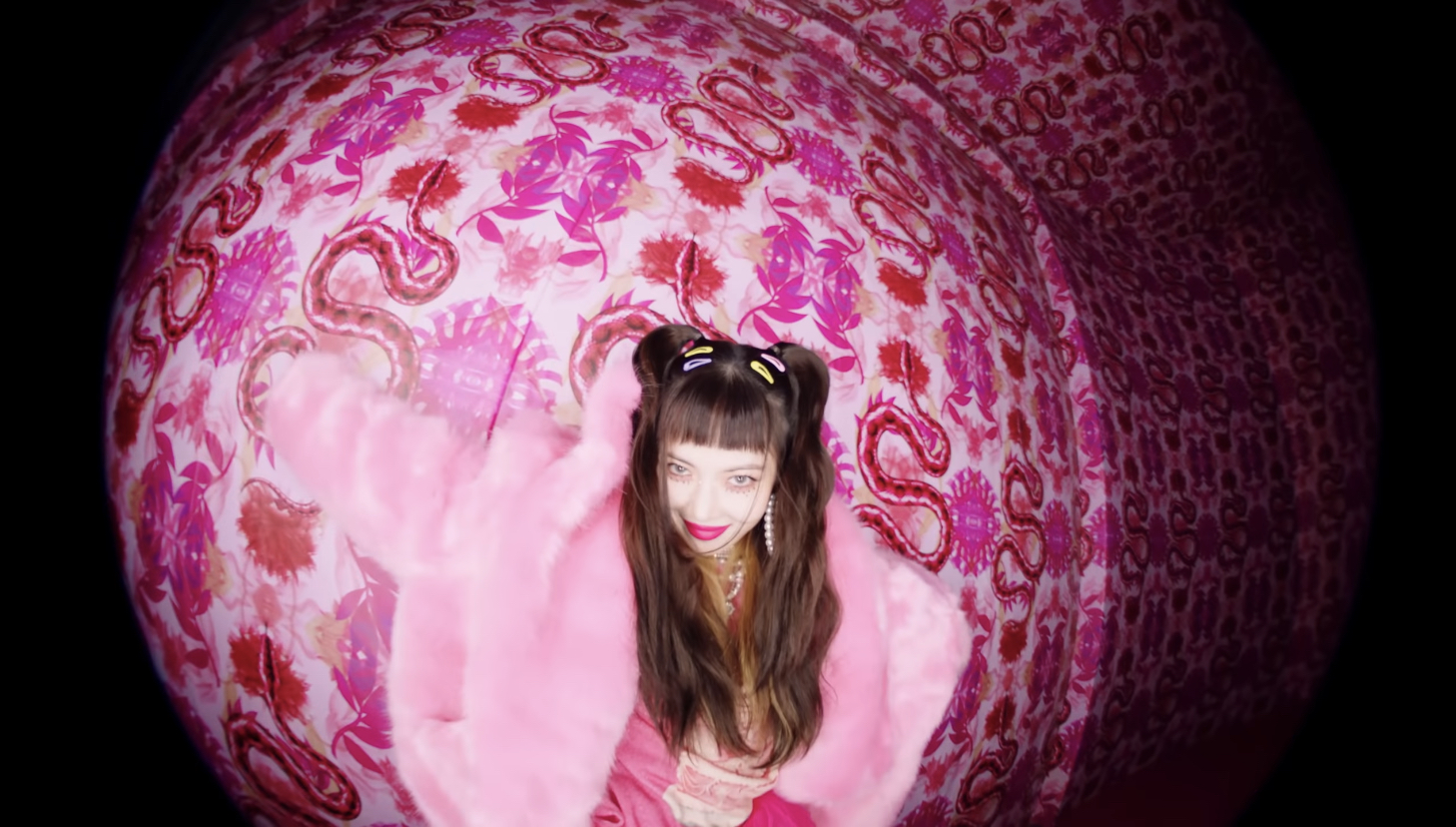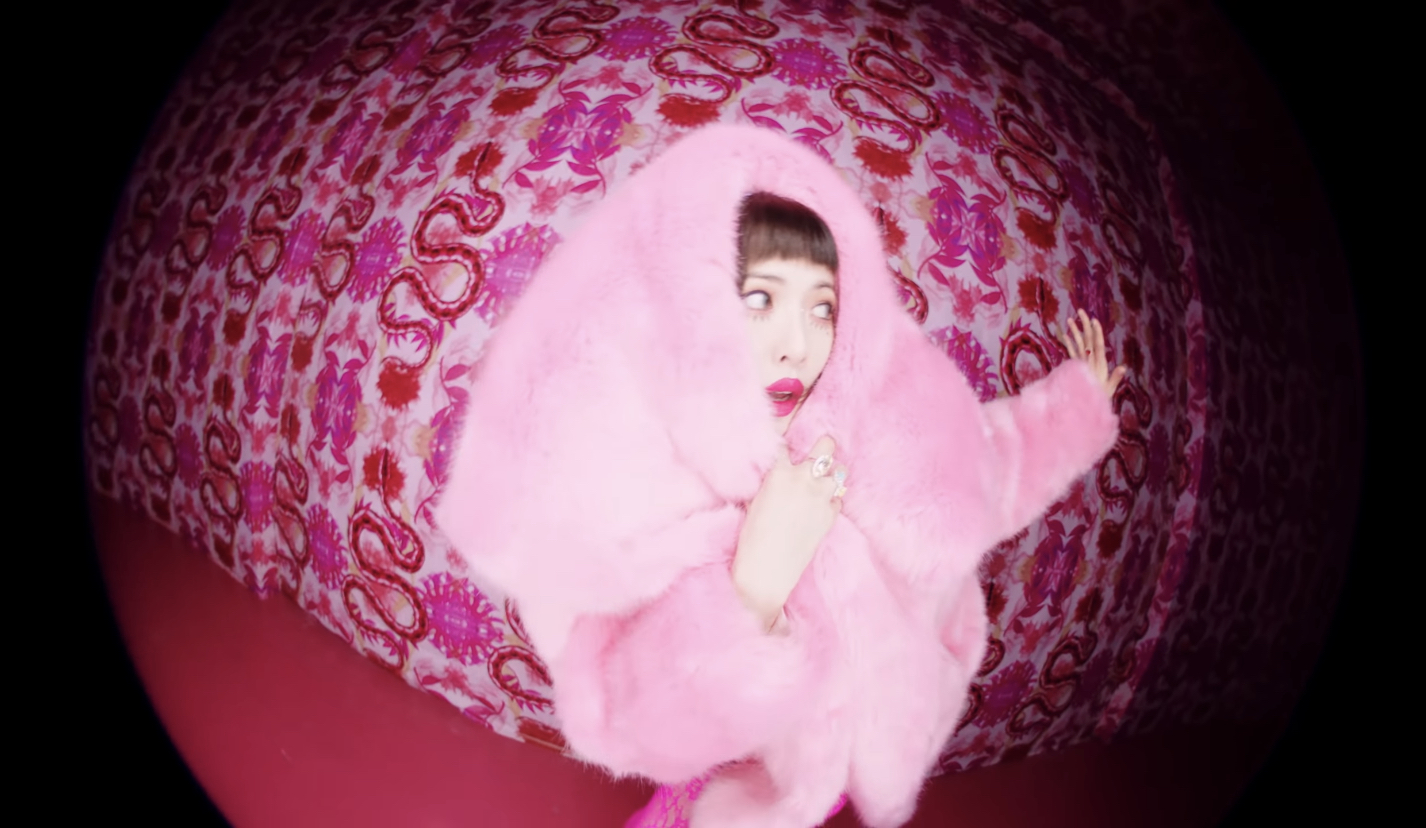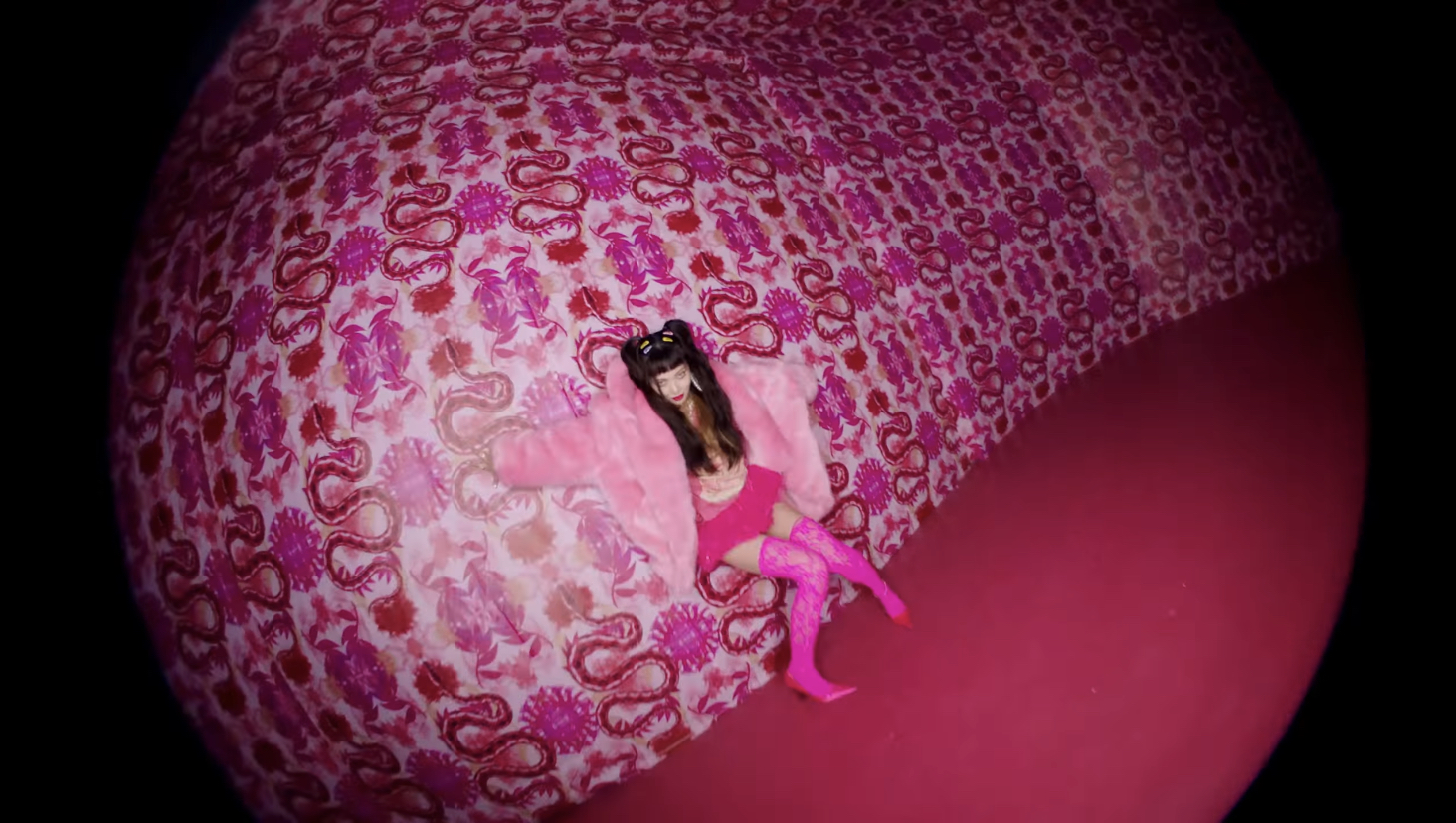 This scene surprise surprise has one of my favorite wallpapers. I think they're dragons mixed with other shapes, but I just love it. And of course I love a good all pink fit.
You can see more of it here. I kinda hate this fish eye lens they used to film this scene. But I think it just goes with the recurring theme of Hyuna not going with conventional things.
Like, Hyuna is kinda weird and embraces that. She encourages others to do the same without caring what others think or say. So it's fitting to her personality and aesthetic.
Look 5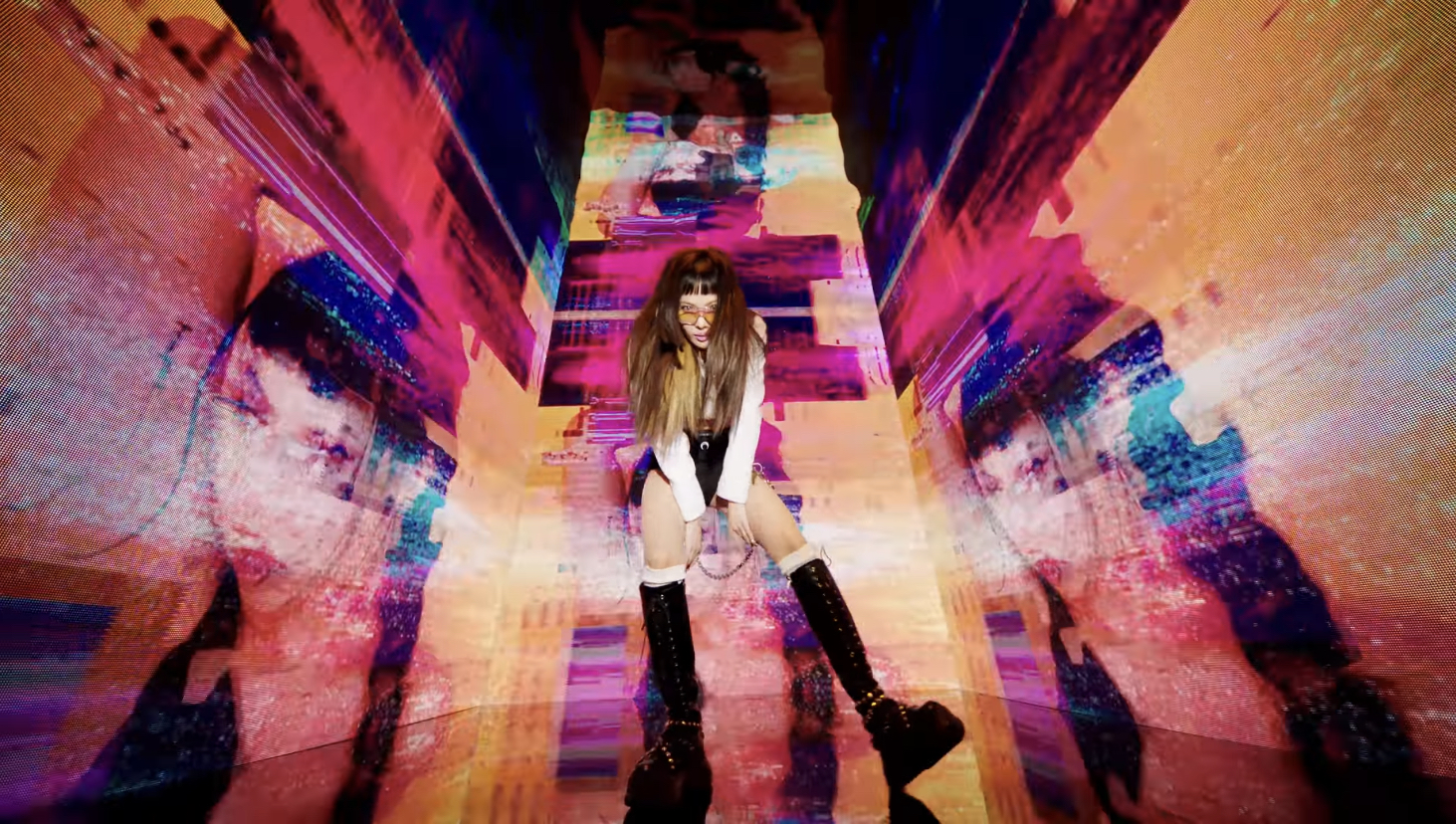 Okay now we're just on a roll with the looks™. There are so many items here I want. I need the sunglasses and boots, stat. This fluffy hoodie and belt combo paired with the shorts is so cute. I need that fluffy hoodie too.
This scene has another cool background. I love the 00s futurism vibe here.
Look 6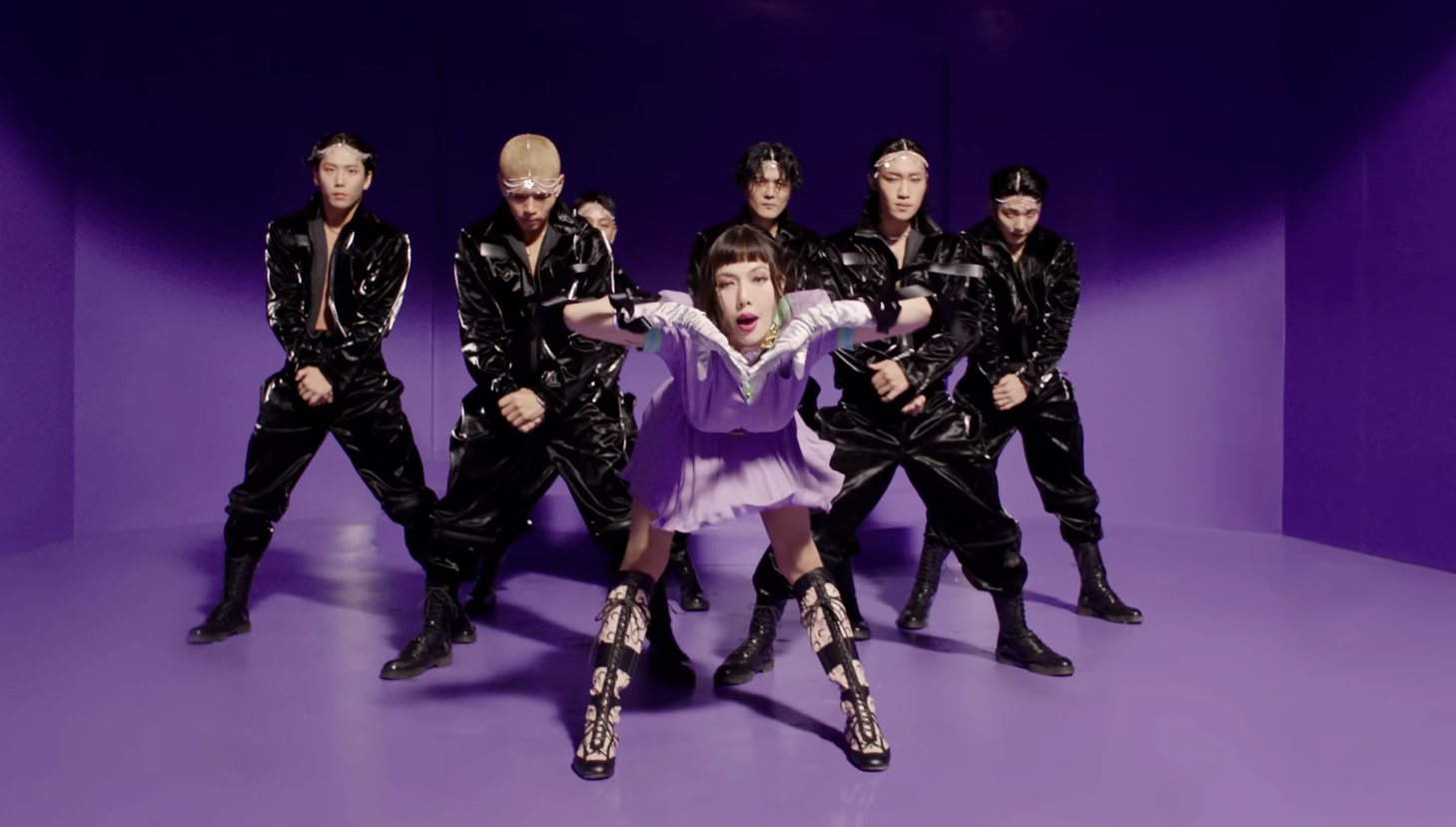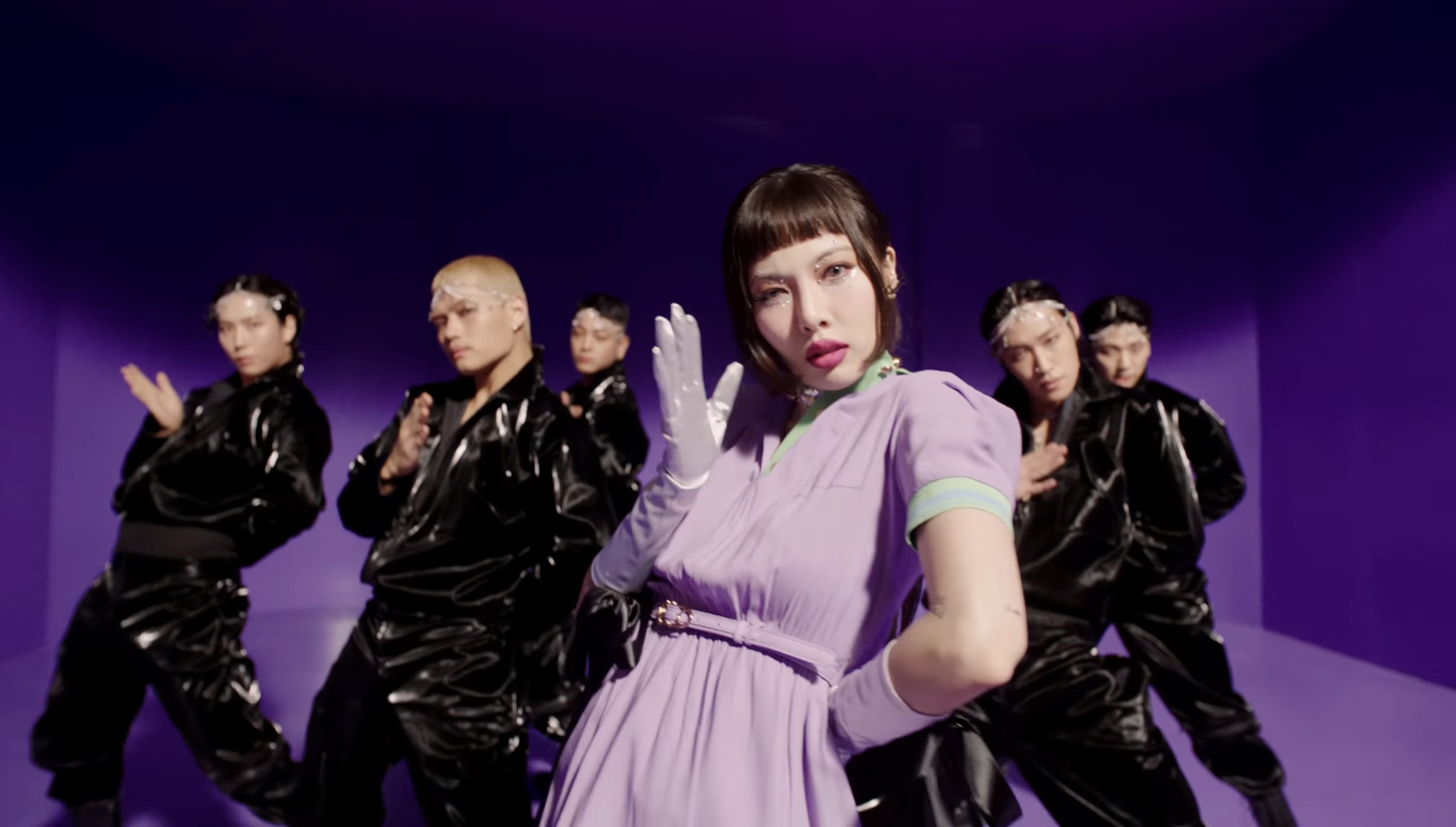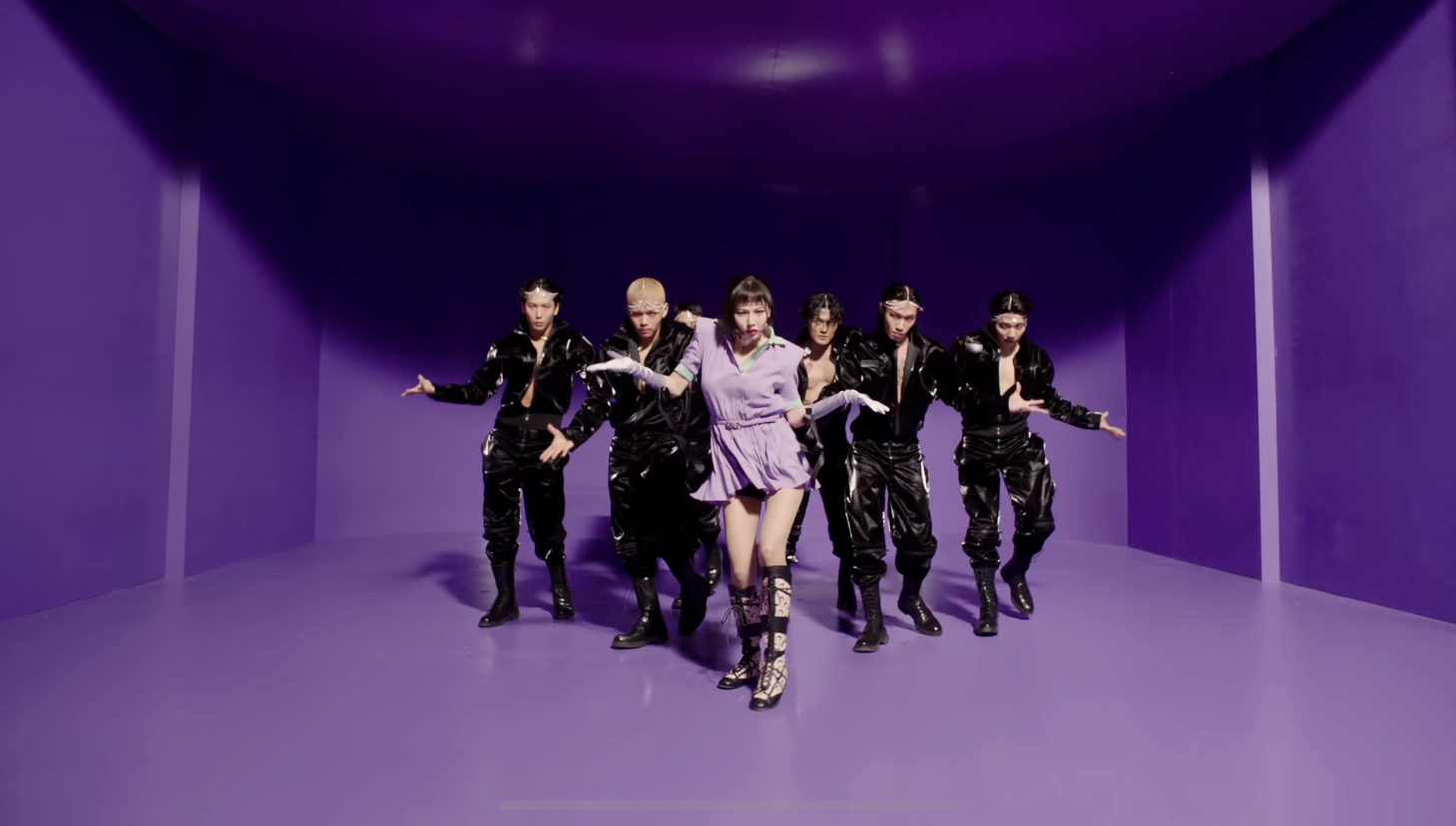 Not a big fan of this purple look. I love the shoes. I love the backup dancers outfits and this dark purple background. I like the gloves too. But this dress just feels out of place for the video. It's kinda aging.
Look 7
Another scene and look I'm obsessed with. Let's start with the fur hat. THAT HAT!!!!! I need it. I don't even know where or when I'd wear it, but I neeeeed it. You can't really see this full look closely.
Thankfully, @hyunacloset on IG found most of the items in this look. Looking at everything separately, I think I like the other pink scene's look more. This one isn't bad, though.
Look 8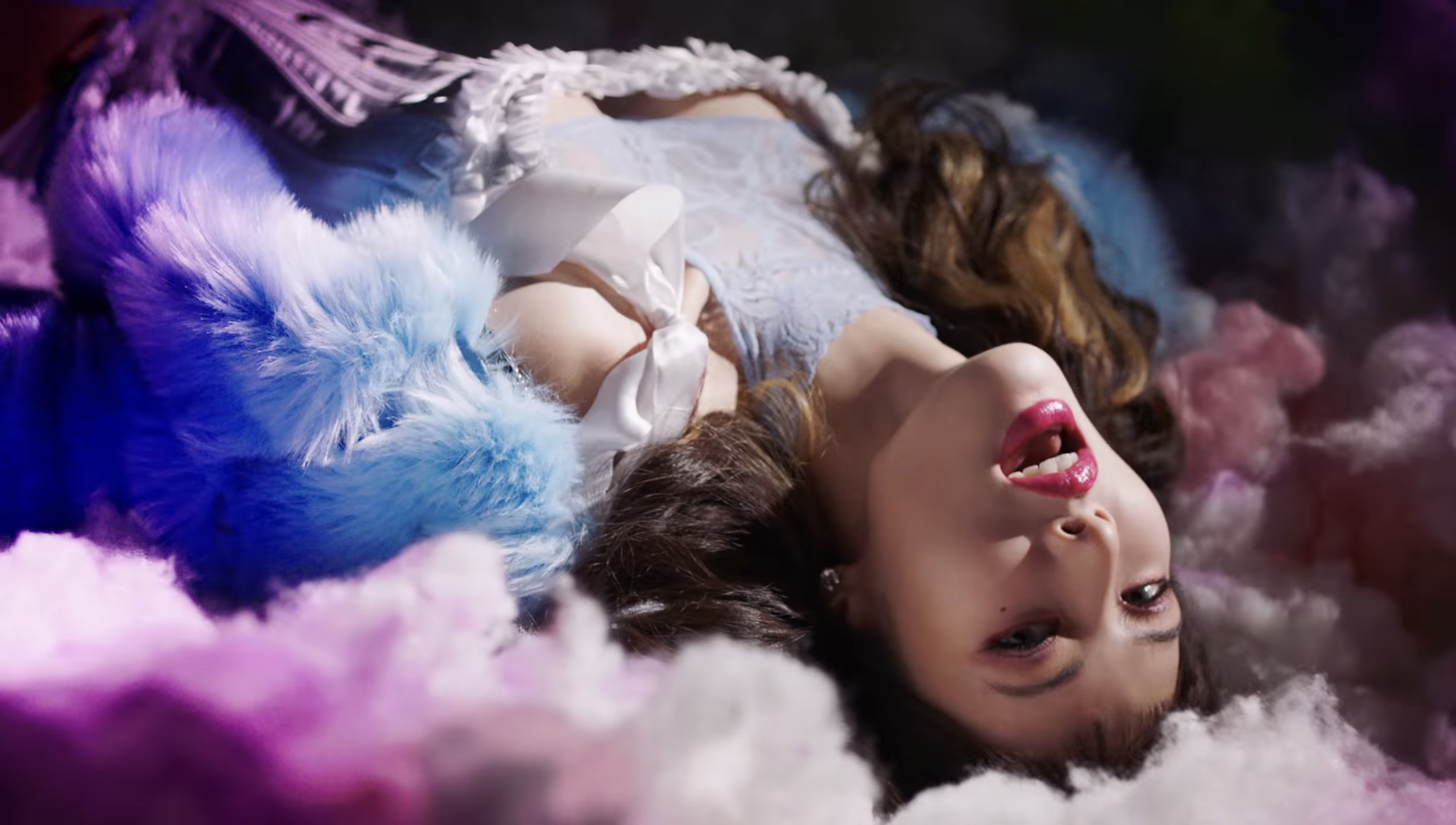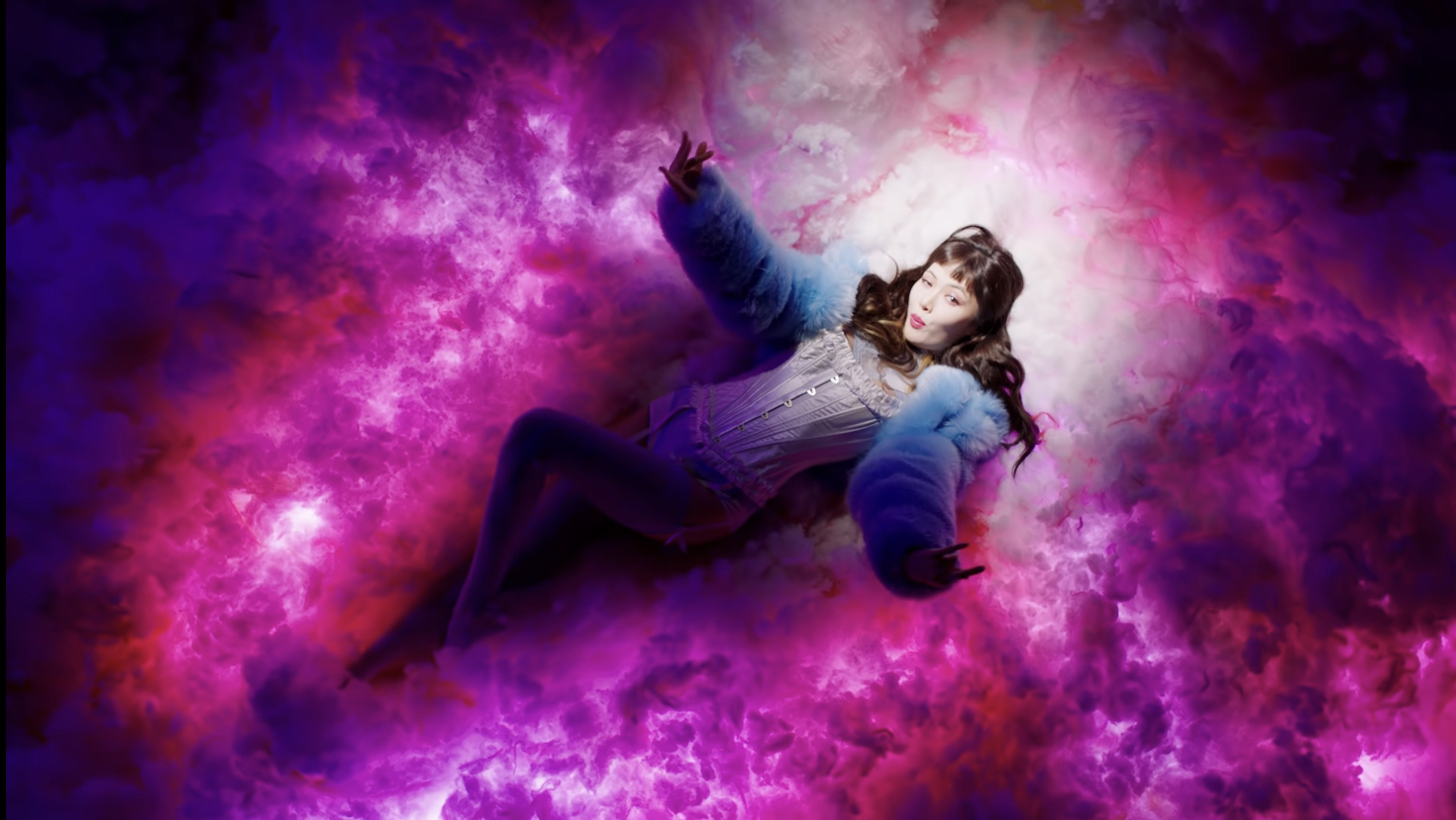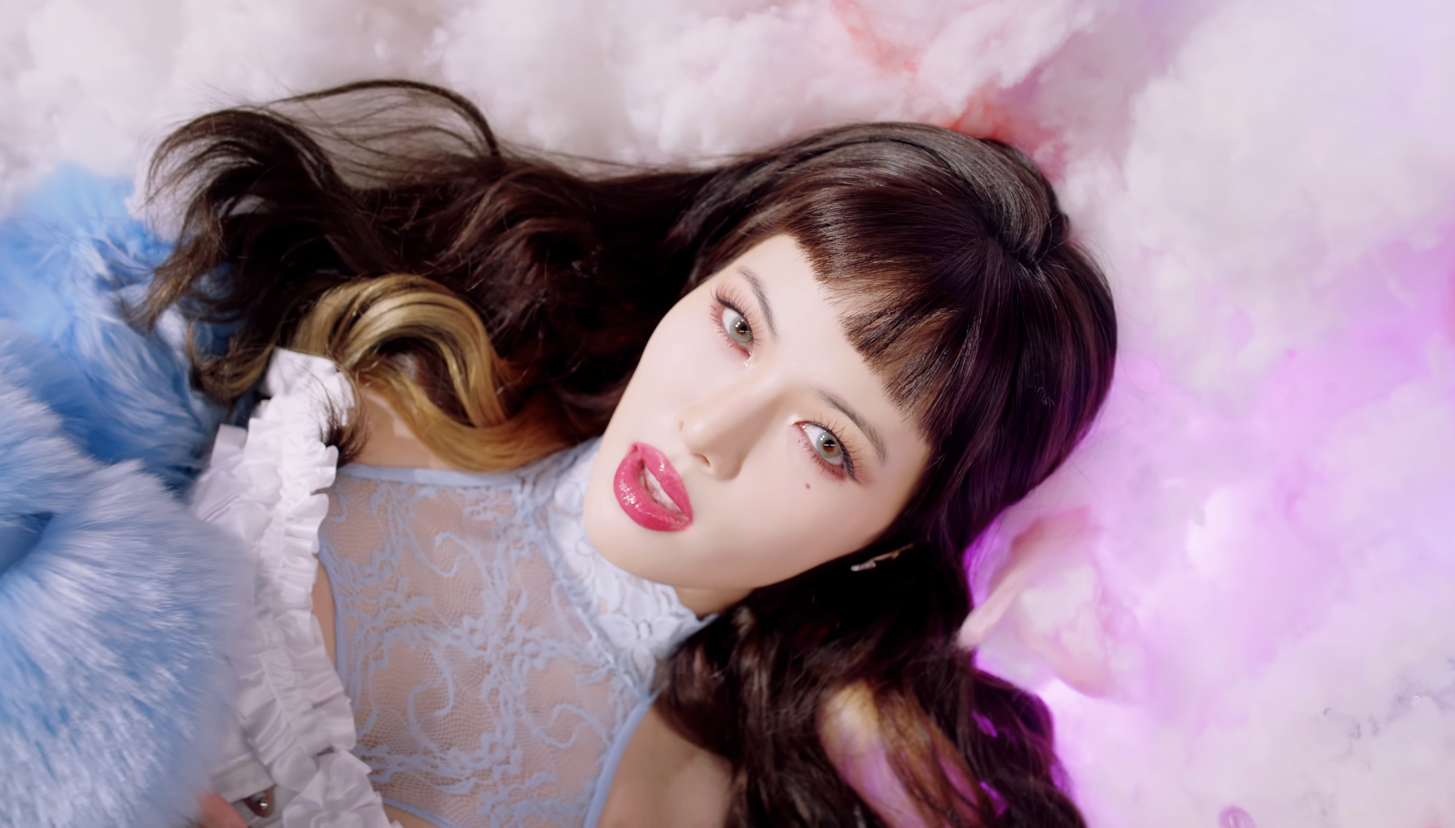 I almost screamed when I first saw this scene. I love love love this cotton candy cloud scene. Hyuna's look here gives me Marie Antoinette vibes.
You can see the full look here. I love the fur blue jacket. It's my favorite item here.
Look 9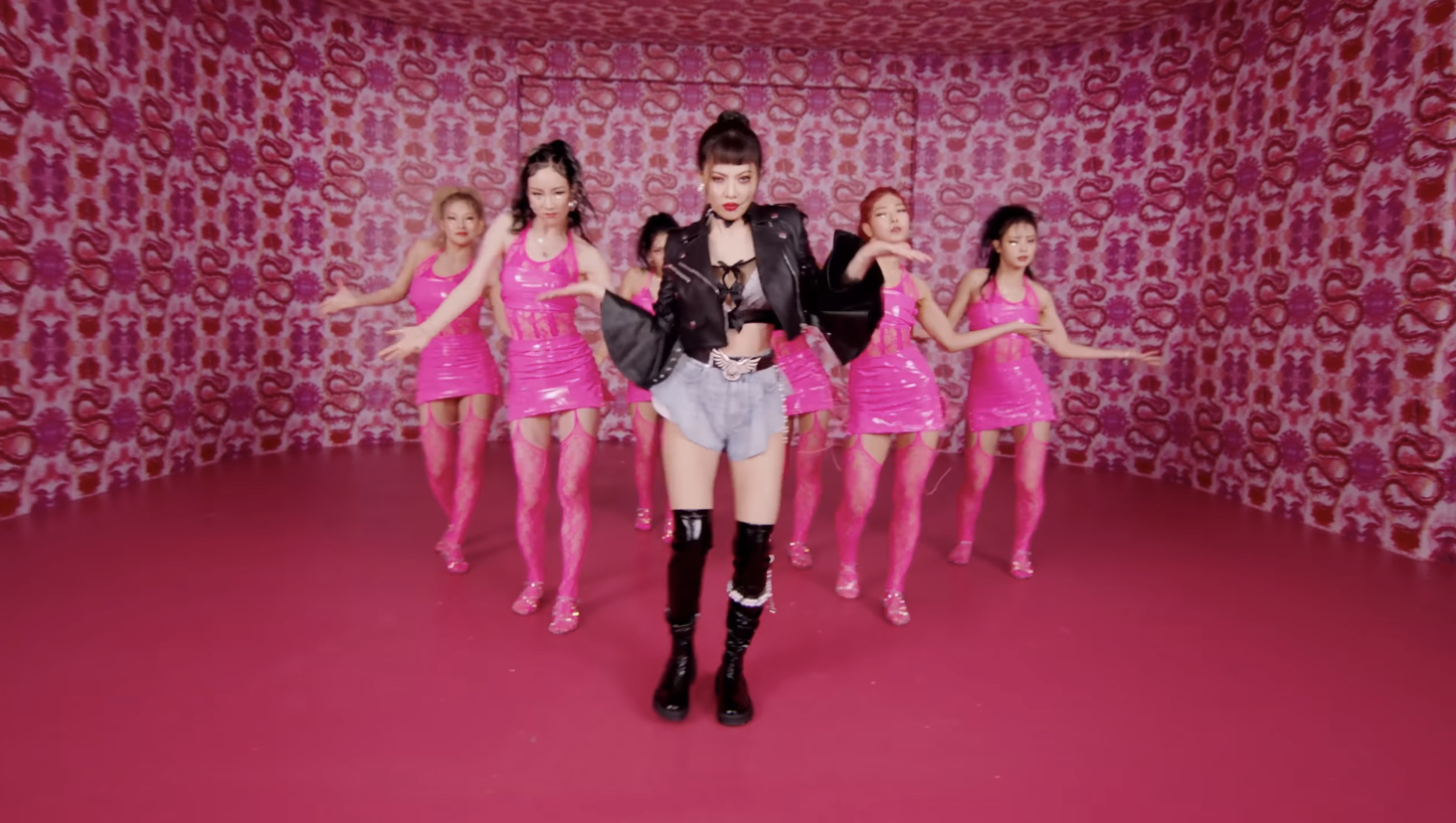 This look is another one of my favorites. My favorite item is the leather jacket. I love the mix of punk and feminine here. I love the high waist flared shorts.
Those are really popular atm, huh. The backup dancers wearing hot pink/magenta dresses with tights? Love it. This scene shouldn't work style wise, but it just does.
Look 10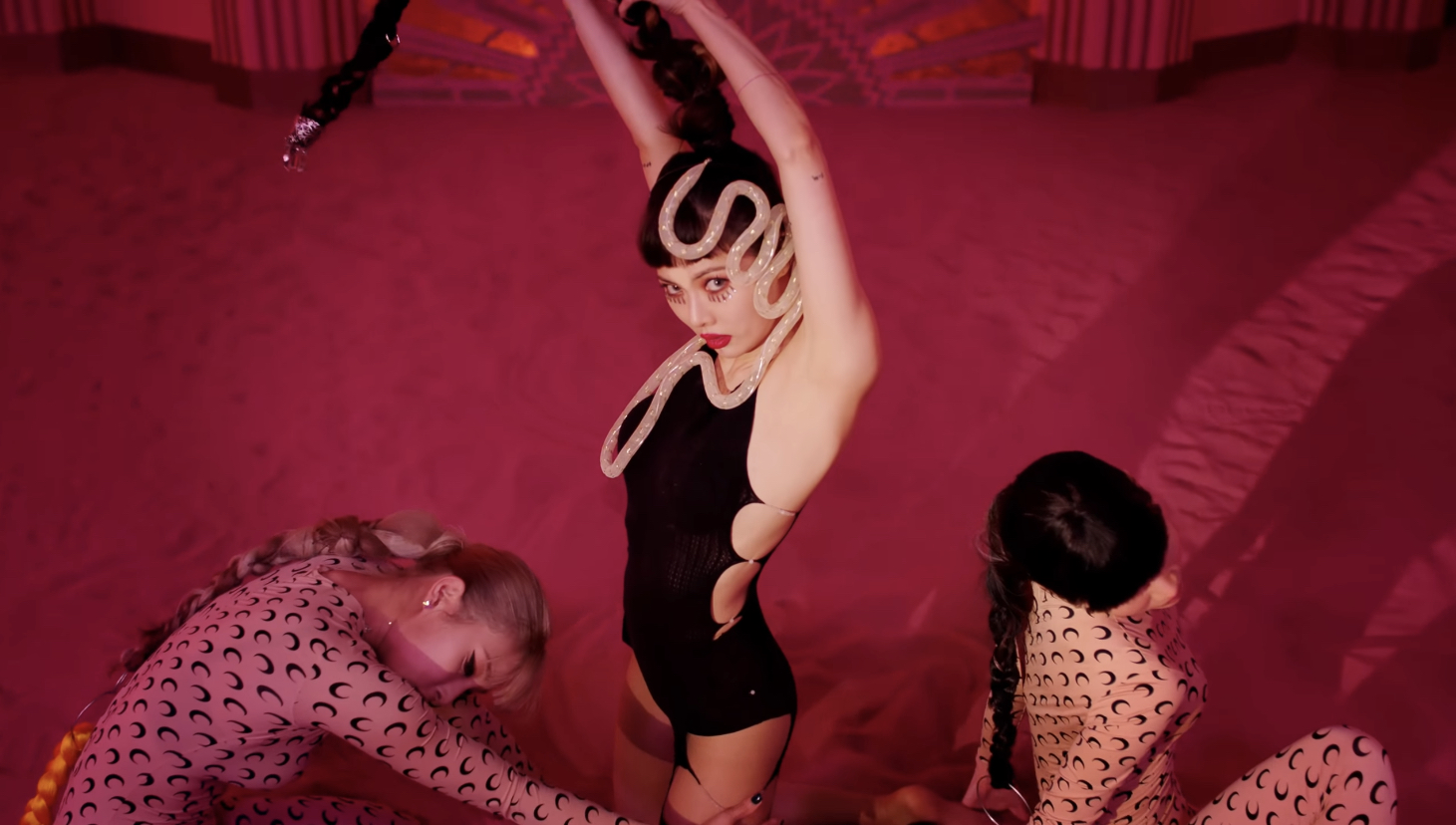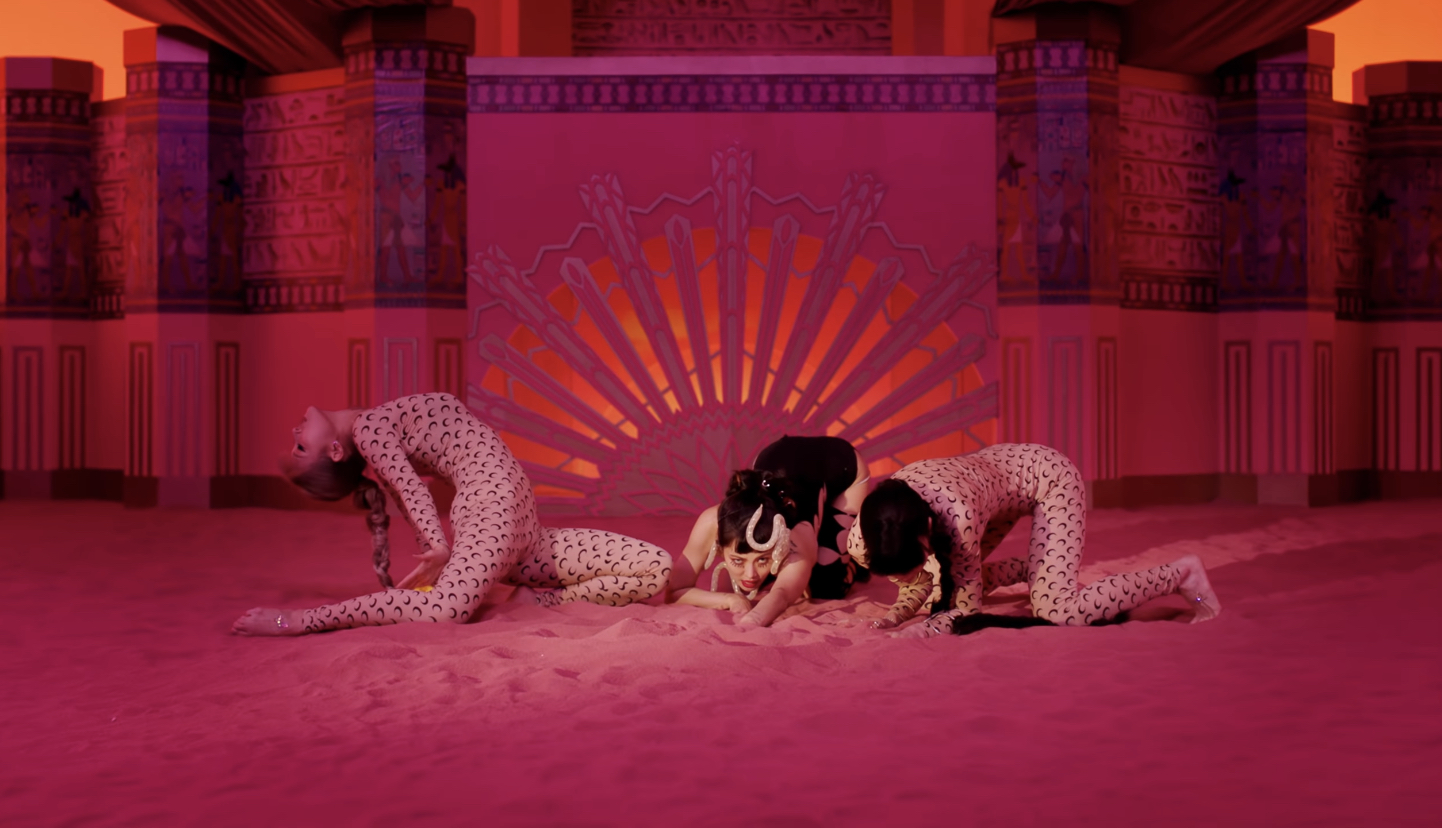 I'm pretty sure this is the Vetements outfits from look 2 again, but this time with a snake acting as a headband and necklace. I think the snake is fake? I wanted to include it anyway because if you don't pay too close of attention to this scene, you may miss that it's a reused look.
Look 11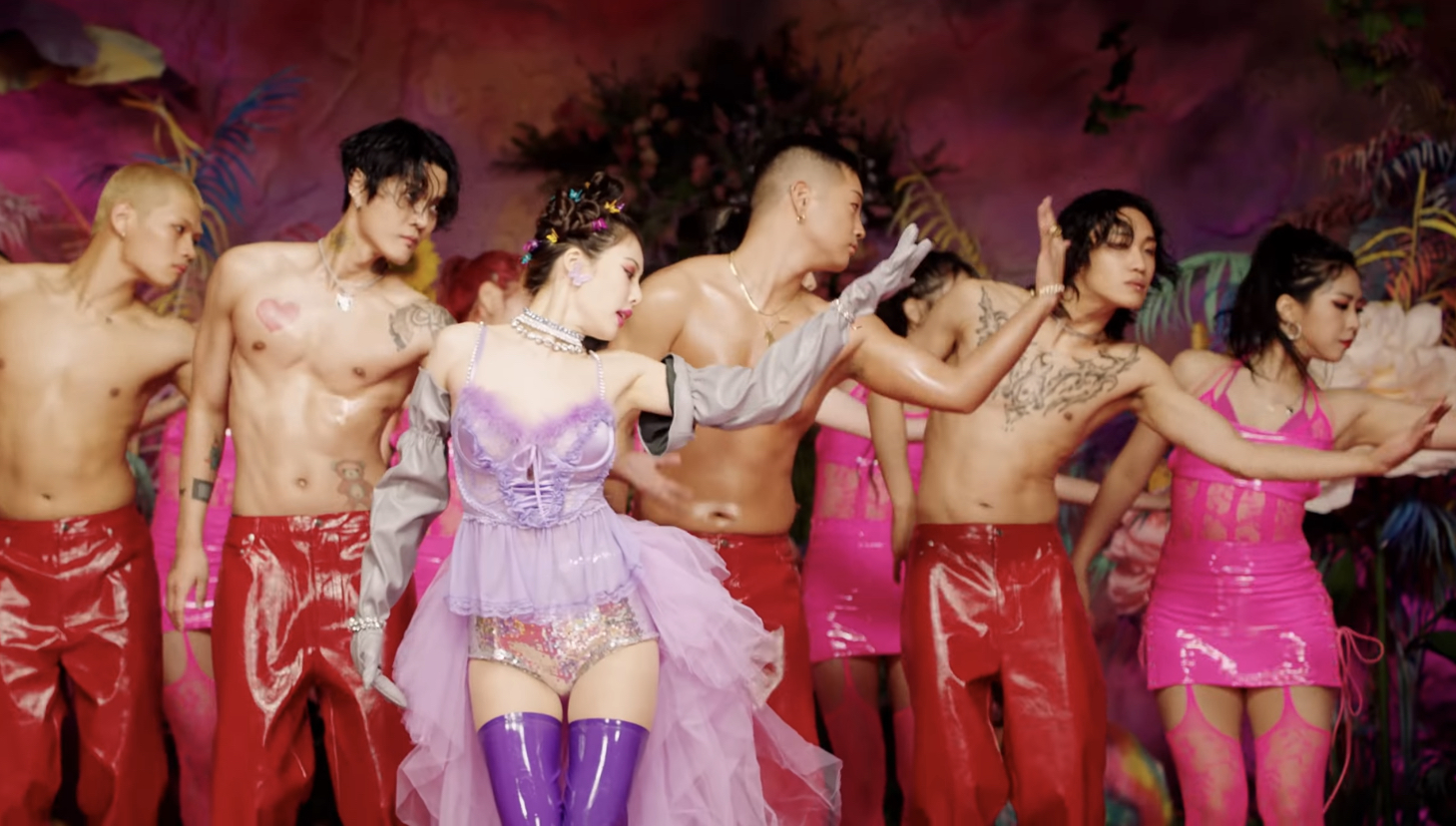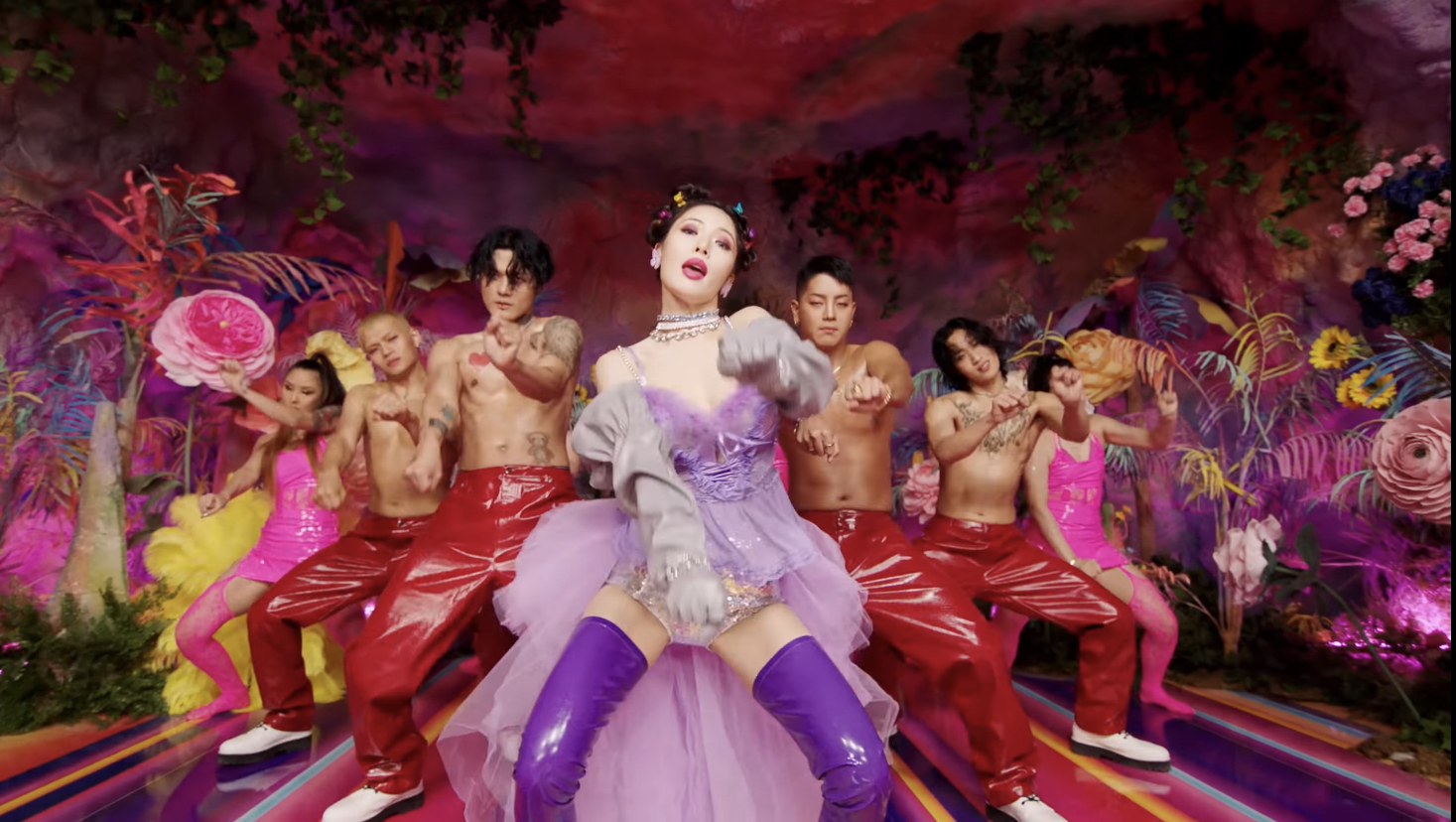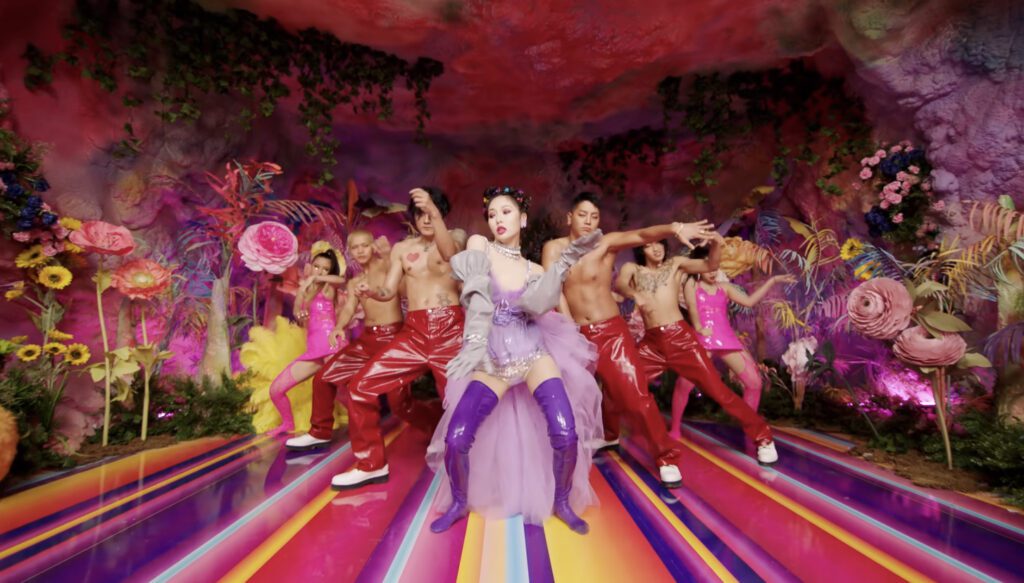 This look also gives me Marie Antoinette vibes as well. I didn't realize it until I saw a behind the scenes clip where Hyuna's sad she ripped her purple socks here…
I THOUGHT THESE WERE SHOES. After I got over that initial shock, I went back to admiring this look. Again, there's a weird mix of items that shouldn't look good together here, but it just works.
Look 12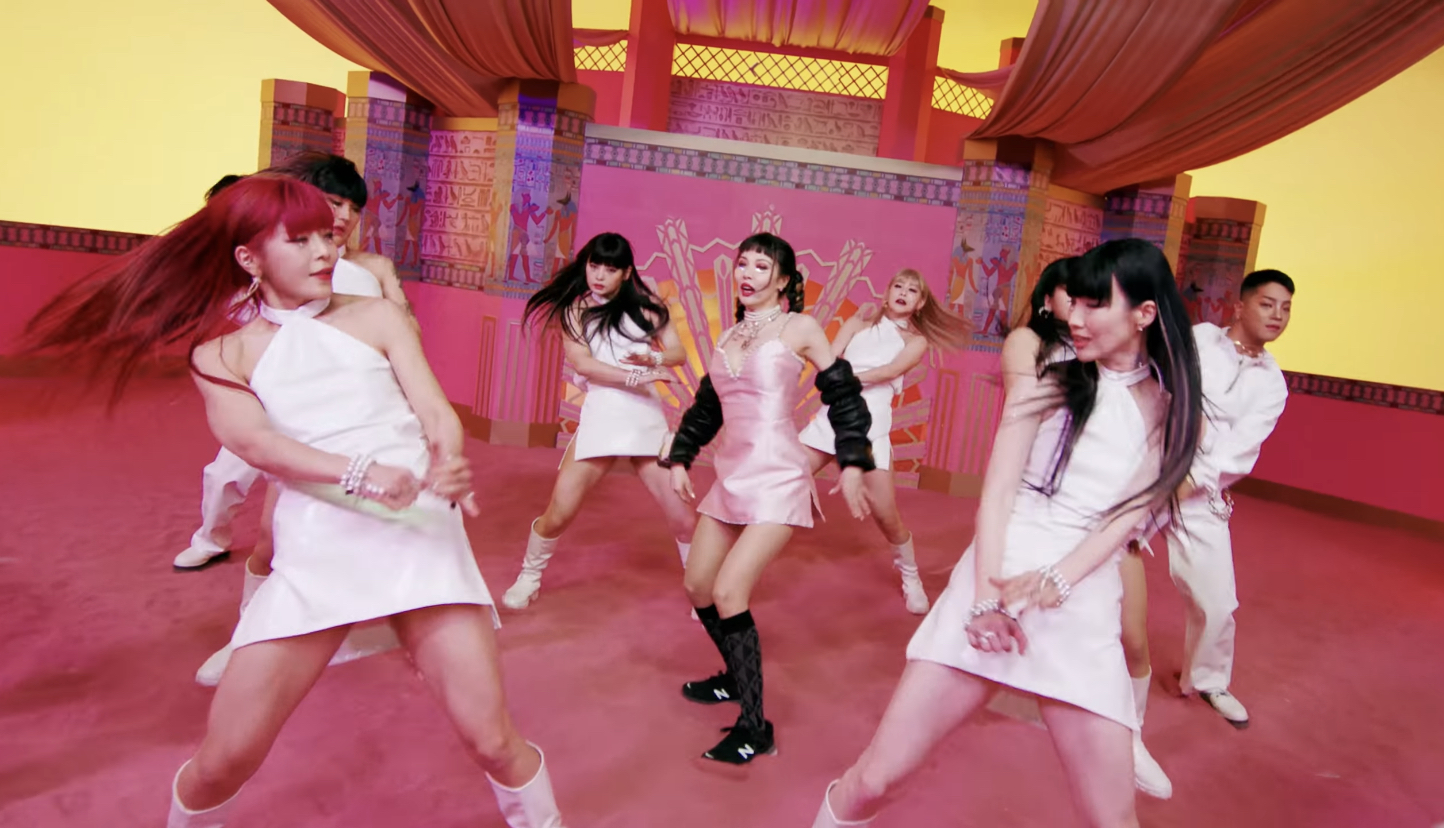 Alright, final outfit in "I'm Not Cool". I love this satin pale pink dress. I don't like the puffy sleeves. I wouldn't have chosen that.
I would have thrown a boa scarf on her or an over the top headband instead. That's my only complaint with this fit. I like everything else.
---
I love reviewing soloist music videos, but it always feels like I completed a marathon afterwards. Depending on the looks in "Good Girl" which I'll probably enjoy, I'll have another Hyuna fashion review up soon.
Shout out to Hyunacloset on IG. I didn't link every look, but they have a decent amount of them on there. So if you're curious about an item, check them out for sure. Next up is my favorite January releases.
Follow me on Twitter and Instagram.
Until next post,
Take care!
Ash♥♥♥