Music Video Fashion: Momoland – Ready Or Not
Momoland is back with another bop. I feel like we've finally gotten a proper follow-up to "BBoom BBoom". "Ready Or Not" still gives us Momoland's dancey theme park aesthetics, but stands on its own as a song.
"BAAM", "Thumbs Up" and "I'm So Hot" are basically the same song. So I'm happy we've finally got some fresh air. It's their fourth year as a group, and they need to continue the upward momentum.
I don't think they've really had a chance to musically mature or experiment compared to their peers. I'm really hoping in 2021 (I doubt they'll release anything else this year) we see more growth in their sound.
The concept and visuals are on point, but that can only go so far. And speaking of looks, there are three main looks in "Ready or Not". Let's start with the first group look.
Look 1 Shorts, Skirts, & Doc Martins
Technically, we start out with our third look, the individual outfits. Jooe's appears as the first member we see in the video. But we quickly jump to our first group look, Shorts, Skirts, & Doc Martins. I just love how bright and fun this group look is.
Starting with Nancy's outfit first. The first thing you'll probably notice are her light wash ruffled denim shorts. These are by Natasha Zinko.
These are so stage/editorial worthy. I would never wear these out to anywhere but a party, concert, etc. I believe Rosé during one of the "Lovesick Girls" live stages wore a similar pair.
The shorts are paired with a short sleeve white graphic shirt (Mimi Fair Baby T-Shirt by Mimi Wade) and a pink metallic bralette over it by Sugar Thrillz (Vixen Twinkle Peaches Crop Top to be exact).
Ahin's look is a patchwork body con skirt as a dress by Ashley Williams London. It's my second favorite outfit in this group look. Now this is something you could wear out and about without being questioned about your sanity, lol.
Hyebin's look is a mix of 80s and modern IG baddie and I'm here for it. She wears a leopard print crop top with some ripped light wash denim shorts. I like this look a lot too. Initially I thought her top was a regular cotton shirt but it's actually it's faux fur.
Jooe's look however is my favorite here. Starting from top to bottom, the white scrunchie with a half up half down ponytail hairstyle. She has this cute fury white cropped sweater with red and pink flowers printed all over it.
Lastly, her white mini skirt has words printed in red, purple, and other colors all over it. I'm not sure why I love this look on Jooe so much, but it just works. Nayun wears this white dress with a lilac poofy shirt.
However, in the live performances, she wears the outfit from the teaser pictures. This outfit consists of a rainbow tie-dye sweater by l.e.e.y and a white fitted mini skirt with words running across it also by Ashley Williams London.
I'm not sure why we haven't yet seen Nayun in the outfit she wears in the "Ready Or Not" video yet. Maybe one of the stylists decided not to bring the white and lilac look back for her.
Perhaps they decided the rainbow look fits the vibe better. I personally like the rainbow look better as well. It matches the other girls colorful and playful looks more.
Lastly, we have miss Jane. I love Jane's look as well. I love when idols have bright color hair and their outfits match their hair. So, for example, Jane's red hair matches the red devil on her pink satin skirt (it might be polyester, but that doesn't sound as nice).
I really want this skirt, it's so cute! This gem is also by Ashley Williams London. Her one shoulder bandana crop shirt is by OHTNYC X CONTROL SECTOR. This and black sweater work for this outfit, but those elements don't sell me on the look. The star is clearly the skirt.
Look 2: Individual Outfits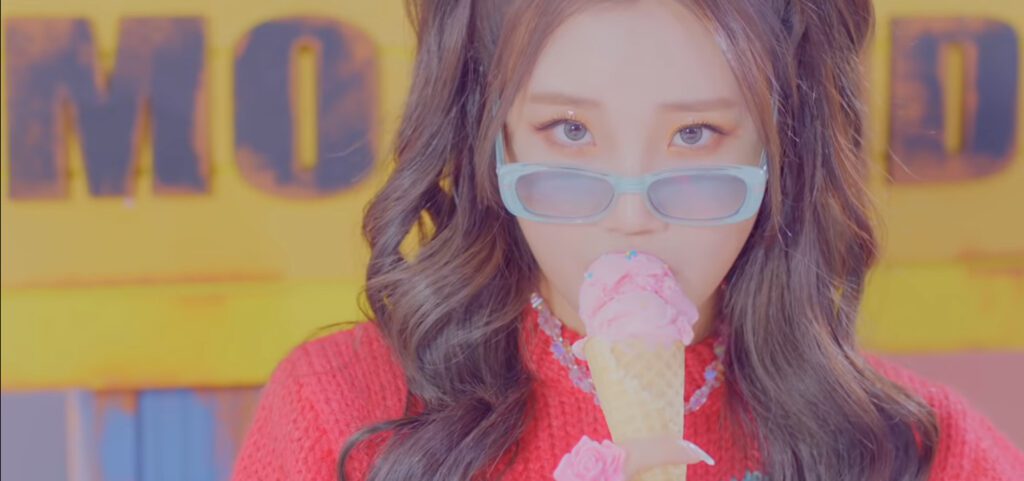 There's so much going on here to unpack, but I'm ready. In order of appearance, I'll start with miss Jooe. Again, Jooe has some of my favorite styling in "Ready Or Not". Jooe's rockin ponytails, lookin cute. I love the frosted blue sunglasses.
I love the red sweater she's wearing here. I'm not sure where it's from, but if I find out, I'll give an update.
This sweater is paired with a gray tennis skirt, floral tights, and chunky red heels. Her second look is a light yellow feather tube top from The Attico and white skinny jeans. Also, cute.
Her last look is a Natasha Zink camouflage corset top, a long sleeved baby blue shirt, and sliver metallic shorts. I like this look better than Nayun's in this scene.
Next is Nancy's super pink look. Her fluffy black and white hat is from Dolls Kill. Her top is by Expired Girl (Leo Top Pink). Her pants are by Clut Studio and her shoes are by Demonia Shoes (Dynamite 02 Pink Sandals).
I liveeeee for how all over the place this look is. My favorite parts of this look are the accessories. But the more I look at this look, the more I realize I'd wear this exact look. It's a good mix of 90s and early 00s with a modern spin.
Hyebin's look is a rose print crop top and shorts by Current Mood Clothing Midnight Oasis Bell Sleeve Top and Ruffle Shorts). She's also wearing a Mimi Wade t-shirt (Adult's Fairytale 2 T-shirt) underneath the bell sleeve top. I really want this top too. I love the ruffles on it.
Ahin's giving us 00s Juicy Couture vibes in the tub and I love it. I'm not sure which brand her tracksuit is from, but I loveeee this look. She just looked so stunning throughout, "Ready Or Not". I think it might be Expiredgirl_ X Heeyajenny Velvet Tattoo Tracksuit.
Nayun's pink and black ruffled dress is by Natasha Zinko (Cartoon Printed Sundress). Her shoes are from the Lazy Oaf Doc Martens collection (Low Buckle Creeper). I didn't initially like this dress when I first saw it on my first watch of "Ready Or Not".
After seeing more pictures of this dress and seeing Nayun posed normally, I really love it now. Nayun's other Natasha Zinko dress is a bandana knot detail dress.
I'm not sure if I like this dress or not. I feel like I might like it more on someone else. I feel like it's not fitted well to Nayun's body.
Jane's pink and black look isn't on any of the Momoland style accounts yet. It's one of my least favorite outfits of the video.
It's just not that noteworthy for me. It's boring compared to the other looks in the video. We don't really get a full body shot of it either, and I'm okay with that.
Look 3: Party Time
Nayun finally gets redeemed styling wise for this scene. I love her print mix Natasha Zinko dress. It's something I need in my closet for sure. I'm not a huge fan of the Chanel jacket they put Nancy in for this scene. It ages her.
She looks like the mom planning the party for her daughter. Jooe's wearing a solid magenta dress, what's boring, but it works.
Ahin's look is partially found. She's wearing Expired Girl and The Acttico. The skirt is Attico's Sequin Feather Skirt. Her top is by Expired Girl, but I'm not sure if it's the sleeved part of it or the whole top. You decide.
I had thought I saw Jane's dress posted somewhere, but I don't remember where now. So if I find it, I'll list it here. But you can see better angles of it on Jane's IG. I really like it. I'm a sucker for ruffles.
One of my favorite shots here is the one of Hyebin sitting with the guitar, and you can see the girls goofing off in the background.
Her dress is really cute. The top part is pink, then there's this giant belt and then there's a zebra print skirt at the bottom.
And one last shot of the girls! I meant to fit this in somewhere in the post. So I'll put it here at the end, like in the music video.
---
It took a little longer for me to put this one together. Between me realizing there were more to certain outfits and actually checking which items were found, I just decided to spend more time on creating a better post for y'all. I hope y'all enjoyed it.
I want to shout out both Momolandstyle and Momoland.style for finding these pieces. They make writing these types of post go by soooo much faster. They are greatly appreciated, and if you love Momoland's clothing, check their pages out for exacts.
Next post is my November best and worst, and I'll have it up tomorrow. Follow me on Twitter.
Until then,
Take care!
Ash♥♥♥