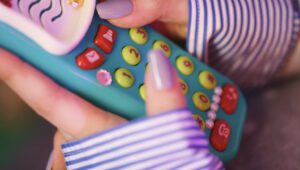 I couldn't remember if I had listened to Woo!ah! prior to "I Don't Miss U". When I went back through my notes, I found that I had first listened to them back in November 2020 when they released "Bad Girl".
My initial notes said, "starts off bad and just continues." LMAOOOOO I don't remember writing that. But on my second listen which might as well been my first listen because I forgot, yeah it was okay. I understand why November 2020 me found it forgettable.
The thing is, though…"I Don't Miss U" is off the same album as "Bad Girl" and the vibe to me is completely different. I'm not sure if it was different writers and producers, but "I Don't Miss U" just sounds more polished and established.
"Round & Round" is the other song on QURIOUS. I don't care for that song either, so for me, "I Don't Miss U" is the best song off it. I'm not sure why it wasn't the title track.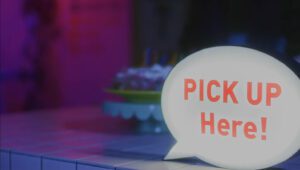 I did go back to their first single album EXCLAMATION and listened to their debut song "woo!ah", I didn't like it. But I did love "Payday". That's my favorite Woo!ah song at the moment. It's mid-tempo and a chiller vibe than any of their other releases.
It's refreshing, and I'm kinda salty, I missed it. I hope they release more songs like that in the future. I think the girls have tons of potential, even before listening to "Payday".
I think "Payday" and "I Don't miss U" are perfect examples of why they deserve more time to flesh out their sound.
Anyway going back to "I Don't Miss U". It's catchy and upbeat. The clothes immediately caught my attention. There's three group looks. So let's get started!
---
Look 1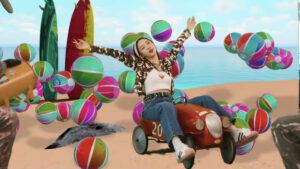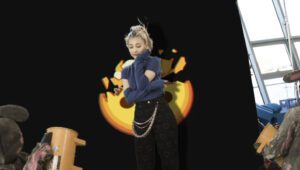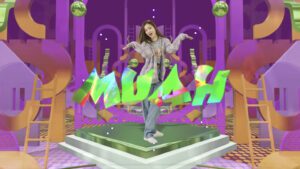 Nana's camo print sweater and white headband look is my favorite out of this group look. I think it's also my favorite look in "I Don't Miss U". I love the 00s inspired aesthetic.
Wooyeon's purple cardigan is super cute as well. You can't tell in the music video, but on IG you can see her cat shirt in more detail.
I love this shirt. Minseo's look has a pink/purple scrunchie included, and you can see that on IG as well. You also can see her cute pink Tommy Hilfiger sweater here too, but we'll talk about that later. I'm not a big fan of Sora's Blue's Clues shirt. I do like the baggy boyfriend jeans, though.
---
Look 2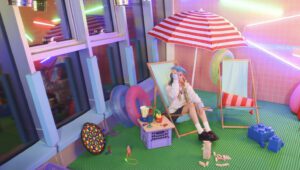 This second group look is my favorite of the group looks because it's the most cohesive. I like when a look is uniform enough to where if you were at a music show or concert with other groups, even without knowing their name, you know they're all together. This tennis skirt and sweatshirt look is totally that.
The only outfit here I would change would be Lucy's. She wears this yellow hoodie and skirt later in the music video.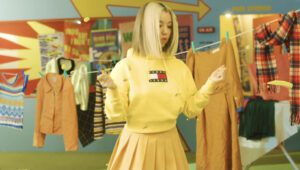 I wish they used this look but with a white tennis skirt instead of her actual look. Her color block sweater doesn't really match the other girls.
---
Look 3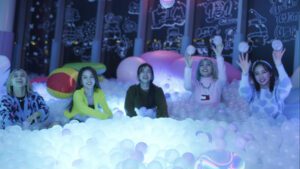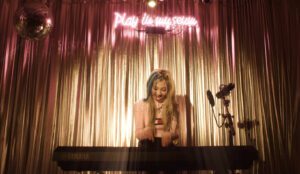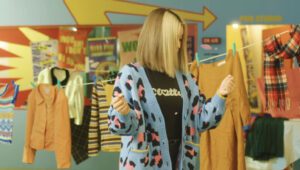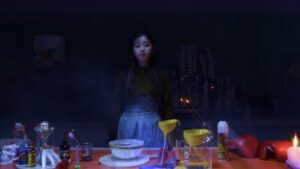 This third look is my least favorite, but there's a lot going on. If you go to Woo!ah!'s IG. You can see more picture of the girls' outfits in "I Don't Miss U" and I'm sure there's some fansite with pictures too.
But with this last group look, you don't get a lot of scenes with full body shots. Sora's sweater is alright. Nana's lime sweater is a must-have, though.
As I mentioned earlier, you can see Minseo's pink sweater on Instagram. You can also see Wooyeon's chunky sweater she wears with what looks like a denim suspender skirt. I need this sweater in my closet asap. Minseo's too. 
Lucy's blue and pink leopard print sweater is something middle school to, maybe sophomore in high school, Ashliegh would go crazy over. I'm not that into it now, but it's cute on Lucy.
On the topic of Lucy, I don't think I mentioned it, but I love her two-tone hair. It's so cute on her. I think she's dyed it back to all brown now, but that was a cute moment. I'm not as into the blue streak in Minseo's hair. I wish they would have dyed her bangs like Jennie's skunk hair.
---
What are y'alls favorite look from "I Don't Miss U"? Do you like WOO!AH!? Do you have any other rookie girl group fashion you'd like me to review? Leave me your suggestions below!
Until next time,
Take care!
Ash♥♥♥