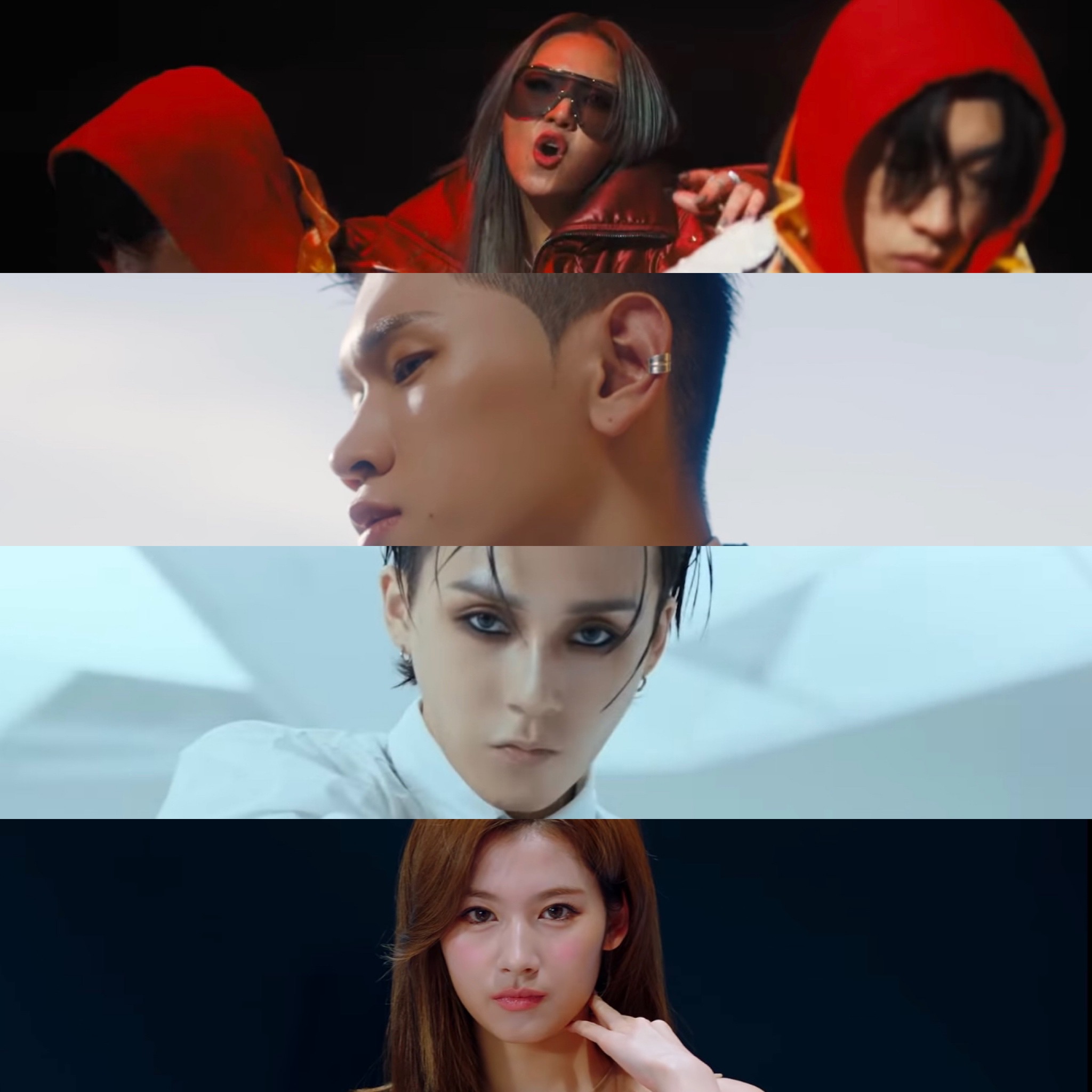 Best Kpop Debuts And Comebacks of October 2020
10 of my other favorite releases in October.
I was so impressed with the music released in October. I already covered WEi and WJSN CHOCOME debuts, so I'm not going to mention them on this list. TWICE is going to be mentioned here but I'll go in more detail on Eyes Wide Open in a separate post. So with that all out of the way, let's begin!
---
SEVENTEEN – HOME;RUN
I'm always hype for Seventeen's comebacks. I was blown away by the set designs and costumes in "HOME;RUN". This is definitely in my top 5 favorite Seventeen music videos. I loved the subunit changes for ;[Semincolon].
I enjoyed this over Heng:garae. Both albums are weaker than Seventeen's previous releases. I'd still recommend An Ode first for people who want a taste or recent Seventeen that slaps from start to finish. But even Seventeen's weaker releases are better than some groups entire discography.
The only song I don't revisit is "All My Love". Y'all know how I feel about 95% of ballads. "Do Re Mi" is my favorite song off ;[Semincolon]. It has that typical Seventeen b-side sound to it I love. Next would be "Light a Flame".
I like the use of horns and it's just a different sound from Seventeen. Even "HOME;RUN" has a jazzy sound we don't usually get from them. I like the change. I think it was well executed. Not as catchy as "Left & Right" but a song I know I'll grow to love more and more overtime.
---
TOMORROW X TOGETHER – Blue Hour
Beomgyu as the thumbnail, love to see it!!! TXT somehow manages to get better with every comeback of theirs and I'm kinda scared. They're too powerful to just be rookies. minisode1: Blue Hour is such a great album.
I loved that they've hopped on the 80s retro sound as well. "Ghosting" has me nostalgic for summer in the 1980s and I wasn't even born yet. "Blue Hour" itself continues that pop upbeat sound that's so distinctly TXT.
I LIVE for the styling in the music video. Yeonjun's pink mullet and their take on the yeehaw trend in Kpop is probably my favorite so far. Like up there with Oh My Girl and Taemin in SuperM's "100".
My favorite song from minisode1: Blue Hour is "Way Home". It's similar to "Ghosting" but a bit more optimistic. It's more upbeat. "Wishlist" reminds me of a post Zayn One Direction song. Like something that'd be on the same album "Drag Me Down" was on.
I can't be bothered to check lmao. Not a bad song but I know I'm not going to listen to it again unless it's at a concert. It has a strong summer vibe to it as well.
"We Lost The Summer" is my fourth favorite song on here. Not strong enough to beat the other 80s inspired songs but a clear victor between it and "Wishlist".
---
TWICE – I CAN'T STOP ME
I usually don't listen to album previews (anymore) or song teasers because I like to be surprised. I've found in the past I set expectations of what I think the rest of the song will sound like then get disappointed when it doesn't fully live up to the vision I had in mind.
I couldn't help myself with "I CAN'T STOP ME" me though. Twice has been on a winning streak with me for their more "mature" sound direction they've been going in. I know it's a controversial take but I love the direction Twice is going in.
They can't continue to make songs like "Cheer Up" for the rest of their lives. I imagine this is the same internal struggle SONE and Pink Panda's had with Girls' Generation and Apink. I knew from the short preview I'd love this song but Eyes Wide Open is my favorite Twice album to date.
I usually like most of the songs on the album but with Eyes Wide Open I don't really need to skip unless I'm just eager to hear the next song. You can listen to it from start to finish and feel completely satisfied afterwards.
I'll have a more in depth review of the album and the different looks in the video later. But for now, just know I'm obsessed.
---
CIX – Jungle
God, we waited ages for this one huh FIX. It was totally worth it though. I had a feeling "Jungle" was going to be a bit different, but I was NOT prepared. It's more of an instrumental/performance song.
Completely different sound from "Movie Star" and "Numb". But as Redditor ChildishBandbino said," 3 mini albums, all 3 are no skips." And they're right. There really aren't too many boygroups with such a consistent discography like them.
I can't wait for the full length album. Hello Chapter 3: Hello, Strange Time isn't as R&B heavy as their previous releases but "Change Me" lets us know they're not gonna stray too far away. "Move My Body" is my favorite song off the album though.
It's perfect for clubs/raves. It's a perfect example of CIX doing some experimentation with their sound but still staying with the core formula that works.
"Switch It Up" is one of the chiller songs on Hello Chapter 3: Hello, Strange Time. It's my third favorite song off the album. In order, it goes "Move My Body", "Change Me", and "Switch It Up" for my top three.
"Rebel" is a tiny bit slower track than "Switch It Up". It's the closest you're going to get to a mid-tempo ballad. They didn't put any slow songs on this album so major props to that.
---
DAWN – DAWNDIDIDAWN (Feat. Jessi)
After listening to Dawn's solo debut "Money", I had low expectations for "DAWNDIDIDAWN". I was completely thrown off by how much I ended up loving this song. I get Jessi's "Hey Dawn, what's going on?" stuck in my head periodically throughout the day since my first listen. In my notes I wrote,"love DAWN having fun and releasing a bop. Styling is on point™.
Love Jessi's rap. Fave feature of hers." My favorite song from 1st Mini Album DAWNDIDIDAWN is "Butterfly". It's more of a mid-tempo song. Dawn does more singing on this one than rap. I think he's still figuring out his sound which is totally normal at this stage in his career.
I like these pop/upbeat songs from him though. I like the contrast of an upbeat song with sad lyrics in music.
"Ordinary Night" is my third favorite. It's more of a pop/dance song that gives me the vibe of the last night of a trip before you have to go back to school/work. There's a sadness underneath the upbeat instruments and whistling.
And after looking at the English lyrics I was right, it's a sad ass song. Good song though. Dawn has managed to keep me interested into what else he has up his sleeves. He has a song with Crush called "Still". It's alright.
I wish "Still" was organized better to include more Crush's R&B sound. It felt like a wasted feature to me.
---
P1Harmony – SIREN
SF9 got a little brother group!! I was concerned there might be overlap in musical direction but P1Harmony holds their own as a hip hop group. I was impressed by how good DISHARMONY: STAND OUT is.
The only songs I don't have saved are the intro and skit at the end. Everything else I know I'm going to listen to again and again. "SIREN" kinda gave me Pristin "Wee Woo" call backs. They sing it differently of course. It's a great choice for debut song."
That's It" is a perfect song to blast in the car. You can't help to bounce a long the flow. It feels like a NCT 127 song actually. It's my favorite song off the album. I don't get excited by a lot of raplines in Kpop. "Butterfly" also gives me NCT 127 vibes.
It's a bit slower of a song than "SIREN" but not as bouncy as "That's It". It's the most emotional song on DISHARMONY: STAND OUT. "Nemonade" is like okay sad times over its back to business and brings the tempo of "SIREN" back. It's catchy too. I'm also looking forward to their next release.
---
DRIPPIN – Nostalgia
I can't explain why I was more excited for Drippin than P1Harmony. I guess it was the name. It piqued my interest. What type of music does a group called Drippin release? Hip hop? Sorta. More dance than anything.
I loveeeeeeeed "Nostalgia" as soon as it got to the chorus. It reminds me of a Wanna One song. Super upbeat, powerful vocals. They have a slightly different sound from their older brother group Golden Child. If you like Golden Child, you'll love Drippin.
As much as I love "Nostalgia", "Overdrive" is my favorite song from DRIPPIN 1st Mini Album [Boyager]. I knew when it got to, "Crash, I'm in overdrive" I was going to have this song on repeat. "Shine" is okay.
A slower paced song. I like "Colors" and "Light" more. They have the same vibe but more emotional. I really like the instrumentals of all the songs though. Remember back when everyone would release an instrumental version of the title track for no reason?
Good times. And of course "Boyager" is the first song we hear on the album. It's a short instrumental introduction to prepare us for "Nostalgia". It's fine. Nothing I'm going back to.
---
Crush feat Taeyeon – Let Me Go
Crush is enlisting on November 12th, so I guess K-R&B is going to be dead in the meantime. Crush is one of my favorite artist, so I'm super sad about his enlistment but I know it will go by fast. with HER is such a flawless album to leave us with.
Every song features a female artist. The title track "Let Me Go" is your typical midtempo Crush song but Taeyeon of Girls' Generation is here to make a good song even better. I love this paring and now I want more music with the two of them. "
Tip Toe" with LeeHi and "Step By Step" with Yoon Mirae tie for my second favorite off the album. Both songs are so good and chill. "Love Encore" with Lee Sora is a slow ballad that I actually enjoyed and wasn't in a rush to finish. It kept my attention the whole time.
"She Said" featuring BIBI is the last song on with HER. It's your typical midtempo Crush song but with a slight trap vibe to it. I like BIBI's addition to the song. It's brief but well-placed. It's the opposite of how I felt about Dawn and Crush's song.
Anyone could be on the song but it's how you mesh that artist's sound with your own to make it unique and feel natural.
---
CRAVITY – Ohh Ahh
This is the first Cravity song I've enjoyed from start to finish. I didn't feel like there was a point where I felt things got weird and ruined the song. It made me think,"Well maybe I should revisit Cravity's music." So I did. Well starting with this most recent album.
"Flame" the title track from HIDEOUT: THE NEW DAY WE STEP INTO – SEASON 2. is alright. Not terrible but not a song I saved.
"Believer" is more up my ally. I guess it reminds me of Monsta X THE CLAN era. "Believer" could fit on either album. Speaking of Monsta X I guess I'll check out Fatal Love album. Anyway "Realize" is a bop too. I'm a fan of "HOT AIR BALLOON" as well. "Realize" and "Believer" have simlar vibes.
"HOT AIR BALLOON" is more of a dance house track. I love the instrumentals on this on. "Sunrise" is okay. It's my least favorite song off the album. "Breathing" is the last song on HIDEOUT: THE NEW DAY WE STEP INTO – SEASON 2. and it's fine.
It's a slow song and I didn't save it. But the album made me realize I should keep an eye on Cravity too in the future.
---
CL – +H₩A+
As a Blackjack, I've been rooting for CL's success for years. I had to step away for a while because I knew as long as she was under YGE cluctches her full potiential would never be seen.
And just as I thought, now she's a free agent and "+HWA+" is the most genuine CL release to date (well "+5 Star+" too but I'll get to that). "+HWA+" feels like CL coming home and finally having full control over her music.
There's this renewed confidence in herself I can feel radiating out of the screen. I'm so proud of her and I love love love these two new songs.
I was surprised to see DPR Ian/Christian Yu in the video for "+5 Star+" but I couldn't think of a better pick. "+5 Star+" is one of those I found love then lost it, I miss you and what we had kind of songs.
It's a new vunerable side of CL that I don't think we've ever gotten musically. Not in her solo work at least. I live for that. Both videos brought back her over the top high fashion styling.
It's good to see some things never change. I know I sound like a broken record at this point, but I'm excited to see what she has next for us.
---
Okay so this post went through a few revisions on how I wanted to do it but I hope y'all enjoyed it. I think my next post will be on Twice and Eyes Wide Open. You can follow me on Twitter or Tumblr for updates on that. Let me know what new music y'all have been jammin to. I'm always accepting recommendations.
Until next post,
Take care!
Ash♥♥♥