The finale!!
We have finally reached the final member of Blackpink! Starting with a J name member and ending with one, lol. Jisoo became my second favorite member after I saw them live in 2019. She's severely underrated and underappreciated.
When it comes to the main fashionistas of Blackpink, I don't think many name Jisoo first. Her style is more laid back and feminine.
One of my favorite casual looks of Jisoo is this hoodie and dress (or maybe it's a skirt) combo she wore at the airport a few years ago. It's so comfy, but shows a different side of Jisoo from what we normally see.
I almost chose this athleisure look to recreate instead of the other comfy look I picked. I found from the saved posts I had of Blackpink's various style accounts like Blackpinksstyle, I had a lot of what Jisoo wore saved. We have similar taste in clothes and accessories. I'm still hunting for her purple Coach bag from a few months ago.
I mentioned in the Rosé post how Lisa and Jisoo are a bit more tomboyish in their style. Jisoo is more on the sporty side of the tomboy spectrum. I could pull five different airport fashion pictures to further support that statement, but this post doesn't need to be that long, lol.
Jisoo just has such a cool vibe about fashion. I don't think she's as interested in it as the other girls, but she makes everything look effortless.
Similar to Rosé's cool girl vibe that fits perfectly with YSL, I think Dior for Jisoo is a collab made in heaven. Dior has had a resurgence among the fashion followers and trend setters. Because
Jisoo seems to enjoy handbags and accessories more than clothes, I too have a handbag addiction, I think it's natural for Jisoo to be associated with a brand with, so many sought after bags like the Lady D, Saddle bag, the Book Tote, and the Bobby Bag.
She's with a trendy but classic brand. Also like Chanel. But the vibe is different. Dior is slightly more edgy. Not as edgy as YSL, but they could sit at the same table.
So for the four outfits I put together, I tried to get a wide variety of Jisoo's most common uniforms. We have a comfy, athleisure look, a wide legs and tucked in shirt look, a mini dress, and a preppy skirt and long sleeve shirt look.
None of these looks are purely Jisoo exclusive as all of Blackpink have and continue to wear similar clothing, but they all have different takes on their outfits that are unique to what they like. So let's get started!
Look 1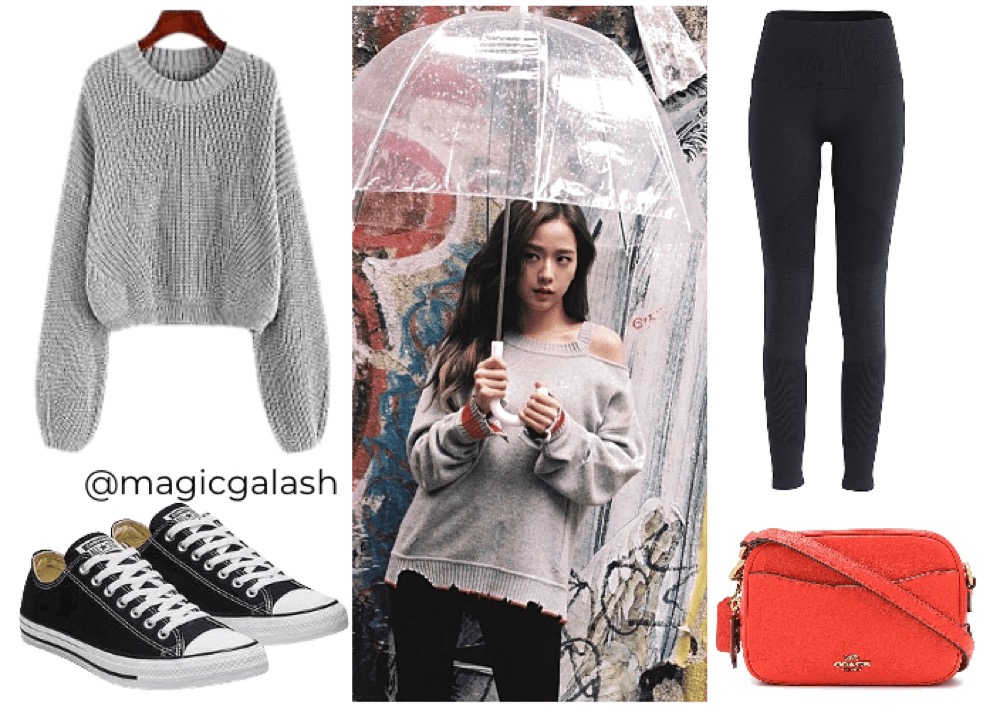 So for this first look I didn't search too hard for an off shoulder sweater on purpose. I feel like as log as it's a comfy, slightly oversized sweater paired with some leggings, the vibe was pretty much the same.
That's also why I chose Converse and a camera bag. I thought the red camera bag would stand out a bit more than a neutral color, but if you don't light bright bags, a neutral would be fine.
I noticed Jisoo tends to choose a brighter color or statement pattern bag for the outfits that don't have a lot of color too it, i.e. neutrals or no patterns in the clothes themselves.
I also didn't bother with a clear umbrella because I'm pretty sure this was just a prop for the day, but you know if it's raining, and you're wearing this look, yeah go for it.
One last thing on this look and the others, some of them have earrings and necklaces and others don't. Typically, with the exact IGs they don't include things that aren't in the photo.
So when it comes to recreating this looks, I add things I would wear and things I think would enhance the look.
I don't tend to wear bracelets or rings a lot because I forget I own any. So if you do wear these a lot and don't see them in my recreations, that doesn't mean you aren't allowed to for your take on the look.
Look 2
Of all the looks I picked, this one is the one I most want to try out in real life. I love a good wide leg pants moment. I usually tuck my shirts into my bottoms anyway because I like to have a defined waist (it works well with my body type).
I've been wanting a Gucci belt for a while, but I've been waiting for the right moment (and price). While working on this post, I found a few statement belts like Jisoo's for pretty good prices. The one she's wearing here is Dior, of course.
I tried to get a bag that was a similar shape. I didn't realize blackpink.closet.indo on IG posted the exacts that the bag was more of a shoulder than a crossbody.
The sandals I felt would be a cute option for if you were wearing this look out shopping during the spring or summer.
Lastly, I love the bows in her hair. I started to put two of the bows on here, but I felt the one gets the message across.
I didn't want things to look too cluttered. If you'd like to see the exacts of this look, check it out here.
Look 3
I almost didn't include this dress because this one reminds me of something Rosé wore in the past. But she looked too good to not include this looked.
I couldn't stop thinking about how pretty and casual this look is.
I found a knock off Dior saddle bag. Because basically the only bags she carries now are Dior. I didn't realize until later, she was wearing a blue necklace.
So I didn't include it. I thought about adding one later, but I couldn't find one I liked. So I kept the diamond studs.
The dress I found is from Boohoo, and it's currently sold out. I feel like these dresses come available often, so if you can't find one now, wait until it warms up.
The watch I thought was cute, and I like the daintiness of it.
Look 4
Alright, the last look! I love this slightly edgy take on a typical preppy look. Like with Rosé's first look in her HTDL, Jisoo's look is very much the cool rich girl prep.
When choosing all these looks, I wanted to compare and contrast the girls style. I think this is a perfect example of the YSL girl vs the Dior girl I touched on earlier.
This also gives me a bit of "Baby One More Time" vibes. Anyway, on to the look. So I choose this look over some of Jisoo's more girly girl preppy looks because of how different it is.
Jisoo likes wearing a shirt or jacket over her first layer shirt. In this case, she's wearing a white button down shirt over what I think it is a crop tank top.
The mini skirt was hard to find a dupe of, but I think the one I found matches well pattern wise.
Here she's carrying the Bobby bag, so I found this look a lot on SheIn (or maybe it was Romwe). This bag is trendy now, so you can find a version of it just about anywhere.
The d letter necklace Jisoo wears is surprise surprise, Dior. The one I found was like $3 on Aliexpress.
---
We've finally gone over every member of Blackpink's style. If you enjoyed this series and would like me to create more Blackpink outfits, let me know.
I'll continue to create HTDL posts in the future on different groups and individual people.
If you have a specific person in mind. Tell me in the comments. I'll be working on more fashion tips and tricks post in 2021.
So many people already talk about the music, but I want to help y'all incorporate some idol fashion into your personal style. And if you'd like to buy Jisoo inspired outfits, check out Unnielooks. You can get 10% off your order with my code "ASH".
So on that note, I hope y'all enjoyed this post! Follow me on Twitter and Instagram.
Until next time,
Take care!
Ash♥♥♥