It's time for part 2!
It's been a while since the first How to Dress Like post. So now it's time for part 2 of the how to dress like Blackpink series. Lisa is the most fashion forward member when it comes to styling in their videos. This is a double edge sword.
Lisa's styling usually leans towards the IG Baddie. As the group's lead rapper, there's a push to make her style a little more tomboy compared to Jennie. Lisa's outfits are still feminine, but they are edgier than Jennie's.
After scrolling through Lisa's Instagram, I noticed a large chunk of her account included clothes that were sponsored or planned outfits. Planned meaning either for a fashion show, magazine editorial, or for a music video. Especially in 2020.
There weren't too many outfits that looked like she had picked them out, that or showed her personal taste. I remember reading in the past that the girls, except for Jennie, just wear whatever.
They aren't as interested in fashion. I forgot where I read that, but it kinda shows. But then again, if you had any Blackpink's bodies, it would be difficult to look bad in anything you wore.
It might be due to Covid-19, but in 2018 -2019 there were more airport fashion pictures and pictures she uploaded on Instagram where it looked like she had more say in her outfits. Or maybe those outfits were also picked out by a stylist. Idk.
What I'm trying to say is that Lisa doesn't have a distinct style like Jennie. I look at Lisa's outfits, and it really could be worn by anyone.
I see the "baddie" looks, and it's stuff that you see Hwasa of Mamamoo or Jessi wear. The more feminine outfits Lisa wears look like your typical Kfashion, Chuu like outfits.
Regardless, I found four outfits that I think best showcase Lisa's style and are easy to remake.
Look 1
I don't remember when Lisa posted this picture. After revisiting her account, I rediscovered it and I knew I had to recreate it for y'all. It's a comfy but easy look to create. It's more of an edgy look, but something I think even people who don't normally dress like this could feel comfortable stepping out in.
None of the outfits I put together had shoes showing, so I stuck with sneakers for most of them. The necklace included here is from Etsy, and it's an L monogram pendant. Lisa's necklace is from Celine (you can find it on blackpinksstyle's Instagram, along with the actual items of this look).
I also played around a bit layout side this time around when creating this recreation. If you're interested in any of these items, you can find them on my Shoplook .
Look 2
This second look represents Lisa's tendencies to wear bold print coats with light wash jeans. I was surprised how close this Cupcakes and Cashmere coat is. I thought this whole look matched Lisa's, so I didn't bother including jeans or a shirt.
You could basically wear any white graphic shirt and light wash jeans to match Lisa's look. You probably already have these items in your closet. This time I included earrings, boots, and a bag I think suits this look well. The multilayered necklace I think is close to what Lisa is wearing, but again you can pull from your own closet.
Look 3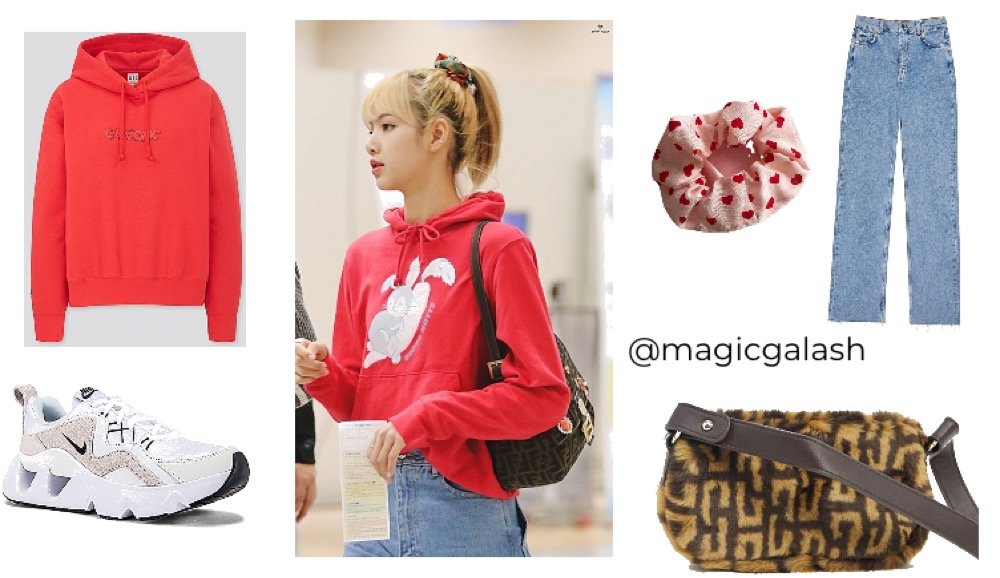 I had a lot of fun putting this look together. Well, actually this whole post was a ton of fun to put together. If I could make personal styling my full time job, I'd do it in a heartbeat. Anyway, my favorite pieces from this look are the heart scrunchie and the faux Fendi bag. I love a good scrunchie and handbag.
The bag is from Asos is a bit smaller than the Fendi bag Lisa has. But pattern wise it's pretty similar and not a bad dupe for $32.
I just thought that scrunchie was cute, so I picked it for this outfit. Lisa's has some green in it and I probably could have spent more time hunting the interweb for a better match, but oh well.
I also did a quick search on white sneakers and fell in love with these Nikes. I feel like Lisa would wear them in real life. As far as the red hoodie? I like Uniqlo, and it was one of the first that popped up, so I went for it.
There are a few airport pictures with Lisa rocking a hoodie and jeans. I feel like this look again is comfy and easy. Something pretty much everyone has in their closet.
Look 4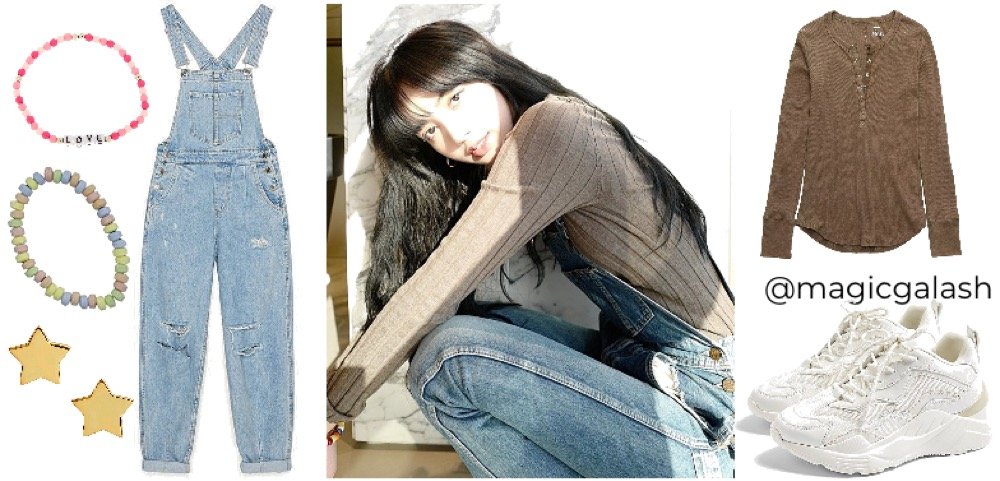 And our last look! Another easy outfit uniform. These are more items you probably already have in your closet. Well, minus the brown shirt. Does anyone have a long sleeve brown shirt in their closet right now?
Other than sweaters and some coats, I don't have many brown shirts in my closet. Not sure why that is. But this Lisa look made me realize I should consider it.
Lisa's shirt/sweater looks cuter than the shirt I found. But I think it gets the point across. My favorite pair of overalls are from Madewell, however it's tricky finding them under $100.
So I didn't link a particular pair from them. I think I got mine for around $30 – $40 on sale. So keep an eye out if you're interested in a solid, durable pair of overalls.
I picked another random pair of white sneakers for this look, I think Lisa would wear in real life. I'm pretty excited about the accessories this time around. I considered buying these after I found them on Shoplook.
---
When I first started research on finding outfit uniforms for Lisa, I thought it be impossible. It's hard to find a pattern in her wardrobe.
Once I realized that Lisa not having a distinct style is a style. It was easier and fun to put looks together. I think that's one of the things people like about Lisa is her relatability. It literally spills over into the physical representation of her in her clothing.
So, I hope this inspired y'all to dig into your own closet and see what similar clothes you have that matches Lisa's. Of course if you want the exacts you should check out some of the style Instagram accounts like blackpinksstyle and others like them. You can also find on Instagram Lisa exclusive style accounts.
I'd also like to shout out the fansite Sweetcrush who's pick of Lisa I used for the third look. Or, if you'd like to buy Lisa inspired outfits, check out Unnielooks. You can get 10% off your order with my code "ASH". Follow me on Twitter and Instagram.
I hope y'all enjoyed this post, and I'll see ya next time!
Take care!
Ash♥♥♥