Part 3! Miss Rosé
I don't remember when Rosé became my official favorite member of Blackpink. It just happened, and it's been like this for a few years now.
Because she's my fave, I probably pay more attention to her style choices. Because how else can I plan our couples outfits. Every member of Blackpink has their brand endorsements.
Jennie's the Chanel girl. Jisoo's the Dior girl. Lisa's the Bulgari girl. And Rosé's the YSL girl. They have other brands they work with as well, but these are the main ones that come to mind when I think of them.
I think YSL (Yves Saint Laurent) is the perfect fit for Rosé because she fits the cool indie/punk girl vibe. But there's still an element of elegance and femininity. This is where Jennie and Rosé and Lisa and Rosé's style kind of overlaps.
Jennie and Rosé are differently, the more feminine girly girls of the group. Whereas Jisoo and Lisa are a bit more tomboyish in style. I'll speak more on Jisoo's tomboy style in her post. Both Lisa and Rosé tend to get the more experimental looks.
Lisa tends to get the baddie look, where Rosé gets more of the Blair Waldorf like experimental feminine looks. Both Jennie and Rosé could wear Blair's outfits, but Jennie's would be more of Blair's tame, classic Parisian looks.
Actually, if I'm gonna bring up "Gossip Girls", Rosé style wise would be closer to Serena's. Jennie's closest and Blair's would 1000% be similar. But enough of the "Gossip Girls" references.
For Rosé's looks, I chose 4 outfit uniforms she mostly sticks to. She's pretty consistent style wise. Especially in the cooler months. She mostly stays in long coats/cardigans, skinny jeans, and a simple solid color top, me too.
She mostly wears mini dresses, skirts, skinny jeans, baggy light wash denim jeans, and crop tops. Occasionally she'll break out the dad cap and wear some athleisure looks.
She rarely wears shorts or overalls on "off days". To summarize Rosé's style in a sentence, I'd say she's pretty preppy mixed with boho vibes. So let's jump into look 1.
Look 1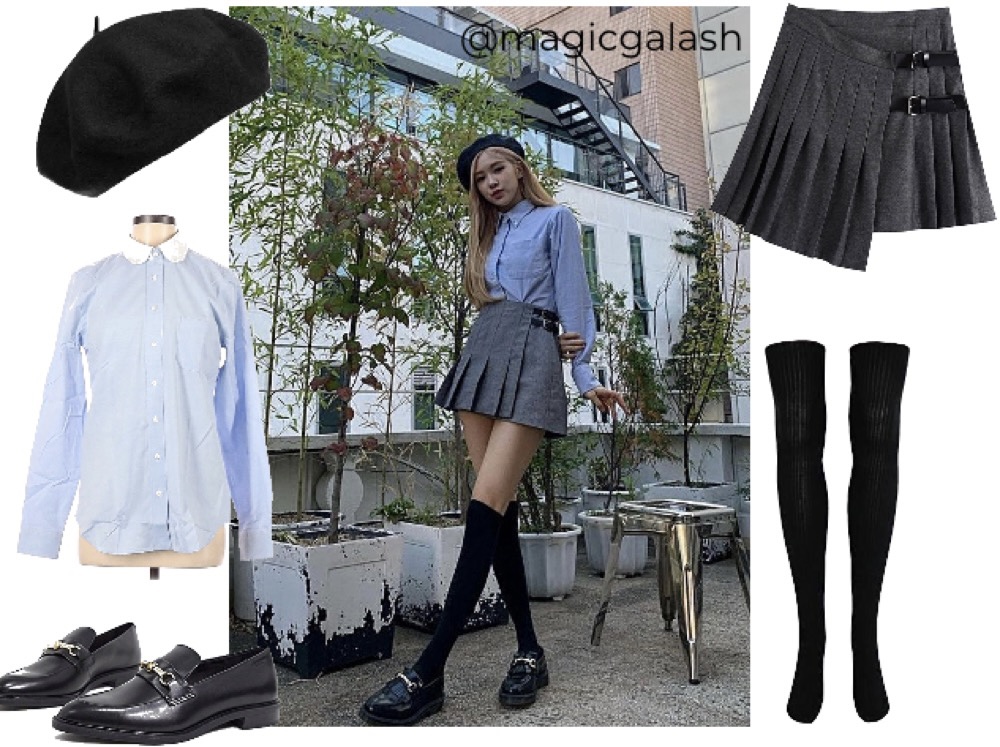 For this first outfit uniform, I chose a preppy school girl look. Rosé has a lot of these rich school girl preppy outfits and I love it.
This particular look is a little more edgy than your typical Northeastern prep who visits Martha's Vineyard and the Hampton's regularly for holiday.
I chose this white collard almost Peter Pan collar blouse because I couldn't find an exact solid blue dupe.
But the more I thought on it, the more I felt it fit because it has that Parisian, super feminine vibe to it. Really, some of my favorite fashion pieces are here. Knee socks, berets, and tennis skirts. I approve of this whole look.
Look 2
There are a few variations of this look Rosé does. Actually, I think every Blackpink member has worn a similar look at least once.
Sometimes Rosé will wear skinny jeans and a crop top like this look. I chose this look with the baggy jeans and crop top because it looks so comfy. I think it's also super easy to recreate.
I think she has a shopping bag here, but I chose a random cute tote to go with this outfit. I feel like it'd be something she would carry irl.
I'm also a big fan of platforms, despite being 5'7.5. So idk when, but I gotta get me some platform converse like these. It looks like Rosé's shoes have a bit of a thick heel. I might have picked a higher shoe in my take on her look.
Look 3
One of my favorite pictures of Rosé. This dress was a pain to find a decent dupe of. They were either too ruffled in the sleeves or skirt or not enough ruffle. Finally, I ran across Fashion Chingu's version.
So that made my life easier, lol. I like that Rosé tends to stick to a few major designer bags that she likes. I can't relate. I'm very much a handbag addict. I have a pink Cole Haan bucket bag I got on sale earlier this year that looks similar to this tan one I found.
I feel like compared to Lisa and Jennie, Rosé doesn't pay too much attention to what's trendy. Like I expect Jennie and Lisa to have the on trend accessories whereas Rosé seems like the type to not wear something because it's popular.
If she likes it, and it happens to be popular and trendy, cool. More of the laid back vibes I get from her style wise.
I noticed in some of her IG post, she's worn dresses with sneakers in the past. So for this look I chose some white sneakers. I didn't want to repeat the platform Converse from the previous look.
So I chose the Comme des Garçons collab. I thought it'd be fun. That's also why I threw the earrings in. Just for funsies.
Look 4
This is like my autumn/winter go to look, and I'm shook. I wish I could have found a brighter top for my dupe. I think the navy gets the point across. I almost ALMOST when with this iconic outfit, but I felt like this one was a bit more colorful.
So it would be a bit more challenging recreating. So the elephant in the room is trying to match the YSL bag. It's cute. But I wanted something a bit more affordable, so I went with Madewell. I LOVE Madewell.
This bag is also one trend with those interchangeable bag straps right now. So if you wanted, you could take this look a step further and swap the strap out. There's a joke here, but I'm gonna keep it to myself.
I purposely didn't bother with shoes here because I felt like she was wearing sneakers. Converse to be exact, and I'd wear boots, but this isn't really about me… So I was conflicted. I ultimately decided to leave it up to y'all.
If you're recreating this look, wear what you want. Wear what's comfortable. And wear what you already have. The whole point of these post is to take inspiration and put your own twist on it. Kinda like what I did.
---
So on that note, we finally got Miss Rosé done! Last one is Jisoo and I think I'm the most excited about her style. There are so many items I find myself thinking, "damn, I want that! We have such similar taste!!"
I personally think my taste a line more with Rosé and Jisoo's, but I'd kill to have Jennie's closet. Lisa has some cute items I'd like to have in my closet as well. I'm so sad to finish this series with Blackpink.
I love the girls so much, and it's been a blast talking about their style. So if you'd like me to go back and revisit some other looks, let me know in the comments below.
Oh, and if you're interested in any of the pieces, check them out here on Shoplook. Or, if you'd like to buy Rosé inspired outfits, check out Unnielooks. You can get 10% off your order with my code "ASH".
Follow me on Twitter and Instagram.
Until next post,
Take Care!
Ash♥♥♥