Idol Inspired Outfits: Oh My Girl – Nonstop
I had mentioned in a tweet a few weeks ago that I was working on two new blog posts.
One of those ended up being the How to Dress Like Jennie Kim post and the other is this post you're currently reading. I fell in love immediately with the outfits and imagery used in Oh My Girl's Nonstop music video. I knew from the teaser pics that were being released I'd talk about their outfits in the video.
And here we are. However, instead of my usual music video fashion review, I thought it would be fun to do an inspired blog post this time. I will briefly cover my main 3 favorite individual outfits from Nonstop before we get to the actual meat and potatoes of this post.
---
Yooa's Floral Crop Top and Baggy Jeans Look
I thought I took a screenshot of this scene where you can see the full outfit…idk what happened. But in Nonstop you do see more of Yooa's outfit here. I love how cute and summer ready this look is.
Mimi's Beret, White T-shirt, and Dark Wash Jeans Look
I was soooooo close to including this outfit into the inspired outfits. I decided to just focus on the group looks to keep things easier. But I'm definitely keeping this in my personal outfit inspo mood board.
Binnie's 80s Plaid Blazer and Skirt Set
Man you briefly get to see this outfit in Nonstop, but I have so much love for it. I love that my 3 favorite member also happened to get my favorite looks in Nonstop. Talk about luck. This is another outfit I'd recreate or take some inspiration for in real life. They even got a headband to match the jacket and skirt. Love the dedication to the look.
Alright, now that we got that out of the way, let's get into the four inspired looks I made based on the group outfits in Nonstop.
---
Look 1: Purple Outfits
For this group look I mostly took from Seunghee's look in this scene. I'm such a sucker for berets and I like how cute yet casual this outfit is. This is my favorite outfit I made for this blog post. I was tempted to also make multiple inspired looks from this scene. There really isn't an outfit here I don't like.
---
Look 2: Cowgirls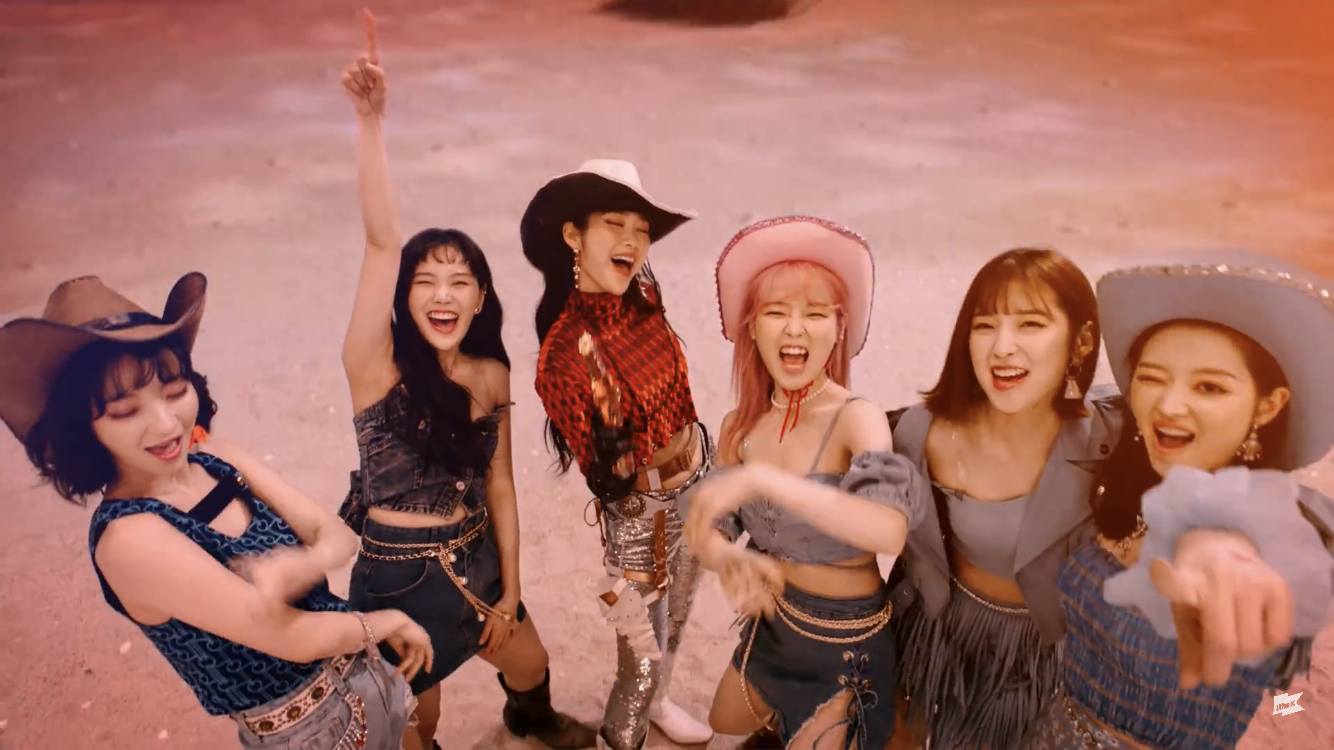 Jiho's outfit in this Western/Cowgirl scene is clearly the standout look. So I tried to get as close to the real look but still make it something that someone would actually wear in public. This outfit is borderline too editorial for everyday life.
I debated even including the glove, but I think these aren't as flamboyant as the ones Jiho wears in Nonstop. Of all the girls looks in this cowgirl scene, I'd want an outfit closer to what Hyojung wears in this scene. I love a denim on denim moment.
---
Look 3: All White Everything
The white outfits the girls wear in this scene look like they're made of tweed or a bouclé fabric. A suit set of either of those fabrics can easily go for $100. So to keep things on the cheaper end, I chose fabrics that are closer to a polyester or cotton.
The jacket is from Topshop and is around $85. I didn't feel like hunting the internet, so I just used this one that was available  on ShopLook. The skirt however is $17 so that's not too bad. Seunghee wears a beret again in this scene, so I included it into my inspired look of course.
---
Look 4: White and Floral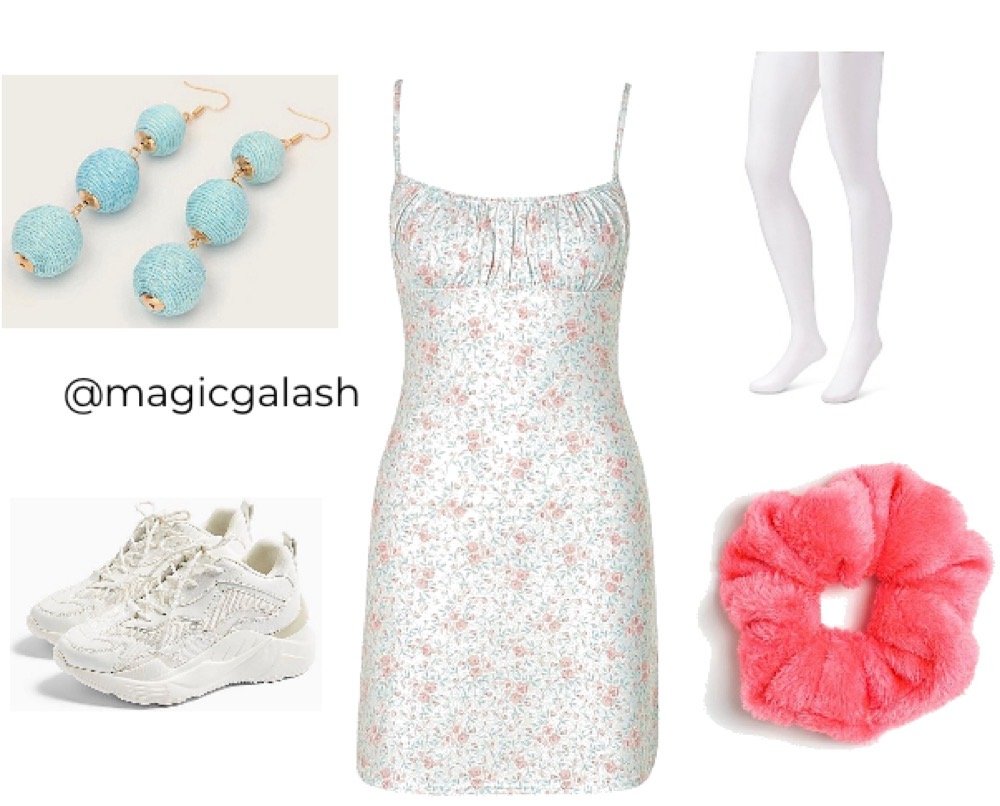 I really like the variety of outfits in this scene too. It reminds me a lot of the purple look. This look you could have some fun mixing and matching parts of the girls looks here. I kept things fairly simple with this look.
I think the outfits for this scene were custom-made. I used Binnie as a template to build this look from. Personally I wouldn't wear white tights for this look in real life, but Binnie has tights on here, so I included them. I
'm not sure why it was so difficult to find some pompom earrings like the ones Binnie wears here. They must be a Korean brand. And I probably didn't search hard enough for a better dupe lol.  
There's like three different white pairs of shoes in Nonstop. I like the trend of the chunky dad sneakers going on at the moment. I'm also thrilled about scrunchies being normalized. Those popped up a few times in Nonstop as well.
---
And those are the four main looks for this Oh My Girl Nonstop Inspired Outfits post. I hope y'all enjoyed this post and got inspired to create your own similar looks. Let me know if you tried any of these looks or if you have an idol's style you'd like me to tackle. You can also find more information about the outfits I created on my ShopLook profile.
Take care,
Ash♥♥♥