REVIEW: ATEEZ – Wonderland & TREASURE EP.FIN: ALL To Action
I meant to have this post out last week after the How To Dress Like Lisa of Blackpink post, but I completely lost track of time. So here it finally is! Sidenote: I had to crop the cover picture, so it didn't look weird on the site, so picture credits to KQ Entertainment. 
---
Introduction:
ATEEZ and ATINY celebrated ATEEZ's two-year anniversary since debut on October 24th. The Port of Call online fan meeting was a blast, btw. I can't wait to see them perform live when concerts are okay to attend again.
It's been a year since we entered Wonderland era and got ATEEZ first full length album. And now, since I'm ATINY and care, now is the perfect time to talk about my favorite ATEEZ album to date.
I've mentioned my initial thoughts of ATEEZ were that they only made noise music. A bunch of farting horns, no chorus songs, just a heavy reliance on instrumentals.
Now, Wonderland is definitely a going into battle song. And has those horns in the chorus, but it's similar to BTS 'Not Today'. A catchy song that'd be great to have in the background of a fight scene in an action movie.
---
Quick Explanation for New Review Layout & Take on Irene Scandal (not related, but kinda):
So before I get too deep, let me lay out the format of this review. Usually my short reviews are a brief roundup of the song and the clothes (if there were certain looks I liked and wanted to mention). My fashion reviews briefly mention the song (and a brief review of the album it's from) and focused more on the clothes. 
For my music reviews going forward, I want to spend more time cover music more and set aside a section for fashion. But for the fashion reviews, keep it strictly to the clothes.
Now for my Red Velvet reviews… Well, once I go back to covering those, I can't believe queen Irene has such a bad rep with industry peeps.
That's a big no for me. I'm happy she was called out for it, but it sucks the other members have to suffer for it. She's the leader and should have better judgement.
Anyway, I'll still mention the music and my fave songs off those albums. For the throwback posts like those, I think it's easier to just include a paragraph or two talking about that.
---
Actual Review:
Okay now that I've got that covered, let's get back to ATEEZ and TREASURE EP.FIN: ALL To Action. When I was first diving into my "do I like ATEEZ" trip, I was recommended mostly songs from TREASURE EP.FIN: ALL To Action. So that's where I started.
---
TREASURE EP.FIN: ALL To Action Track By Track:
End of The Beginning
This introduction song gave me Game of Thrones vibes. I'm not sure what string instrument that is, cello maybe? But that's what's giving me those vibes. I never listen to this. But I love the connection to Wonderland.
---
WONDERLAND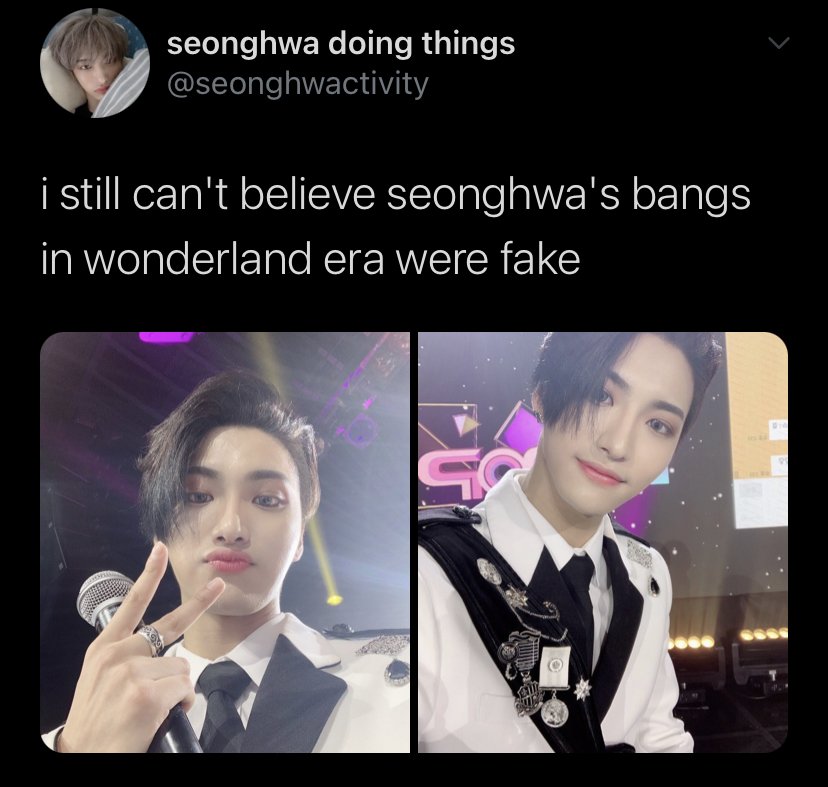 These tweets sent me, and I knew I had to include them in this review. As I mentioned in my 'Say My Name' review, black hair Seonghwa is my favorite. Wonderland!Seonghwa is God tier, and I was shook to discover his bangs were weave.
I didn't have time to soak in that news before scrolling down to read the mentions and seeing @/syou_atz tweet the following. At that point, I was rolling. 
On to the song itself. If 'Say My Name' is ATEEZ national anthem, 'Wonderland' is their going to battle song. I'm not sure how to describe how epic (like Odyssey epic) this song is. I wish I could experience this song for the first time again.
I think it's the perfect introduction to ATEEZ and their sound. In the chorus they say, "To the beginning that the ending is waiting", a reference to the first song on All To Action (I'm shortening from TREASURE EP.FIN: ALL To Action because too much to type/copy paste lol.)
The lyrics heavily hint to ATEEZ's pirate concept, despite them wearing military like suits in the video. Oh, hey, perfect segue…
WONDERLAND Fashion
There are three main looks in Wonderland music video. My favorite of the group looks is the black military suits. I love the costume accessories put into creating this look. Seonghwa talks a bit about it in his Mars ASMR video.
I could write at least 500–600 words on Wonderland!Hwa, but just know that I agree heavily that this was his era (San agrees too)  and the side undercut he gave us is EVERYTHING.
Hongjoong's hair cut here is kinda terrible, but works. I think it's the color that makes me not completely hate this hair.
I do miss black hair, Jongho though. When is he coming back from the war? Wooyoung's blonde hair? Iconic. Love it on him. Same with San's mullet.
I love Yunho's blonde hair with his dark roots sticking out. Yeosang and Mingi's hair really suit them well here too. They keep it simple. It's just Hongjoong throwing off the groove. Expected from the fashion king, I suppose. Always out here experimenting. 
The red velvet suits are my second favorite look. Love a good velvet suits. Especially in red. Lastly, is the group look with Hongjoong's leopard print coat and Seonghwa's red and black sweater vest. The members again are wearing a bunch of items I think you could find in the men's section at Zara.
I really like this look. I wish we had better shots of it. Maybe an alternate version of Wonderland with these outfits or a performance version. Remember when groups would do like 10 performance versions of the same song? Good times.
'Wonderland', 'Say My Name', and 'Inception' are my top three favorite ATEEZ title tracks at the moment.
---
Dazzling Light
I think 'Dazzling Light' is a watered down version of ATEEZ and I mean that in the most complementary way.
This is a song that wouldn't scare the general population if you played it on radio. If you're new to Kpop and bombastic songs like 'Wonderland', hearing 'Dazzling Light' is like dipping your toe into the pool that is ATEEZ.
ATEEZ uses a lot of EDM instruments and drops, and I feel like this is a mainstream take that would appeal to Dance/House fans along with pop fans.
Like Chainsmokers, but good. 'Dazzling Light' is one of my favorite ATEEZ b-sides and I had it on repeat for about two weeks along with some other ATEEZ songs I grew attached to. 
---
Mist
I love love love a good midtempo song. ATEEZ don't have a lot of slow ballads, and I think that's very sexy of them.
 All To Action tells a story of ATEEZ searching for their treasure, and this song continues the story. Another song I listen to a lot. 
---
Precious (Overture)
If I had heard this song back in 2019, I'd be soooo hungry to hear the full version. The full length version of 'Precious' was released on TREASURE EPILOGUE: Action To Answer in January 2020.
It's so good. I love both versions. I have both the versions saved. I love the satisfaction of a complete song. Can you imagine if we never got a full length version of BTS 'House of Cards'?
---
WIN
Okay so going back to 'Say My Name' being ATEEZ national anthem and 'Wonderland' is their going to battle song. 'Win' is the victory lap song.
I loved in their Weekly Idol episode when they were winning against the host, they kept playing 'Win' and singing along to it.
Once you hear it, you can't tell me you don't get hype by Mingi's deep ass voice singing, "hey we are gonna win" followed by horns. It's a great song.
---
If Without You
My favorite ATEEZ song. I listen to it at least once a day with one of those times on repeat once, have the first 20 seconds of it as my ringtone (whenever anyone calls), and I'm hype every time I hear it.
This is my emotional support ATEEZ song. It's almost a midtempo song. It kind of has some R&B elements to it if you squint. The instrumentals in this song are so fun.
I love how ATEEZ will include five or more different beats/instrumentals into one song, and it still is coherent. Often when people try to put a drop in a song or switch flows, it's so jarring. ATEEZ has it down to a science. On my first listen, I was in awe.
This was the song that convinced me that I'd been missing out on ATEEZ and that I needed to, in the words of Mark Lee, "change my ways." 
The part when Mingi and a few other members (the had a clip of it in one of Yunho's ANEWZ) singing, "We were one, we're still one, 딱 붙어서 우린 one" is one of the many parts I can't wait to get to, so I can sing with them. Full offense, we can't be friends if you don't vibe with this one. 
---
THANK U
One of two songs from All To Action I don't have saved on Spotify to regularly listen to.
It's a good song. I like the lyrics, but it's just not a song I revisit. 
---
Sunrise
The second song I don't have saved.
It's another song with good lyrics, but it's not a song I jam to.  
---
WITH U
I fuck heavily with 'With U' though. It's probably my favorite ATEEZ slow song. I love a good piano in a song.
'With U' is a great song to have on in the car driving. It has a cozy rainy day vibe to it despite it being a sad song.
Why is it always the sad songs in Kpop that are bops, bangers, straight tunes, etc. I feel the same exact way about EXO's 'What If'.
---
Beginning of The End
Another instrumental only song to end the album. I'm not sure if it's necessary. Or, I guess I'd rather it sounds closer to 'With U' to solidify that is album is the end of the Treasure series (not including the epilogue album released in January 2020 that officially ends Treasure and ZERO series begins). 
I should add that in addition to 'Thank U' and 'Sunrise', I don't have either intro or ending song saved either. I love the journey you get while listening to TREASURE EP.FIN: ALL To Action.
If you're like me and thought ATEEZ only makes songs that sound like 'Say My Name' and 'Wonderland', TREASURE EP.FIN: ALL To Action has so much variety and showcases different sides of ATEEZ you don't get on any other album like this. Well, maybe since ZERO : FEVER Part.1.
The difference in 'THANXX' between 'INCEPTION' is a cause for whiplash. But if you want a sampler plate of what ATEEZ has to offer Kpop, you can't go wrong starting with the end. Cause fin means end…just incase you didn't get the joke. I'm sorry I'm done, lol.
---
So, what do y'all think of this format? I had a blast putting this review together. I'll be doing more reviews like this for Twice, Seventeen, CIX, and TXT's new songs. I'm gonna skip a Best/Worst post for October. I've got some other exciting post on the way, so please look forward to that! Until next time,
Take care!
Ash♥♥♥♥