My fave song out of the two.
I love the part where IU says," I can't die, I'm all in." Like it's just a mood. The gambling/casino plot for "Coin" is interesting to me. It's a different side of IU and I love actress!IU.
Clothing wise, "Lilac" does more for me. "Coin" has more masculine styling than "Lilac". Lots of suits. I think half of the outfits in this music video are suits.
So with all that out of the way, let's get started!
Look 1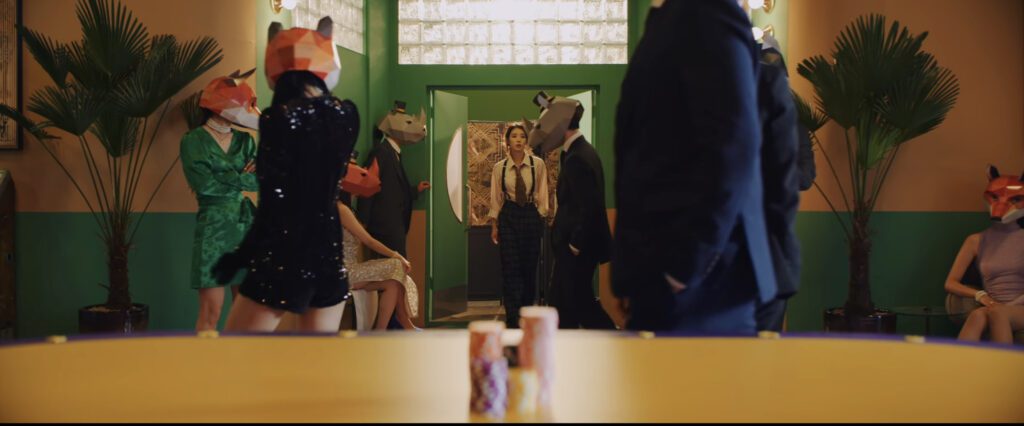 I love this messy ponytail. The contrast of styling between "Lilac" and "Coin" is so intriguing. Get you a girl who can do both. My favorite part of this outfit is the dark green plaid pants.
The suspenders are cute, and I like the dad tie. IU looks like she just got done with trading for the day on the NYSE. And now she's ready to party.
For some reason on this part of the train, which kind of reminds me of Infinity Train, there are people with animal masks on. I'm not sure if they're supposed to be anthropomorphic creatures here along with humans.
Or if it's just a way to hide their identity while on this side of the train. It never gets explained in the video. But they're also dressed really nicely.
I like the green silk dress, the black sequined mini dress and the tan almost lilac long dress the fox in the corner is wearing.
Look 2
This suit compared to the first one is pretty basic. It's not bad, but not my favorite look in "Coin". The back-up dancer's suits are alright. I think they're supposed to look more working class/blue collar.
Look 3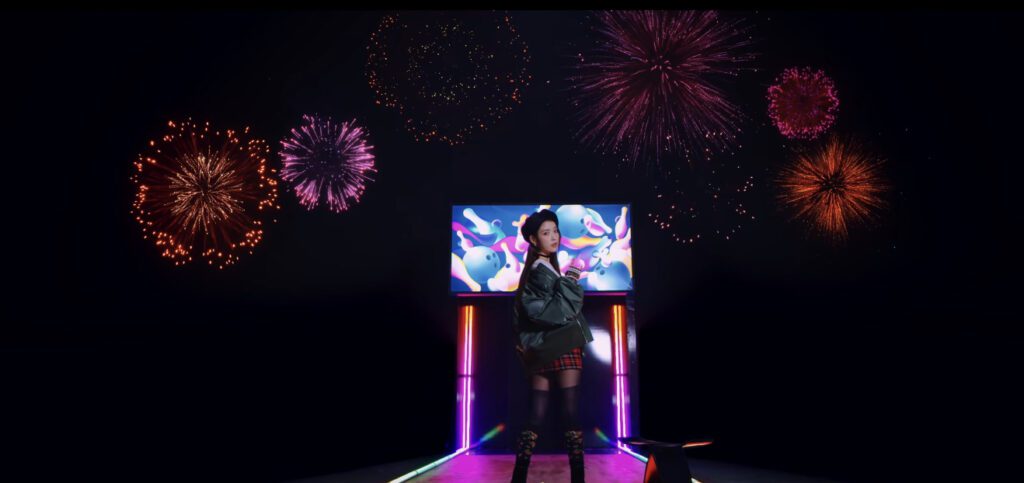 I love this look, but it was soooo hard to get a good shot of it. I'm not really sure how it fits into the rest of the story. But she looks good, so that's all that matters.
There's also two other outfits that pop up a bit later. I'm just going to include them here. I think they were just filler looks. You can't really see much detail.
Look 4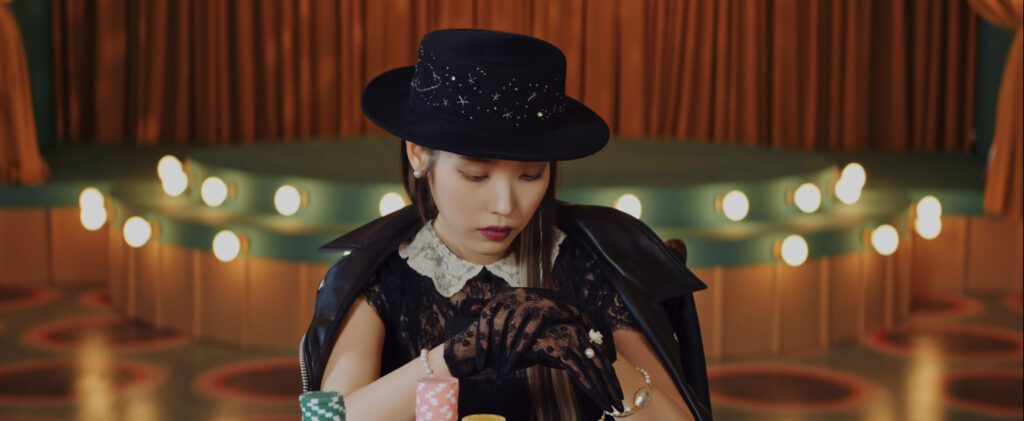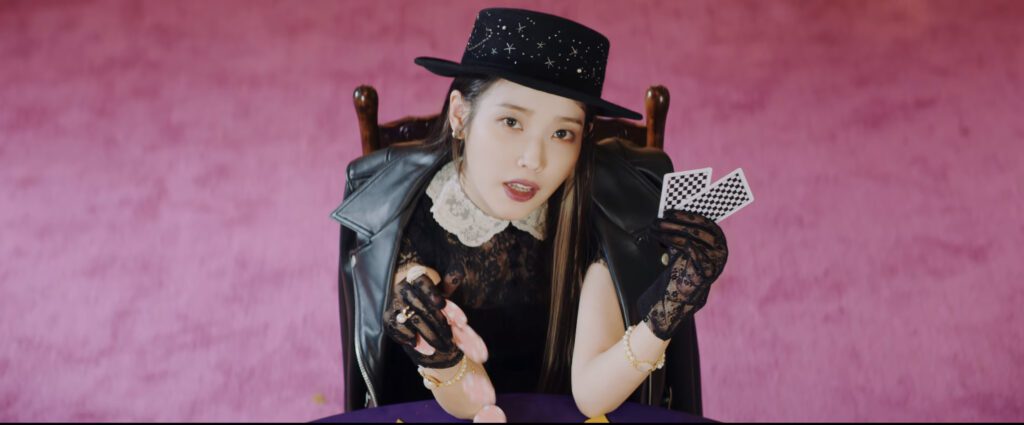 The accessories are what sell this outfit. Love the stars and planetary design on her hat. Love the pear jewelry, love the lace gloves matching her lace dress. And the leather jacket is the cherry on top.
Look 5
I love how dramatic this outfit is. It kinda doesn't fit the scene. With the disco ball, you would think it would be a retro 70s/80s outfit here. Not a flamingo/Spanish vibe. I love red and the tulle fabric for this gown. It's beautiful. But idk it just feels out of place.
The flower in IU's hair and the simple earrings, plus the light makeup, work so well here. But I love IU playing cards and listening to IU for entertainment at the same time.
Look 6

My favorite suit in "Coin"! I love a good baby blue moment. We got more lace gloves, this time in white. More pearls and a tie.
This is just a cute, polished look. IU looks like the head of an HOA and is gonna leave a letter in my mailbox complaining about my grass being too high.
Look 7
Another boring suit, but hey we got the long string pear necklace again. It's a cute but meh look. She's supposed to look serious and professional. But yeah, it's just a boring fit for me.
Look 8
Our last looks are so much fun compared to the previous one, lol. I LIVE for the bright red embroidered pants.
The tucked in white button down shirt with small decals on it as well? Amazing. Now this is a simple but interesting look. There's so much for your eyes to look at.
Now, the back-up dancer's outfits here? Not feeling it.
Why didn't they give them pants? I hate these shorts with longs socks. They had one job. And they messed it up.
---
Alright, finally got the IU videos covered!
This was a shorter post, but I hope y'all enjoyed it. Next up will be my April faves.
Follow me on Twitter and Instagram.
Until then,
Take care!
Ash💫