It's IU time!
I've been talking about how excited I was for IU's newest album for months. Once it was released back in April, I was a bit surprised at how laid back and slow the album was.
I thought it would carry the same energy as "Lilac" and "Coin".
But those were the most mid-tempo/upbeat songs on the album. It wasn't a bad album.
It was very IU, but I was hoping the overall sound would be more pop and dance leaning with one or two ballads. So that was unfortunate for me.
But I enjoyed both releases. I'll talk more about "Coin" in its own post. "Lilac" is a light and pretty sounding song.
My favorite way to enjoy "Lilac" is through watching the music video.
It's heavily story driven, and I think that's why I enjoy it so much. It keeps my attention the whole time through.
There are 7 different looks in "Lilac" so let's just jump!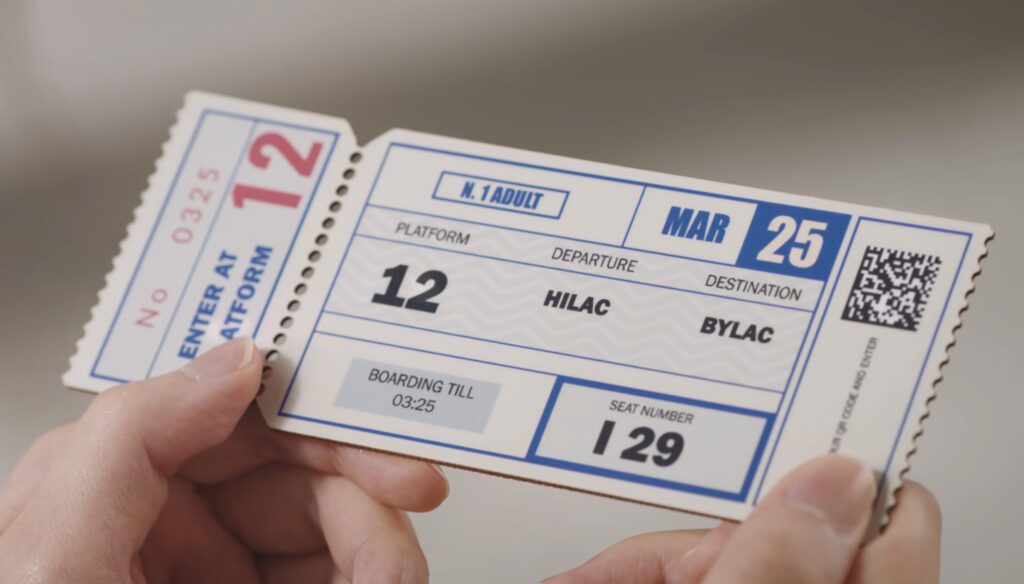 Look 1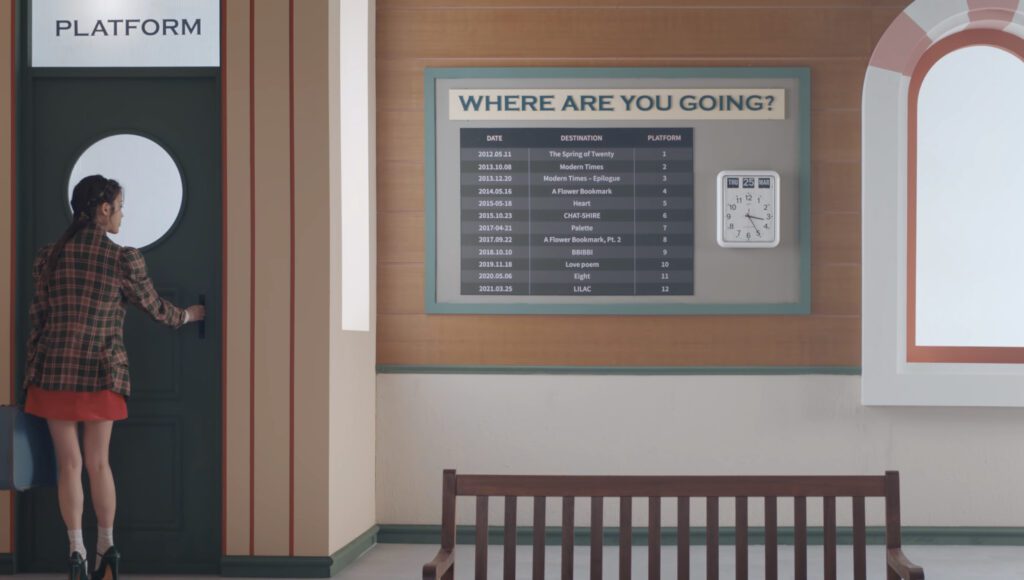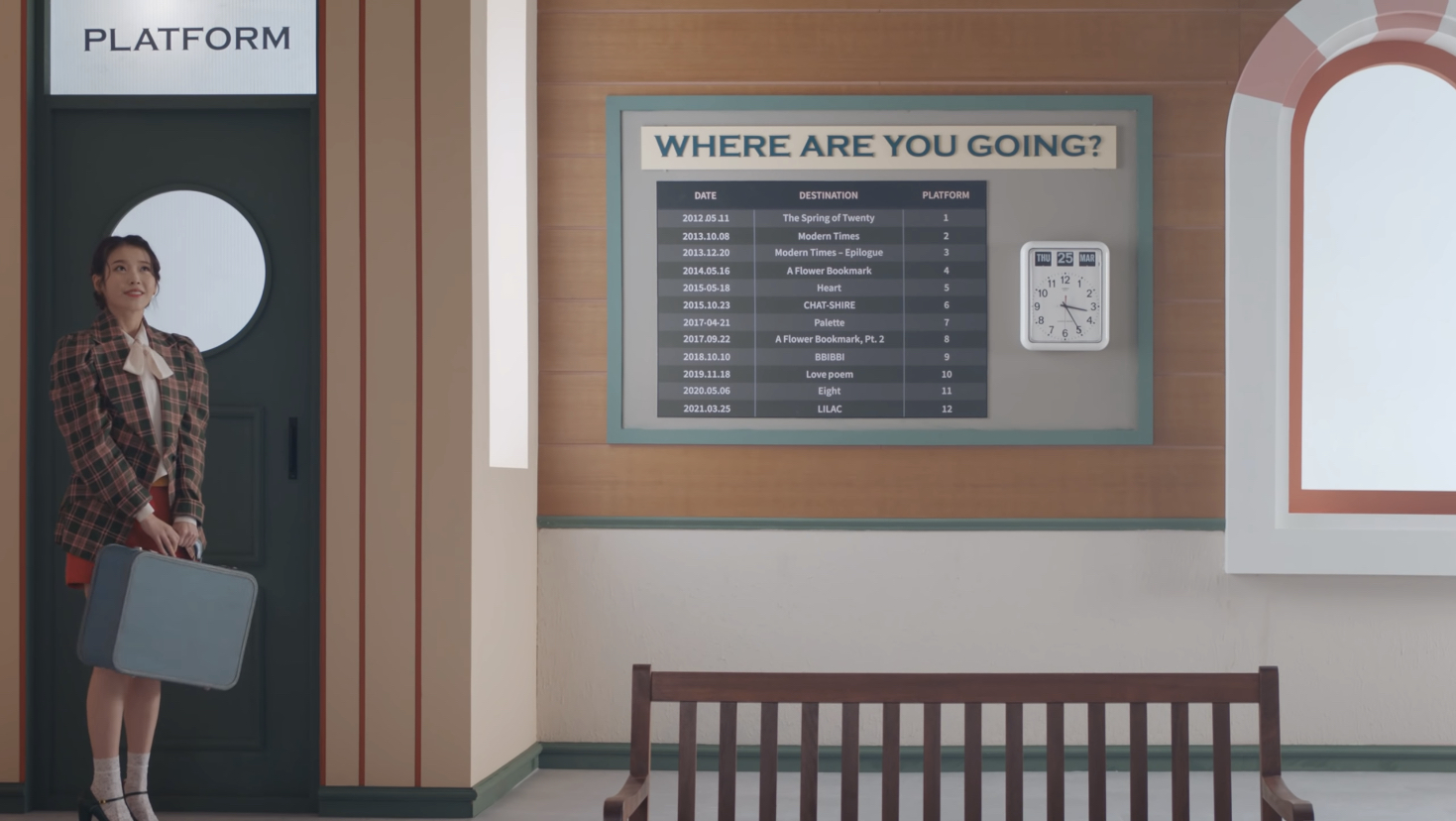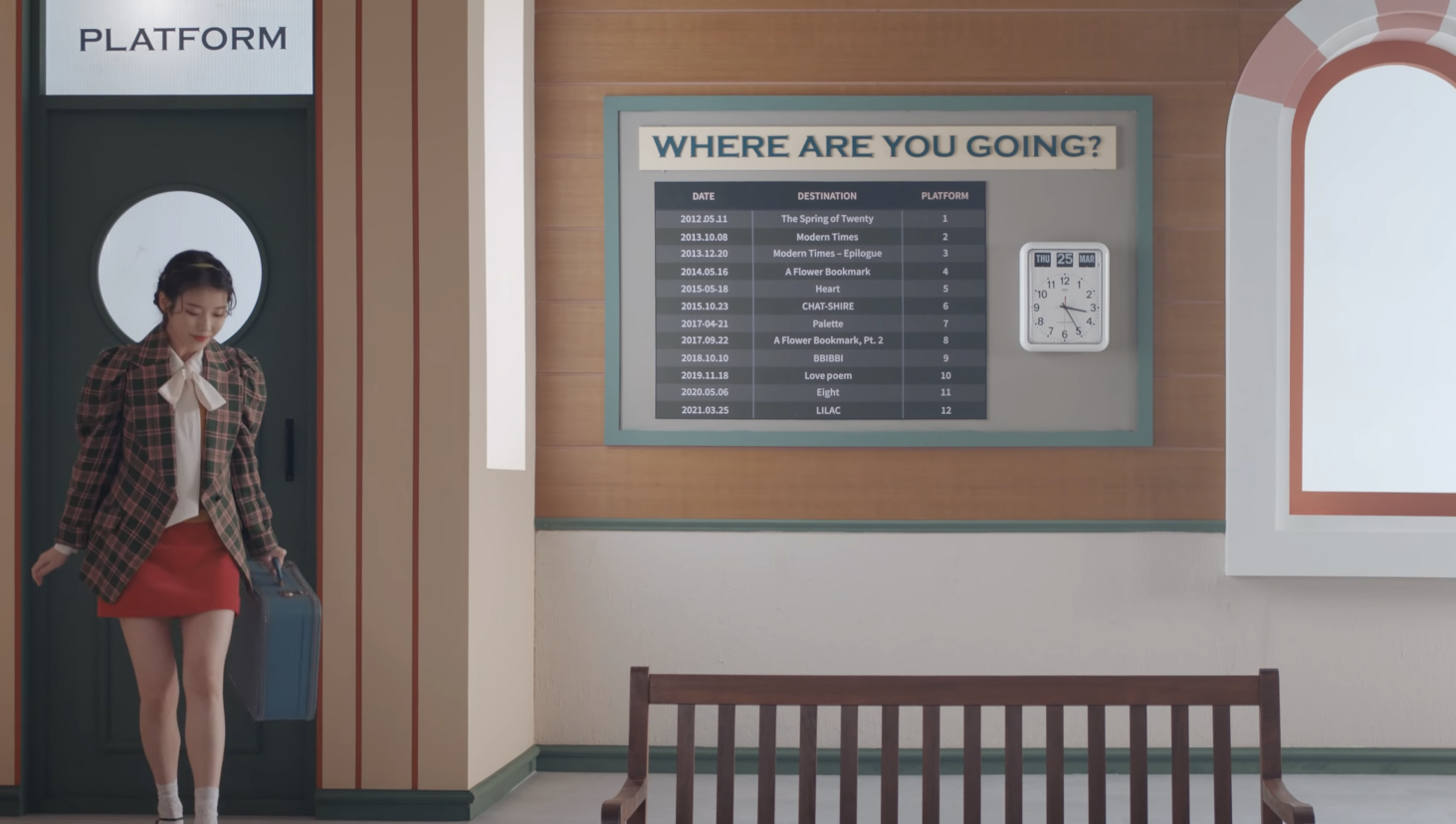 So, the plot of "Lilac" is IU going on this train ride to a place called Bylac.
I love the Where Are You Going sign in the background having all of IU's song releases going back to her debut in 2012. Clothing wise, this is such a cute business casual fit.
It reminds me of old Hollywood films where they would wear suits and gowns on planes and trains.
This is one of my favorite looks in "Lilac". I love the plaid pattern on this blazer with a solid color blouse and skirt.
The red skirt immediately catches your eyes. And I love a good pussybow blouse moment.
The sleeves on her jacket are on trend, with the leg of mutton sleeve that's been showing back up everywhere.
And last but not least, I want to talk about the forest green heels.
They look like your regular May Janes but with a high heel and green. Simple but effective.
There's not much to say about the suitcase.
It looks like it's an older or vintage model. Also fitting for this scene. On to look 2!
Look 2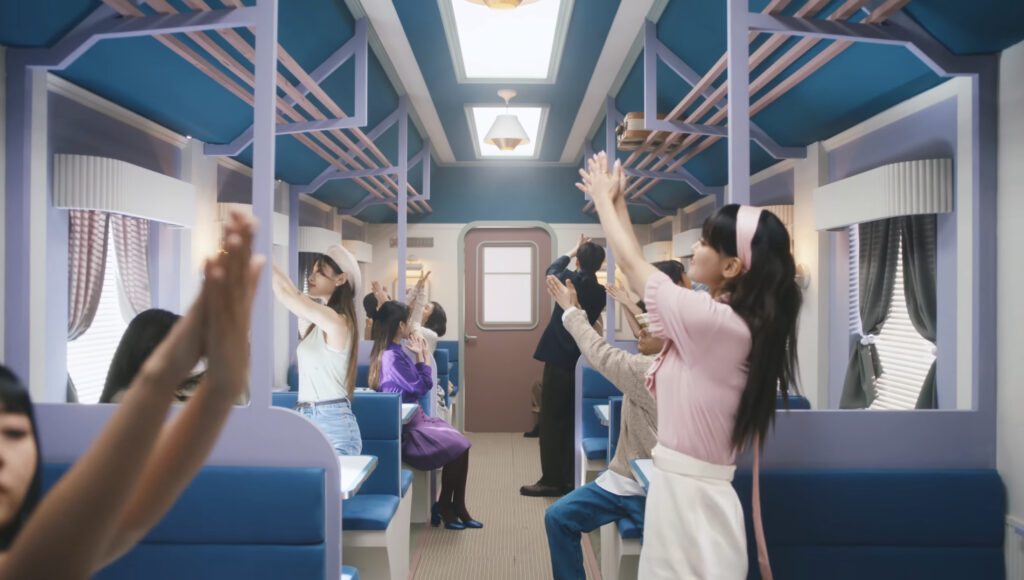 Idk how IU switched clothes so fast after just getting on the train. She still looks amazing, of course. I love the use of purple here.
I don't remember if IU has made purple (or a specific shade) her official fandom color or not. But it's difficult not to see purple and not think of her.
Anyway, I love this outfit as well. It gives me CHAT-SHIRE vibes. Love the giant black bow. Giving us Alice in Wonderland.
It looks like she's wearing the same pair of heels.
But now she's wearing black tights, a purple a-line knee-length skirt, and a darker purple long sleeve blouse. We're still in the early stages of the story.
But now she's wearing black tights, a purple a-line knee-length skirt, and a darker purple long sleeve blouse. We're still in the early stages of the story.
Look 3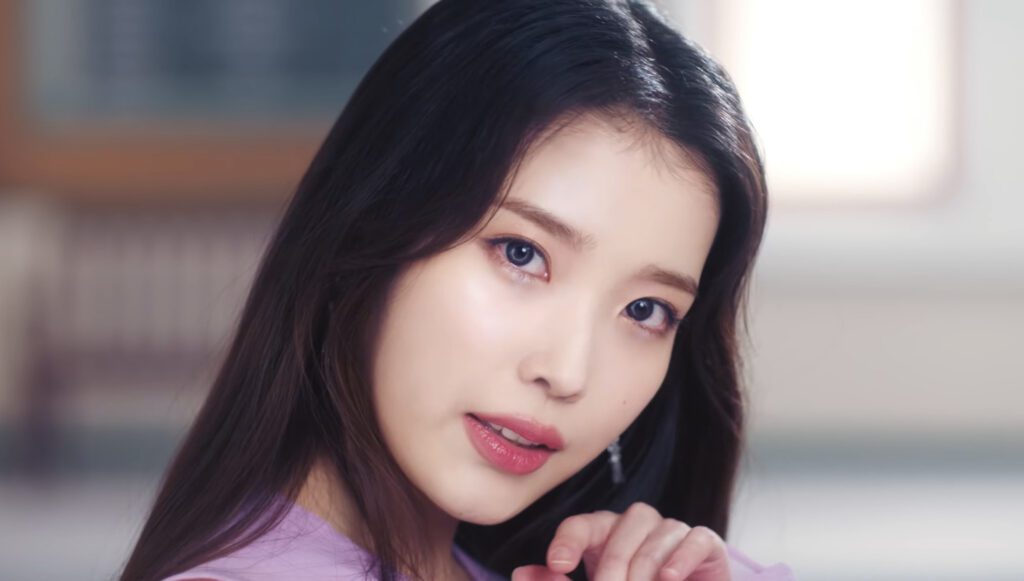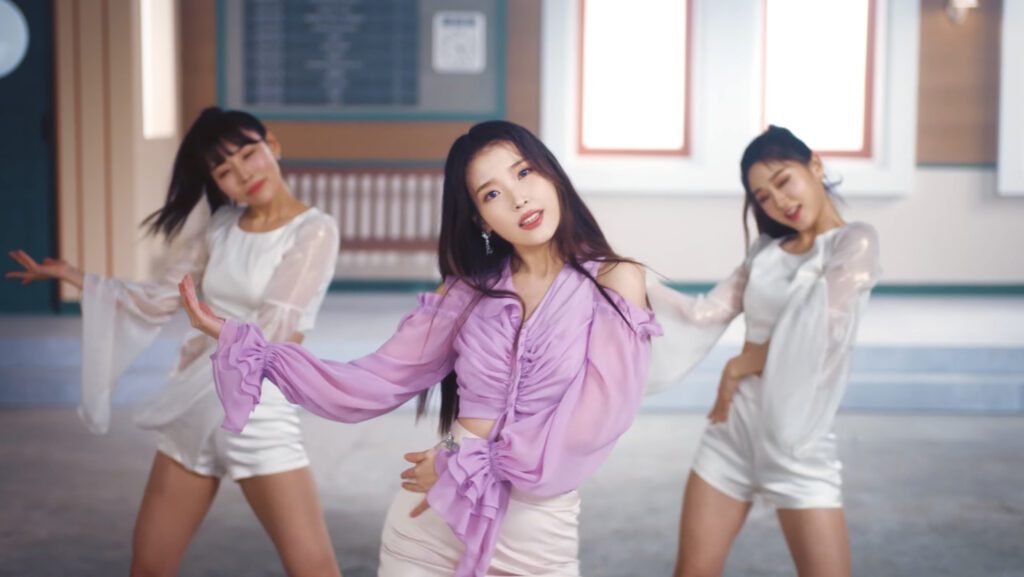 This third look continues the purple theme. But it's completely different to what we've seen so far. I love it. I'm going to be saying that a lot in this post.
It's perfect for a dance break look. I even like the backup dancer's outfits.
I kinda wish IU had more ruffles on her sleeves. But I love this lilac blouse.
It's got shoulder cut-outs. There's a nice bunching to make her shirt slightly cropped. And wide leg pants have been my favorite pant cut over the last year or so.
I think IU is wearing similar shoes to what the dancers are wearing. Maybe a little higher of a heel, so she stands out more.
But they look like white heels. I just noticed that her pants are more of a cream or off-white color. So that also makes her stand out more.
Look 4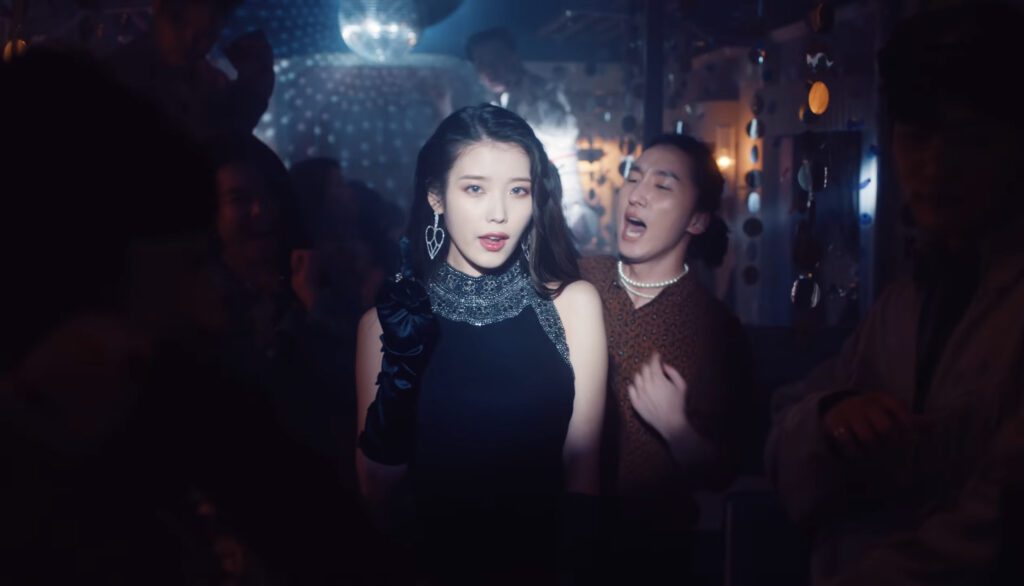 I LIVE for this look and scene so much. This looks like such a fun scene to film.
IU looks STUNNING here. I really like the lighting here, too.
She's totally the star of the story. I think the guy in the brown shirt behind her is also having the time of his life. Wish it was me.
Clothing! So this black cocktail dress has gorgeous beading around the neck and sleeves. Leejieunstyle on IG is where I saw this exact item.
It's called Gatsby Dress in Black by NBD X REVOLVE, and it's $180. That's not bad for a designer cocktail dress.
You can find other outfits from IU's music video on their account or other IU style accounts on Instagram. They're all good.
Anyway, back to this fit. I love the big silver earrings IU wears here.
I love the satin gloves too. Just an elegant yet youthful look. It's also completely different from what we've seen before, and that's just gonna continue.
Look 5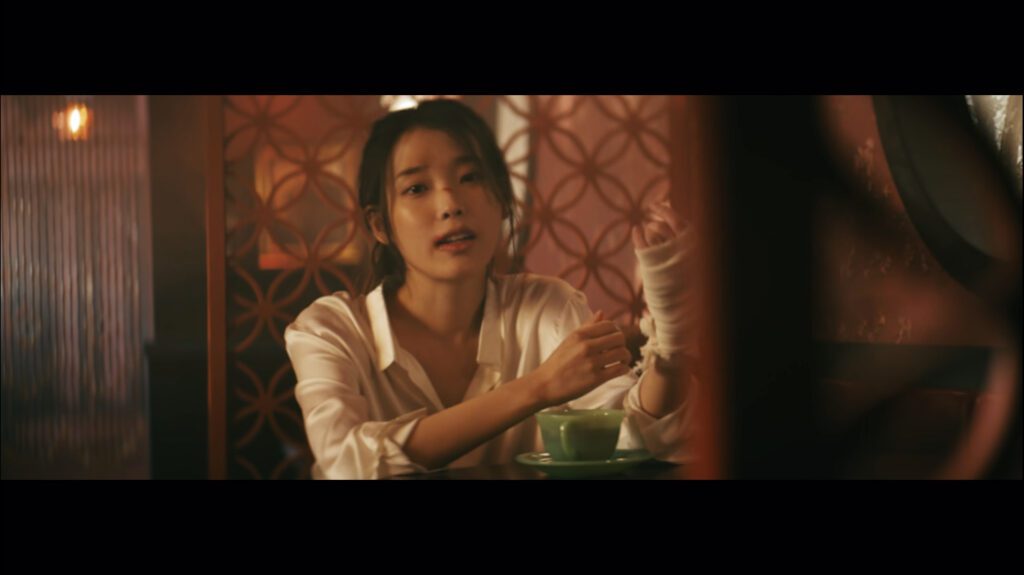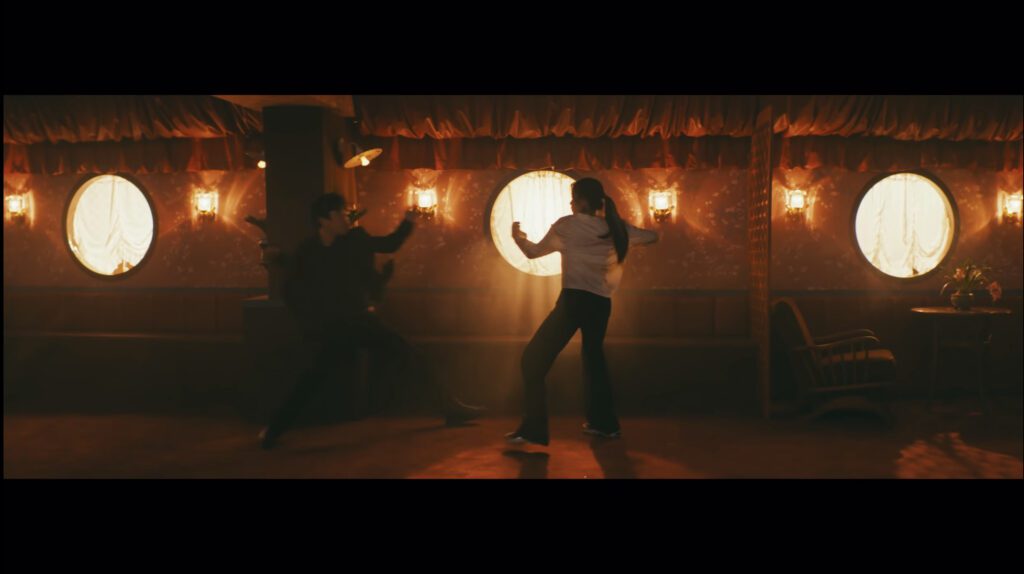 So this fifth look is like the climax of the story.
IU's wearing a simple white blouse and black pants. This is a pretty short fight scene.
I'm not sure if IU was the heroine that saves the people on the train. But I think that's the story.
---
Look 6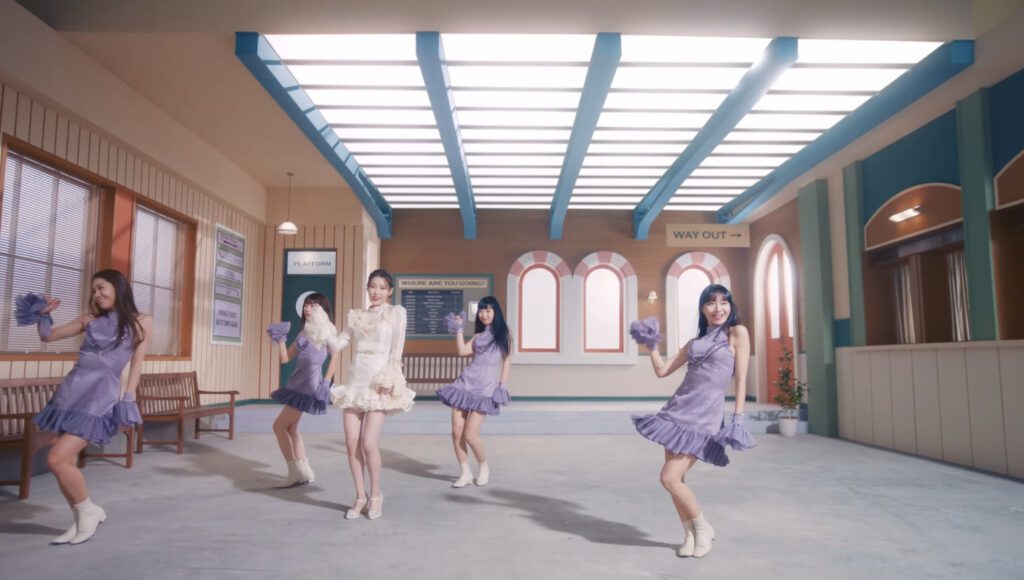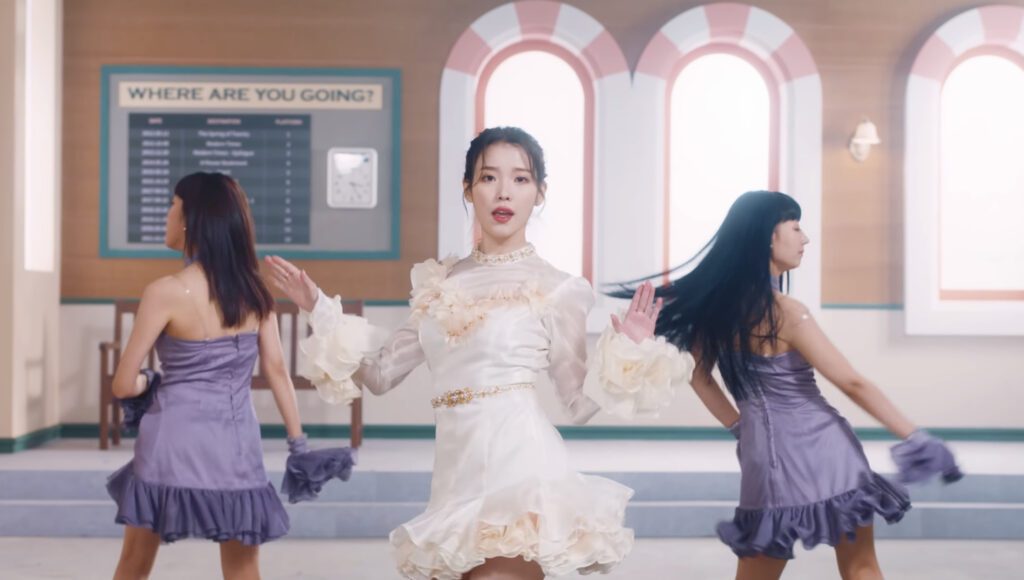 This white fluffy dress looks like a figure skater dress. I like it, but it's all I see.
It's my least favorite outfit in "Lilac" but that's better than a lot of people's music video outfits.
My eyes are drawn more to the back-up dancer's outfits. I love the ruffled bracelets.
Look 7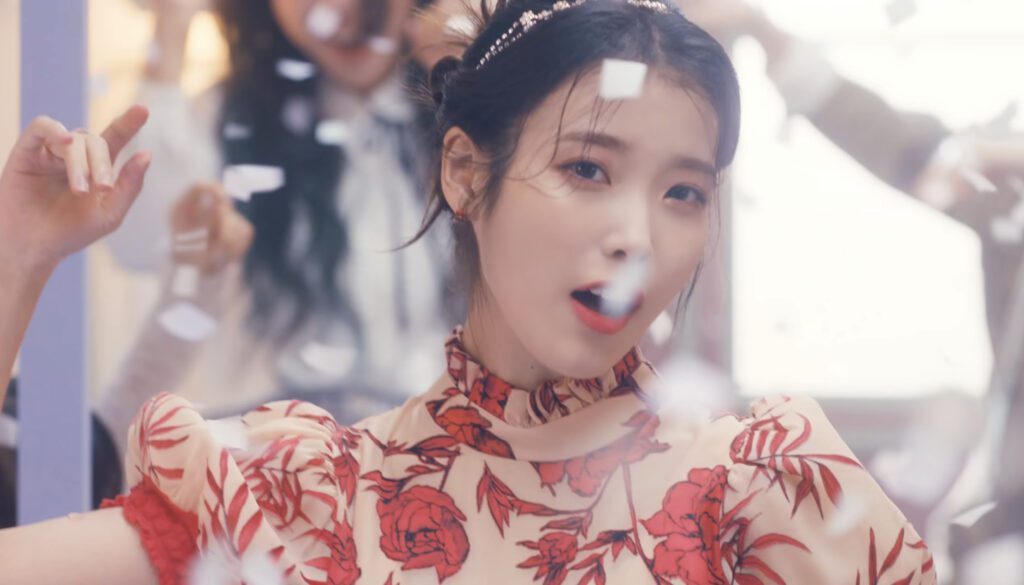 This Alice + Olivia dress is my favorite look in "Lilac". It's not my favorite look on IU, but I want it in my closet.
It's so pretty and celebratory. I like her hair pinned back in this scene with confetti flying around everywhere.
Look 8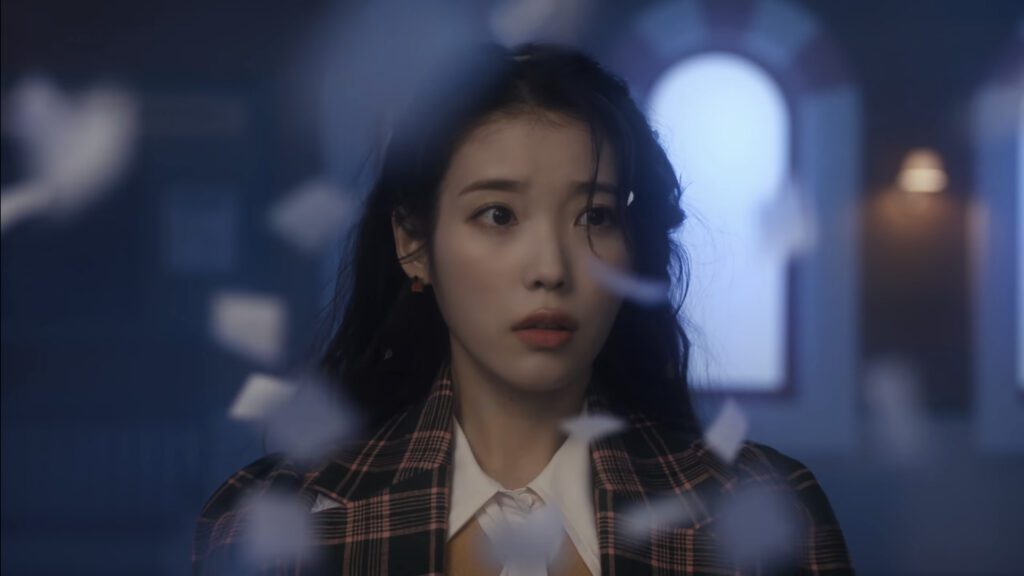 This final look almost didn't make it into my post. At first glance, I thought it was the same as the first outfit.
But there is a small change. Now, IU has a mustard yellow vest over her blouse.
I didn't notice until I was looking for the black cocktail dress. So yeah, still a cute outfit.
I love the addition of a vest. Everything else looks the same as the first outfit.
And like IU at the end of her train ride, we've reached the end of this post.
---
I hope y'all enjoyed this first of two IU post. "Coin" will be up tomorrow.
Then I need time to catch up on April releases. So stay tuned for those blog posts. Follow me on Twitter and Instagram.
Take care!
Ash🐙