👽👽👽
I'm not an AKMU fan, but I was interested to check out Lee Suhyun's solo song. It's another 80s retro inspired song which totally fits the vibe for this space themed song and video.
I enjoyed the set design and styling so much, I knew I had to talk about it on here. There are 8 (or maybe 9 depending on your stance on outfit uniforms and repeating outfits is) looks to cover, so let's get started!
Look 1
This first look is super cute, but we never get a full shot of it. I absolutely hate that! It looks like Suhyun is wearing a pink and red pattern dress with a white t-shirt underneath it. My favorite recurring thing in "Alien" is the cute accessories and attention to detail.
So even in the brief scenes like this one, you can totally tell they put a lot of time into creating a cute look. I love the pom pom hair clips because they look like ears. And that fits perfectly with the alien theme.
I was thinking her mint hair also goes with the whole green alien look, but bright hair is so common in Kpop, I wasn't 100% sure. I'll say it anyway. I'm also a big fan of different color nail polish on each fingernail.
You can see Suhyun rocks that look here too. Lastly, the beaded friendship necklaces that are trendy right now are really cute too in this scene. I want one, but I'm not paying more than $10 for one.
Look 2
In this second look, we get more neon green here. I love the elements of retro video games being translated over in her outfit. The print on her skirt is a star being repeated over and over. At first glance, I thought it was zebra print.
The pattern reminds me a lot of 80s clothes. Even the font and neon colors on Suhyun's shirt give that vibe. She's wearing a long sleeve neon green/mint shirt underneath the welcome shirt. I feel like that'd look cool under black lights.
The last part of this look I want to talk about are her socks and sandals. You see a better shot of them later, but they're platforms! I love that.
I like the continuation of neon even reaching her feet. They could have picked a different color, but I like the neon. I love matchy matchy like that.
There are so many props in the backgrounds in these scenes of her house. I love it so much. I could watch a video just showcasing all the planning of how they were setting up the "Alien" music video backgrounds. I love interior design so much.
Look 3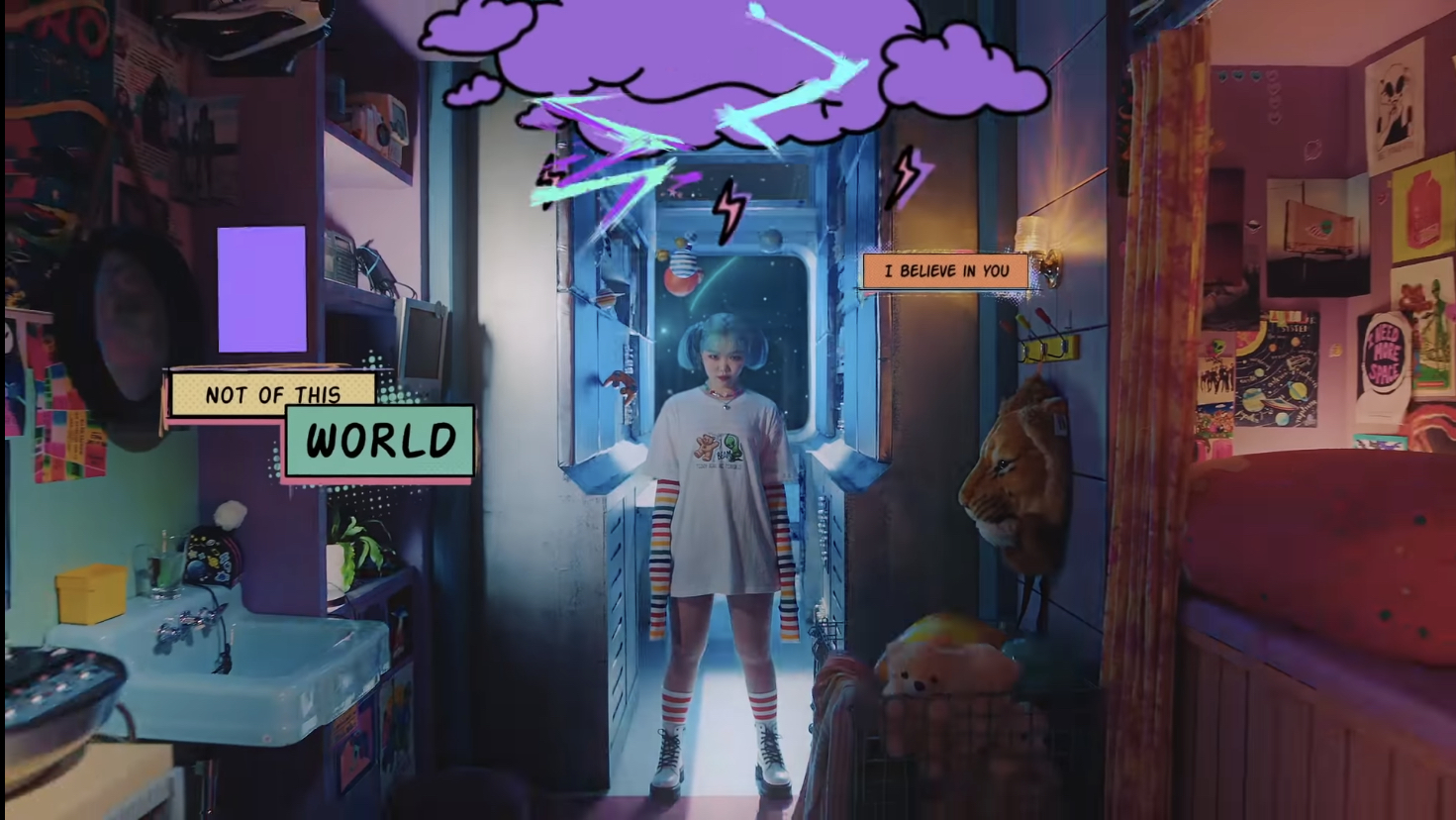 Another look we don't get to spend too much time with. I'm a big fan of rainbows, so I'm such a sucker for rainbows in clothing. Suhyun's long sleeve rainbow shirt reminds me of those giant lollipops. I think her socks match the shirt.
Not exactly, but they're striped and red. It looks like she's wearing Doc Martens in this scene. The short sleeve shirt she wears in this scene has a bear getting abducted by an alien.
I think she's wearing shorts for this scene, but I couldn't tell you what they look like.
Accessories wise, there's more of the trendy beaded necklaces with plastic stars. Another cute piece. I didn't miss those knocker ball hair ties holding her ponytails up.
Look 4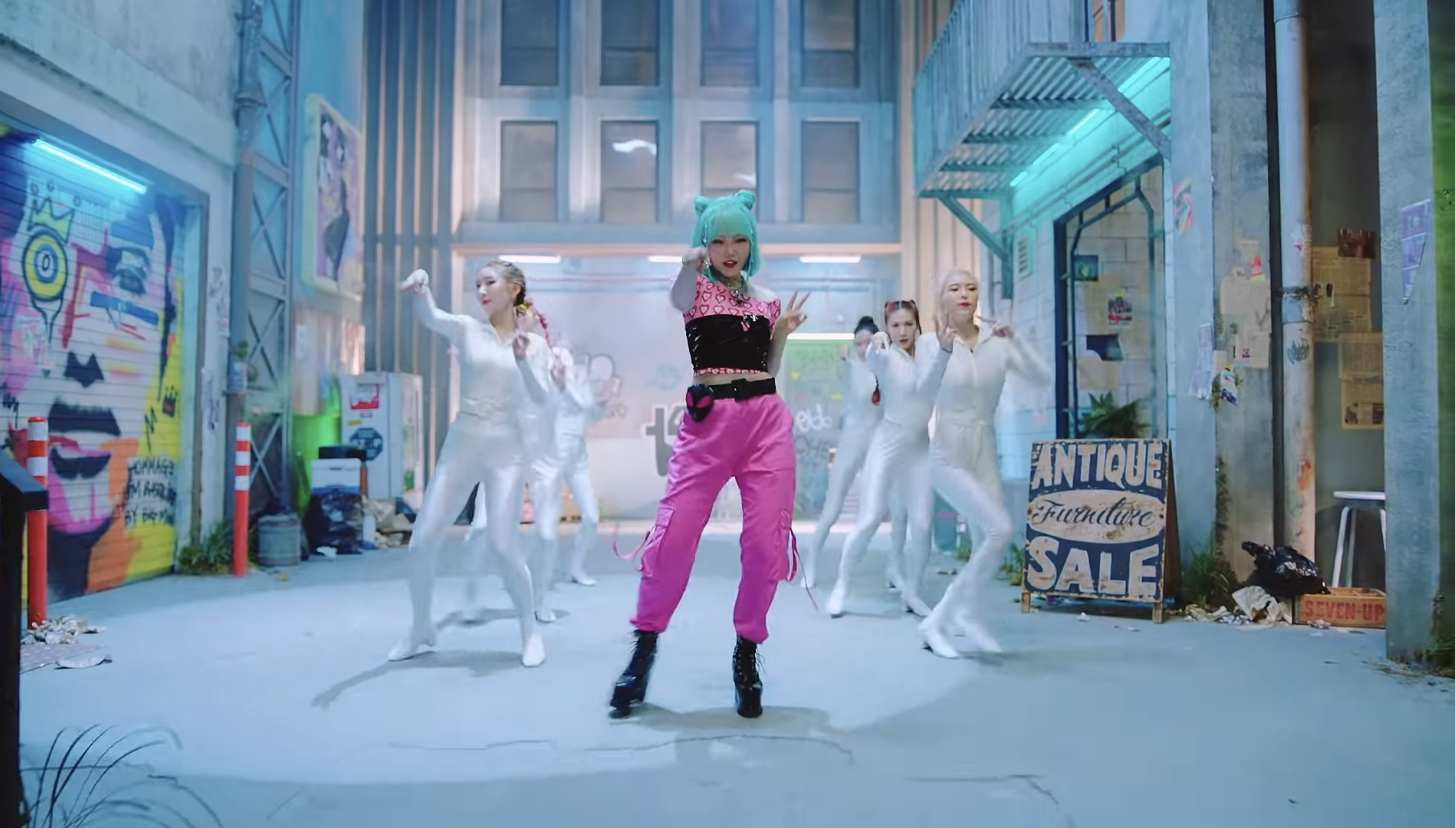 So for this look we get back up dancers and I love their white space/spy suits with heels. It helps make Suhyun stand out even more. But I also think it fits the uniform look you get with a lot of SCIFI shows and movies.
Back to Suhyun I like this look, but I think it's one of the least SCIFI/80s inspired looks of "Alien". The pink baggy pants, black belt and alien bag, and boots give me main character fighter vibes, but the black tube top throws things off.
I love the heart shirt, so I think that should stay. But I do think something else would be needed as a third piece item to keep things interesting. Idk.
Maybe they should have given her a fitted space uniform too, but in pink. I like her cartoon character's outfit, though. So maybe they should have used the shirt for look 5 and put this look's shirt for look 5 instead.
Oh! Yeah, this is actually a good segway. So there are some scenes in "Alien" where it's animated. It's very much "Free Somebody" inspired, but I'm not sure if the same people worked on "Alien" or not.
There's more silver necklaces in this scene. I really like the heart pendant. There's also some jewelry in her hair in this scene too, and space buns!! Mini space buns! I don't think I mentioned it early, but I love a good bob. Suhyun killed it with this one.
Look 5
I don't really have a favorite look in "Alien" because I think they're all adorable, and I'd wear everything. But this scene however, If I could see the bottoms this might be the fave. I love the shirt.
I love the colors in this scene. I love the space buns and plastic almost kidcore accessories. Everything here is just perfect. The black and neon green nails here just add to the perfection.
Look 6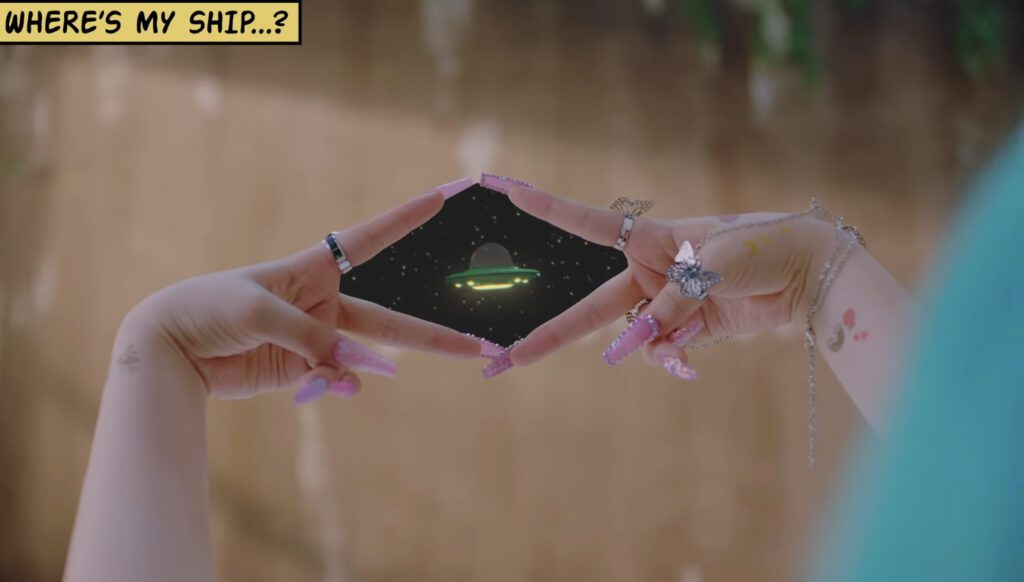 So the scene with Suhyun's nails in the top left is a transition to these two looks. So some would say these are the same look and some would say these are two separate looks. I say they're two different outfits because one has a jacket and the other doesn't.
But to save space and time, I combined the two together. I LIVVVEEEEDDDD for this scene.
Being this fashion obsessed gal I am, I love a good closet scene in media. I love the fish eye lens for this scene too. Again, I would love to get more information on this scene. Like if there was an extended version with Suhyun trying on more clothes, I'd love that.
This was my favorite part in "Alien". Oh, and we get a hair change, and it's cute. I almost forgot to mention it because red hair is pretty common. It didn't grab my attention like the mint hair.
Look 7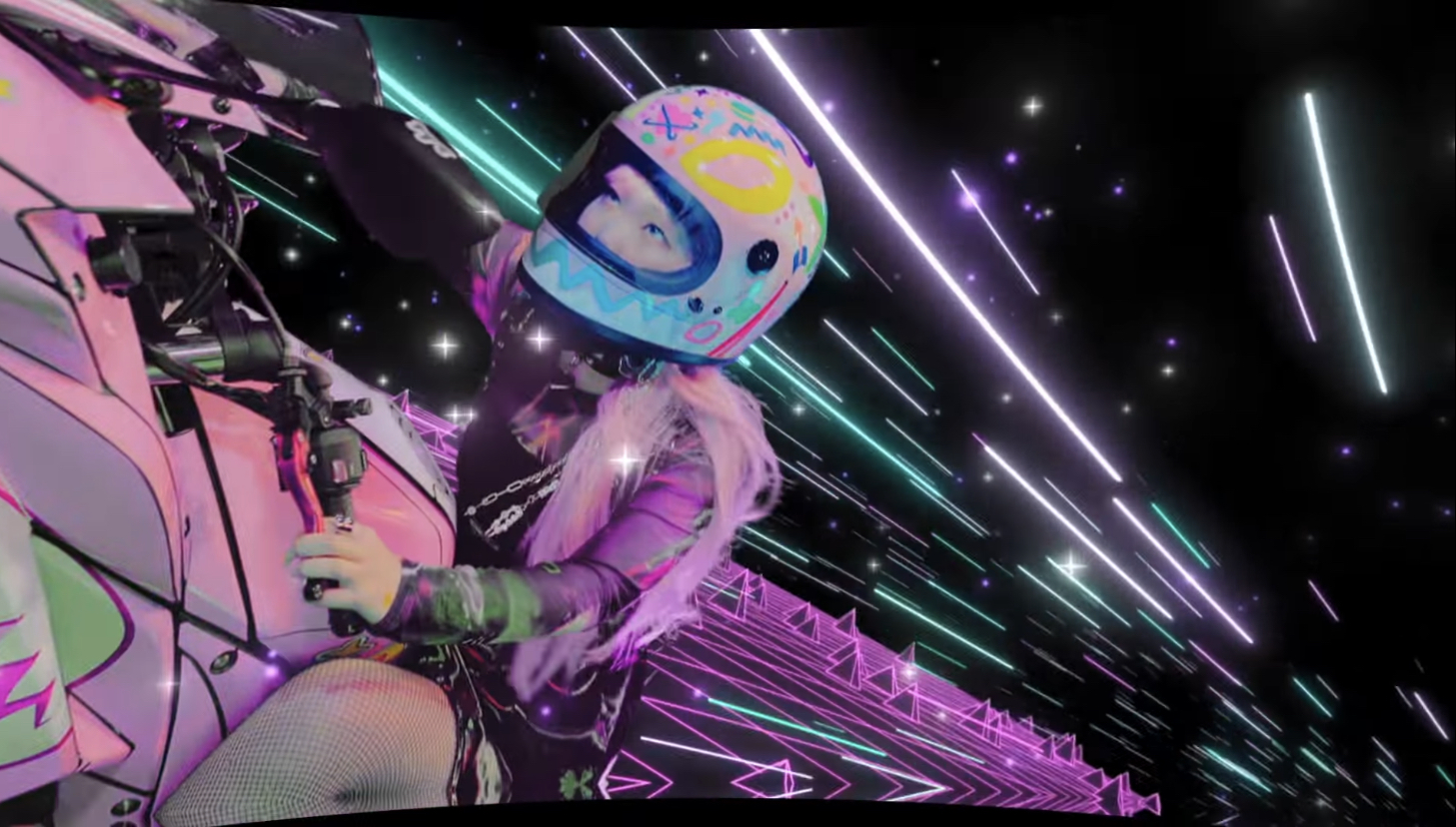 This look pops up so quickly and switches between live action and animation. I almost didn't include it in. Tbh I'm not sure what this look 100% consists of. Well, let me back up. I love scenes where a girl is on a bike like this. It's so badass.
Anyway, I think it's a dress similar to the last look. Except this time she's wearing a black see-through shirt instead of burgundy. The helmet in this scene is cute too. Most of "Alien" is me just being obsessed because things are pink and cute, tbh.
Look 8
Alright, last look! I'm really obsessed with this look too. Y'all know I love sequins and boots. When I think of space and SCIFI, sliver usually pops into my mind. So I'm happy they incorporated a silvery look in "Alien".
The back-up dancers again have really cute outfits. This would have also been a good alternative to the pink and black baggy pants look. Of the two looks with the dancers, this one is my favorite.
---
Alriiiight got "Alien" covered. It's been a while since I last did a fashion review. "Alien" isn't a song I'm going to have on repeat or saved, even. But I couldn't ignore the fabulous styling in this video.
If you haven't checked out "Alien" yet, I highly recommend watching it for visuals alone. What is your favorite outfit from "Alien"? Are you even an AKMU stan? Let me know below. Follow me on Twitter and Instagram.
Until next post,
Take care!
Ash♥♥♥