Finally, getting back to Red Velvet.
I mean, you don't have to scroll back far on this blog to find a Red Velvet post. I write about them all the time. You'd think they were my ultimate girl group or something. That's probably Twice.
But when I wrote my "Automatic" blog post, my plan was to have "Ice Cream Cake" posted afterwards. But I'm getting back to it now. So here's part two of my Ice Cream Cake era review.
As mentioned before, I was and still am obsessed with Ice Cream Cake era Red Velvet. I remember being so excited to hear "Ice Cream Cake" on Sirius satellite radio back in 2015.
Along with them, "Call Me Baby" by EXO and "Crazy" by 4Minute. I should talk about those in the future too. "Ice Cream Cake" is also important to me because that was my first introduction to Red Velvet. I went back to "Be Natural" and "Happiness" afterwards.
My favorite songs from The 1st Mini Album 'Ice Cream Cake' are "Automatic", "Something Kinda Crazy", and "Ice Cream Cake". The album is excellent from start to finish, though.
So let's get into the clothes. There are five looks to discuss. For "Automatic" I made gifs, but I've decided to go back to screenshots. It's faster for me to get these posts out, and I don't have to worry about them loading.
So let's get into it!
Look 1: Cheerleader Vibes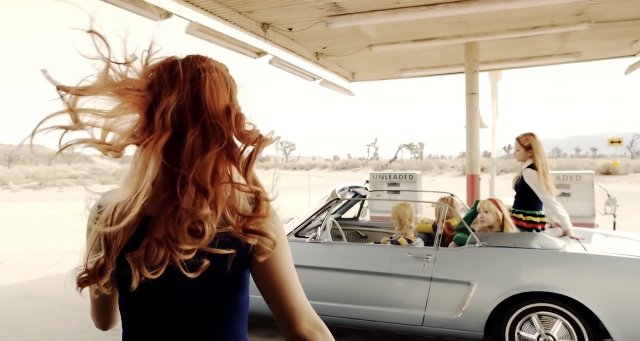 "Ice Cream Cake" has a heavy use of colored eye contacts and bleach hair. But I'm here for it. I love over the top concepts like this. I love orange hair Joy so much, and my eyes were always searching for her throughout the video.
Yeri's pigtails throughout the video is my favorite hairstyle of all the girls. It suits here so well. Blonde Seulgi with her color contacts is next level. Irene and Wendy's blonde hair is nice, but I wish they went with an ash blonde for Irene.
Outfit wise, Seulgi, Yeri, and Wendy's looks are my favorite. I'd be happy to wear any of the three. But none of the girls outfits are ugly or bring down their visuals. This look has always given me cheerleader vibes. It's a preppy group look and I just love sport Red Velvet.
Look 2: Sherlock in the Desert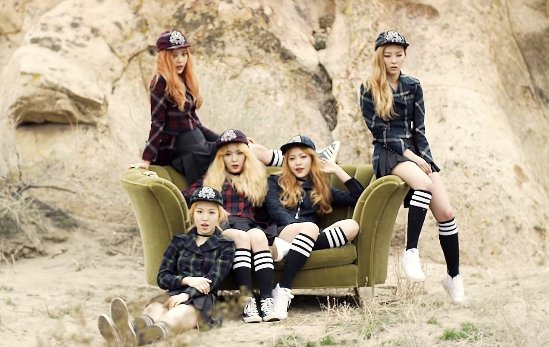 Another preppy look. This look is my least favorite in "Ice Cream Cake" but it's not terrible. I wish they would have kept the bright color concept with this look.
I feel like it's a bit out of place compared to their other outfits in the video. I love the hats match the shirt/jackets they're wearing. I'm a big fan of tennis skirts and knee socks as well.
Look 3: I Scream You Scream Gimme That Gimme That Ice Cream
My FAAAAAAVOOOORRRITEEEEE look in this entire video. This was the look I was most excited to see on livestages. I love the pastel colors and the tennis skirt and sweater combination. Everything here is perfect.
I didn't mean to have all these be center!Yeri. It kinda happened that way. I forgot to mention it earlier. Red Velvet became brand ambassadors for Baskin Robins during this era. So that's why there's the not so subtle product placements in "Ice Cream Cake".
Look 4: Light Up Jackets
These are so blurry, omg. These are the coolest outfits Red Velvet has ever worn. This is the climax of the video. Everything in "Ice Cream Cake" has been leading up to this outfit.
I was stunned on first watch of "Ice Cream Cake" and I saw this look. That was the moment when I knew Red Velvet was top tier. I was not watching your average girl group making a cute song. I was watching legends in the making.
My screenshots don't do this look justice. I don't think my gifs would have either. This is just something you have to experience watching "Ice Cream Cake" yourself.
Look 5: Individual Looks & Scenes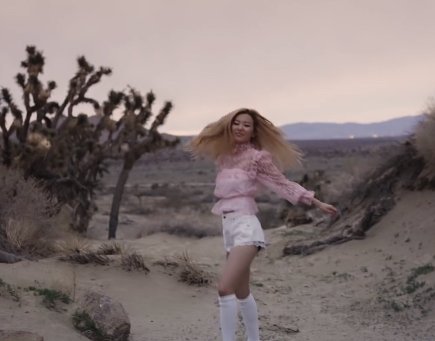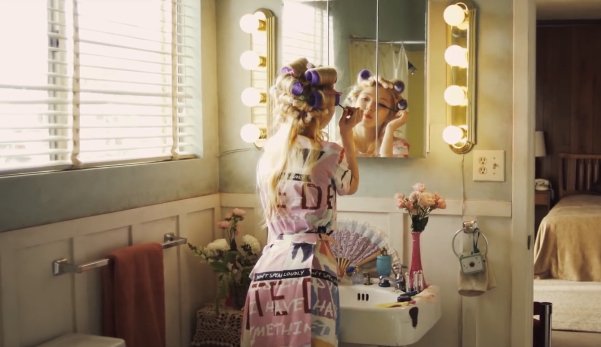 There was a shot of Yeri in the pool too, but I felt weird including it since she was a minor at the time and people are creeps. So I left it out.
I know Irene's swimsuit is from Topshop. I couldn't find much on where the other clothes were from. I love these solo/subunit scenes in "Ice Cream Cake".
Seulgi's scene in the dinner is my favorite solo outfit. It looks so comfortable and perfect for summer. It's the same reason I like Yeri's denim jacket and shorts look and Wendy's sweater and shorts look.
Joy's rainbow nails are so pretty and are the perfect nail inspo for your next manicure. Wendy's scene with her getting ready in the bathroom is super cute.
---
"Ice Cream Cake" is still one of my favorite videos and songs from Red Velvet. The next Red Velvet fashion review will be "Russian Roulette". I think "Russian Roulette" is my favorite video and choreography. I'll have it up in the next week or two. I will get to reviewing every Red Velvet video.
I'm really focused on cranking out more reviews on older music videos, so let me know if you have something from 2014-2018 you'd like me to talk about first. Otherwise, I'm just going to go at my own pace and at random.
I'm still catching up on new releases, so follow me on Twitter to stay up to date on what I'm working on next. I've also had my second article with What The Kpop go live. It's a Get the look for less article on BLACKPINK & Selena Gomez "Ice Cream". Let me know what y'all think about that too. I'd appreciate the support on their along with y'all continuing to support me on my own blog.
Until next time…
Take Care,
Ash♥♥♥