Ah, ah La lalalalalalalalalala lay
I always look forward to Sunmi's new releases. Lalalay is another win in my book. I wish I knew how to describe music, but my favorite part of Lalalay is the horn breakdown in the chorus..prechorus?
Idk if you've listened to the song you know what I'm poorly describing. Lalalay features about 10 different looks quickly. Blink and you'll miss 1. To keep things short, I'm going to talk about what I consider the five main outfits in Lalalay. So, let's get started!
Look 5
Because I love ranking things in order of my least favorite to favorite, let's start with my least favorite of the five outfits.
The Strapless Sprwmn Metallic Snake Print Dress and metallic boots. I love snake print and this dress isn't terrible. It's just the weakest link of the bunch. I love how snug of a fit it is on Sunmi.
This dress reminds me of a Hersey's Kiss. I'm not sure what lip color she's wearing (probably something Dior) but I'm living for it. The dark vampy lip color contrasts so well with her pale skin and bleach blonde hair.
The more I think about it, I actually enjoy the makeup in this scene more than the clothes.
The gold chandelier earrings and a small gold diamond choker Sunmi wears in this scene are also cute. I do love this elegant but slightly cluby look despite my low ranking.
Look 4
D&G just won't go away in Kpop music videos, huh? This red Dolce & Gabanna Tulle Gown is beautiful. This is one of many briefly featured outfits in Lalalay. The accessories help pull this look together for me.
It would have been so easy for the stylist to give Sunmi a simple sleek ponytail or something look to go with this gown, but instead, they continued the high pigtails and included butterflies in her hair.
I'm sure the hairstylist had fun strategically places the butterflies, so they didn't fall off during filming.
I just adore the scene of Sunmi sitting on her throne in front of the giant butterfly, turning her head like it's no big deal that she's LEE SUNMI, this just an everyday thing for her, keep it moving.
When I was younger, I thought the symbolism behind butterflies was kinda overrated. But now that I'm older, I appreciate the symbolism of caterpillars and butterflies transitioning into your true form and accepting it.
Lalalay feels like Sunmi has accepted she's not everyone's cup of tea, she's gonna continue to do what she wants, and the only feedback she cares about is from her fans that love and support her. Screw the haters.
Look 3
Look number 3 is the Purple Germanier Blouse and Skirt that was custom-made for LaLaLay and a pair of sparkly silver Jimmy Choo ankle boots.
I had initially thought this was a dress. But after looking at it at different angles and pictures, I realized it's two pieces.
I think it's stunning. I love how fluid the ruffles move while Sunmi dances. I love the halter neckline and open shoulders.
This dress also reminds me of a candy wrapper. I'm also a big fan of the colors in this dress. Very nice use of the color wheel. This dress just looks so fun to wear.
Look 2
Look 2 is a floral print cotton Gabardine mini dress by Attico that went for around $440. I just think it's adorable, and I'd kill to have it in my wardrobe.
I think the pigtails really solidify this look. It's fun, bright and cute. What more could you want?
Look 1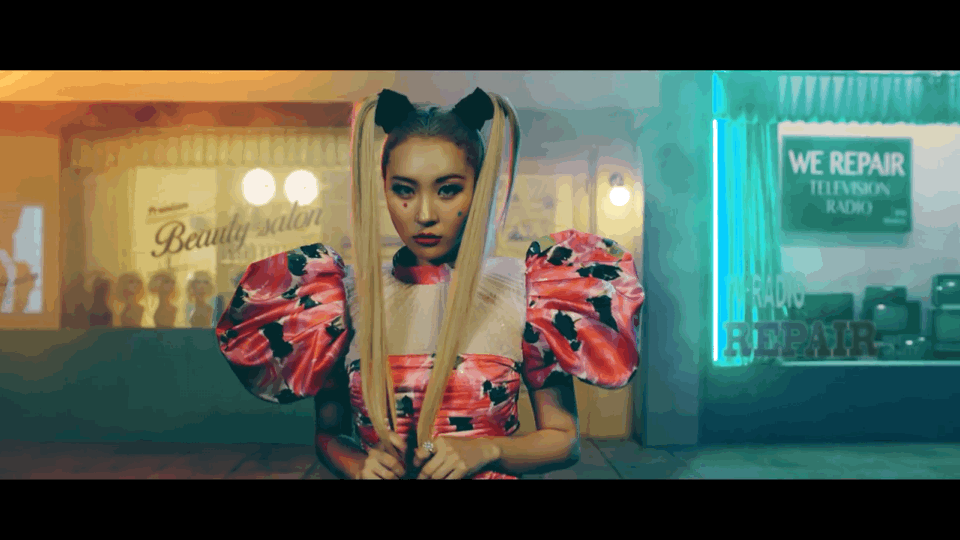 And finally, we've gotten to my favorite outfit of LaLaLay and that's the Floral Belted Dress by Richard Quinn. My favorite thing about this dress is the shape of it.
The pentagon shape neckline, the slight leg of mutton sleeves, the baby doll length, and the a-line skirt is just designed perfectly to me.
It doesn't hurt that it's also pink and floral, two of my other favorite design/style choices fashion wise.
Because this look and the Attico dress share the same hair and makeup, I'll talk more about the makeup here. So compared to the makeup for the D&G gown and the Sprwmn dress, Sunmi's makeup here is pretty basic.
I don't think it was really meant to stand out much. Too much makeup takes away from the rest of the outfit and hair. The dress and hair give you plenty to look at.
So the tldr version of this post is Queen Sunmi gave us another bop to have on replay and a fashion-filled music video with no bad outfits.
Even the ones I didn't mention in this post were still cute. I kinda want to Cosplay the Sunmi blonde drone for KCON. Oh, and before I forget, I want to give a shout-out to both fashion_sunmi and sunmicloset on Instagram.
Without them, I wouldn't have gotten this post together so quickly. So if you love Sunmi's style and what to know exactly what brands and the price, follow those two accounts. But what do y'all think? Let me know what your fave look is in the comments!
Follow me on Twitter and Instagram.
I'll see y'all next post!
Ash♥♥♥♥