Seoul Fashion Week Spring/Summer 2021 Favorite Collections
One of my favorite times of the year, fashion month. Every year we have Fashion Week in many cities across the world. October is the main month everyone focuses on. This is when we see the upcoming items releasing in spring of the following year.
The fall collection showcases during the spring (usually March of that year). There's a big gap because of the time it takes to make everything and get it to stores.
There are also resort collections during the summer. But that's more of the haute couture designers, though.
The ones like Chanel that have
traditionally
catered to every event the ultrarich attend throughout the year
.
Things like summer holidays in Italy and social events like fundraisers. We're not getting into all that today, but I felt y'all should know if you don't.
The most well known cities associated with Fashion Week are New York, Paris, and Milan.
Probably
the first that come to your mind as well.
These are also the fashion weeks held in October. Well,
technically
the end of September because everyone wants to showcase their work. So they start early so everyone get time to shine.
On my previous blog, I would do reviews of the outfits idols and other celebrities would wear during Seoul Fashion Week
.
I'd compile a list of about 10 of my favorite and hated looks of both male and female celebrities during the week. I still have a pretty decent tag on Tumblr of past fashion weeks.
I usually do a review every year of the Spring collection (the Fall collections
are hit
or miss). But I skipped 2020 because it was around the same time as Sulli's passing.
I wasn't in the mood to talk about Seoul Fashion Week, especially because she was a major figure at the event. From what I remember, some things
were cancelled
out of respect.
This year, with COVID-19, things have moved to digital. In the past, it was difficult to see collections from a large variety of designers. Mainstream brands like KYE or Beyond Closet will have a live stream on Instagram or Facebook.
Along with uploading everything online.
But this year was the first that I can remember (I've been following Seoul Fashion Week since 2016), that you could access fashion show videos on one platform like V Live
.
I
really
enjoy this format. V Live is accessible to everyone, especially for Kpop fans. Every Kpop has a V Live account. Whether you want one or not.
Because there's no runway this year and I could watch all the shows from my house, I decided to talk about my favorite collections this time around
.
 I went into this trying to keep it at 10, but then I realized I had 13. So instead of trying to cut any out, I decided to just make this my faves list.
So here are my favorite collections from Seoul Fashion Week 2021 Spring Summer.
CARNET-ARCHIVE
Most of the collections I liked had a lot of the same elements in them. Either they were fashion forward with a punk/goth edge to them with a call back to the 80s or 90s, or they were a modern update to classic items like the trench coat.
CARNET-ARCHIVE falls in the former category. I chose collections I saw pieces I wanted along with items I could see idols wearing. CARNET-ARCHIVE totally check off those boxes.
---
C-ZANN E
As soon as I watched the first 30 seconds of C-ZANN E's collection, I knew it was going to be interesting. I have a book on the Hanbok and how it has evolved over the years and its cultural importance in Korean culture. I still haven't finished.
I started it like two years ago. It was a gift from one of my best friends and I really need to finish it. It's not long. I've just gotten distracted.
Anyway, I like that there was a section in fashion week to showcase designers and brands that are keeping Korean clothing like Hanbok relevant. The pieces featured in C-ZANN E's Spring/Summer 2021 collection are stunning.
---
DOUCAN
Okay, so out of the three, this one might be the most boring of the bunch. The dresses and gowns in this collection are beautiful. But it might be a bit safe for some.
Not everyone is out here trying to be edgy or has the desire to stand out in a rebellious way. Some people want to look super feminine, elegant, and regal. This is the collection for those who just want to look pretty but stunt at the same time.
---
GREEDILOUS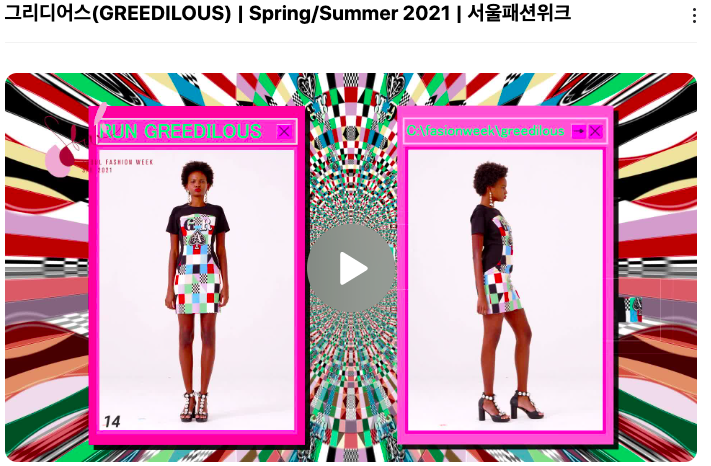 Shout out to GREEDILOUS for having a black model with natural hair in this lineup. I started following them on Instagram recently, so I saw previews of this collection on there.
I think the first video that popped up on my feed was the one with the model with the platinum shaved head wearing a matching face mask to her dress.
How do y'all feel about designers creating their own face masks to match their new collections? I like it, but I highly doubt I'd pay more than like $40 for one if it's not going to charity.
Anyway, I love the card suit inspired pattern for this collection. It's super cute and creative. It stayed in my mind long after watching.
Along with the way, this was edited. I love the call back to 90s internet culture with the bright magenta browsers.
---
SU GI
Cute basics with fun patterns and materials. 90s and early 00s futurism, with more sliver and metallics.
Those wear my notes while watching Su Gi's show. I don't have much else to add to this one. I'd wear most of what
was shown
here.
---
SET SET SET
Cute dollhouse background. Neutrals mixed with pastels. Square cutouts in clothes. So my notes here were more of bullet points lol.
Similar to
a lot of the collections I liked, there's a lot of late 90s, early 00s influence here.
The background in the first part of the show was super cute and creative. It was a great way to set the scene. I recommend checking this one out for the scenery alone.
---
ZISU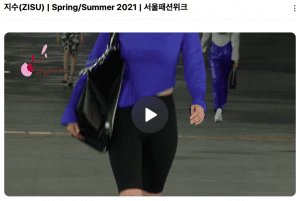 One of my favorite looks is in the thumbnail here! I love this biker shorts, blue asymmetrical sweater, and giant leather bag. I'd
totally
would wear this. It's still a pretty trendy look. 
I think
as we continue to deal with COVID-19, more leisure wear like this is going to evolve. People want to get in and out of places but still look cute. There's a bucket hat with this outfit too, but you'd have to watch the video to see that.
Overall
this collection is full silver, cutouts on the clothing like SET SET SET (this was a trend I saw in a few collections), and more neutral colors
.
---
Saint Mill 
One of my absolute favorite collections this year.
You have your classic fashion pieces and neutral colors with some brighter colors like blue
.
Paired with slicked back ponytails and models with a "you can't sit with us" rich girl club energy. Plus, they threw in some red and teal velvet pieces. Excellent collection.
---
BLANC de NOIRS
Similar vibe to Saint Mill, but with both mens and women's items.
Almost Matrix energy to it. More neutral colors. More oversized coats and suits.
There's also a KARD appearance towards the end. That was quite a surprise.
---
LIE
A decent amount of these collections were filmed at a hotel. I noticed most designers had between 6-9 models.
Lie wasn't super exciting, but again they had beautiful items
I think
people would love to incorporate into their wardrobe
.
I noticed there were leg of mutton sleeves used throughout the collection. These cool sliver balls on the end of the heels.
The shoes themselves already had a cool shape to them. More wide leg pants, I guess we're
officially
out of super skinny jeans being trendy.
Lastly
, more muted pastels.
---
Kwak Hyun Joo
Kwak Hyun Joo had more models in their collection than most designers did. I'd say there was around 16 or so.
There were some other collections I watched that had around that number, but it was
just
interesting to see how many would appear in each video
.
Kwak Hyun Joo is more of a street fashion brand. Tons of bright pastel colors and mixing of fabrics and patterns. This is another brand I could see a lot of idols wearing items from.
---
PUSHBUTTON
This was the first show I watched of the Spring Summer 2021 collection. I liked these shows with men and women because I don't care about menswear.
I can see what the guys have going on without having to watch a 20+ video of only dudes.
I also like the fluidity of guys wearing things that are
traditionally
seen as womenswear. If you like it, wear it.
In my notes I wrote a mix of avant-garde, streetwear, and punk. Vegan leather? Or some type of leather. It's a bit weird, and you'd
probably
wouldn't wear more than two or three items together.
---
SEOKWOON YOON
My second favorite collection. There's more oversized clothing, but this time it's deconstructed. Neutrals with some lilac. I don't like the goofy chef hats.
But I do love the jewelry. I noticed there was some rope in this collection. Another designer I can't remember had rope in their collection too.
And the best part of this collection was guys in crop tops. It's taken a few years, but it's
slowly
happening!
---
MÜNN
MÜNN's collection was my
overall
favorite. It's a great balance of punk, classic, and elegance all mixed in one for me. There was this white jeweled tank top that I thought would be perfect for
Holland
.
I forgot they were the other designer with rope in their collection. We've also got guys in crop tops in this one. They're also wearing high-heeled boots. I need a pair. And more metallics and neutral colors.
---
Alright! What did y'all think of Seoul Fashion Week Spring Summer 2021? There were some common things I saw that may end up being popular trends. Which were your favorite items or collections? Did I miss one of your favorite designers? Let me know in the comments below.