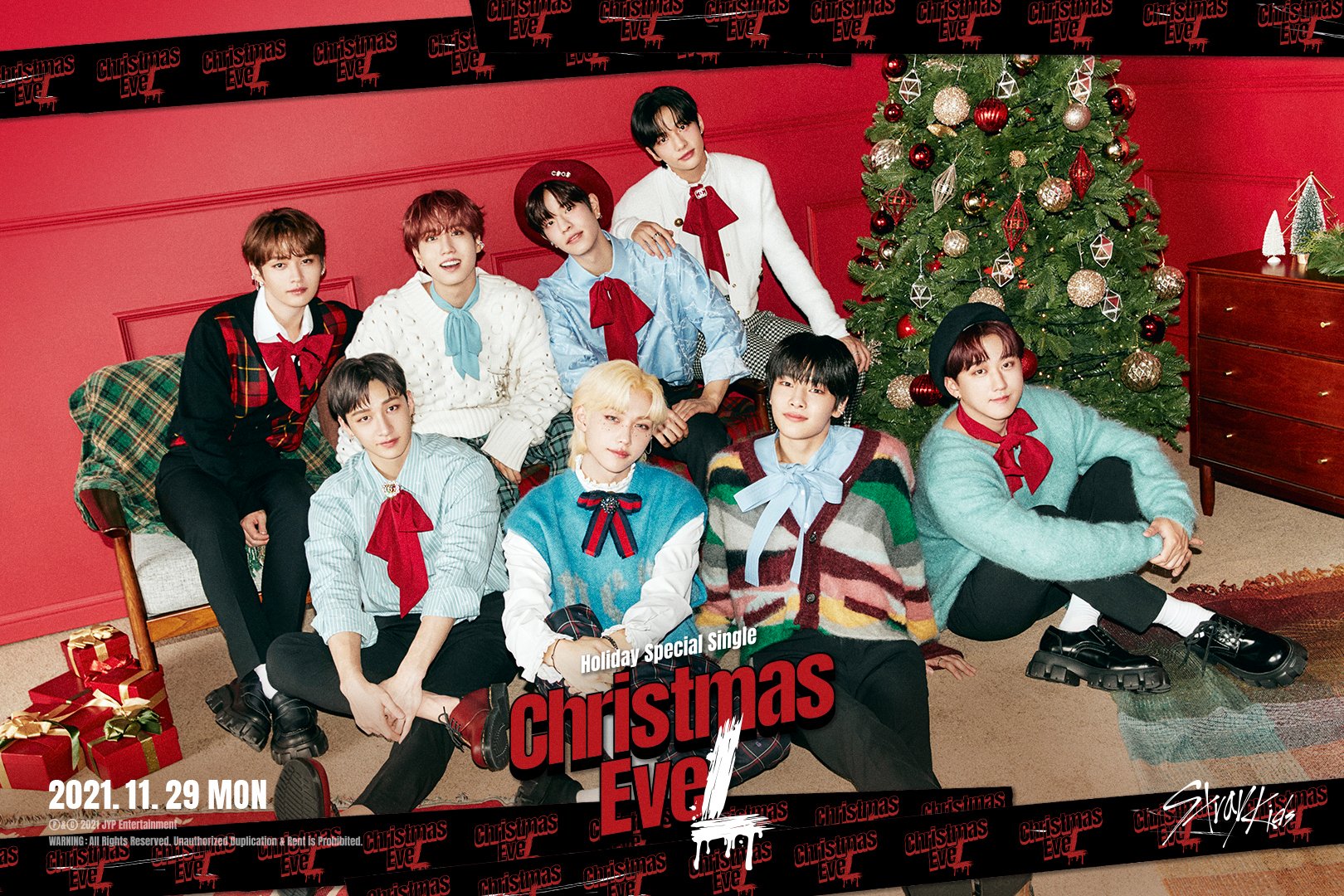 REVIEW: Stray Kids – Christmas EveL
I'm back and reaaaady to rumbbbleeeee.
I forgot which post it is now, but I realized I forgot to include Christmas EveL in my November faves post. I of course included it in my fave albums of 2021.
But now is the time to talk more about this special album in detail. I don't care that it's the end of January. I've got neighbors that still have their outside Christmas decorations out.
I still have time!! The Stayification of Ash in 2021 will continue to grow in 2022 I'm sure. So let's get into it!
---
Christmas EveL
Kicking this album off with a banger. I knew I was gonna get a kick out of this music video once I saw the trailer with them all crammed into a vehicle, looking like they just woke up for a nap.
I think I'm gonna start with this styling and visuals first. I try to stay away from too many teasers and spoilers. I like going into things with the minimal amount of details as possible. I like the surprise of going in mostly blind.
My memory span shrinks more and more each year, so if I learn the full plot to a show or movie now, if I give it like two or three months I'll forget 90% of what happens and be ready to watch the thing. An example of this is my Dad telling me the plot of The Boys seasons 2 on Amazon Prime, lol.
There's a small tease of the instrumental of "Christmas EveL" in the initial trailer, but not enough to spoil most of the song or the chorus.
I like those the most. So when it came to the actual music video, you're really picking up from where the trailer left off. Or if you didn't watch it, you didn't miss any important info. I say this a lot, but I'm obsessed with this styling, this era.
"Winter Falls" and "24 to 25" tie for my favorite styling in the music videos. "Christmas EveL" styling wise was just so much fun. It's so loud and fitting for the chaos that's on the way.
There are two main outfits in "Chrismas EveL". The first look, which is a mixed group look. Like no one really has anything, that matches each other. They just look good.
There are so many items I want. I'm obsessed with Chan's neon green Chanel sweater and Chanel ear muffs. Hyunjin's yellow coat is super cute. His black and gray pants are cute too. They just knocked it out of the park with Chan and Hyunjin's looks.
I love love love Lee Know's cow print sweater and red beret look. Seungmin's outfit rounds out my top four favorite looks. His Prada bucket hat and fluffy black and white sweater needs to be in my closet as well.
Han's teal puffer coat is a must-have. I love his outfit too. He's one of the few members actually dressed for cold weather, lmao.
I.N and Changbin's looks are cute. I.N's look is like a white jumpsuit fit with a black corset. Changbin's got on some overalls and a hoodie. Blink and you'll miss a full view of Changbin's fit.
I.N's scenes are a little slower paced, so you can see his outfit a bit better. Felix is just vibing in some Gucci sweats, a red hoodie, and a white vest.
You can't help but to notice his yellow sunglasses and green and red headscarf. …It's clothes. Idk. I don't have much to say. I guess it works.
The second look is the all red outfits when they're back to delivering gifts. I love both group looks. This all red, well and some navy plaid, look is more uniform, but it's cute.
There's just enough variations between the members, so your eyes don't get bored. Like in the first half of the music video, it's like a sensory overload with their outfits. There's so much going on. This second look gives you a bit of a break
. I like the SKOO keychains. The mix of Santa hats, berets, and not hats. Ties, bows, and scarfs. Some sunglasses and belts. It's the accessories that play up or down this group look.
The only thing that bugs me about the second group look is Hyunjin and Felix wearing shorts. Wtf? It's snowing outside. Give them pants!!
The plot of this music video really makes me want to continue visiting it. Some music videos you watch once, and you got everything you needed from that the first time.
It may have been memorable, may have slipped your mind 20 minutes later. But you don't think about it enough to want to watch it again.
I immediately knew I was gonna be talking about this music video and rewatching it constantly. It's a simple plot of Stray Kids filling in for Santa to deliver Christmas gifts.
Typical Christmas tv special plot. But it's everything that then happens in the next 5 minutes or so.
One of my favorite scenes is before the second chorus when the van they're delivering gifts in, but it's filmed with miniatures and a toy van on a set. And you can see a hand moving the van.
The mix media aspect works so well for the story and just as a visual shake up. It also just adds to the hilarity of the situation.
The music video for "Christmas EveL" is just so silly and fun. Literally, Stray Kids at their most normal. This might be my favorite Stray Kids music video.
Song wise, I love a good Christmas song that isn't just a cover/remix or a classic like "Jingle Bells". That gets 10 extra points from me.
It's not Christmasy to where if it popped up on shuffle during the middle of like June or something, it would be totally out of place. I love that.
Although, you can listen to whatever whenever. It's not like holiday songs are locked until it's closer to the date. Some music transcend the holiday season, lol.
---
24 to 25
Such a cuteee song and music video. I love the fake Netflix screen at the beginning of the music video. Like I mentioned earlier, I LOVE the styling in this video.
I'm a sucker for bows and berets. This video is LOADED with them. I also like that there's this idealized version of what decorating the house for Christmas with Stray Kids would be, so cute and cozy. Like nah bruh. No way.
The Christmas tree would keep getting knocked over because people kept running around teasing each other and goofing off.
There would be wrapping paper and tape everywhere. Someone would probably get wrapped up as a joke and cookies Felix was baking would get burnt because we all got distracted and forgot they were in the oven. But I do love the idealized fan service video we got.
Again we have two main group looks. I'm gonna call inside outfits and the black suits. The inside outfits are adorable. I would have styled them this exact way. In the poster you get with your album has them all wearing bows and berets.
In the music video for "24 to 25", Seungmin is the only one wearing both a beret and bow. His photocard in this outfit was one of my favorites and I had to get it.
I haven't said it yet, but I love Hyunjin's short hair here. I miss it. And that's coming from a lass who has mostly seen him with longer hair as a baby stay.
I was afraid I wasn't going to like his short hair, but I'm still in love lololol. I just love black hair on him. I'm so conflicted now.
I loved his outfit here in "24 to 25" too. The pant choices they keep making. Shout out to the stylists. I want all his pants, lmao. Speaking of pants, I'm 99% sure the pants Felix is wearing are from "Christmas Evel".
They just took like idk Seungmin's pair and had Felix wear them in this video. I really like his outfit here too. I don't hate anyone's outfits in this video. I do like Felix's look here more than his first look in "Christmas Evel" though.
Lee Know, I.N and Chan's outfits are adorable and suit them well. Chan looks like a mix of like a young professor at Oxford and someone's hot dad at the same time. Changbin's blue sweater? Need that. Han's white sweater is also a must-have.
So like the red outfits in "Christmas EveL", they did something similar with the black suits for "24 to 25". So I'm not going to go too in depth. I love the fits.
You have more cute and warm scarfs, baseball hats and beanies, and other small details in their outfits. Styling 10/10.
Song wise, "24 to 25" is a more modern, typical Christmas song. I won't revisit this one again until the day after Thanksgiving. But I do like it. It's a bit more of a boring ballad with a guitar, but I love the vibe. It's sincere, and you can still sway to it.
---
Winter Falls
*Adam Levine voice* I'm at a payphone trying to call home. Anyway… "Winter Falls" oh mannnn I loveee this song. It's sad but a tune at the same time.
I can't decide which song is my favorite off this album, "Winter Falls" or "Christmas EveL". I think it's tie. But I do listen to "Winter Falls" a bit more.
But I love the music video for "Christmas EveL" more… Yeah, it's a tie. It's also a different vibe from the two previous songs. Now we have a midtempo song.
Lee Know, Felix, and Hyunjin's outfits are my favorite member looks in this music video. I love Lee Know's hair in this music video. But they all look so good.
This is one of those times when I wish we had more full body shots of everyone's looks. A short list of items I need in my closet:
Hyunjin's black and white coat
I.N's giant furry hat
Felix's white coat and neck tie
Chan's sliver choker
The outfits here are much more uniform when it comes to colors (mostly black, white, and gray), and style (your typical chic slightly edgy Kpop boy fit).
I always forget to talk about jewelry, but it was pretty consistent in this music video and the others. I don't remember seeing anything other than silver.
Silver rings, earings, and necklaces. Shoes sometimes are visible, but it's also one of those blink, and you'll miss it moments. Mostly sneakers and boots.
I like the blue tint/filter they used to film the music video, too. It adds to the cold winter mood. It feels like a mini movie, but idk what the plot is.
It's like some of those French films from like the 50s, 60s that look great and stuff happens, and then it's over. But I get excited rewatching this video. It's just so cosy. One of my comfort music videos.
A common theme I noticed in this batch of videos are phones. Phone booths, cell phones, there are a lot of phones in these music videos. Any time I see Lee Know I think of the "always on that damn phone" meme.
He's got two solo scenes in two different videos interacting with a phone ("24 to 25" and "Winter Falls"). Wait three including him taking selfies and playing with filters in "Christmas Evel". Yeah, he just be on that damn phone all day, lol. Me too.
---
Domino – English
I love "Domino". I think it's such a hype song. I wasn't expecting an English version at all. I still really like it, I just forget it exists sometimes.
It's not a song/version I'm rushing to go listen to. It's also kinda random for this album. I wish there was another Christmasy song here instead. Or even a winter themed one. It's an odd way to finish the album off.
I forgot why I didn't link or mention the short "Domino" music video in my No Easy review. So I'm including it in here. There's so much going on in this video.
It's not even 2 minutes long, but I feel like you have to watch it a few times to see everything. It's an odd video, but I like it. I love Chaotic SKZ.
---
Some Merch Stuff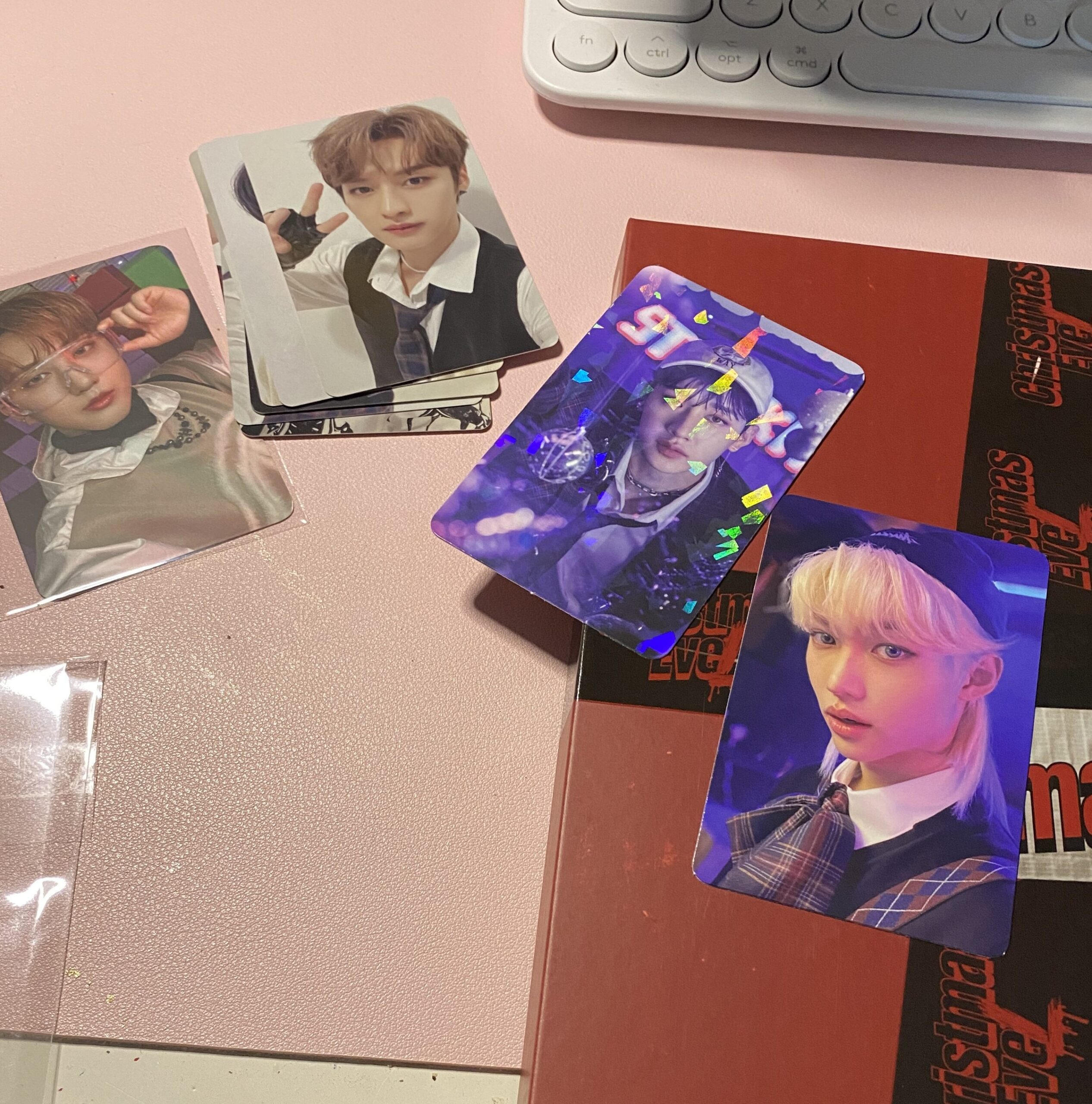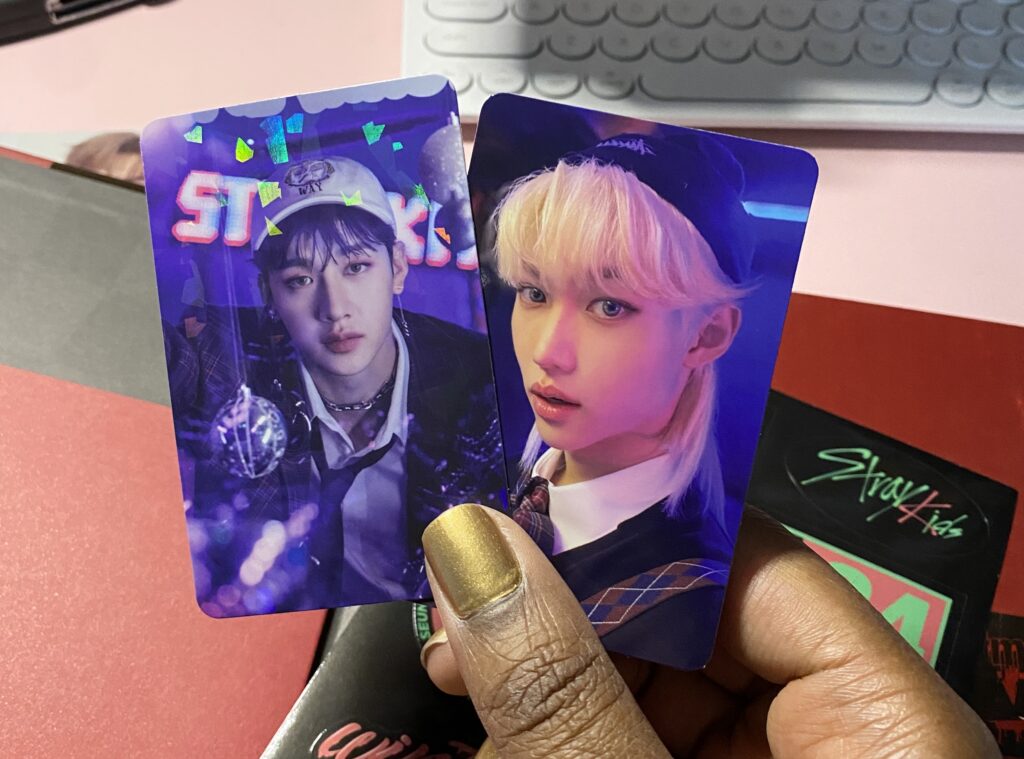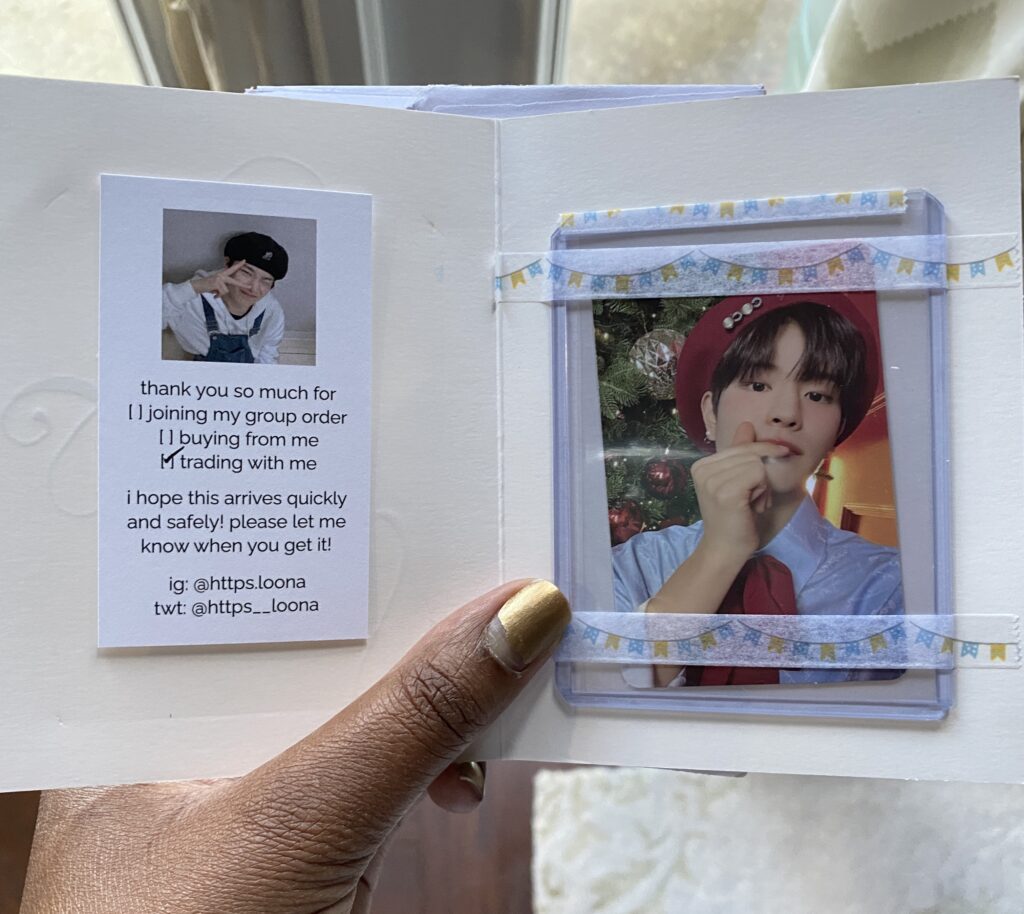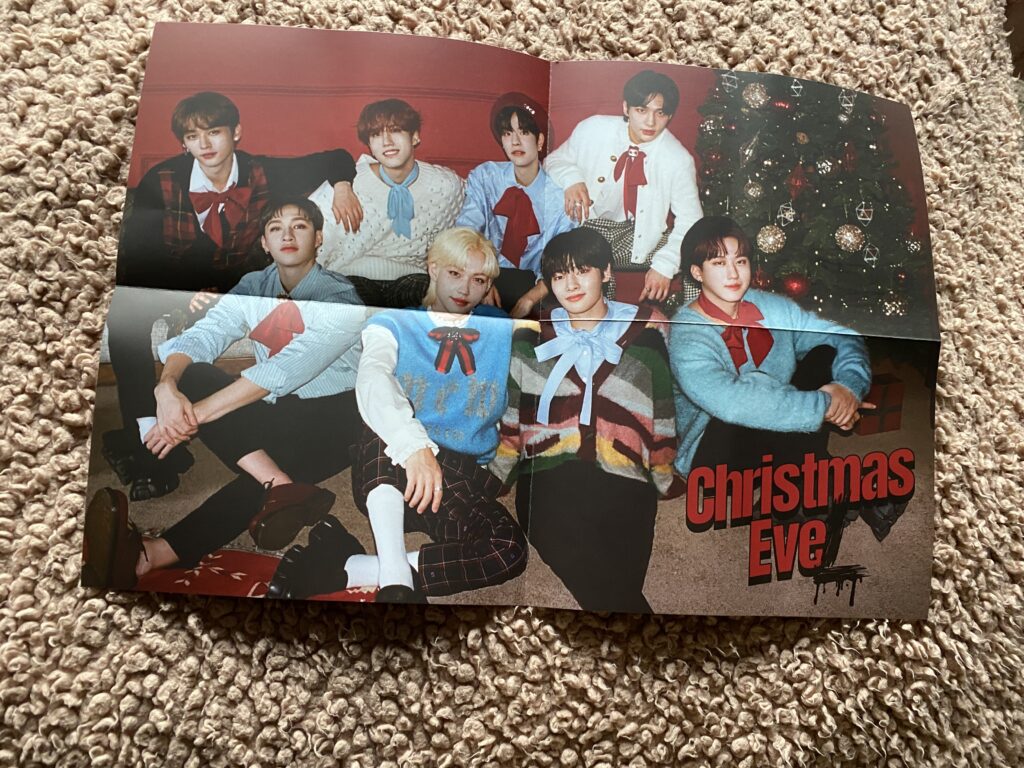 I ended up trading the Felix photocard for Seungmin. There are a few photocards I want to get from this era, but I haven't been too active in trading or buying lately.
I like this poster, but I hate how the flashback washes them out in this. But this was the photo I was talking about earlier versus how they look in the "24 to 25" video.
---
So now that I'm back from break, I'm just continuing my list of posts I meant to get to last year but didn't. We got through a large chunk of them, surprisingly.
I've been having a blast going back and revisiting some oldies but goodies. I do want to try some different types of post this year. More listicles and deep dives.
And of course monthly faves will continue. But yeah, that's what my current plan for the blog is. Just write, write, and write some more and hope y'all enjoy it.
Anyway, what's your favorite song from Christmas EveL? Oh, and how's the new year goin for ya so far? Mine is a mixed bag tbh, but I'm hopeful things will continue to get better from here.
Until next post,
Take care!
Ash ❤️