I couldn't decide if I wanted to write a review or not.
I always look forward to a Twice release. They're one of my favorite girl groups. However, I had fears of it being Dance The Night Away part two. DTNA is an alright song. It sounds better live, but it's no TT or Likey.
And as I feared, More & More is DTNA part 2. Album wise, More & More was pretty forgettable compared to Feel Special. The two songs I really enjoyed from More & More were Oxygen and Shadow.
September 15th Update: Now that Twice has released the English version of More & More, I love the song much more than when I listened to it the first few times. I still don't really listen to the Korean version, but I have a greater appreciation for it.
But enough talk about the music. Let's get into the fashion side of this comeback.
I had a hard time deciding on if I was going to do a music video fashion review or an inspired outfit post. I knew they were going with a boho theme for More & More. Tons of floral, fringe, loose dresses, tribal prints, and warm colors. It works well for summer.
In the music video for More & More there are 4 main looks. There's the spring dresses they wear in the first round of teaser photos, the boho outfits in the second version of the teasers, denim jeans and crop tops, and the all white outfits.
But I didn't really feel like I had much to contribute. After talking on the phone with a friend about the comeback and thinking more about it in the shower, I had a change of heart. So let's start with the spring look.
Spring Look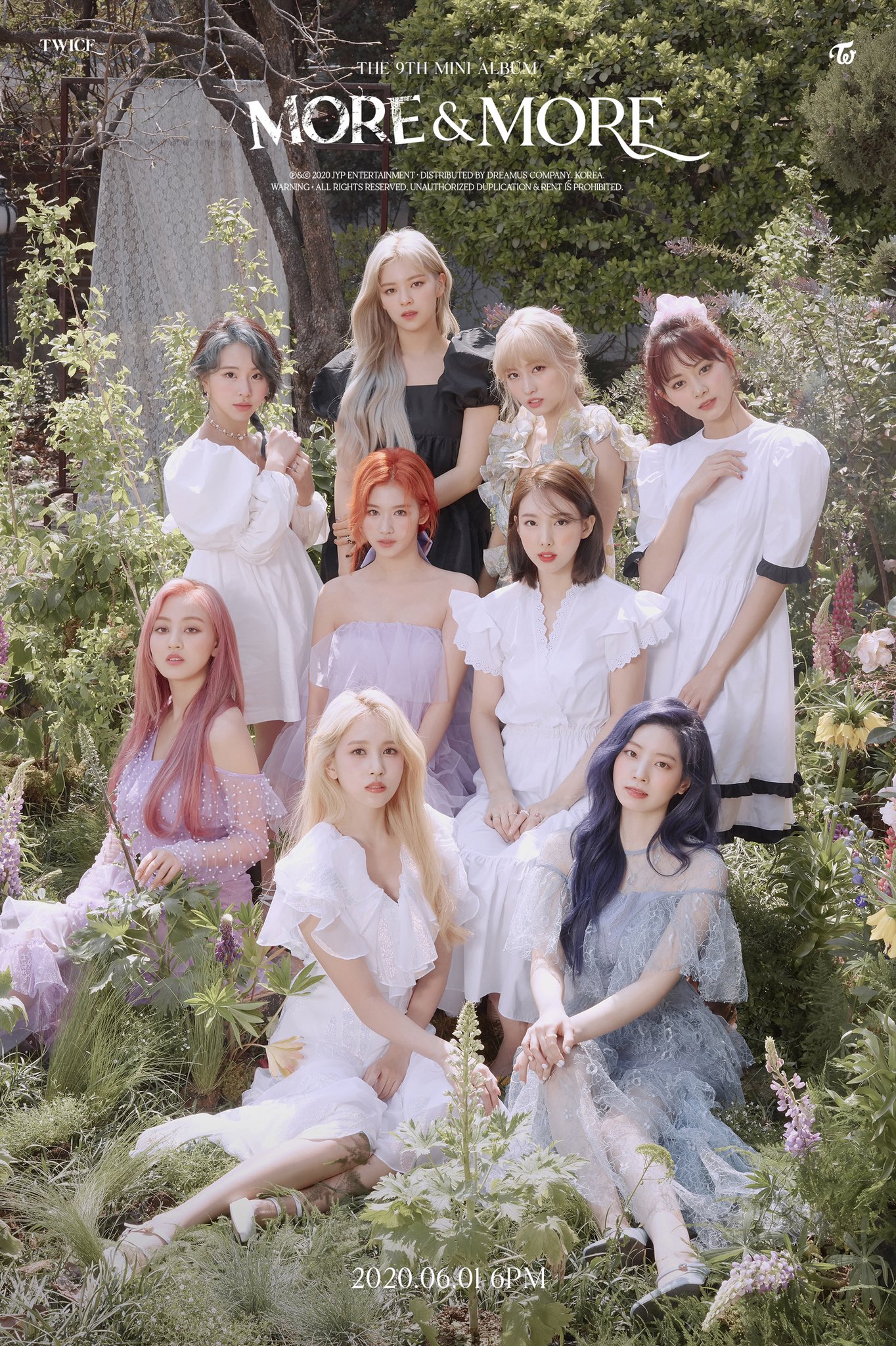 This group look is simple and elegant. I like that the props used here are just nature. It reminds me of the Nature Republic skincare ads.
There's a good balance of neutrals and soft muted colors in the girls dresses. Dahyun, Jihyo, and Sana's dresses are my favorite here. I'd say this group look is my fourth favorite of the bunch.
Boho Look
This look is the main group look in More & More. It's my favorite of the four. I love the different colors, fabrics, and accessories for this look.
Totally Coachella ready. I don't have a favorite member outfit here. I'd wear any of these looks. Especially the boots. I loveeeee the pirate/cowboy boots here.
Crop tops and Jeans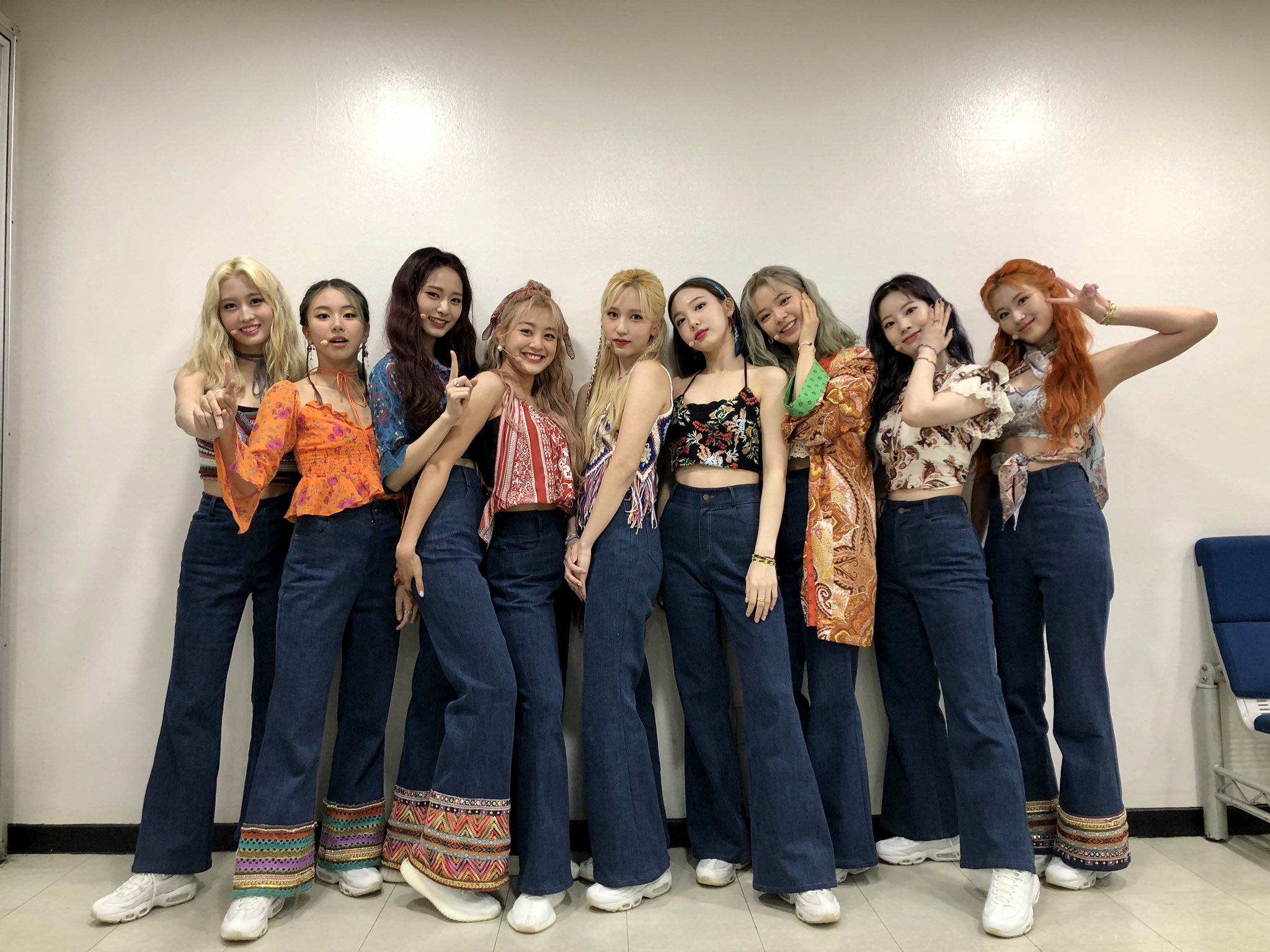 This is my second favorite look in More & More. I love the wide leg pants. I love the crochet tops. Chaeyoung's orange blouse and Sana's wrap bralette thing are my two favorite looks here.
I'm not a fan of the white sneakers here, but I'm pretty sure these were selected because it would be easier to dance in. Flats or sandals would be my shoe option of choice for this look.
All White Look
This look reminds me of a mix of the Dallas Cowboy's cheer uniform and something that a high school marching band would wear. I think it's all the ruffle and gold trim. I don't know but I really love it. This is my third favorite look in More & More.
Individual Members
This segment is to discuss in slightly more detail on my overall favorite member hair and makeup looks during More & More era. Let's start with Miss Jihyo.
Jihyo
This is probably my favorite Jihyo look to date. Pink hair suits her so well. I prefer her long hair, but short is cute on her as well. I couldn't help but to reblog any picture of gif of her this era on Tumblr.
Nayeon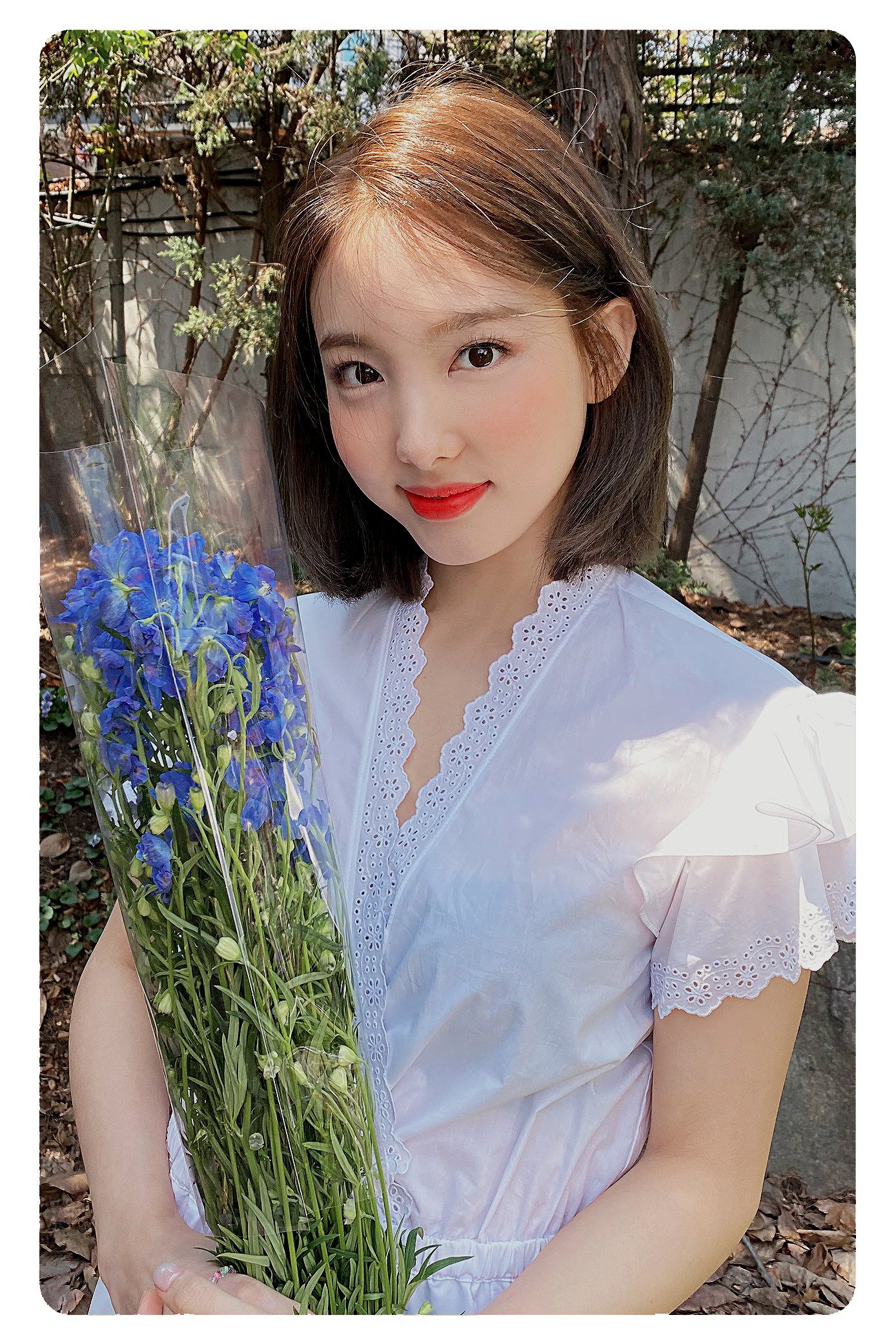 Correct me if I remember this incorrectly, but I think this is the first time Nayeon has had her hair this short. I liveeee for short hair, Nayeon.
It suits her so well, and one woman should not have this power. It's Nayeon's world, and we're just here to witness her greatness.
Chaeyoung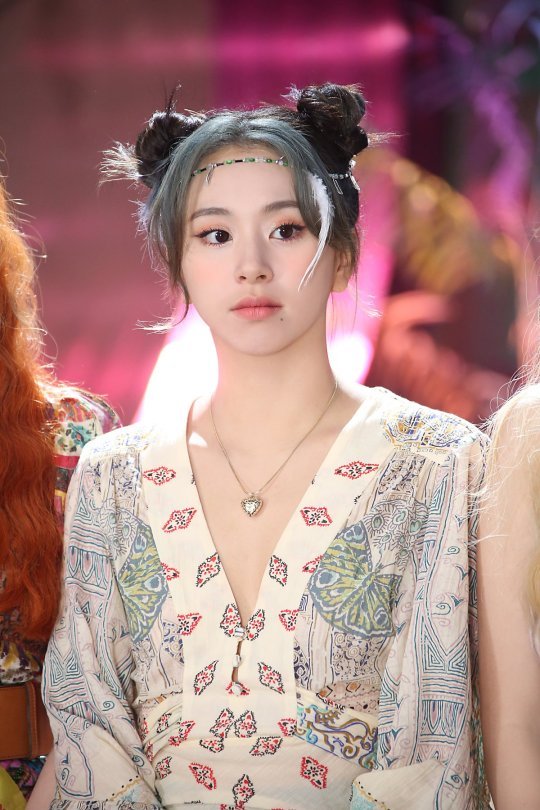 A slightly controversial take, but I love long hair on Chaeyoung more than her bob. She looks good regardless, but I was happy to see long hair back on her for More & More. Chaeyoung's hair color has been a mix of blue and gray, and I love both on her.
Sana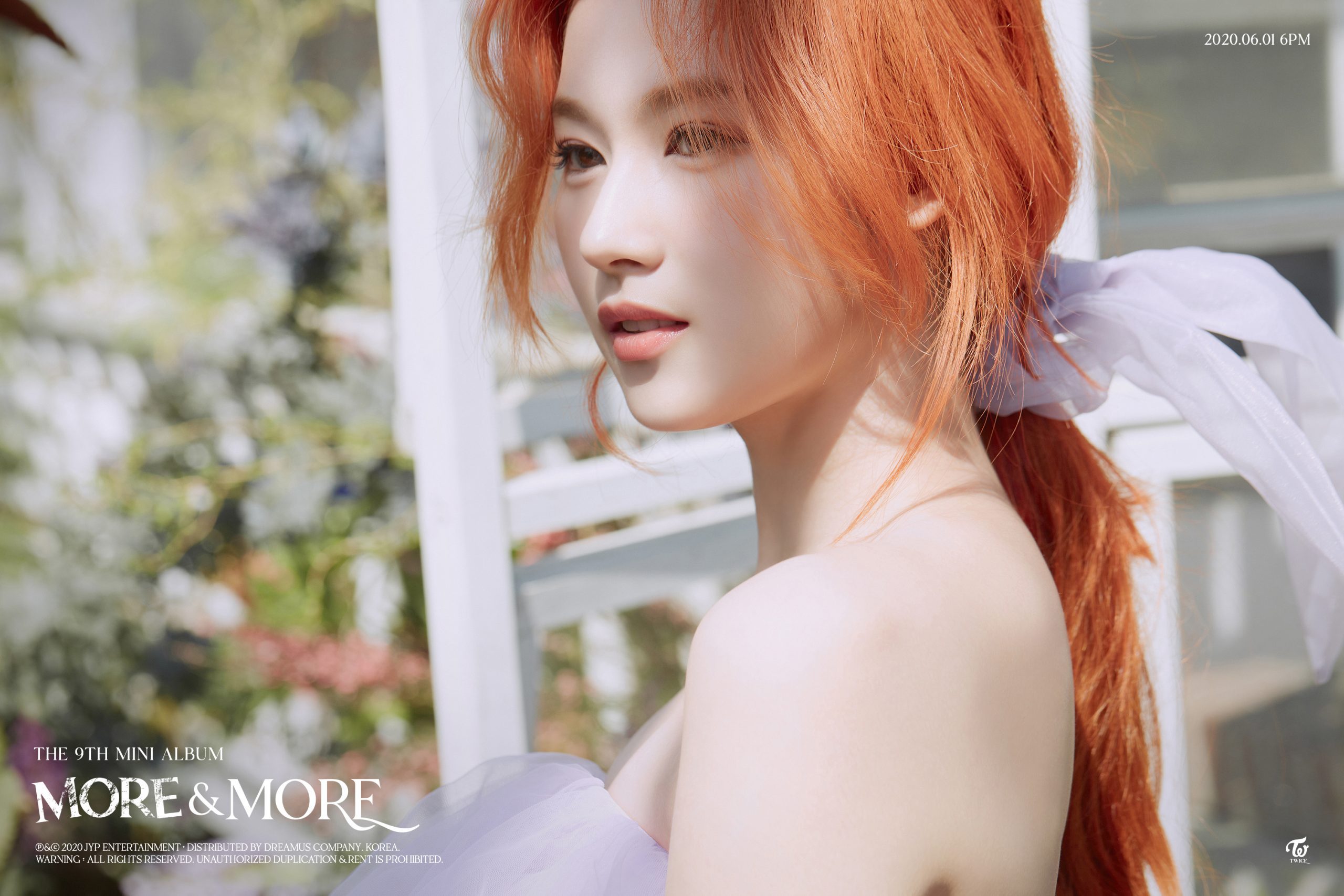 And of course my queen, Sana, is killing it with this orange hair. When I say I've saved just about every orange hair picture of Sana during More & More, I'm not kidding. Her black hair is still my favorite, but orange is a definite second fave color for me on her.
As for the other members, Jeongyeon's medium gray hair is really cute on her. Dahyun, Momo, and Tzuyu also continuously look amazing. The only member I'm not too fond of her hair color this comeback is Mina.
I wish they had gone a more warm golden blonde on her. This shade washes her out a bit. Maybe it's because I'm not used to blonde on her like I am with Momo. It's not terrible, but not my favorite Mina look.
So those are my thoughts on More & More. What do y'all think? Let me know in the comments below.
Follow me on Twitter and Instagram.
Take care,
Ash♥♥♥