It's time!! 📢📢📢
Hey y'all we got a collab today! I'm so hype about this one. Daebak Company reached out to me about introducing y'all to them.
They have sooo many intriguing products ranging from snack boxes, official Kpop merch, beauty products, jewelry, stationary, and more.
I was amazed by all the different items they offer. Daebak Co has two different types of subscription boxes, SnackFever and Daebak Box.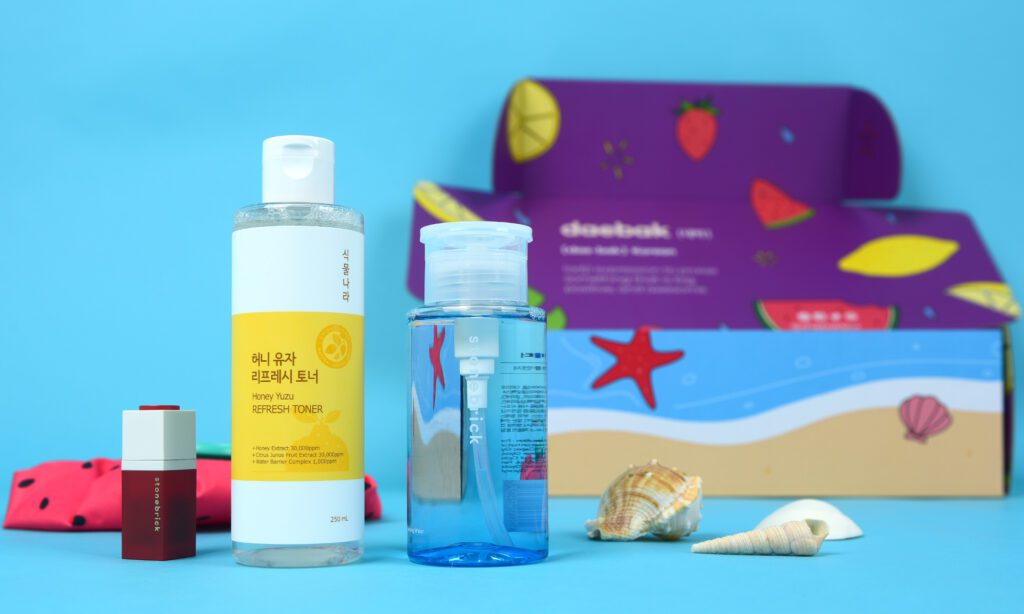 SnackFever is a monthly snack box where you get 10 – 13 Korean snack items a month. These are popular food items exclusive to Korea.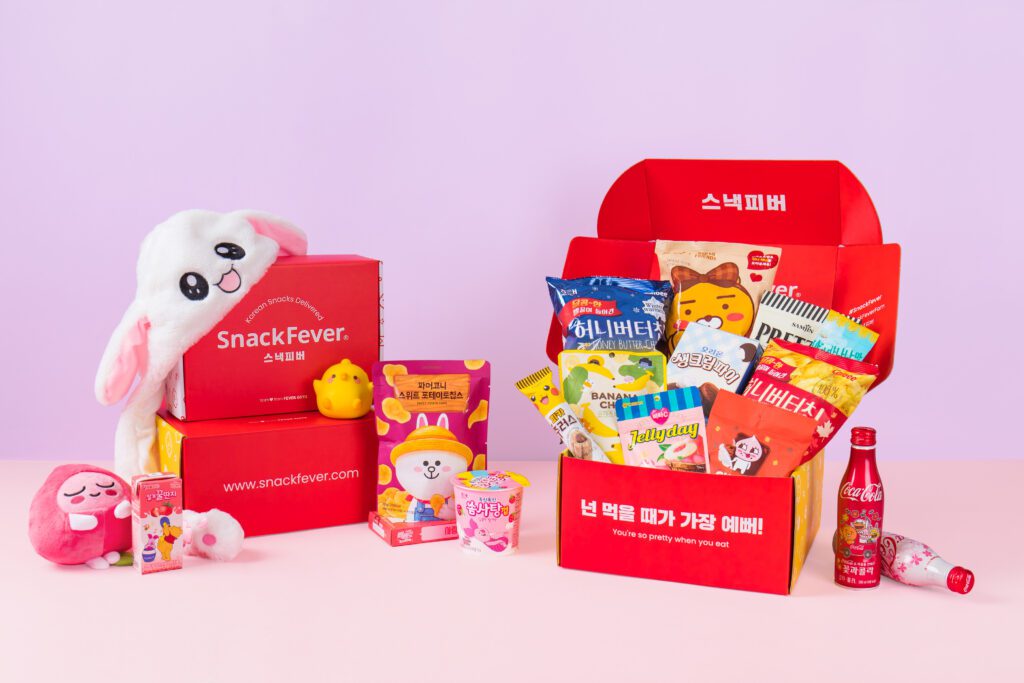 Each box always includes one ramen and one easy to prepare food like tteokbokki, but everything else can range from sweet snacks like cookies, chocolates, and jellies, or savory snacks like chips.
Beverages like coffees and other snack have appeared in previous boxes. A single SnackFever box is about $45 and then whatever shipping is for your location.
You have the option to buy one box, or you can subscribe for a recurring month-to-month box. Or you can prepay for 3, 6 or even 12 months in advance.
Daebak Co already calculated how much you save with each subscription option. I find that super helpful.
The second box, The Daebak Box, is a variety box as well, but you can get more items with this box instead of solely food.
There's more of a Kpop and Kdrama emphasis on this box as well. Instead of receiving a box every month, The Daebak Box is released seasonally (March, June, September, and December).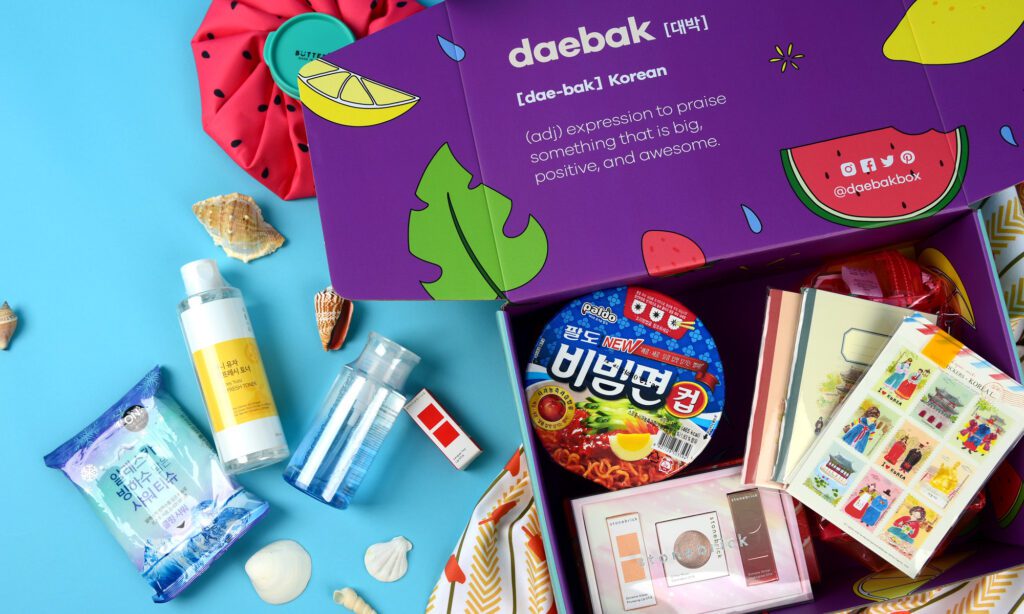 So each box is curated with that in mind. You get (10+) full sized items in each box. Previous boxes have had cute pouches, reusable bottles, makeup products, socks, etc.
You can buy one of these past boxes to test out the service. If you decide to subscribe, you can go with an annual subscription or a seasonal box (which ever is the next box to be released).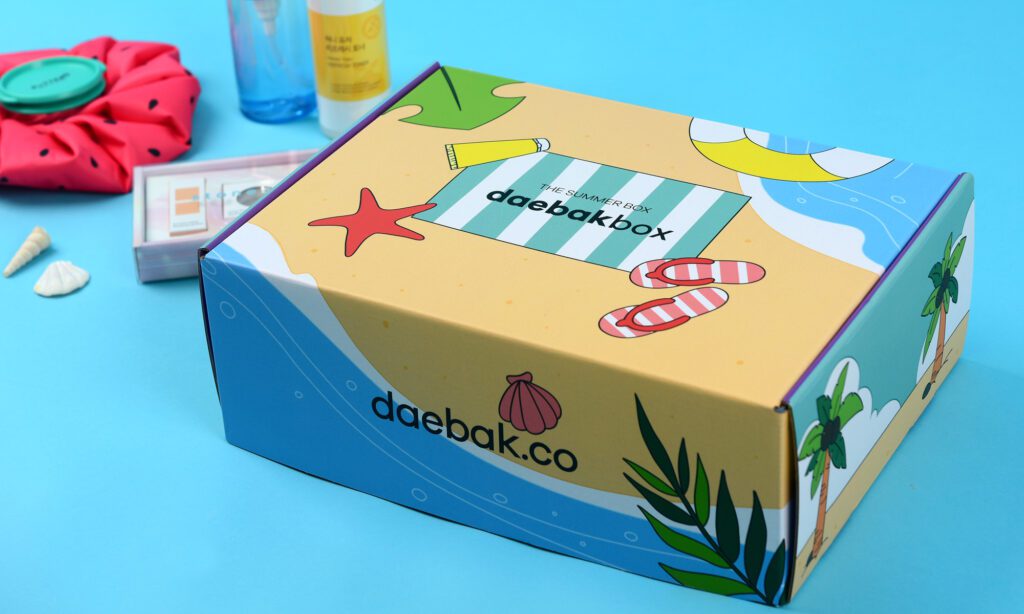 And this is the box I'll be reviewing today! I bought this box with my own money, and these are my own thoughts on everything.
I plan on reviewing the snack box in the future. I'm even more interesting in trying it after buying the Daebak Box. Alright, let's get into the review!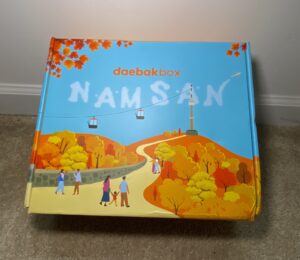 So I bought my box on November 6th 2022. I paid $59.98 for it. $49.99 for the box, then $9.99 for shipping.
The current seasonal boxes are usually around $54.99. So I saved $5 assuming shipping for the current box is the same price.
I remember getting an email from them saying they were having some delays with the fall and winter boxes are December 20th 2022.
I was interested in the fall box because it was discounted. I noticed they had a few extra boxes from previous seasons they had discounted, just regular boxes, nothing taken out.
I was also interested in the fall box because of the theming. I've watched numerous Vlogs and videos with NCT members going to Namsan Tower, so I wanted a piece of that sent to my house, lol. It's totally on my things to do whenever I go to Seoul.
A few weeks passed, and then I got another email on January 31st saying my order had been processed, and I assumed shipped out. Now they say it can take up to 10-20 days for tracking to update.
A few more weeks went by, and I could see my box was stuck in customs hell (or something) in New Jersey.
I emailed customer service on February 13th (through their site), and got a quick and helpful response from them about a day later (time differences, such a pain, lol).
They said there was a documentation issue with customs that held the items up for three weeks (which lined up with what I was seeing in tracking on the Shop app), but my items were now on the way. They also apologized for the delay.
Then finally, a little over a week later on February 22nd, I received my box. It was a little beat up, but nothing on the inside was damaged.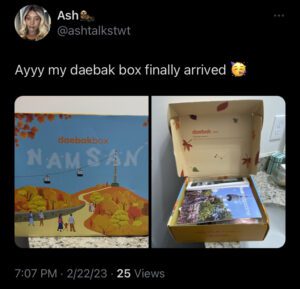 So let's get into the products included in the box!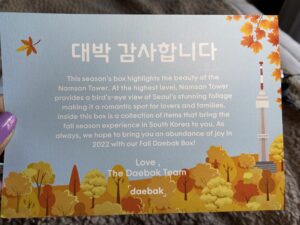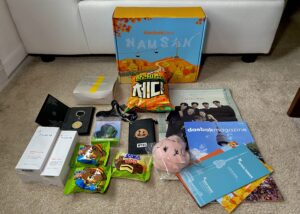 So one of my favorite parts of going through the box was seeing all the items packed into it. Inside daebak magazine you see a detailed page of all the items (likely) to be included in your box.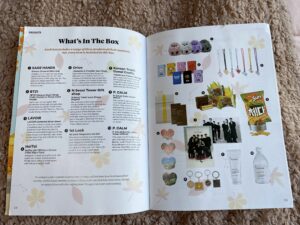 The magazine was my favorite item out of the reading options given. I don't really keep up with dramas or Kmovies, so this edition of 1st Look, in particular, didn't stand out to me personally.
It was cool looking at the other editorials in it, though. And because it was in Korean, I understood very little of it, lol.
But I loved going through the articles and all the things included in daebak's magazine. I like the mix of information and story included with it.
You learn more about Korean culture and other items you normally see in a magazine, like a quiz to see how much you know about Kpop.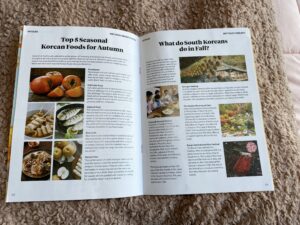 Let's talk about the food options for this box. Starting with the Orion Jalapeño & Cheddar Sun Chips.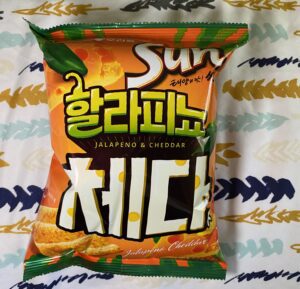 I'm not a Sun Chips girl. I don't like the texture of them, but these were great. If they were in like a Doritos or Lays option, they'd be perfect for me. They weren't too spicy, a nice hint of heat to them.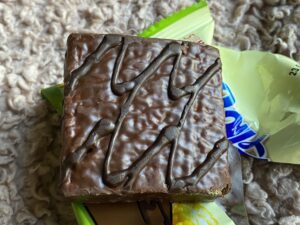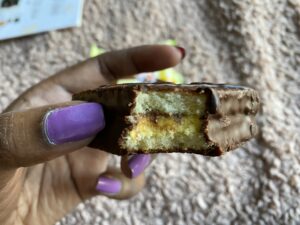 I knew I wasn't going to like these HaiTai cakes because I've tried a few Korean chocolate snack cakes, and they're not sweet enough for my American taste buds.
I'm a milk chocolate girl, and other than the Winter Chocolate Pocky (these go so fast because they're absolutely delicious) and tiramisu, I don't like bitter chocolates.
And these are more on the dark chocolate side. My second indicator was corn, I'm not a big fan of corn outside savory dishes. I gave it a shot, and I hated it, lol.
Despite this, I still want to try Snack Fever. I think there's gonna be some gems in there. Oh and FYI, if you're in France, I guess there's a new law in place so y'all can't get the food items, because they've been banned. So Daekbak has replacement (non-edible) options for y'all.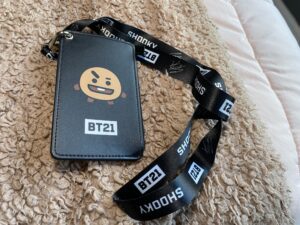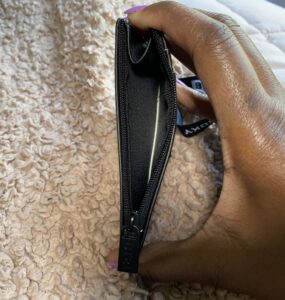 I love this BT21 card wallet thing. I first used it on a quick errand to pick up ramen dinner. It's so light and handy.
Perfect for days when you want to carry the bare minimum with you while running a few quick errands. I could also see using it for concerts and other events like that. My second favorite item from this box.
This keychain is from their Korean Traditional Crafts section. This came from the Jungang Craft Museum. It's got some weight to it. I currently have it hanging on my cork board next to my mini Rilakkuma and Nayeon (album inclusion picture).
I'm incredibly impressed that we're getting full sized bottles of skincare products. That's amazing! I like both of these. They seem to be pretty gentle on my oily skin. I think I like the toner a bit more.
So I would buy that (I haven't looked to see where I can find this online yet) after I've used this bottle up. The cream is a little bit greasy, I like more of a matte finish for my day moisturizers.
Update 7/10/2023: I found that Olive Young sells this brand and product.
These Lavoir dryer sheets are nice. They have a strong floral but clean scent to them. They're a little moist. I'm not used to that in a dryer sheet. I like these a lot.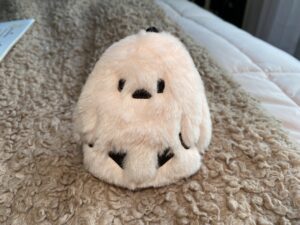 The crow-tit plushie is super adorable. I was looking at the color options in the magazine, and I would be good with any of the colors. This one matches my bedding incredibly well. This is my third favorite item.
My fourth favorite thing, and I know that's kinda ridiculous, is this flyer. I loveeee collecting flyers from places when I travel.
So a simple inclusion like this not only fits the box theme, it's something that I'll use in the future and look at again. I didn't know there were so many restaurant options in the tower. You also get a ton of information to help plan your trip.
My favorite item! This magnet is so cute. It's not a normal magnet where the magnetic side is the only thing covering the back, or you see a strip.
The back is a dark navy and it's so smooth. I wasn't sure it was going to stick to anything. I just think this is so cute and totally something I'd pick up as a souvenir.
So the last item I want to talk about was this ad for a thing called KOOKY. I thought some of y'all might be interested in something like this. It's a platform where you can connect with other Kpop fans.
They have a side where you can watch shows they've created with Kpop fans in mind. And I guess they also have a magazine where you can stay update on other Kculture things, dramas, concerts, what to do in certain towns, etc.
Let me know if y'all sign up and what you think. I haven't tried it out yet, and I don't get anything from them for bringing it up in this article. I just thought it was interesting.
So, is the Daebak company box worth it?
I'd say yes, totally.
Overall, you get a great variety of options. There are going to be some things, like food, that'll be difficult to please everyone.
But even if you don't like a particular item, like let say the plushie that came with my box, I would just simply regift it to someone I think would enjoy it.
Keep what I like, regift what I don't. And I have found their customer service to be quick and helpful.
And that's just difficult to find now since we've had to deal with COVID-19. Businesses closing left and right, and the ones that are still open are severely understaffed.
So I really appreciate it when you can see a company values their customers time and wants to maintain a good relationship with them.
So, yeah, I plan on buying more boxes from them in the future. They offer other items too, like I mentioned in the beginning. So I'll have to try some of those items out too. Oh, one more thing about them that I want to mention.
They also have an option to earn points and use towards getting money off future purchases. But if y'all use my affiliate code, "ASHTALKS", you get 5% off your purchase. This code isn't just for the boxes, but everything off Daebak Co's site.
Thank you again to Daebak for reaching out to me for this collab!
---
I hope y'all enjoyed this review. Let me know if you bought anything and what you think of it. I'll update this article with a link to the Snack Box review whenever that happens.
Follow me on Twitter and Instagram. I'm cautiously back to promoting Twitter. I haven't stopped posting on there. Even with all the chaos, going on.
I'm trying to be more active on this new Insta account and post whenever I run across cool Kpop items. Or updates to my photocard collection. I'm currently back in my Hyunjin from Stray Kids collection era again.
Thanks for checking out this article!
I'll see y'all next post!
Ash✨