REVIEW: Seventeen – Boys Be
She says she loves my rap 😉
A waaaaay long overdue post. I need to get more Seventeen related post on here. They're one of my top 3 favorite Kpop boy groups of all time. I love doing these sorts of throwback reviews because I get to revisit my favorite eras. And with Boys Be and "Mansae" releasing in 2015, that was my first full year in Kpop, so I have a lot of nostalgia with this year and the music releases. I should do a fave songs & albums from 2015 series or something. Anyway, let's get into Seventeen's first comeback album!
I still have my Jun photo card and poster that came with this album. They're in different parts of the house and I couldn't be bothered with trying to hunt them down.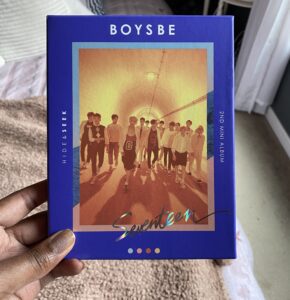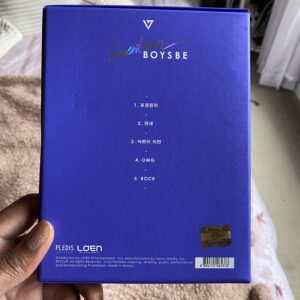 ---
Fronting
Man, they kicked off Boys Be with such a banger. I've already mentioned Vernon's, "She says she loves my rap" but I want to also highlight Woozi's, "Baby, it's alright, I'll call you mine". His line delivery? Chefs kiss. That's what this whole song builds up to for me still. This album very much has that school boy/teen energy to it. I was 21 when this album released and like a sophomore in college, but I still vibed to this. It helps when you don't look at the lyrics too closely, lmao.
Mansae
Literally one of the best songs and music videos ever. Anytime I've had someone ask me about Kpop, recommend a song by Seventeen, or a favorite choreography from a music video, I always ALWAYS show "Mansae". It covers so many areas of entertainment. I don't want to spoil too much if you haven't watched the video. But this is a classic. An iconic moment in Kpop that will never be replicated. They don't do shit like this anymore. I mean, Seventeen still makes hits, but…anyway, let's talk about the outfits in "Mansae". We gotta talk about the clothes. It wouldn't be an AshTalksKpop post if I didn't talk about the clothes!!
Okay, I lied, let's get hair out of the way first. Starting with my two strongest opinions. I famously hated The8's blonde curly hair. I never understood why they did him dirty like that. I also famously adored Jeonghan's long hair. I was so sad when he cut it, but his bob in "Pretty U" brought me back to life. I knew one day he'd grow it back out, and he kind of did during "Ready to Love" and Seventeen in the Soop.
I've also always loved Joshua's bright orange hair and the cut in "Mansae". It suits him well. Same with Mingyu's blue-ish gray hair, Wonwoo's short brown hair, Woozi's pink hair with a bit of an undercut, Jun's short brown hair, and Hoshi's mint and blonde hair was cute. S.Coups's hair is almost always black, so that wasn't anything out of the ordinary. His straight black bangs in this sometimes had him like a lil mushroom too, but then other times it was parted. I like both.
I like Vernon's blonde highlights (I love this hair when it grew out a little more), Dino, DK, and Seungkwan's hair was a little too short for my liking, but the color was fine. Omg okay now to the clothes for real.
The most well known group look from this era is the gray uniforms with their names on them. I love this for numerous reasons. One, the name tags literally help you learn the members names. Two, it's cute and fits in with the schoolboy concept. I remember up into college where you'd have classes where you had a paper with your name on it sitting on your desk until the teacher/professor remembered everyone's names. And three, it just adds to the uniqueness of this era. The next iconic and maybe the most well known outfits when it comes to Seventeen is their suspender outfits from "(아주)Very Nice".
Their outfits overall in "Mansae" just stays on point with the school concept. In the first few seconds of "Mansae" we see them in these semi school related outfits. Some members are wearing blazers and others are dressed more casually like a school without uniforms. I like these. They're like filler, but it works well with the plot/story in the music video. There's just so much going on even 6 years later, I enjoy watching the whole thing from start to finish and still find little Easter eggs.
When I Grow Up
A much-needed slower pace song after the sugar rush that came before it. "When I Grow Up" is another song that I don't really seek out, but when it pops up on shuffle, I remember how much I enjoy it. Vocal team did what they had to on this one.
OMG
Yeah oh my god, yeah oh my god. This is another song that I don't think about often, but in hindsight cracks me up. This song reminds you that yeah, we've got a bunch of teen boys on the track. But the beat slaps. Performance team always finds a way to stand out in from Vocal and Hip Hop. I guess it's because they're more visual. So when it comes to songs, you have to be. A bit more aggressive and in your face. Because if you're just listening on Spotify or where ever you're relying on your ears. Sometimes I skip this song, but when I want to take a trip back in time I listen to this one and "Rock".
Rock
This song's a classic, a deep cut. And it STILL gets performed live. I was screaming when I heard these instrumentals for "Rock" when I saw Seventeen on their Ode To You tour back in 2020 (my last concert before the panorama). It's such a banger. You can't help but to dance to this one. I remember everyone being just a hype as me when they started performing "Rock". Man, what a way to end an album.
---
Boys Be is such an energetic album. I always remember how fun this album was. To experience and to revisit. Even to watch live performances or my 1001 viewing of Mansae's music video. Other than "When I Grow Up" you really don't get much of a break to breath. There's so much crammed into 15 minutes. It really feels like the beginning of a trilogy. You're having so much fun, and then it's over.
I hope y'all enjoyed my trip back in time to revisit Seventeen's Boys Be and "Mansae". I'd say I spent most of this post just talking about "Mansae" alone. I knew that'd happen. But I needed to do it. Let me know what your fave song from Boys Be is. Do you have a copy? Who's ya fave member?
Next up might be a bit of a surprise, but I'm gonna talk about Winner's 2014 S/S album. How many of y'all know I was once an innercircle? I'll go into more detail next time. Until then…
See ya next post!
Ash💎