First post of the new year! 🥳 🎉 🎉
Happy New Years, y'all! I hope you were able to take some time to chill and enjoy some delicious food. I had a great holiday break, but I'm totally ready to jump back into blogging. I had no idea what my first post of the year was going to be.
I thought it might be a how to dress like because no one was releasing anything interesting fashion or music wise. I wasn't expecting to be captivated with a comeback like Victon's "What I Said".
Tbh I'm a casual Victon fan. I loved "Mayday". That was easily one of my favorite 2020 releases. I listened to it frequently on my morning walks. And I love love love "What Time Is It Now". Dawon from SF9 in the first gif is me.
But yeah, other than those two songs, nothing has really made me a stan. I probably should go back and give them a proper listen and dig through the weeds to find the gems. I'll them to my deep dive list.
I did listen to their first full length album "What I Said" is from. And out of the 13 songs, I saved "Eyes on You", "Unpredictable", my favorite b-side, and "What I Said". The album isn't bad…it's just not my taste? It felt like something was missing.
Or maybe I expected the bangers to continue. Even though I KNOW, Victon tends to do more mid-tempo and ballads. Just because you get a song like "Mayday" as the title track, that doesn't guarantee you more music like it. Which is like, you know, fine. But yeah, I can't stan. I came to dance.
To change the topic slightly, who was going to tell me Victon except for two members (y'all know who you are) are tall af??!! I love that for them. Also, I didn't know Seungwoo is the same age as me, so naturally I want the best for him. He ties Hanse for favorite member.
I think that's all the non-fashion related things I wanted to mention before getting into the review. We got three main group looks, and one section dedicated to individual outfits, so let's get into it!
Look 1
Out of the three main looks, I think this one is my favorite. I'm a sucker for uniform group looks. I live for gold jewelry. I live for embroidery. I live for black leather pants. So yeah, this look checks off a ton of my favorite things in fashion all in one look. Those always end up my favorite looks in Kpop.
This feels like one of the few music videos I've covered where the closeup scenes give you a great opportunity to look at all jewelry. I didn't get screenshots of some of these scenes, though.
They all came out blurry, so you'll have to check out the music video for a better look. There were also excellent scenes where you can see the different beading and embroidered sleeves on each jacket. I kept looking forward to this look, so I could analyze each look in more detail as I watched them dance.
Look 2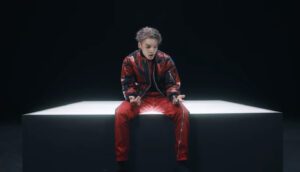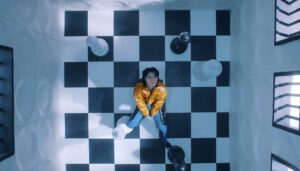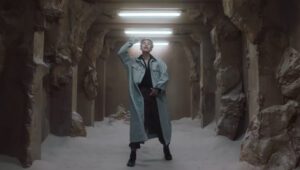 Although, the first group look is my favorite. Objectively speaking, this is the thought-provoking look. There's just so much to unpack. When I think one member is wearing my favorite outfit in "What I Said", another one pops up in something just as exciting.
This is where I have to bring up height again. Kpop stylist love throwing tall members in a long coat and I love it too. Seungwoo is the second-tallest member, and I should have known because he was the one in the long jacket. Kprofiles says he's 6ft and Byungchan is 6'1. Very sexy of both of them.
Besides this giant ass jacket they put Seungwoo in, I want, no NEED, to talk about his leopard print pants. Then they were like," hey, what if we show some chest with this black collar shirt?" This is a lot. This is perfection. I guess while we're on the topic of Mr. Han, that undercut tho!!!! King shit.
Next, I want to discuss Seungsik's look. I almost fell from my chair when his scene began. First, I LOVE a good platinum blonde. That's a rare find in Kpop.
Secondly, this turtleneck sweater cape villain look is TOO powerful. I'm mad we didn't get more shots of him in this look. My third favorite look (these aren't in any particular ranking) is Hanse.
Now, I've said numerous times I am NOT a mullet fan on 99.9% of these Kpop boys. HOWEVER, Mr. Do Hanse gets added to the Kpop mullets I like list. This man had NO RIGHT coming out swinging like this!!
And now the binch is killin it with ORANGE HAIR!!! One of my other favorite Kpop hair color??!!! HELLOOOOO???!!!! It's difficult to get this neon orange hair color right, and it suits him sooooo well. Bravo my guy, bravo.
Oh, yeah, so his actual outfit. I love this yellow distressed cropped leather jacket. Lookin like the goth cowboy of my dreams with this fit. I love it. I love the chess background in this scene as well. I felt like this scene, of all the backgrounds and stuff in this video, the chess one stood out the most to me.
I think it's the color scheme. You got a black and white room with this bright color jacket. Your eye can't help but notice it's out of place.
Let's see…how about the first of our black and red looks with Sejun. He looks like a racecar driver with this look, and I love it. Giant Fendi belt buckle, gold hoop earrings, slivery hair. Now that's what I call flawless styling. The confidence radiating off him…you can feel it through the screen!
Our other man in red is Byungchan and it kind of gives me EXO "Obsession" vibes. Actually, I think this whole group look kinda gives me those vibes. Subin also gets a closeup shot of his jewelry in this outfit. I love how casual but dressy at the same time, Subin's fit is.
Like if I were going out on a date with a guy, and he showed up dressed like this? Game over. There is no need to date anyone else, lmao. Lastly, Chan, his outfit made me gasp as well. Gray is one of my favorite colors, and I love the scarf paired with his look. It also is a look I'd love to see worn irl.
Look 3
So this look we briefly see in "What I Said". I think this look, Seungwoo is wearing here, was really the only member you see in this group look throughout the video. You also get a great opportunity to check his jewelry out.
I'm not really sure why we don't see other members in this outfit. It's not a bad look. I just don't have much to say because we only have four seconds to process it.
Unlesss you check out the article by MELON where there show more behind the scene pictures for other looks from "What I Said" and VOICE: The future is now.
Which I found after I typed this lmaooo. After seeing more pictures, yeah, I like this look a lot. The dark brown suit Chan wears is my favorite. I guess you can find translations through one of the Victon fansites. Idk.
Individual Looks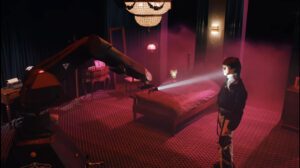 Part of the second group look is included in one of these, but I didn't see Subin's(?) black and white look anywhere else (5th pic). I'm not a fan of Byungchan's graphic paint splatter suit, but I like the risky choice of including it.
It keeps things interesting. Sejun and Hanse have my favorite individual looks here. But other than Byungchan's, I love these other looks. I don't have anything extra to say.
---
Alriiight first post of 2021 is done! What do y'all think of "What I Said"? Do you like VICTON? Who's your fave member? If you are ALICE, recommend some other songs I should check out below. If you like to recommend a music video or idol to do a fashion review on, let me know in the comments.
Follow me on Twitter and Instagram.
Until next post,
Take care!!
Ash♥♥♥