Let's go back to when NCT 127 could do no wrong in my eyes.
So normally when I take a long break in between post, I need to refresh my mind and just chill. However, this time I just felt disheartened by one of my long time faves releasing ANOTHER title track I hate.
I was soooooo excited for "Sticker" and I just fookin hate it. The album was lackluster for me as well. At least with Neo Zone I enjoyed the album despite not feelin "Kick It".
So, all my excitement for this post along with being a full time nctzen has crashed. And I was dreading writing this post, lmao.
I've had to come to terms that NCT (127, Dream, WayV, & U) just isn't one of my main groups anymore. I haven't been happy with the direction they've been going in for a while. It's time to close that door and move on to focusing on my new faves.
At the moment, I'm a casual fan. I'll check back to see if maybe there's a newer song of theirs I enjoy, like what I do with Monsta X. Man, that really hurt with MX.
But yeah, I figured I needed to complete this damn post, so we can move on to other things. I still need to write my September faves post.
I want that to go live on the first of October. So let's go back to happier times…
Cherry Bomb
The hype, the anticipation I had for this song. OMGGGGGGGGGGG. There were truly so many iconic moments with "Cherry Bomb". The teaser images alone had us shook.
"Limitless" was just before this comeback (January 2017), and minus the questionable styling, musically they were on point. One day I'll do a review on Limitless era.
I was so excited for pink!Taeyong. Johnny's undercut and emo bangs had me in a chokehold. He officially became my favorite member.
I loved his hair during "Limitless" too, but his duality… We just love to see it. Back when I had a personal public Facebook account, that picture of him sitting on the ground in a suit was my header foreverrrr.
I also remember sooooo many people cosplaying his look with the vest thing and camo pants at Kpop events like KCON. I guess since we're on the topic of fashion and member looks, let's continue that.
When it comes to "Cherry Bomb", this photo, these outfits are the first that come to my brain. This is the image I associate most with this era. I also have this poster in my room.
I tried taking a picture of it, but the day I took photos was cloudy, and it just wasn't working. They're in between Seventeen and Girl's Day.
The styling isn't that great, objectively speaking. The clothes are baggy, and the patterns are all over the place. But I love the color scheme.
There's so much red and pink. I like the purple accents too. Speaking of purple, I LIVED for Doyoung's purple hair. That might be my favorite non-natural hair color on him PERIOD.
I'm still a huge fan of Yuta's long bangs and dark brown hair here. His teaser picture with his back towards us is still one of my fave pics of him ever.
Haechan, Taeil, Jaehyun, WinWin (remember when he was an active 127 member? Good times), and Mark's hair all really suit them well too. I don't really have anything in particular to point out.
Outfit wise, I think Taeyong and Haechan's are my favorites.
The iconic red, black, and white camo print. Bringing us back to Firetruck era. I love the beret and jacket look Taeil was styled here.
Love Yuta's arms out, and Jaehyun's fit here really knocks it out of the park. Unlike the first group look, I pretty much love everyone's outfit here. It's pretty uniform, so it's hard to mess it up.
This is what I wish the first look was, but in pink. Literally my favorite look that totally gets slept on, by me. I kinda forget this look happened. I feel this look is just more editorial and cohesive compared to the first group look.
Music wise I'm gonna reference Wikipedia on how the song is described," hip hop with a complex synth and bass infused track with colorful compositions that meet the members' unique rap, vocals and powerful performance."
Yeah, that sounds about right. My mom loves the performance version that has the dance break in the middle. Back when we had our old car and I played this album a lot when we would drive around, she'd get mad if I skipped this version and another album started.
"Cherry Bomb" is a certified banger, and they literally aren't making music like this anymore. I can't not talk about "Cherry Bomb" and not bring up Taeyong crying as 127 got their first music show win while doing the splits.
Let's move on to the next bop.
---
Running 2 U
"Running 2 U" has a lighter vibe to "Cherry Bomb" and I love the placement for it on the album. "Running 2 U" is a b-side I don't really revisit, but I listen it to it when it pops up on shuffle. I think this is my least favorite song on Cherry Bomb, which isn't bad for such a banger album.
0 Mile
My second favorite b-side off Cherry Bomb. It would be straight disrespectful to not drop a Johnny fancam when talking about "0 Mile".
I forgot if he said "0 Mile" was his favorite song (or one of them) from Cherry Bomb, or if fans just assumed because he would go all out while performing it live. But it fookin slaps, so it makes sense. It's just the beat and the lyrics, everything falls into place nicely. Top tier NCT song.
Sun&Moon
Slowling things down for a bit with "Sun&Moon". Loooooove this song. Definitely one of my fave mid tempo NCT 127 songs.
One of the running jokes/memes I remember with this song was someone saying Jaehyun sounded like a kicked puppy in his delivery when he sings, "want to be together." Likeee true.
Whiplash
Going from sad times to thot bops. Lmaooo I love the duality. If you haven't witnessed Taeyong trying to explain the meaning behind "Whiplash" you MUST. It still sends me years later. We love a hoe anthem. And they understood the assignment.
Summer 127
THE SONGGGGGGGGGG. The obesssion I had/have with "Summer 127". It's my favorite song off this entire album.
When I first heard the first 5 seconds of "Summer 127" with the piano, I was HOOKED. I had to replay the song immediately. I made a text tone on my phone with the first few chords.
I love love LOVE this song so much. I always associated it with Yuta because it was one of the first songs he really had a prominent part (we don't speak, that's alright part).
So happy for him with that. I think this is also just one of those songs where you can visibly tell they're having a blast performing.
Cherry Bomb – Performance Version
So you can listen to the studio version of the performance version here. But I thought a better use of this space is to share one of my favorite dance practice videos. I love the part where they all move together starting at 1:08.
Cherry Bomb Related Merch
As I mentioned earlier, I also have a poster with them all in the pink outfits. I originally got WinWin's photocard with my album. I bought Johnny's photocard a few years later.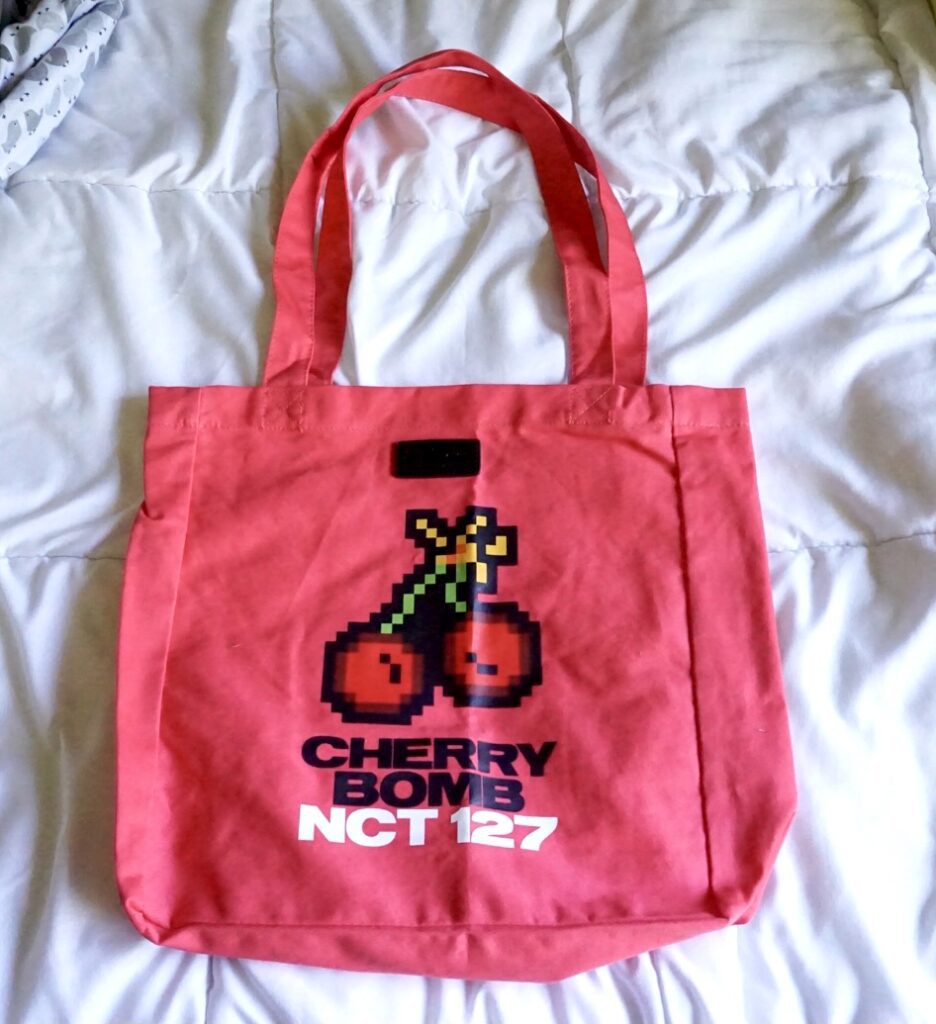 Back when SM Entertainment launched their US based online store, they had merch for different eras.
With Cherry Bomb aesthetically being one of my faves at the time, I had to get stocked up. One of my best friends got this tote for me.
Then I got this light up charger for my iPhone 7. I took it to my NCT 127 concert back in 2019. You plug the little metal part into the charging port. It's so cute. I wish they re-released this case for new iPhone models.
---
Omggggg I was drragggging working on this post. I'm sorry for getting it out to y'all so late. "Sticker" truly killed my vibe. But I'm over it and back in the grove.
I'll be working on my September faves post. Fashion week starts soon, I'm totally looking forward to that. Looks like EXO's Kai is an ambassador, so that'll be interesting. That's from 10/7 – 10/15. I'll be taking notes and sharing my thoughts afterwards, as usual.
I think I'll have some newer album/era reviews soon, Ateez and Stray Kids. But mostly continuing my list of older releases until I find some other music videos that inspire me to write a fashion review. So that's where I'm at currently with my upcoming posts. I hope y'all enjoyed this one, and please look forward to more soon!
Oh! And let me know y'alls fave songs from Cherry Bomb. Whose looks were your faves here? Do you also wish we had an alternative version music video with Jungwoo because both he and Kun were on set when they filmed wtf SM??? Not a day goes by where I'm not salty with SM's decisions, lmao. Anywayyyyy
You can buy Cherry Bomb with my Amazon link ⬇️
Don't forget to follow me on Twitter and Instagram.
Take care,
Ash 🍒💣