This is the beginning of my long overdue group reviews, lmao.
VIXX is one of my favorite boy groups. So since I'm finally talking about them on here, what better video/album to cover than "The Closer" from their third mini album Kratos.
Kratos is the third part of the VIXX's VIXX 2016 Conception Ker album. I'll probably come back to Ker later. I do want to talk about "Dynamite" and "Fantasy". But that'll be at a later time.
"The Closer" is one of my favorite VIXX title tracks.
And that's really difficult for me to say because I pretty much love all their title tracks. But I can confidently say "The Closer" is in my top five faves.
So like my other album reviews, I'll talk about each song, the styling and additional media during that era I consumed and enjoyed.
So let's begin!
The Closer

Starting the album off with a bang. When I first heard this song, I got chills. It still gives me that Squidward time machine feeling when I listen to it.
It's just something about the way the first like 10 seconds are composed. There's so much going on. A straight rush of blood to the head.

Ravi helped co-write "The Closer". No surprise to Starlights, as Ravi was gaining more and more songwriting credits at this time.
According to Wikipedia, Kim Mijin from Music Cube also wrote and worked on "The Closer".
Along with a banger song, the styling is right up my alley. I fooking love a uniform fit.
And for "The Closer" they went with more of a military inspired look. They wore different versions of these uniforms for their live stages, but it was the main look this era. I'm just showing the main outfit they wore in the album photos and some promotions.
Hair wise, Ken's blonde hair is still my favorite. I love a good dusty cool gray blonde. I also enjoy the pushed back look on him.
Leo's red auburn hair looks fantastic on him. Usually he sticks to black hair, which also looks great, but I enjoy the change. He switches it up every once in a while, and we love that.
I'm not a huge fan of Ravi's blunt bangs and super short hair, this era. I like his slightly longer hair looks like Eternity. Hongbin looks good as usual.
Hyuk's hair looks better pushed back, but overall I enjoy it on him too. Similar to Hyuk, I like N's hair with the slight part, versus it just down covering all his forehead.
Desperate
"Desperate" starts off super dramatic in typical VIXX style, then turns into a dance track. The dramatics is my favorite thing about VIXX. They give emotional, goth, and dance in such a smooth transition. The duality with these guys, I swear.
I should have mentioned it earlier, but this era (Kratos and Ker) is themed around Gods that appear in Greek mythology (Zelos, Hades, and Kratos). So whenever I hear the string instruments, that always brings me back to the main Greek Gods theme. I'm vibing, and then I remember oh yeah Greek Gods, radical.
Song credits we have MAFLY, KEYFLY, Park Woohyun, Ravi (of course), Erik Lidbom, and MELODESIGN.
Shooting Star
My favorite b-side on this album. It's a brighter song. But I love it. It's placement breaks up the seriousness and weight of the first two songs. Next to "The Closer", "Shooting Star" is my most revisited song from Kratos.
Also, I should have mentioned Kratos was released on October 31st, 2016. So since it was on Halloween, promotions in this era pretty much dragged into the end of the year.
So that's why we got a "Shooting Star" selfie music video. I love fan gifts like this.
MAFLY, KEYFLY, RAVI, Simon Janlov, MLC, and Cho Yongho worked on this track.
Good Night & Good Morning
I forgot about this song tbh. I don't think I listened to it much after my initial couple of listens. It's not bad. It's a slower pace song, but not a boring ballad. Mid-tempo is how I'd classify it on the pace scale.
I'd also say it's very Ravi-centric. He did write and composed this song. Kiggen arranged it. And that's gonna be great if you're a Ravi stan and terrible if you prefer to skip is parts, lmao.
The Romance Is Over
Now here's your boring ballad. "The Romance Is Over" is the second to last song on the album. The instrumental version of "The Closer" ends the album.
It's also a song I forget about, but I still remembered it when I was looking at the track list.
So maybe it was the title that stuck with me and "Good Night & Good Morning" just couldn't hold my attention long enough to make a lasting impression?
Idk. But "The Romance Is Over" is a song. A song I never listen to. Both Leo and Ravi wrote this on, with Leo composing it and Cho Yongho arranging it.
It's been so long since I last revisited this album. This is one where I love the title and a b-side so much, I forgot I didn't have the same energy for the rest of the album.
But that's okay. They work for the story they're telling. And order wise, I think the album has a nice flow to it. It's one of my favorite VIXX concepts, but not albums.
Info Dump About My Physical Copy of Kratos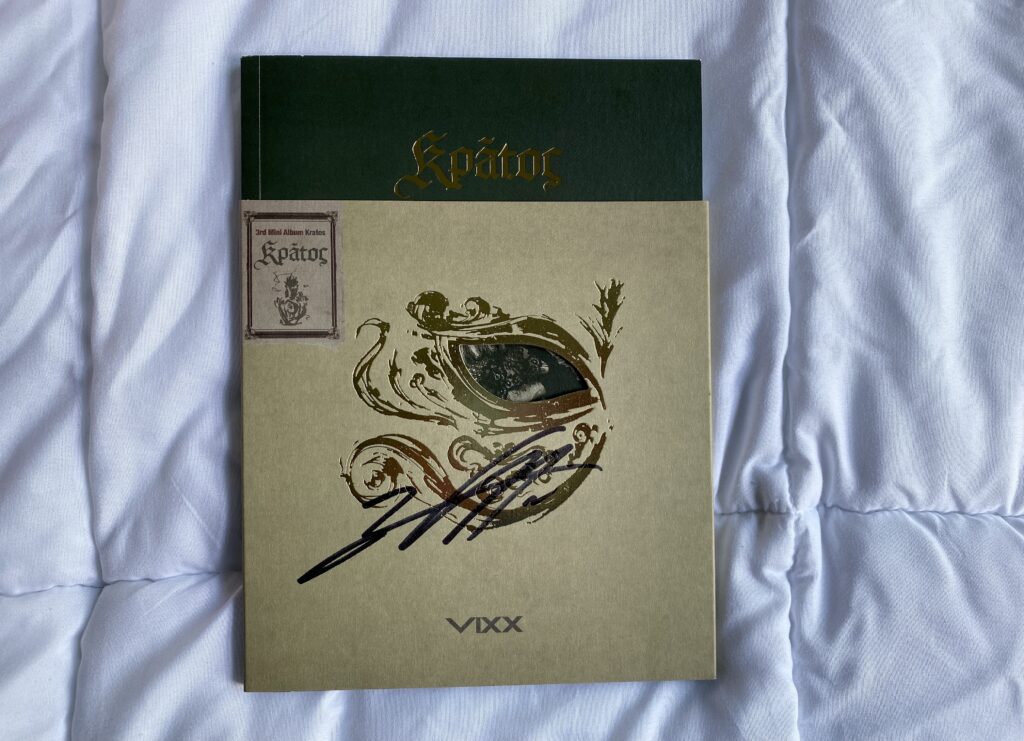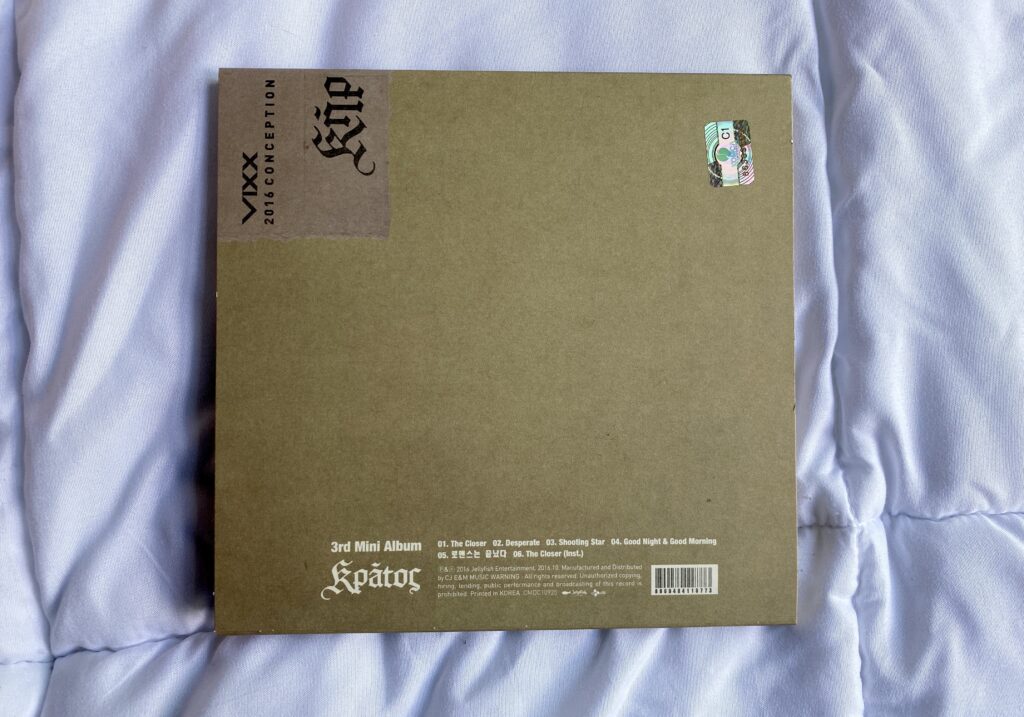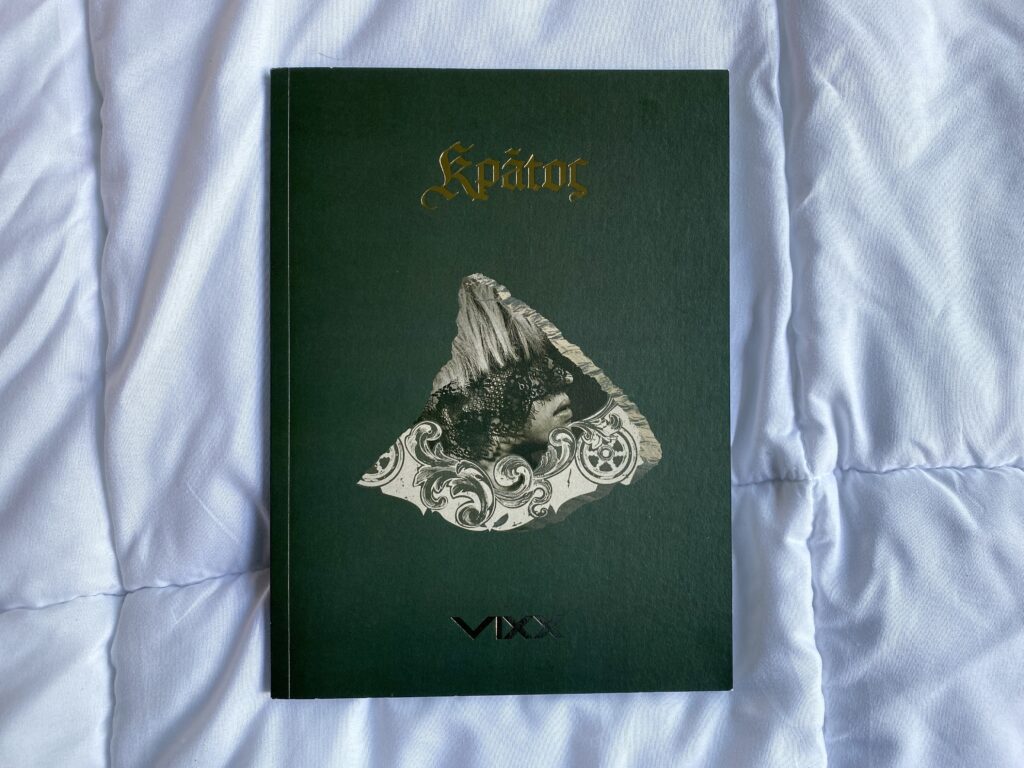 So I participated in one of those Mnet fansigns. Idk if they do them still. But basically you would buy an album and watch a livestream of the showcase, and then afterwards you'd get your randomly signed album in the mail.
I wasn't sure whose signature I got at first. After asking on Tumblr, I learned I got N.
I haven't looked through this photobook in foreverrrr. I forget about these red outfits they wore. I also forgot about how much they used Ken's nose for visuals. They later used N for the cover of Chained Up, and I can't think of a better model.
---
Alriiiight. So those are my thoughts on "The Closer" and Kratos.
As I mentioned before, this is the start of me talking about some of my ultimate fave songs/albums from my fave groups that I didn't talk about during their initial promotional period for whatever reason. What's y'alls take on "The Closer" and Kratos? Do you even like VIXX? Lmao.
You can buy this album with my Amazon link ⬇️
Also, do y'all like me included videos to go with the songs? It's easier to do with mini albums. I don't mind including them, so I'll probably keep that format in place for future posts.
Next post will be my August fave comebacks & debuts. After that, for throwback posts like this, we're gonna talk about NCT127's "Cherry Bomb" since they've got a comeback on the horizon.
Follow me on Twitter and Instagram.
Until then,
Take Care!
Ash💫