It doesn't feel like Cherry Bullet's last comeback was that long ago. I'm happy they made a January comeback before things get really busy in Kpop. I went back to look at my thoughts style wise at Cherry Bullet's "Aloha Oe" and I'm so impressed by the upgrade.
I don't feel like my thoughts have changed on the outfits in "Aloha Oe" I just love "Love So Sweet" outfits a thousand times more. There's more creativity, fun, and options this time around. The set layouts alone are jaw dropping. You can tell more money was spent this time around.
But before we get into the looks, let's briefly talk about the music. "Love So Sweet" is the title track from their first mini album, Cherry Rush. "Whatever" is my favorite song from Cherry Rush, and I almost almost wished they chose that as the title track instead.
But I think "Love So Sweet" is more consistent with the poppy, bright sound they've showcased in the past. "Whatever" is more of a retro vibe and although a lot of artists are releasing retro music like EVERGLOW, it doesn't seem to be too popular with the kfans or public. So good move I guess FNC? Idk.
Other than "Whatever" I didn't care for anything else on the album. I like "Love So Sweet" but I agree with a few reviews online saying the song should have ended about thirty seconds sooner. It's catchy.
I could see it gaining in popularity as it warms up and people want more summery songs to listen to. It just doesn't compare to the perfection that is "Q&A". That was such a strong release, and I've yet to hear another Cherry Bullet song that's on that level or better.
Alright, on to the looks! There are four main group outfits. So let's begin!
---
Look 1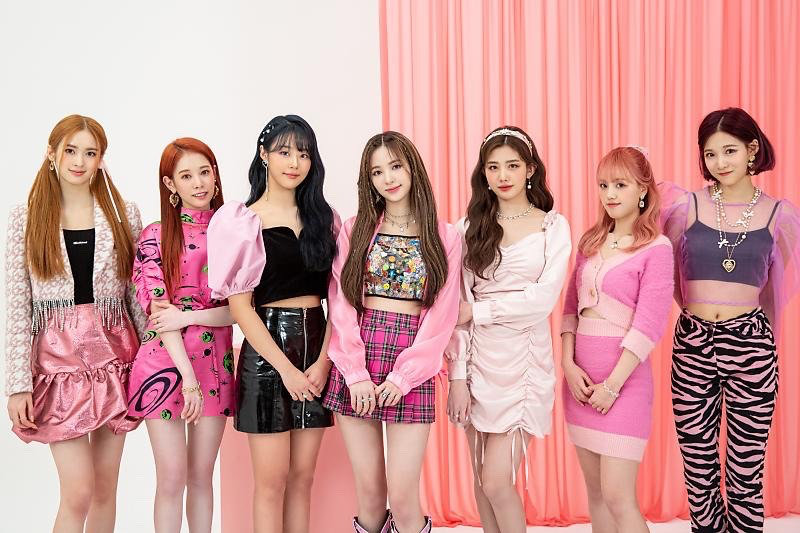 I love this pink look so much. I'm not sure if I like this one or the blue look more. The pink and black cowboy boots are a must-have! Since I brought up her boots, let me continue talking about Jiwon.
I love her crop top. It's a clear top, but it looks like they stuck a bunch of random stickers on it. It's so cute and creative. She also wears a plaid magenta and black tennis skirt.
Bora's hot pink and neon green mini dress is super cute too. It looks soft and silky. It gives me Suhyun vibes. It's difficult for me to pick one main favorite outfit. Haeyoon's pink sweater and skirt suit is cute, and I'd love to have it in my closet. Same with Remi's zebra print pants. I loveeeee those.
Yuju's pale pink dress is alright. It looks great on her, but I wouldn't choose it for my wardrobe. Same with May's skirt. I love the blazer and shirt, but the skirt is a bit much.
She kills is, though. Chaerin's outfit is a bit simple, but it's super cute too. I could see someone wearing that in real life. Yuju and Haeyoon's looks just aren't really my taste, is all.
The pictures I didn't directly screenshot from the music video, I got from omiichuw on tumblr. I'm guessing they found them on Naver or Cherry Bullet/FNC's social media. I didn't check. But if you'd like to look at more behind the scenes pics, check out omiichuw.
Look 2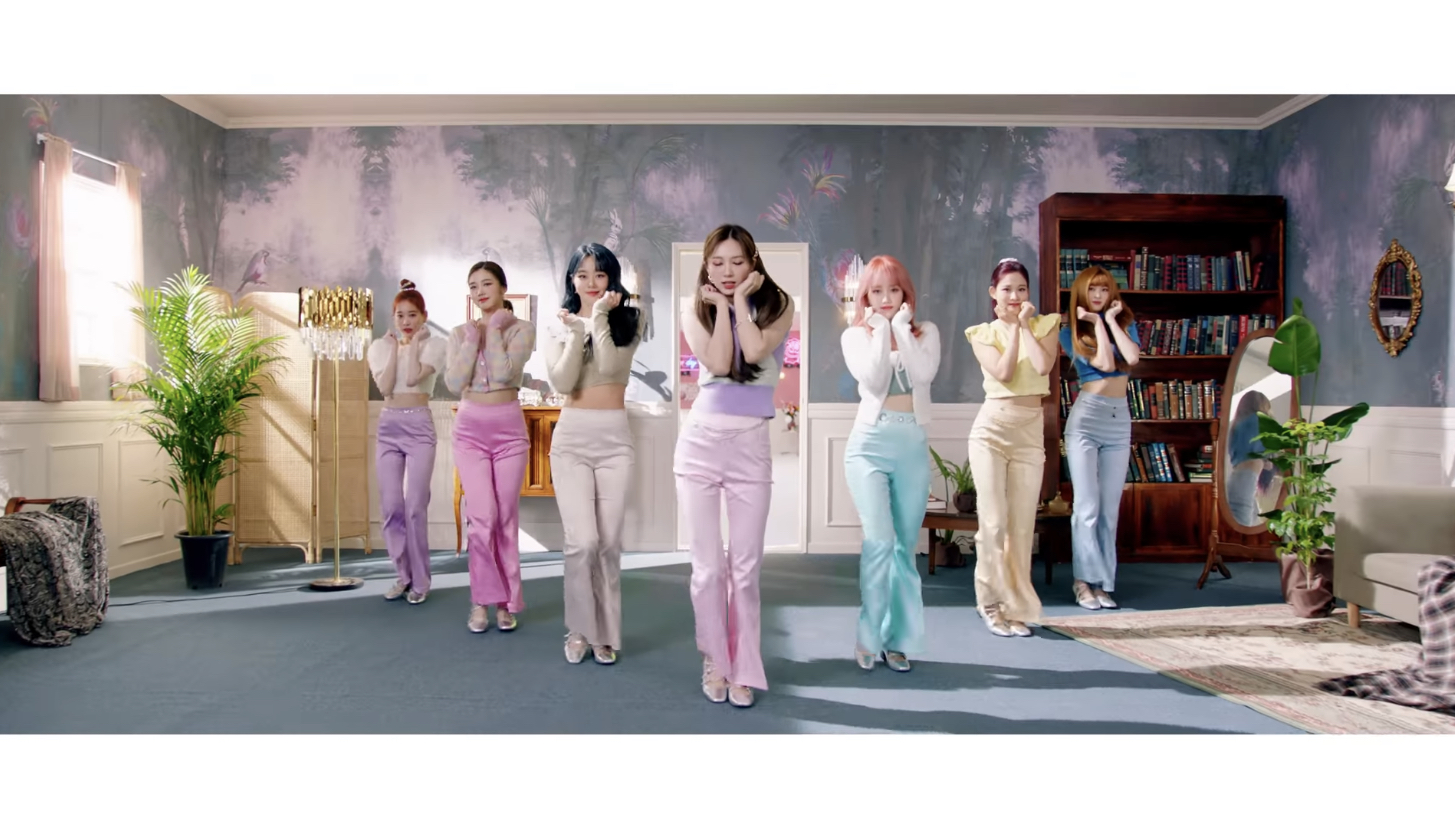 This second look is so simple, but I love it. I love that Cherry Bullet tends to have colors assigned to members occasionally. Like I mentioned in the WOO!AH! post, I love group looks where if you didn't know the group name, based on outfits alone you can tell they're all together.
I really don't have any complaints with this look. I noticed they wear sliver shoes in this scene. I like that. It's subtle and doesn't distract from the clothes.
---
Look 3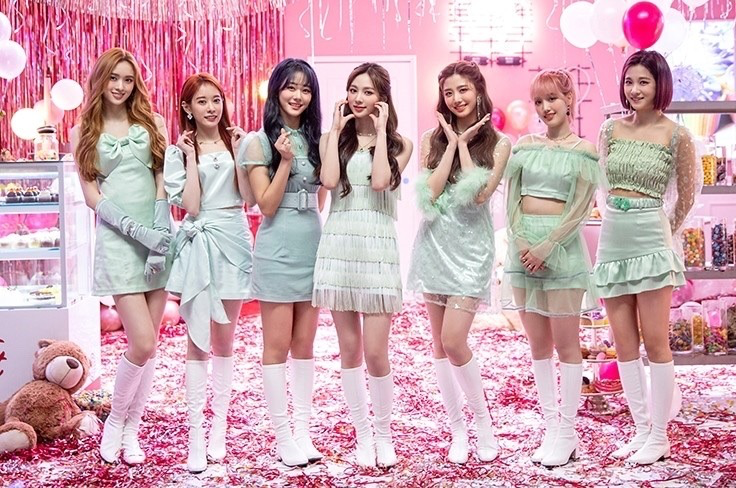 Another cute uniform look. After seeing this mint look in "Love So Sweet", I got to thinking. You don't really see too many mint group looks like this. It's usually a darker green.
Of course, I love the white knee-high boots. This look has a bit of a retro vibe to it. It's another look where I would wear every outfit here. I wished we got more scene with this look.
Look 4
I purposely put this look last. I've been loving these all denim group looks like this. I think I do love this look a bit more than the all pink look.
I just love the mix of skirts (different lengths) and wide leg pants. I love the mix of accessories here too. Some girls have hats, some have belly chains. There are headbands, and high ponytails, knee socks, and boots.
This look also gives me early 00s vibes too. Yuju's plaid skirt, white see through shirt with furry cuffs, and sweater vest screams Clueless.
So does Bora's plaid mini skirt and matching socks. Out of all the looks here, I'd recreate one or more from here.
So what are y'alls thoughts on Cherry Bullet and "Love So Sweet"? I'm looking forward to more stylish moments from them. Let me know if there's any specific groups or soloist you'd like me to cover.
Until next time!
Follow me on Twitter and Instagram.
Take care,
Ash♥♥♥