Music Video Fashion: IU – Celebrity
It's been so long since we got an IU album…the drought is almost over 🙌🏾🙌🏾🙌🏾
Aww yeah we've got another IU post! I'm always so hype for IU comebacks. I think I can safely say she's my favorite female soloist in Kpop. It's been a tie between her and Hyuna for a while. But I feel like IU is a bit more consistent with her sound.
Whereas Hyuna is sporadic, which I totally expect from my fellow Gemini. IU's style is a bit closer to mine as well. I'm not bold enough to rock most of Hyuna's looks confidently like she does.
My next blogpost will be about Hyuna's I'm Not Cool. So we'll talk more about her there. Like Miss Hyuna, Miss IU has released a prerelease song for her upcoming album.
I double-checked to see if IU or her team announced an official date for her fifth full length album, but I couldn't find anything as of February 1st. So once we get the date, I'll update this post. I'll most likely make a post about the album anyway.
"Celebrity" is a song I feel like if anyone else released it, I would think it was boring. I like that it's a midtempo song with a drop in the chorus. It's upbeat, just enough for IU to have dance scenes with dancers. But not as upbeat as my fave "23".
We're waaayy overdue for a post talking about "23". I just added that to my list. I saw this post on Tumblr by toooldtobethisintokpop. It's an excellent, in depth look at the lyrics and meaning behind "Celebrity". I highly recommend checking it out.
I also saw there was a direct translation by IUteamstarcandy on Twitter where IU gives her direct thoughts on "Celebrity".
Both mention isolation and struggling with not living up to the expectations of others. I think what gets me the most is the perfect timing of "Celebrity". We're a year into COVID-19 (well almost a year for the US) and things don't really look like they'll be improving anytime soon.
On my first watch, I also got, "it's always darkest before the dawn" vibes. Toooldtobethisintokpop says in their post, "She appears carefree as the city starts to fade away behind her.
Better times are ahead for her, and through the powerful visuals of this video, it feels like those better times are waiting for us, too." And I got the same exact feeling watching "Celebrity" as well.
I noticed celebrity was written out in a childlike way. Turns out IU wrote it out with her left hand to make it more special. I
like that small detail. Usually when I think of the word celebrity, I think of classy, polished, and luxury that the average person doesn't get to experience. There's a bit of a juxtaposition there, and I love it.
Alright, let's get into the clothes.
Almost every item can be found on IU_Style0516 on Instagram. There are 11 different looks so let's get started!
---
Look 1
This first look is so regal. There's a recurring theme in "Celebrity" where the clothes reflect that elegant and expensive lifestyle of being a celebrity. This blue satin cape with gold buttons is such a striking piece to start the video with.
You can't really see what her dress looks like underneath the cape. You can see that it's beaded, that's about it. It's by Ann Armadio. Apparently they've done a few outfits worn by idols recently. Gotta keep an eye on them. 
The focal point is the cape. I wish we got to see a closer shot of her dress and heels. From what I can make out, it looks like they went with warm browns to match the background.
On the topic of shoes, there are also sooooo many accessories squeezed into "Celebrity". I love the emerald triangle shaped earrings. There's another stone I can't make out. I'm not sure how many of y'all can relate, but as a child, sometimes the cable would get paid late.
So I'd be stuck watching the local channels and ended up a jewelry expert because I'd eventually just watch Gem Shopping Network for like nine hours straight. Ten-year-old Ashliegh would call 26-year-old Ashliegh an amateur.
IU's black rhinestone headband is a must-have. I don't remember when I started using that in these post, it's just a thing now. I really need to check the idol style accounts to see what brand it is. She's also wearing a black choker in this scene. It's okay. With all the opulence in this scene, the choker falls into the background. Noticeable, but not noteworthy.
---
Look 2
This baby pink gown by bridalkong is one of my favorite looks in "Celebrity". Period. It shouldn't be a surprise considering how prone I am to pink. Especially a good baby, pale pink. This sliver diamond headband is the best headband I've ever seen in a music video.
I have never wanted a headband so badly since Seulgi's in "Psycho" that I was barely able to get my hands on. Last time I wore it was at Seventeen's concert last January, rip. The sliver necklace IU wears in this scene is beautiful too. Edit: It's Gucci and sold out.
I'm a huge fan of closet or store scene where you can see a ton of cute clothes and accessories. I can't explain why they're so aesthetically pleasing to me. I just love 'em.
---
Look 3
I live for this all black undercover look. My jaw kept dropping while watching this music video. IU is always hitting us with back to back looks™ and I should be used to it by now, but it always catches me by surprise.
---
Look 4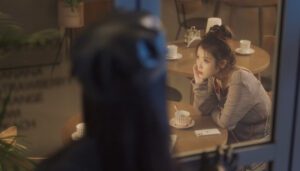 This fourth look actually appears earlier, but I thought it'd be easier to talk about it after the all black look. This look is my least favorite out of the nine.
It's not bad, but someone had to be last, lol. I love this sweater the most. It looks so comfy.
---
Look 5
Wait, I forgot about this look. This one is my least favorite. The previous look has layers to it and has like a boho vibe to it. This look just feels out of place.
I get they wanted IU to stand out from the dancers, but I'm just not a fan of it. I think I'd like this look more if they put her in solid black shorts, not the gray denim ones here. Or I'd change the shirt.
But both together feel off. I'm not a fan of the mixed outfits the dances are wearing either. They all just look like they told them colors to show up in, and no one talked to each other to try to match.
---
Look 6
This dress is sooo pretty. Here's a better full body shot of it. When I first saw this dress, I thought it was a Self Portrait dress. It's actually by Dew E Dew E.
I feel like this was one of the first times we've seen IU with bangs. Maybe I'm miss remembering, but I felt like this was a different look for her.
I like the dainty jewelry here too.
---
Look 7



I didn't even realize IU was wearing a dress in this scene before I checked out IU_Style0516. I like it. I'm mostly in awe of her hair and makeup in this scene. I love the red and pink combination. It's so light and simple.
---
Look 8
This look has more jewelry I want in my possession. The ruffle dress here is cute. 16-21 year old me would have killed for this dress.
---
Look 9
Man, I wish we had scenes with this dress a little longer. It's soooooo cute. I needed it in my closet months ago. This scene was so beautifully shot.
---
Look 10
I'm also in love with the hair, makeup, and dress in this look. I love a good champagne colored dress. The one here looks so soft, and we love a pussy-bow moment.
---
Look 11
Ending "Celebrity" with a bang. I LOVE this gown by Dénicheur by Seo Seung Yeon. It's absolutely gorgeous, and I would totally wear it anywhere I had the opportunity to. More gorgeous jewelry and accessories.
This time we have some long gloves with this gown and I love that. Perfect ending for a stellar fashion heavy video.
---
I couldn't wait to talk about "Celebrity". I'm soooooooooo hype for IU's next album. I hope y'all enjoyed this post! Let me know what y'alls fave look was.
Next up is Hyuna (finally, lol). Until next post,
Take care!
Ash♥♥♥