Red Velvet consistently delivers interesting visuals and looks for everything they release.
This time in "Psycho" we get an elegant castle like setting. This music video reminded me a lot of "Automatic" one day I'll review "Automatic" and "Ice Cream Cake". But today I'll be talking about 5 main looks in "Psycho". Let's get started!
Look 1: Glitter & Feathers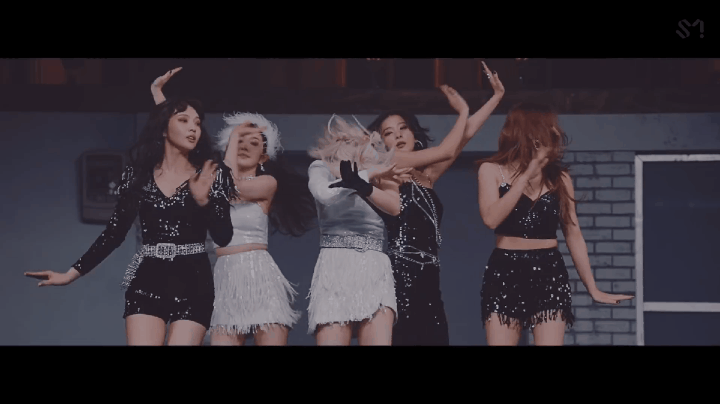 I love how clubby and 1980s this group look is. Irene's headband is by Alessandra Rich and cost $248. I think that's a bit crazy, but it's cute. It must be handmade. I love everyone's individual outfit here and there's nothing I'd add or take away. Joy's is probably my favorite of the group. I think it's a jumpsuit.
My favorite parts of this jumpsuit are the shoulder pads and the tassels. Wendy has a similar outfit, but one of the shoulders is cut off and the longer I look at it, the more I love it. Both Irene and Yeri have two piece outfits that are super adorable.
I noticed for Yeri's look, they have these large sliver earrings that match everyone else except for Irene. Irene has smaller earrings. Seulgi's look is the only one with pants, and it's my second favorite out of this group look.
I think what really make Seulgi's look my second favorite is the body jewelry. Otherwise, her look would be kinda boring.
Look 2: Bridal Vibes
Because "Psycho" is about a dysfunctional couple in love, and we're in a castle, we gotta have some gowns. All of these gowns are beautiful. Three of the member's gowns are by Needle & Thread, ranging from $585 to about $2,000.
Wendy's gown is by Self Portrait ($458). I'm a big fan of Self Portrait's gowns. I had suspected it was by them when I first watched "Psycho".
Wendy's look is my favorite here. One of my favorite parts of these darker scenes is how the lighting sets the scenes.
I love how it gives a Victorian/Romanticism vibe to everything. I love the dark lipstick Red Velvet wears in "Psycho" and in these darker scenes it feels eerie. Yeri's gown is by Marchesa, but we'll talk more about it later.
Look 3: Look 1 but the Second Part
Like Look 1, we have another black and white look, but this time it's not as shiny. There's more lace, ruffles, and statement necklaces. I love this group look too. Seulgi's look, mini buns and fringe included, is my favorite look of the video.
Seulgi's blouse is by Christopher Kane ($995). And this time Joy's look is my second favorite out of this group look, third in general after Wendy's gown in Look 2.
Joy's outfit is consisting of a silk blouse by Georgette Plaston (900), Alessandra Rich body chain ($685), and a Miu Miu crocodile embossed effect skirt ($970).
Wendy's blouse is by Alice McCall ($295). Yeri's dress is by Needle & Thread (£445). Irene is wearing an Alessandra Rich maxi dress ($1,861), gloves by Dolls Kill ($12), and an embellished drop heart choker ($519).
Look 4: Meet Me in the Lady's Room
This was Seulgi's music video. I just love her styling in "Psycho". While working on this blog post, I was hoping to find out where Seulgi's headband is from. It's Zara and it was originally around $27. It sold out pretty quickly, and I managed to get my hands on one, but I had to pay $13.98 more for shipping?
Seulgi is also wearing a Dolce and Gabbana dress ($3,995) and an Alexander McQueen leather corset ($2,590). Wendy is wearing a Dolce and Gabbana bustier top ($1,145), Nina Ricci Corduroy Stretch Jacket ($1,990), and Ro.mang.shu Black Entic Cross earrings (₩26,000 or about $22.30 USD).
Wendy's look here was my least favorite of "Psycho" but I do love the jacket. Yeri is wearing a H&M corduroy dress ($49.99), a Paco Rabanne chain maxi dress ($1,615), and a Rosantica feather crystal headband ($342 absolutely crazy).
Seulgi is wearing a dress by Area ($895) H&M long rinestone earrings ($5.99), and Dolls Kill Cosmic Nightwalker platform boots ($68). I guess no one really knows what Irene is wearing because her scenes here don't show much of her outfit. But what we do see is cute.
Look 5: Individual Looks
Other looks in "Psycho" that either didn't fit in the group looks or didn't get much screen time. Wendy's in a floral box is gorgeous. She's wearing a Zara fringe jacket ($69.90) and some Salt & Chocolate ankle boots (₩218,00 or about 186.97 USD).
Technically Yeri's look could have fit in look 2, but it would have ruined my gif setup lol. As I mentioned earlier, Yeri's gown is by Marchesa ($895). I like this closeup of the gown here in this scene. In the bottom right gif, Seulgi is wearing a beautiful Viviana top by Reformation ($128).
This blouse just looks like it feels luxurious to wear. As for the gif on the left of Seulgi, I don't remember what she's wearing, but I really liked this shot.
---
Alrrrriight, I finally got to talk about Psycho! It's not one of my favorite Red Velvet title tracks, but I'm sure it will grow on me. I want to give thanks to redvelvetoutfit, styledby_redvelvet, and redvelvetfashion_indo.
Without their meticulous scouting and finding what Red Velvet wears, I wouldn't be able to create such a detailed post. There are some accessories I didn't cover in this post. If you're still looking for a certain pair of earrings, check out these accounts, they'll most likely have them. Let me know in the comments what your fave look was. Follow me on Twitter and Instagram.
Take care,
Ash♥♥♥