I'm not that good girl, that good girl, I do what I like 😎
Idk about y'all, but I needed a bit of a break. We're only in the third week of February, but 2021 has been emotionally draining as well. It's just been back to back fookery every day. I just needed some time to recoup.
But I'm back and ready to get back to talking about Kpop and clothes. I have a few announcements to make at the end of this post. So make sure to check that out in my outro.
As I mentioned in the "I'm Not Cool" post, I was most likely going to talk about "Good Girl". So here we are. I really love the lyrics to "Good Girl".
I love this continued message of being yourself, regardless of how that makes other people feel. At the end of the day, it's your life, and you have to live with you and your decisions every day.
There are 14 different looks to talk about. I'm not going to go in depth brand wise with what Hyuna's wearing. I know Hyunacloset on Insta has a few outfits on there.
I'm not sure if they're still looking for items, or if other idol fashion accounts have found them yet. So, with that out of the way, let's get started!
Look 1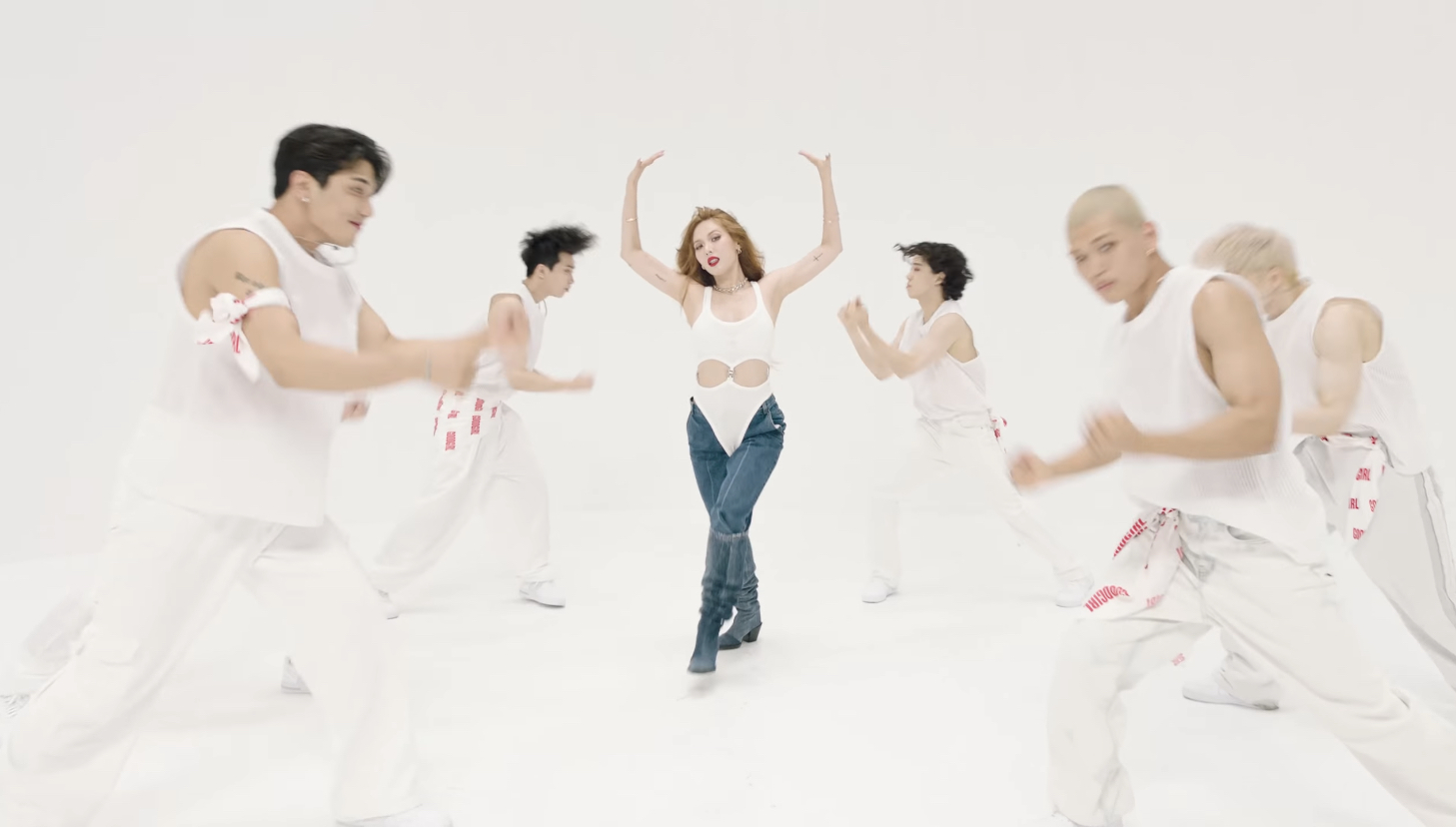 This look is kinda ugly, but I like it. I think individually, the one piece would be adorable with some shorts or tights. And then put a regular top with denim jeans and heels. Separately, these looks wouldn't be as strange. It's when you through them together, the head scratching begins.
I love the white…leotard? Swimsuit? Suit thing is paired with the solid white background. I also like the backup dancers are mostly in solid white. I love the only color comes from Hyuna's lips, bottoms, and some red from one of the dancer's pants.
And everyone's hair color, of course. I love the sliver jewelry in this scene as well. It's subtle and matches the hardware on Hyuna's leotard thing.
Look 2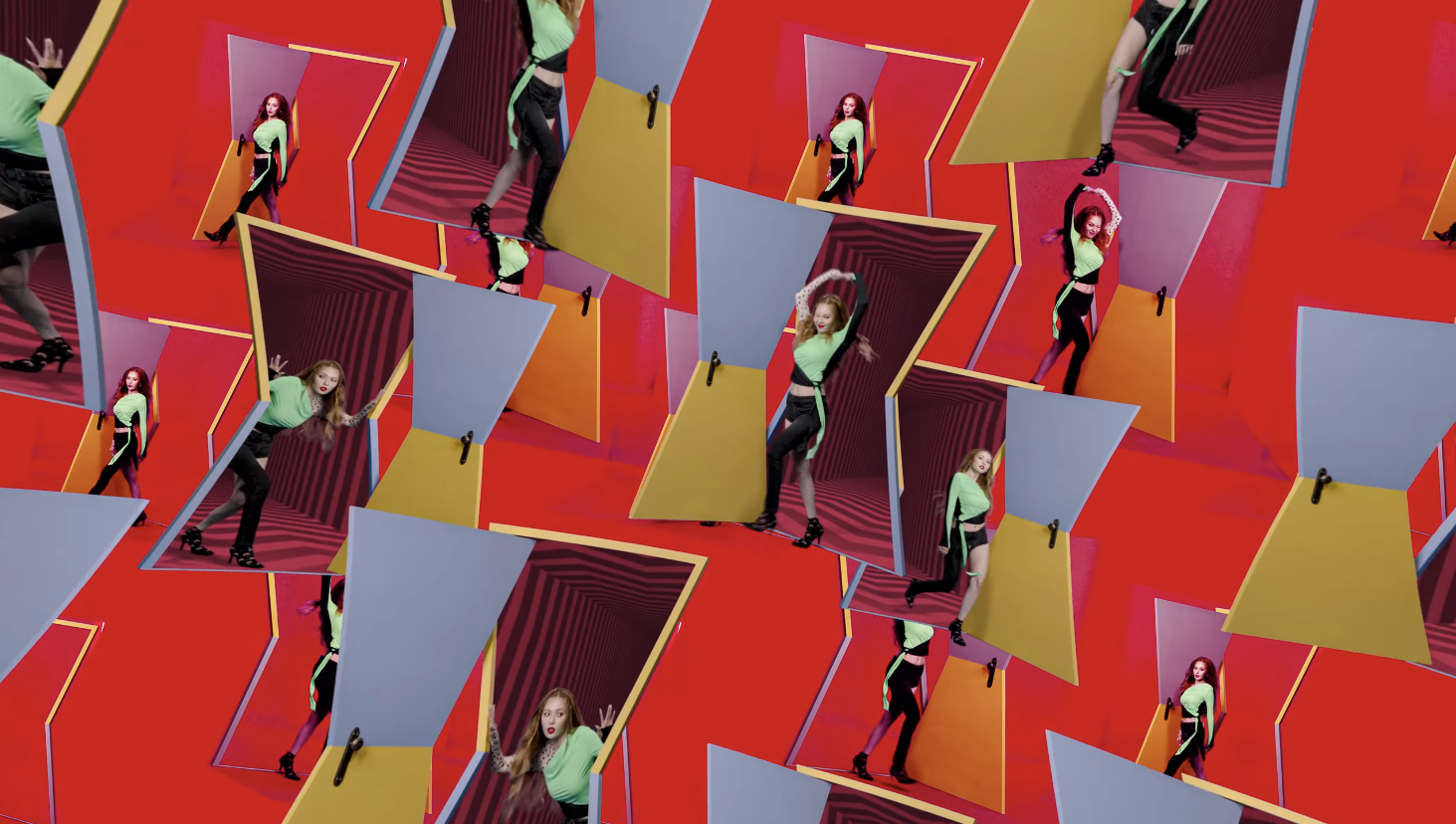 This second look is hard to get a good closeup look at. You almost miss it in the music video. You pretty much have to pause this scene, screenshot it, and zoom in. Like I did. This look is probably my least favorite outfit in "Good Girl".
Hyuna's got on another outfit with differing lengths of fabric. Her black shorts have one leg exposed, and the other has a black tight over it.
The sleeves are mix matched as well. The neon green, black and tan top she's wearing reminds me of something you'd see in a 80s workout video. I do like her black heels here, though.
I also love her hair in this scene. I love the braids and her magenta lipstick. Her makeup is very light throughout "Good Girl". I like that.
It's a good balance. Things can get out of control quick when you have flamboyant hair, makeup and clothes.
Look 3
This is one of many looks that briefly appear in "Good Girl". I love the setting here. I love when cards are used in a concept. My favorite part of this scene is the "good" and "bad" versions of Hyuna on this card. I love the caution tape straps on her top. Now I wish I had a shirt with straps like that.
I think the top here is a lingerie corset top like she wore in "I'm Not Cool" but I don't have hard evidence.
Look 4
I need this couch in my future townhouse. I said this a lot in the "I'm Not Cool" review, but I love the use of colors in each background, furniture, etc. I love a good animal print moment.
I love poofy sleeves. So this top is a win-win for me. The torn shorts here are fine. I'm more interested in the blouse and her yellow heels.
Look 5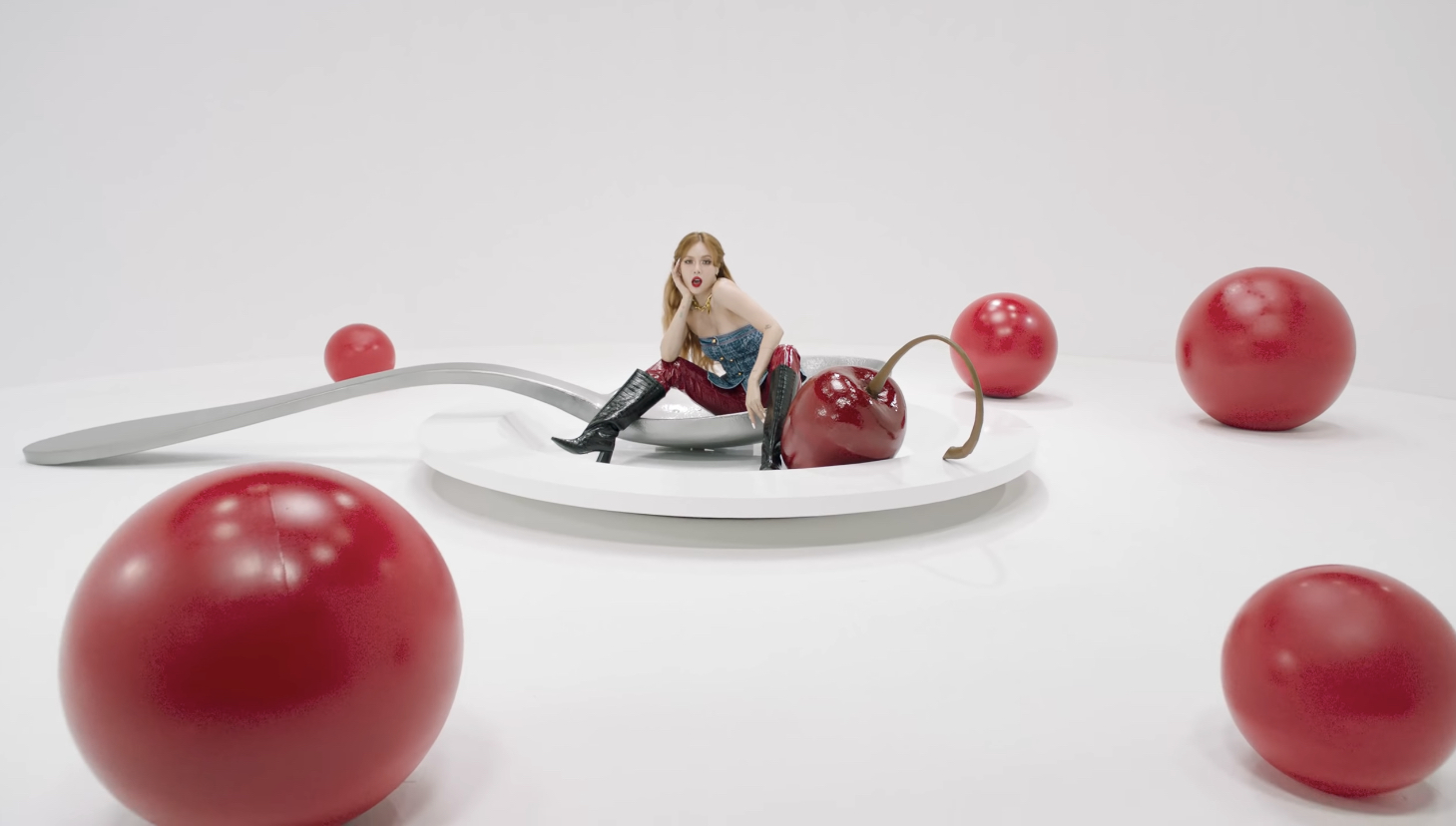 I LOVE LOVE LOVE this look and scene. The pants look like licorice. The color is so rich and beautiful. I feel like the denim top here goes with the denim in the first outfit.
I like the choice of a denim top for this scene. Blue and red always work together. I would wear this whole outfit without any changes. I needed those black boots in my closet weeks ago.
Look 6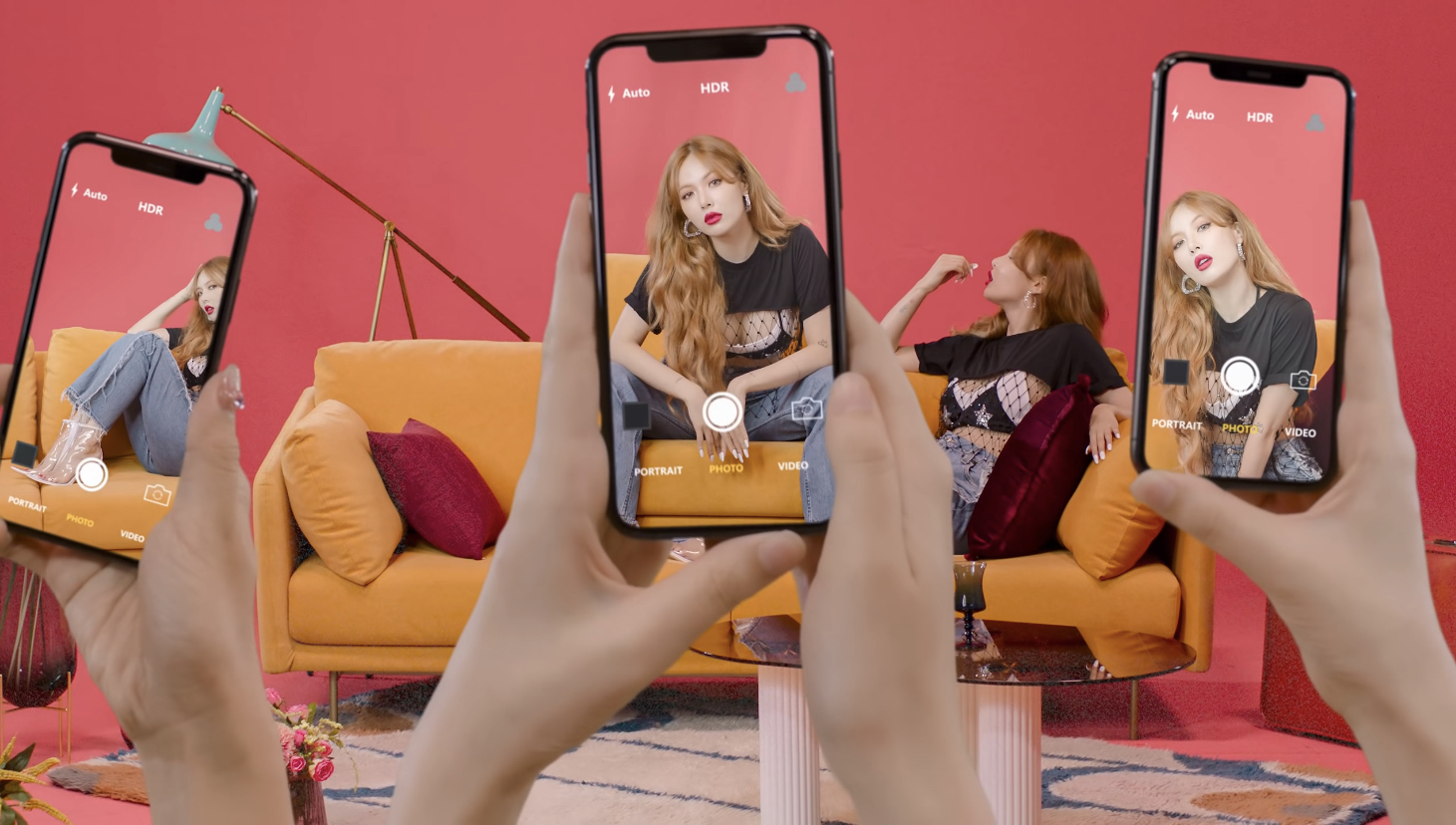 This look is easily in my top three favorite looks in "Good Girl" along with look 5 and look 10. I don't usually like shoes with clear materials that show feet. But I like these heels. This is a look that'd be perfect for fashion week. Like attending Off-White or something.
The red set here isn't one of my favorite backgrounds here. But we switch back over to the cool billiard's table scene. I didn't mention it earlier, but I love the creative with that scene.
Idk the red scene feels a bit bland to me. Maybe if the wall was a different color I'd like it more.
Look 7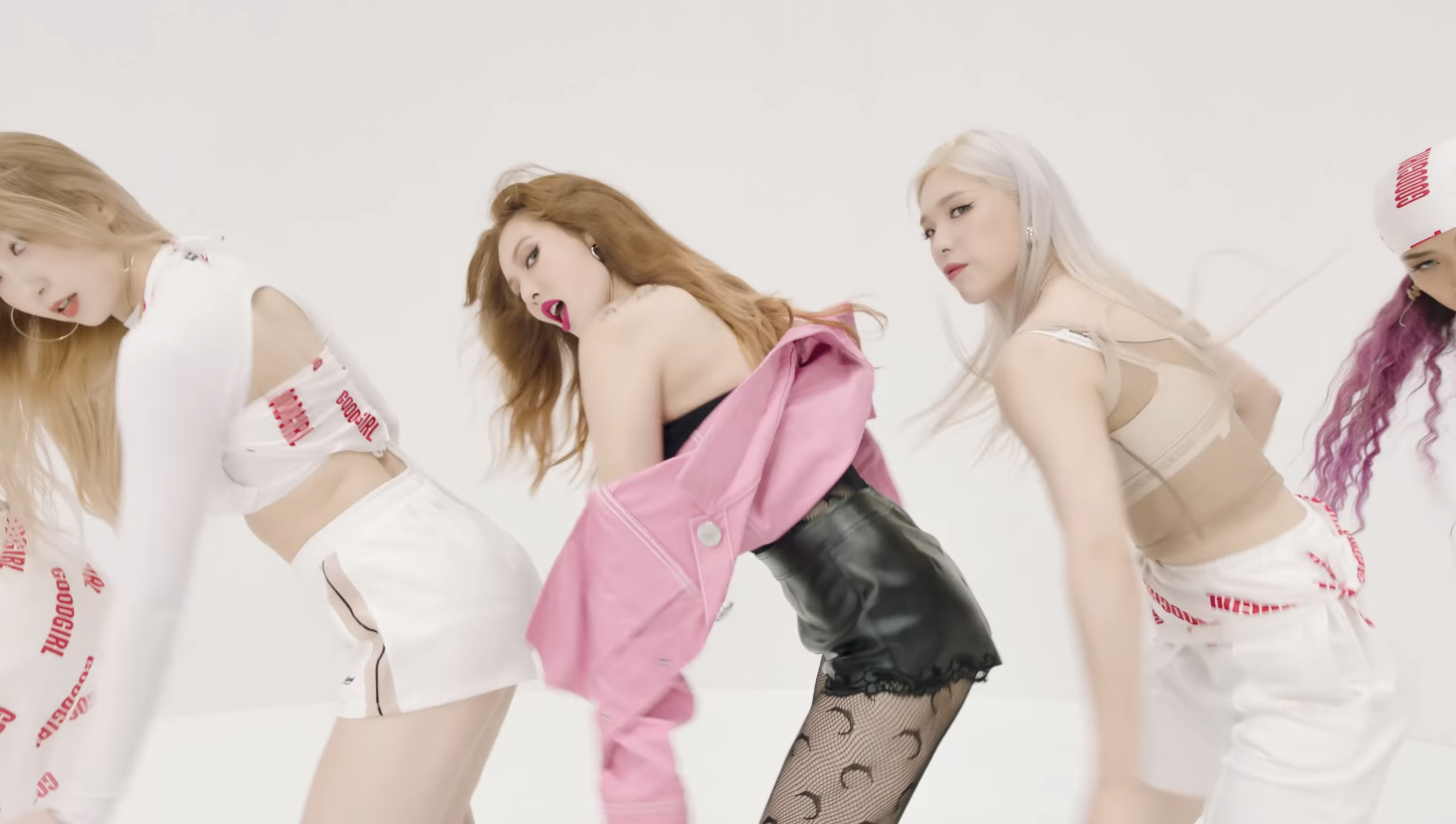 Look 7 was a look I initially loved on my first watch or two. Now, I don't love it as much, but I do like certain items in this look. I love the pink jacket (of course). I love the boots here, and lastly I love the Marine Serre tights.
Look 8
This black and tan look is super cute and just misses my top three fave looks. I think this is the second outfit that includes a top that has been cut and worn over a bra/bralette.
I haven't talked much about the backup dancer outfits. This scene includes my favorite look they wear. This is the most distinguished look to me out of all the outfits they wear in "Good Girl" and for "I'm Not Cool".
I could see a boy group wearing a similar look in a music video or for a live performance.
Look 9
This is probably my second least favorite look in "Good Girl". I like the setting here. I love all the different pillows. I like seeing two of the dancers in different outfits.
Look 10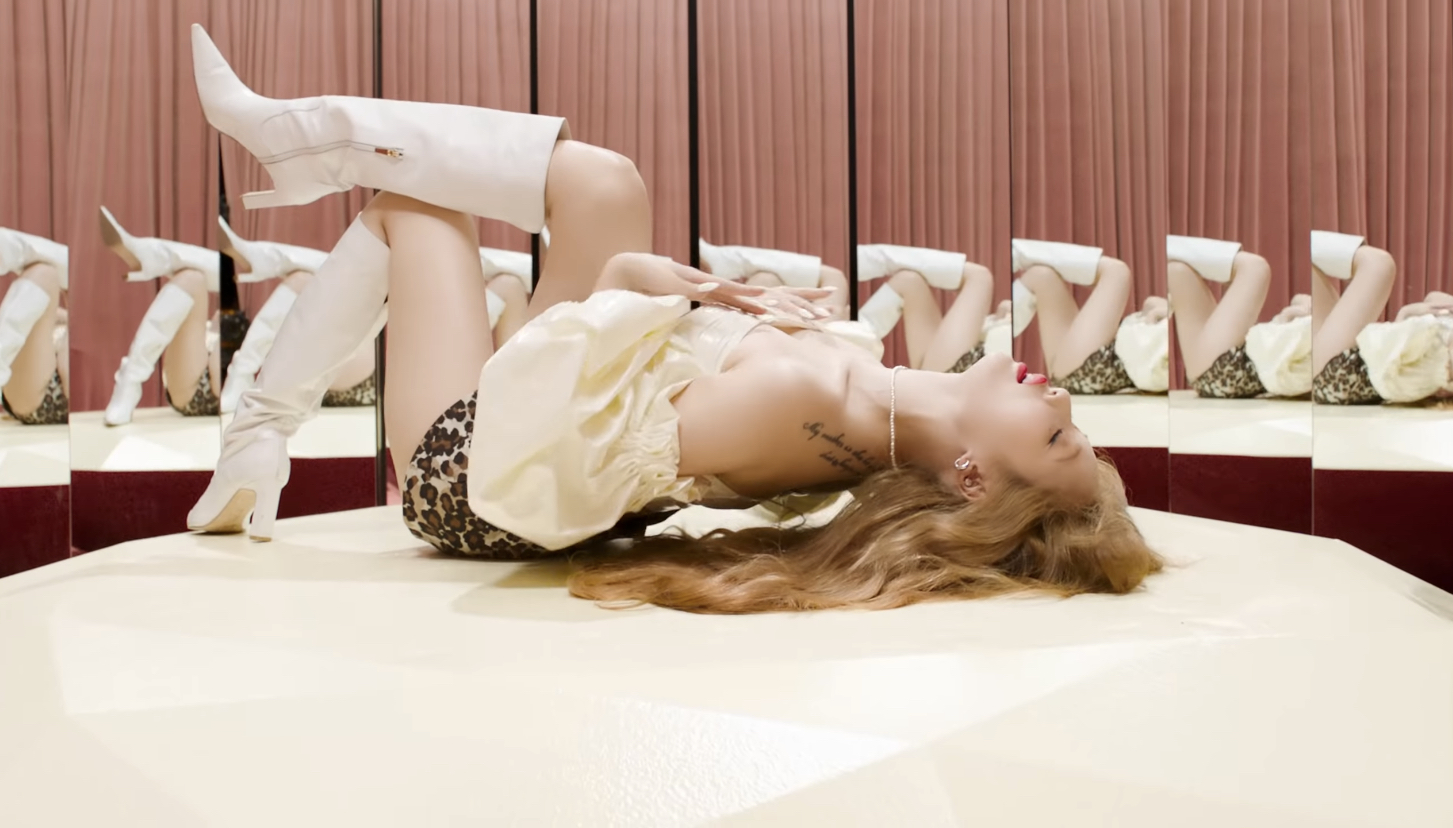 My second favorite look and scene in "Good Girl". I wish we had more time here. I don't know why, but I love mirror scenes in music videos, like in Pristin V's "Get It" or Lucas's SuperM teaser video.
I think it's because I like the retro 70s/80s futurism aesthetic. Anyway, I love the colors and the way this scene was filmed.
The actual outfit is something I'd wear in a heartbeat. It's such a cute look that I think would be pretty easy to recreate.
Look 11
Another look we don't get a lot of time with, or a full body shot of. I do like it, though. I love the fur collar on this baby blue coat. I think the pants and boots are connected? Again, I don't have solid proof. Just a guess.
Look 12
This scene and outfit is also super creative. I love the fish floating around Hyuna and Hyuna looking like a mix of a zebra fish and a turkey zebra fish. The dress here is alright, but I looove the boots.
Look 13
So at some point I got the order of outfits mixed up… So yeah this is no longer in exact order of appearance. My bad. We got another denim look here.
I like that all the dancers are wearing the same look here. I'm not a fan of the white skirt thing hanging off Hyuna here. But I do like this look. I think if that was removed, I'd enjoy this look more.
The background here reminds me of old box music videos. It's okay. My eyes have more to look than look 6. But it's still ugly, lol.
Look 14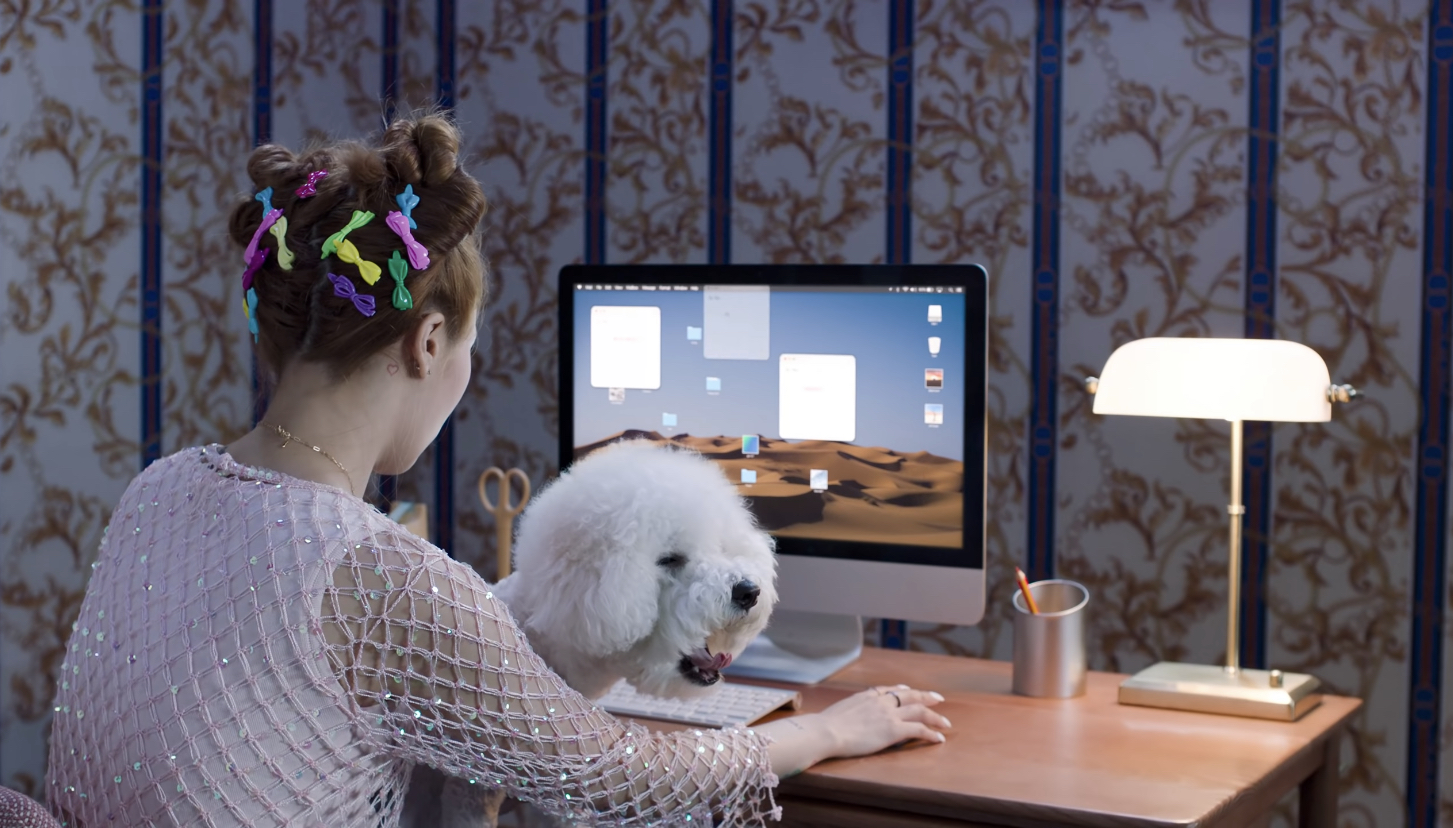 Alright, last outfit! I always forget what Hyuna's dog is named, but I'm happy he's here. I looked it up again, and it's Sogeum (Salt). She and Dawn have a rescue dog together named Haenim (Sunbeam).
I love the hair clips and the blouse here. We don't see the full outfit here, but there's so much going on in this scene, I think that makes up for it.
Wow! That was a lot longer than I expected. I initially had 9 outfits, but I felt like that wasn't correct. Then I had 12 outfits. But then after I started writing, I realized that wasn't correct either. Dfaoisfjpafjop I don't know, but I'm 99% sure I got every outfit covered.
So, I hope y'all enjoyed this post. I have some catching up to do, but I'll have more posts up this week. I think the next one is on the Momoland collaboration they did with some guy. I don't like the song at all, but I love the outfits and sets. So that's all I need to write a blog post about it.
If you have any comments or concerns, leave them below, and I'll get to them later. Don't forget to follow me on Twitter and Instagram.
Take care!
Ash♥♥♥