REVIEW: SHINee 1 of 1
Me saying I wasn't waiting until October 5th to release this post…just to release it on the 4th 🤡
September 29th is the 6-year anniversary of 1 of 1, on Spotify. Wikipedia says October 5th, the album was released in digital and physical formats. I don't remember. Actually, I've been meaning to get a CD version of this album.
I have one of the limited edition cassette tapes (to go with the 80s-90s concept). I knew these would be a pain to try to purchase later, so I made priority to get that right away. They currently go for about $40-$60 on eBay. I'll show off some pictures of it later on in this article.
This post has been pushed back for a few weeks now. 1 of 1 era SHINee was like a honeymoon period for me as a Shawol. I still loved SHINee, but I was starting to shift (no pun intended), towards other groups and what they were releasing.
I'm excited to relive this era a bit with y'all in today's post. When it comes to the SHINee songs, I listen to most, most of my faves come from this album. I think it's safe to say 1 of 1 is my favorite SHINee album. It really ticks so many boxes for me musically. I loveeee 80s and 90s music.
I love when genres blend into one song and create new genres during these decades. I feel like compared to the late 00s going into 2010s, pop music (like popular mainstream music) started to sound all the same. It got really bad after like 2014.
Now I think music is so segmented. People know what type of music they like and hunt for more of it, rather than waiting for the radio to tell them what's new and good.
You still have people that look at what's trending on TikTok and YouTube, but I think it's just harder to have that large musical impact globally when things weren't going viral so easily.
For example, my mom likes watching General Hospital (American soap opera/drama) but before that comes on, Good Morning America 3 airs. My mom will see random ass people from TikTok, and she has no idea who they are.
I don't either, most of the time. But when they have someone like Megan Thee Stallion, she recognizes her from things like (most recently She-Hulk) New Year's Eve shows or brand endorsements.
If you were to ask her to name a Meg song, she couldn't, but she recognizes her. She knows Lil Nas X more actually, but still when it comes to recognition, I think that type of celebrity is so rare now.
To me, being famous (on a massive scale) is when someone's grandparents know who you are. Of course, as technology advances, the music industry has and will continue to find other mediums to get artist out there.
Now, what does this have to do with SHINee and 1 of 1? I don't remember. I think I was trying to relate SHINee's callbacks to 80s and 90s era with their album and image, and nostalgia and I got sidetracked, lmao.
SHINee, as I've mentioned in multiple posts, are kings of experimentation and reinvention and still make bops while doing it. Oh! That's what I was talking about.
This album is loaded with some of my favorite songwriters and producers that work with SM (KENZIE, MZMC, The Stereotypes, and LDN Noise). Y'all know I love a house/dance and R&B moment. I think everyone except for Taemin has either composing or participating in some form of song creation on 1 of 1.
This album is a wonderful mix of taking nostalgia and putting a modern twist on it. Let's get started!
---
Prism
I don't think I remember this live performance. They look soooo good. I think Taemin's outfit is my favorite, followed by Jonghyun. I love Key's patchwork sweater and Minho's oversized sweater and scarf combination.
I wish he didn't also have a shirt tied around his waist, though. I think Onew's outfit is the most boring, but he looks good still. I think I would have perfered a different shirt to go with the jeans and shirt around the waist combination. Or remove the shirt all together. Actually, why do two members even have extra shirts they're not wearing?
Anyway, songwise, and y'all will get SO tired of me saying this, but I FREAKING love this song. According to my lyric sheet thing that came with my cassette, the original title was "Pick U Up". My physical copy doesn't list Jonghyun's contributions to "Prism", but Wiki says he took part in composing.
As we go along, I'll mention which members participated in song production. I forgot to mention earlier too that this was SHINee's follow-up (domestic) studio album to Odd (May 18th 2015). I can't explain why it's mind-boggling to me how SHINee, SM, the numerous writers and producers that worked on both albums were able to put out banger after banger in such a short period of time. But it just is to me. I get shook every time when I sit down to think about it.
---
1 Of 1
Ah yes, the title track of the year. YouTube says this was uploaded on October 4th, so the confusion continues. I haven't watched the music video for "1 of 1" in ages, but it still holds up. The transitions to members in the editing of this video, the changing camera angles, the blank set that put focus on SHINee and the dancers, the styling, THE STYLING!!
Chef's kiss to all of it. I remember being obsessed with the female dancers outfits in this music video. I still have a few outfits I'd love to have. I like the over saturation look of the video. They could have gone with a fake VCR filter or old tv look, but I think the over saturation adds to the modern take on the 80s-90s.
The dancers having modern (or I guess less retro feeling) outfits compared to SHINee is also a twist. SHINee being in the 90s suits has been and still is my favorite group look. Even though the look with 4/5 wearing denim jeans is a very close second.
I love Key and Minho having more Hip Hop inspired looks for those scenes. Jonghyun kinda giving George Michaels with the all denim fit. Onew and Taemin don't have a particular group or soloist that their looks remind me of. But they're on theme.
Omg wait, I haven't talked about Minho's platinum hair. I love it so much. I love Onew and Jonghyun's reddish brown hair, this era. I hate Key's bangs, but I kinda like them at the same time. And of course me being basic, I love Taemin's hair black, so this was a win for me personally.
I forgot Onew was recovering from an injury during this time, so he didn't participate in some of the choreo. You know SHINee's choreo is always gonna be on point.
---
Feel Good
The members yelling, "I can make you feel good" sends me every time. If you weren't already dancing and having a fun time, "Feel Good" is gonna get you out of your seat, for sure. The harmonies in this song is a rush of blood to the head.
The way MZMC has participated in creation for the first three songs? Iconic.
---
Don't Let Me Go
I love LOVE a midtempo SHINee song!!! Minho and Key participated in writing the raps in "Don't Let Me Go". I don't listen to this song nearly as much as I should. It's up there with "Farewell My Love" and "An Encore". Actually, I like "Don't Let Me Go" more than "An Encore".
We love a good place cool down moment on an album. I talk about song placement a lot on these types of reviews, and I think 1 of 1 is a perfect example of perfect song placement to best tell a story.
---
Lipstick
I never listen to this song, and I'm not sure why. I just listened to it again for this review, and I like it. It's a slower paced song, and Minho wrote the rap. I have no reason for why I skipped this song for so long, what the heck? This is a tune. * Mark Lee voice* change your ways.
---
Don't Stop
It could be I skip "Lipstick" to get to "Don't Stop" lolololol. I love me the HECK out of "Don't Stop". The Sterotypes are on this one, and I think they add a bit more spice. The harmonizing on here is amazing too.
---
Shift
My favorite song off 1 of 1. I know it's hard to pick a fave, but this really is my comfort song from this album. "Prism" being my second favorite song. I listen to both songs soooo much. My favorite part is the brief dance break that starts around 2:12.
It reminds me of that break in "Rude Love" that I love (that extended I'm wanting you baby with instrumentals). Which is likely because LDN Noise participated in creating both songs. Love to see it!!
Special place in heaven for their duties here, on earth, for sure. Speaking of instrumentals, the instrumentals on this song are out of this world. There's so much going on. SHINee at their best, really. If we're talking about non-ballad songs.
This is just another song that you really just have to listen to get the full experience. 1000/10 song.
---
U Need Me
I used to listen to this song a lot when this album first came out. This is the most like New Jack Swing/90s song on the album to me.
I really enjoy it. Minho again wrote the rap (he was all over this album, this era, and I didn't even realize it). This is another song I need to start listening to more.
---
So Amazing
This is such a stereotypical SHINee song in a good way. It's a fun song and a great way to end the album. Onew wrote the lyrics. And technically, it's a special track.
But I'm not sure if there's anywhere you can't listen to it at the same time as the rest of 1 of 1. It's a bit of a forgettable song for me, but I do enjoy it.
---
Okay, let's show some pics!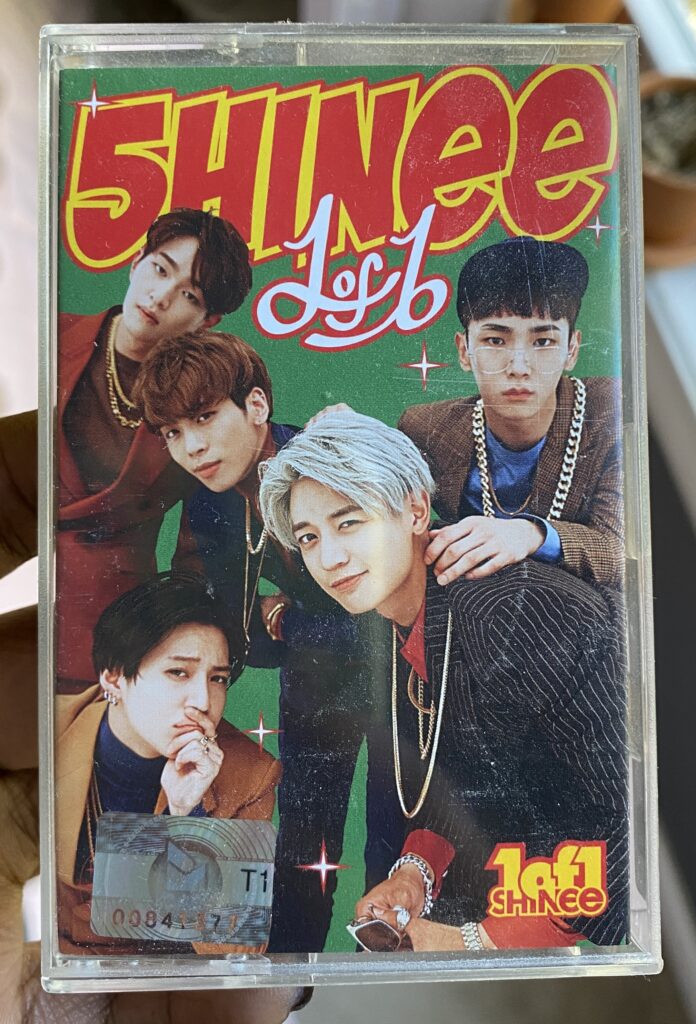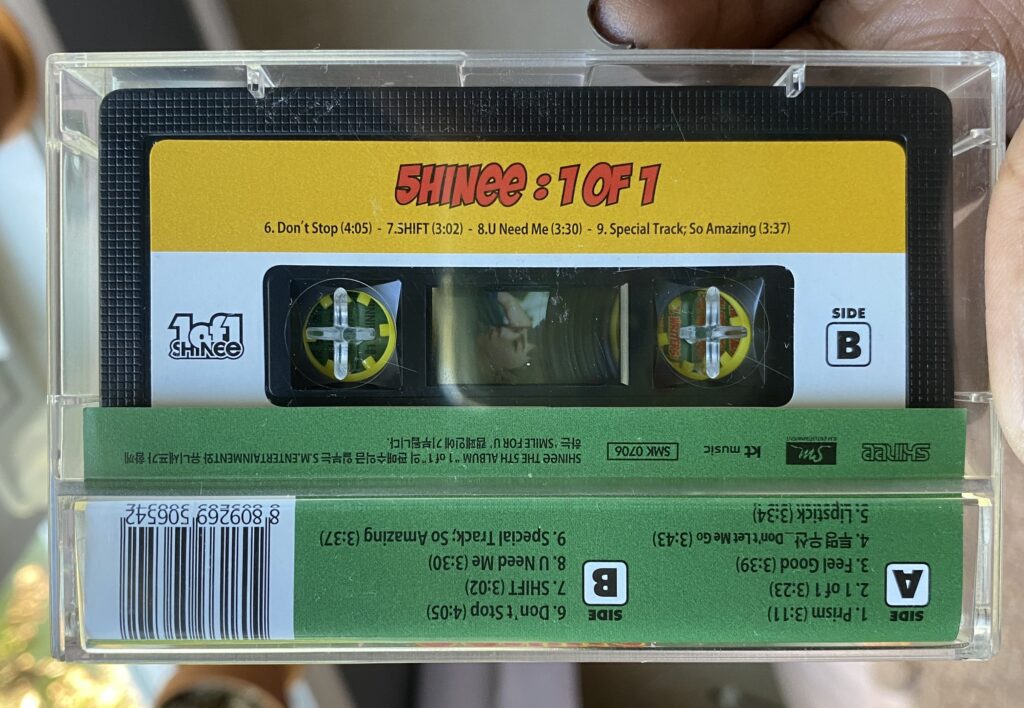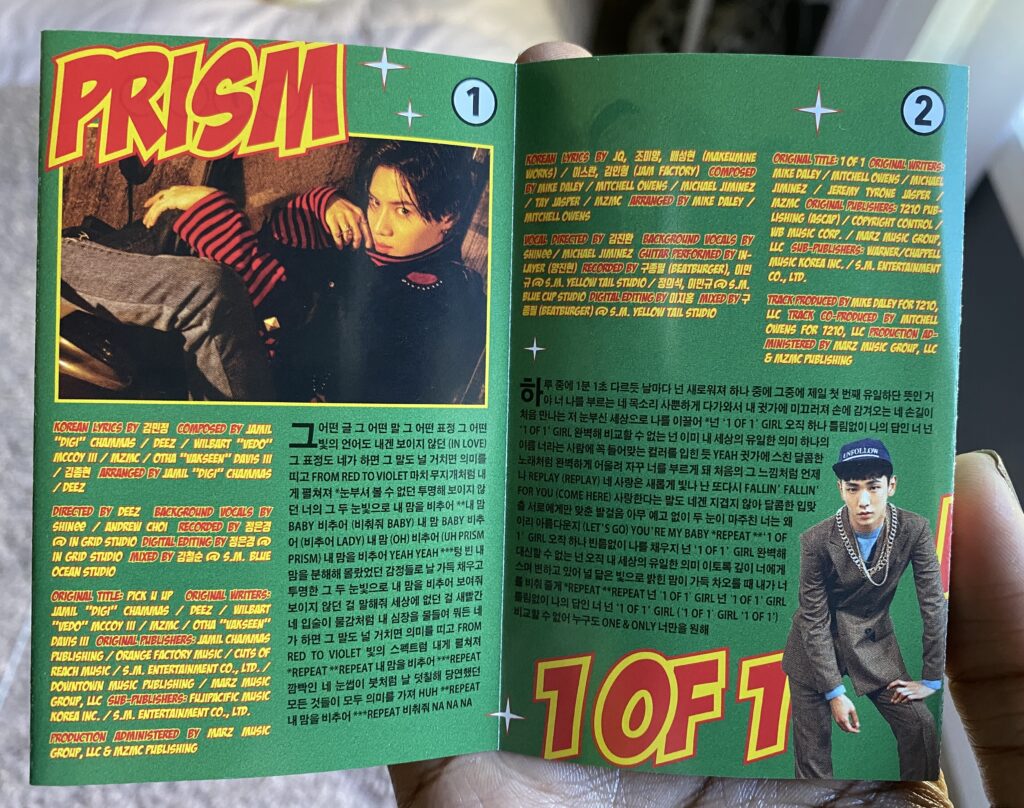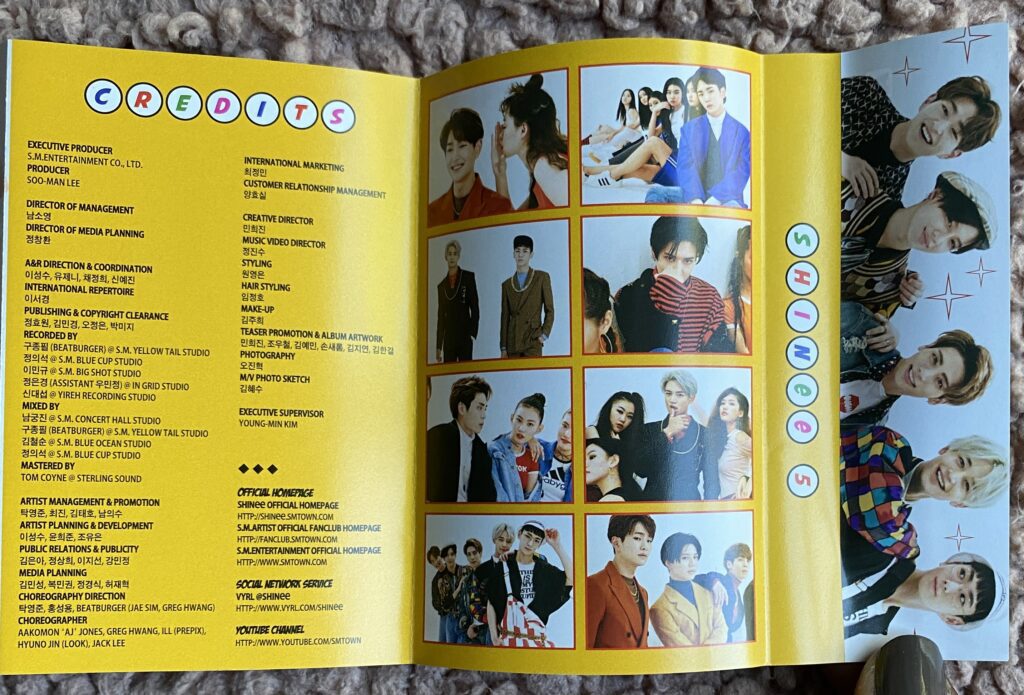 I wish they had an actual photobook for this album. I would have loved like 5 x 7 or larger images of these fits.
---
Alriiight, finally covered 1 of 1 on here! I've been dying to talk about this album on here. I'm determined to have more SHINee content on here. I'm kinda thinking about some Taemin solo stuff because one, he's my SHINee bias, and two he's coming back from enlistment next month. I've missed that man so much, you have no idea.
I think it'd be cute to kinda do a countdown or something. I also want to do a full review of Key's first album in its own post. I don't think I have an article on it, and I loveee that era. I probably should also so a full She is review too.
My current review is literally just on the title track, and I still have so much love for that album. I'm still hunting for a physical copy. Oh! And update on the "Your Number" poster, I haven't received it. I think it got lost in the mail. So I'll have to buy another one. Booo.
I don't really have much to fill a post on Onew's solo stuff (sorry) and I've already talked about my two fave Minho songs so far ("I'm Home" and the song of the year "Heartbreak"). So I'd probably just do more reviews on older SHINee stuff that would include them, of course.
And for any future solo stuff, Minho and Onew release that I like. Actually, we're kinda overdue on a Minho mini album. Maybe a 2023 thing?
Anyway, I hope y'all enjoyed this post! Tell me what your favorite song from 1 of 1 is in the comments. And if you have some song or albums (from SHINee members) you'd like to hear my thoughts on, let me know below!
Take care!
Ash🛼 (I was looking for a teal emoji lol)