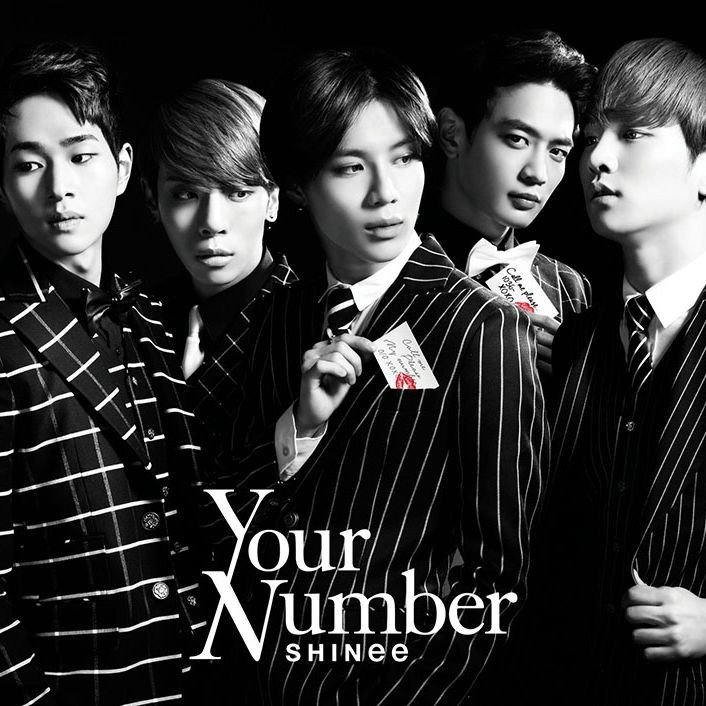 REVIEW: SHINee – Your Number
It's about time I make a proper blog post on SHINee on ATK.
Also, I'm playing around a bit with titles. What do ya think?
I've had this running list of songs and artists I've wanted to talk about since I first started ATK. But I never wrote it down anywhere. It was just floating around in the back of my head. But now I have a list on Notion where I constantly add to it. I have two of my favorite SHINee eras (Odd and 1 of 1) on this list. And I will have posts on them soon. But I figured I'd start with "Your Number" my third favorite SHINee era. Idk how long this post will be because I'm just going to talk about this song (single album version) and not the rest of DxDxD.
One, I haven't listened to much of the album (DxDxD the song is alright) and two, as I mentioned in the fave Loona songs post, I don't really check for Japanese songs released by Kpop acts, with a few exceptions. SHINee is one of those exceptions, but I'm just here to praise "Your Number". So let's get into it!
---
I forgot "Your Number" actually predates "View". I remember listening to both so much around the same time. So in my mind, "View" was first. "Your Number" is the 11th Japanese single of SHINee's. There's another song on this single album called "Love" that's also on DxDxD, but I don't really care for it. It's a ballad and not that exciting for me compared to like "Symptoms" or "Farewell My Love".
Wikipedia says "Love" was writing by Sakurai and Kenzie (an SM legend in composing, writing and producing), Chris Meyer and Kevin Charge. I think the Sakurai they're referencing here is Sara Sakurai, who's also worked on a ton of SM songs mostly for their Japanese versions like "Press Your Number" and "Sayonara Hitori" by Taemin, and "Love Me Right ~Romantic Universe~" by EXO.
Chris Meyer and Kevin Charge also frequently work with SM and on other Kpop songs. I really need to look into producers and writers more because I find music production incredibly interesting. The most notable song credit for me that Kevin Charge has worked on besides "Your Number" is "Alligator" by Monsta X.
Chris Meyer has worked on two SF9 albums, which I find very interesting. The most notable song for me is "Tear Drop" (well the production team not Chris Meyer directly). But his name is on "Off Mind" which is also on Turn Over. He also has composition credits on "OK Sign" from SF9's 9loryUS album. So some fun facts there.
Oh! I mentioned Sara Sakurai's Japanese lyric writing, but Junji Ishiwatari wrote the lyrics for "Your Number". After a quick Google search on him, he's go an extensive music career outside of working on a few Kpop acts songs. But for this post, I discovered he wrote the lyrics for NCT 127's "Blow My Mind" and "Paparazzi" by Girls' Generation. I also discovered that "Paparazzi" isn't available on Spotify for some reason. Well, I think I know the answer to that, it's just Japan being stingy with distribution of music outside of Japan.
Whenever I look at an overview of an album/era. I like to check out the chart numbers. The Oricon Chart is what's listed on Wikipedia as well. They're showing 134,144+ sales in total. For the Daily Singles Chart, they charted at both 1 and 2. I think the first number is the first day/debut. That's 49,817. The second day was 28,754. Then they charted number 2 on the Weekly Singles Chart with 131,409. Lastly, for the Monthly Aingles Chart, they peaked at number 8 with 134,144.
Okay, enough about song credits and charts. Let's talk more about "Your Number".
Your Number ( black )
This is the main version I think of music video wise. This is also the only one that appears on the official SHINee YouTube account. There is a white version. But we'll talk about that later. The black dance version is peak choreography video for me. Nothing else will top this video. The styling, the coordination, the emptiness of the set they're in, so you just focus on them. It's just so perfect.
The song itself is so so SO catchy. The "do do do dooo" part was immediately stuck in my head on my first listen. By the end of the song, I was singing along. It's a pretty basic song, I guess. Not too difficult to learn. I think that just aids in why it's so catchy. And why it ranks so high for me when it comes to SHINee songs.
Taemin always reminded me of Jack Skellington in his outfit. Jonghyun's hair is in my favorite look of his ever. I enjoyed the checkered pattern on his suit. I feel like we NEVER get Key is in a pushed back hair look like this. So that's just iconic for that reason alone. Onew I think wears this look a lot so similar to Taemin, this is just a signature look, and I'm always here for it.
I feel like Minho's hair here is a bit different for him here too. But it works. His suit is similar to Jonghyun's, but the lines are spaced out more. I like the traditional pin stripes on Key and Taemin's suits. Onew's suit also always stands out to me because his stripes are horizontal to try to break up the group look some. I joke about it a lot, but if I was a stylist, this would be my go-to fit for male idols. Suits, suits, and more suits.
---
Your Number ( white )
So there are two versions of this single album. You may have seen this alternative cover. I knew this, but I forgot this is like the full music video version. This has much more going on visually, with different sets, scenery and outfits. So really, this is kinda the version you want to watch first. Then the choreo version for the full story.
But idk. I don't think it ruins the story/experience. They do look amazing in this version as well. So I highly recommend watching this version as well. I think SM used to have the half music video up on YouTube. Or maybe I watched the whole version on Tumblr forever ago. But this was a nice suprise to reawaken in my memory. Shout out to Shawols keeping all this shit documented and organized. It's greatly appreciated.
While working on this blog post, I was looking at physical copies of Your Number. I'll buy one eventually. I've seen a few decent listings online. But I did order a poster. Surprisingly, I don't have a full group poster of SHINee, just solo posters. So once I get this group one, I'm hanging it immediately. I also want a 1of1 group poster. I'll have to hunt for one. Anyway, I guess I'll have to include that in an update once that arrives.
---
Soooo what's y'alls take on "Your Number"? Do you think it's iconic as I do? Is it your first time hearing about it? Or do you love another Japanese release of SHINee's more? Let me know in the comments!
See ya next post!
Ash💎