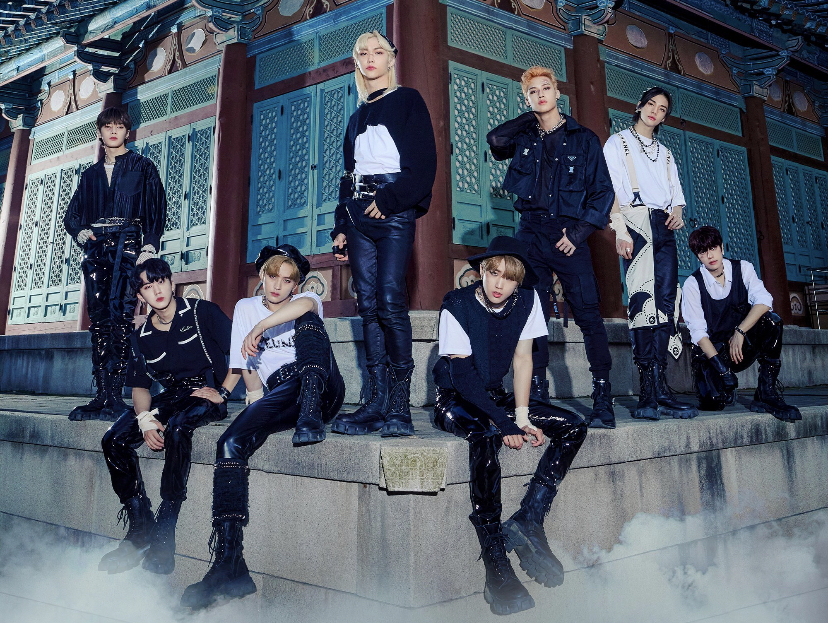 REVIEW: Stray Kids – NOEASY
I keep switching between adding the title track in the blog post title for these post, mostly because I forget and don't check, lol.
I can't believe this album was released back in August. That feels like forevvvvver ago now. But I still listen to this album a ton.
I'm still very much in my Stray Kids honeymoon period. I've just been watching their videos on YouTube, spending waaaay too much money on Hyunjin photocards, and reading their goofy messages on Bubble (well the translations on Twitter but don't tell JYPE).
I knew I was gonna do an album/era review on Stray Kids because the time was right.
I was thinking of doing one for Ateez and Fever part 3, but it's a mini album and I pretty much covered everything in my September faves post. So here we are. Let's get into it!
---
CHEESE
I said in previously I thought this was a good contender for title track. Well, that was before we got the music video for "Cheese" and I'm now satisfied.
I love the ridiculousness going on in the song and the video. I would have directed this music video the same exact way. I'd make zero changes.
Straight perfection from start to finish. Love the styling, bright colors, photos being incorporated. Just love allll of it. It looks like they had so much fun filming it, too.
---
Thunderous (소리꾼)
We love a historical concept. I was really excited about the outfits in the teaser photos. Again, I feel like the styling was very much on point.
As of now, I love love loveeeeee "Thunderous" as a song. I need no convincing. One of the songs of the year, for sure. There's so much going on in this music video.
I talked about how much I loved Felix's weave already. But I forgot to mention that I love when it was all one color. I didn't like the half blonde, half gray hair.
I needed more of that half blonde half black/dark look though omggg. I also don't remember if I mentioned Chaan's crop top, but shout out to him for that. He knows what the people want.
Uhhh… What else do I have to say about "Thunderous" that I haven't already mentioned? Oooo we can talk about the Studio Choom performance!
First things first, can we talk about this screenshot I took while working on this post?
Love this for Hyunjin. Secondly, center Lee Know!!! In that jumpsuit!!! God is real and listening!! I really love the choreography for "Thunderous".
I'm so happy SKZ did a Studio Choom for this song. It's something I can't help but rewatch multiple times. I really like Felix's outfit too.
It's difficult for me to pick a favorite look when it comes to the red outfits. Well, the black and white ones too.
But for the red ones it's a tie between Lee Know and Felix, and then I really love Seungmin's fit too. Then Han's to round out the top four for me.
---
DOMINO
Being a Hyunjin girlie (if you haven't noticed yet) I was shaking when I saw he cut his hair. But I still love it (and him). I've been dying to talk about their third outfits from the teaser images. So now is the perfect time.
I'm obsessed with Hyunjin's Louis Vuitton shirt here and the jewelry. I think a few of them are wearing this kidcore-esque jewelry. I noticed Han wore a choker. Speaking of Han, Han's outfit is my second favorite here. I love his hair pushed back here too.
Third, I really love Changbin's fit. The lil headband is cute. But I feel like I'd totally would wear this Vetements shirt with acid washed jeans. I've worn something similar in the past. So that's iconic of us lmao. I want to also shout out to I.N's pink pants. Love those.
I feel like when I'm not talking about Hyunjin, I jump to Felix. So, guess what time it is? I kinda wish Felix had this blue mullet the whole time? It's my absolute fave look. Even more than the black/blonde look in "Thunderous".
It just suits him so much. So does that blonde look with the pink highlights. Wait, I lied, that look is my favorite this era. We'll get to "The View" later.
Chan also dyed his hair back to a dark brown, and I like it. I love Seungmin's blue highlights in his hair. Oh, and I like Lee Know's fit here too. I like Felix's sweater. Idk about his or Chan's shorts. But they are there, lol.
---
SSICK
I like "SSICK" I don't typically listen to it unless I'm shuffling my liked Stray Kids songs on Spotify. I just doesn't pop up when I shuffle all my songs.
Maybe I just don't listen to it enough. It's an easy song to get lost in the shuffle. But if I'm feeling Hip Hop, this is a good song to vibe to.
---
The View
"The View" is such a good roadtrip song. This has to be on the playlist, but towards the beginning of the trip.
The styling in the music video is much brighter than the previous outfits (except for "DOMINO" live stage).
I love the blue and white outfits towards the end of the music video more than the yellow ones. I listen to this song a lot still.
We know I love a good pink theme!!! These are my favorite of the group outfits for "The View". It's so pretty. I love the chunky white boots. S tier styling with this one.
---
Sorry, I love You
More S tier styling with "Sorry, I Love You" or "좋아해서 미안". I love this simplicity in this video. I don't listen to this song as much as the others, but I do like it. It's boring ballad lite.
---
Slient Cry
We're starting to get innto the slower half of NOEASY. I like "Slient Cry". It's a tune.
---
Secret Secret (말할 수 없는 비밀)
"Secret Secret" is one of those midtempo songs that if you haven't heard in a while, once it pops up you remember how much you enjoy it.
And then you think to yourself, "hey, why don't I listen to this song more?" Yeah, that's "Secret Secret" to me. I love this song, and I hadn't listened to it in weeks. Time to change my ways.
---
Star Lost
"Star Lost" is another song that doesn't pop up on shuffle much. I like it. But it also gets lost in the shuffle on NOEASY. It's superb. But it's not gonna be the first couple of songs brought up.
---
Red Lights
Not to be dramatic, but this music video changed my fooking LIFE. The styling. The color palette. The thriller and dread mixed with lust and luxury.
I liveeeeee. I knew when I heard this song, it was gonna be one of my faves off NOEASY. Once they finally dropped the music video, it was game over.
You just have to see it to get it. I have no words in the best way.
Naturally, I have to talk about the Howling in Harmony Song Camp thingy Stray Kids did for the unit songs.
I'm OBSESSED with Chan and Hyunjin's video. I've watched the whole thing at least four times. Hyunjin's look in the garden? Chefs kiss. That's all I can say.
I don't think I've mentioned it yet, but I do love orange!Chan. I like the more faded version of it. The whole point of this series is them working on unit songs and concepts for the videos.
The Chanhyun… I just realized idk the ship name. Chanjin? We're going with Chanhyun. I like theirs the most. It was cute and cozy. I'm not giving any spoilers, just watch it, okay.
---
Surfin'
Oh hey, it's my second fave. *Wendy Williams voice* How you doin? This music video is so fooking cute and fun and screams summer off the top of its lungs off a mountain top.
I love Changbin, Lee Know, and Felix paired together the most out of the pairing. This just feels so natural. Like you know, they had a blast the whole time.
The energy is just different. I love a good sexy concept like "Red Lights" but at the end of the day you can't go wrong with a bright fun concept.
Idk maybe it's just me. I've had this song on repeat as well.
Them hanging out in the pool with floaties, vibing and having fun. I would have wanted to be in this unit so badly, lol. Also Changbin's arms…that is all.
---
Gone Away
And now it's sad lad hours. Han, Seungmin, and I.N did such a phenomenal job with "Gone Away" as a song and music video. Love the story.
You knew someone was gonna do a boring ballad. But the school concept was a surprise. I think their music video was released first, but I didn't watch it when it first released. I was missing out.
---
WOLFGANG
Everybody rise for the nation anthem.
OT8 WOLFGANG LETS GOOOOOOOOOOOOOOOOOOOOOOOOO. "WOLFGANG" has been on repeat for me since Kingdom. I loved it from the start. I think this is my favorite Changbin rap/performance.
His rap flows like a rush of heroin through the veins. He also just looks absolutely amazing here for no reason.
I unironically love these growling dog like songs, lmao. I will never be ashamed of loving TXT's "Cat & Dog" or Stray Kids "WOLFGANG".
Anyway, "WOLFGANG" is in my top 5 fave songs off this album. I'm so so so happy they included it. I'm also crying tears of joy, Hyunjin got lines and a lil solo in the performance above.
I say this a lot, but there's just so much going on in this performance. I love watching "WOLFGANG" choreography. It's just soooo good.
All the flips and props and backup dancers. This exhaust me just to think about it but Stray Kids out here performing it like it's second nature. Love and respect that. Also, once again, the styling is on point.
---
Mixtape : OH
Alright, we've finally reached the last song on NOEASY. I was shook when this song and music video dropped. I love the video.
And the song is just so catchy. I can't help but sway back and forth and sing along. Another fave song I listen to frequently.
---
Merch I've Collected This Era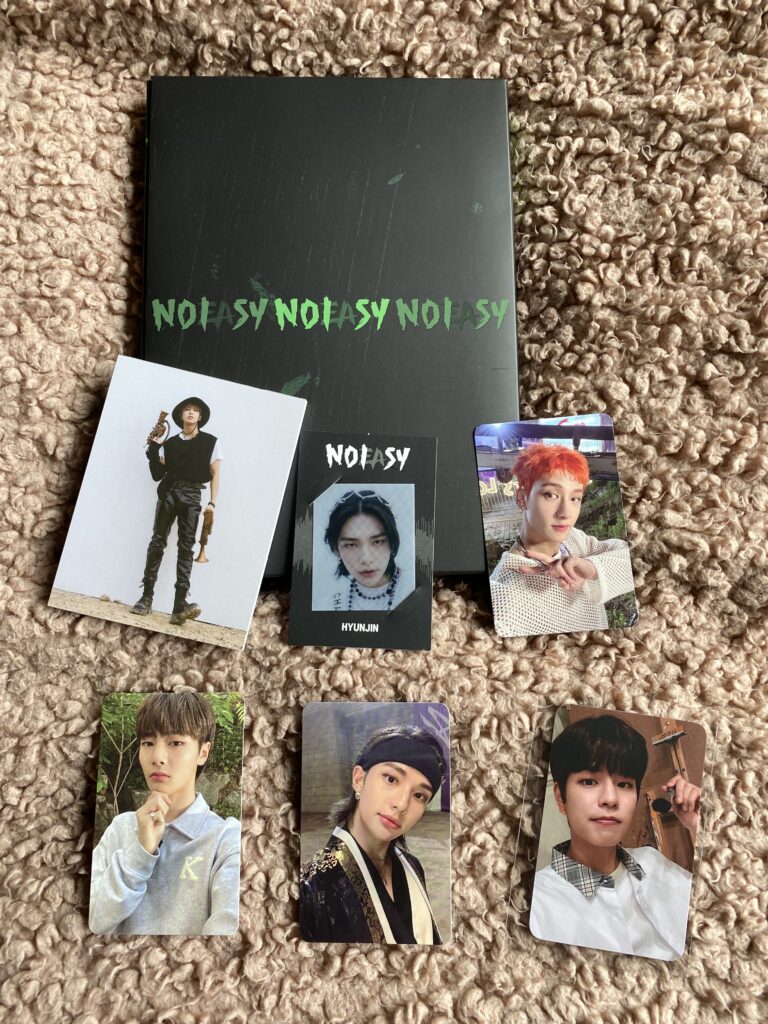 So these are the album inclusions I got when I preorded through SubK.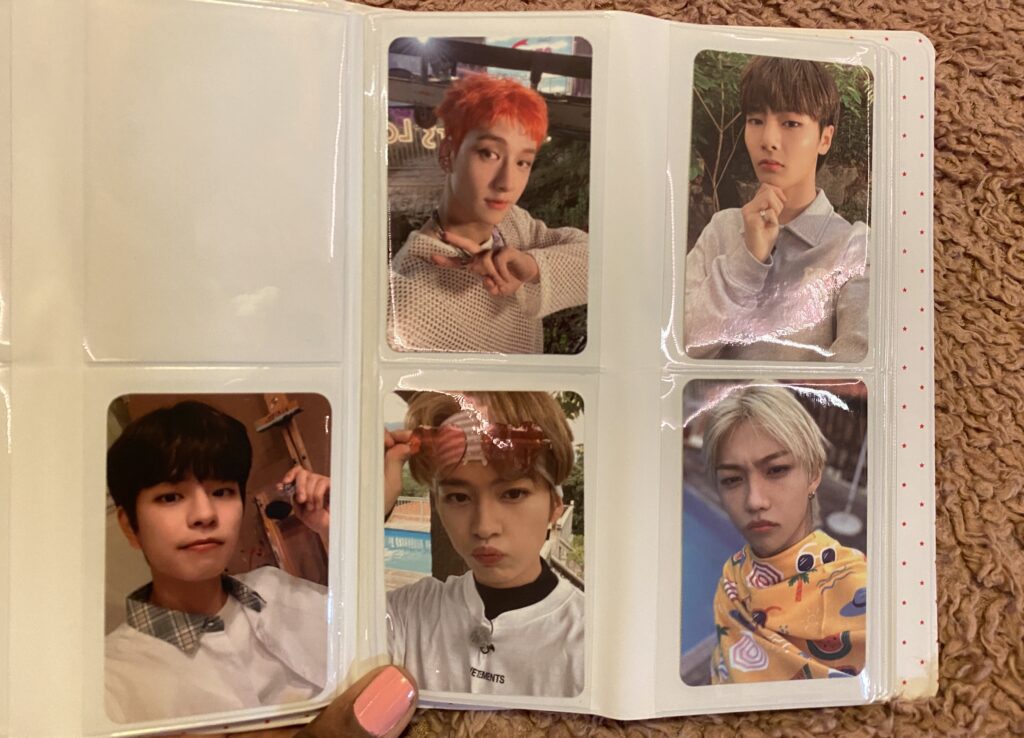 Then I bought Lee Know and Felix's photocards.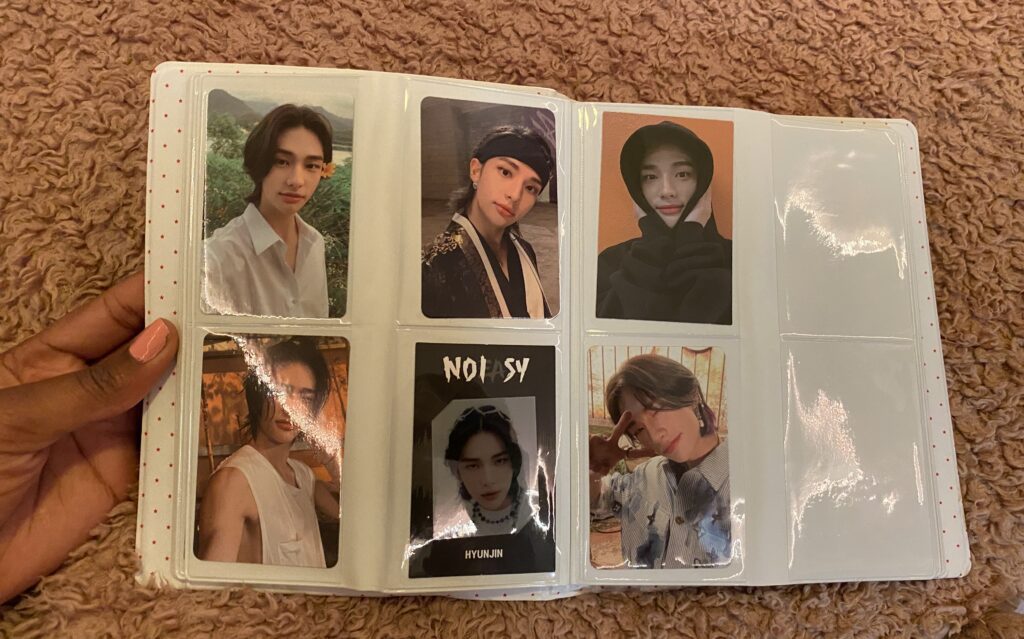 I have two more NOEASY era Hyunjin photocards on the way. I have three left I'm trying to collect, including the famous "Red Lights" selfie. The hoodie one is here because this is just my Hyunjin section of my photobook lol.
---
Uhhh this was a ton of fun to write. I know I said that about the TXT and EXO posts. But I've been having a blast with these talk about your fave albums posts.
So I hope y'all have been enjoying them as well. What was your favorite song from NOEASY? Let me know in the comments.
I will be back soon with a BTS post. It's about time I talk about them on here. Longggg overdue. Until then…
Take care!
Ash🐺