Daniel is waaay overdue for a solo post on this blog.
I talked a little about my love for Mr. Kang Daniel in my Summer 2020 comebacks post. I've been a fan since I saw his Produce 101 Season 2 Introduction video. I knew then he was the one then. I'm not sure if I'll go back and do full fashion/music reviews of Daniel's previous singles, like "Touchin". If you would like me to do that, let me know in the comments below.
But in the meantime, let's talk about "Paranoia". I love this song. I've slowly become more of a fan of Daniel's music with every new release of his. I'm not a horror fan per se. I do enjoy some thrillers, though. I'm a big fan of American Horror Story.
But I like more of the psychological horror side of movies or shows. Yeah, Jason and Freddy Krueger are scary. But dealing with your own mental state and psychological issues? Too realistic and absolutely horrifying.
Daniel went on a hiatus last year to deal with his own health. In this Soompi article, he says "I had depression and panic disorder the year before last, I lost my drive for life. I lost my appetite and couldn't sleep well, and it felt like I was living just not to die. I had no sense of purpose. It felt like I had become an animal rather than a human."
He continued, "I even thought that the work I was doing wasn't right for me and that I should quit. I listened to a lot of music during that time, and when I saw other singers performing, I thought, 'I want to stand on stage' and felt a renewed passion. My new song 'PARANOIA' is very dark. I just wrote about the feelings that I had experienced during that time."
In another Soompi article where Daniel talks about "Paranoia, "To expand on the meaning of "PARANOIA," Kang Daniel shared, "The theme in itself is heavy and distant, but since I'm resolving feelings I've personally felt, I wanted to express them honestly. I believe this is a feeling everyone can relate to, there's only a difference in the extent and the depth."
He explained, "I'm thankful that I can display the feelings I've felt through music. The reason I put focus on such a dark aspect is because the majority of people are reluctant to bring this up. I wanted to confess my inner concerns and communicate them."
So with all that considered, I think he did an excellent job conveying these emotions and also making a bop. The instrumental is unsettling but still makes me want to dance. "Paranoia" also gives me Rihanna "Disturbia" vibes. Man, what a classic.
Alright, let's get into the looks! I greatly underestimated how difficult it would be to get screenshots of Daniel's looks throughout the video. He's dancing or moving around so much. So I apologize in advance. I hope it just encourages you to watch the music video if you haven't already.
Let's begin!
Look 1
Oh, man, I love the colors in this scene. I love this deep red pajama suit thing Daniel is wearing. It looks comfortable. I don't regularly talk about hair and makeup in my reviews. I either forget, or it's nice enough where I don't have anything really to say about it.
In the first screenshot, my favorite of the bunch here, you get a good look at his face. This is such a good shot. I can't get enough of how good his hair and makeup look in the scene. *chef kiss*
This scene caught my eye on my first watch, so I wanted to talk about it. I like the creepiness of the screens and then them turning into surveillance cameras. Like, we're setting the eery/creepy vibes as early as possible. Love it.
One last thing about this scene, this bedroom is huge! I love the modern design of it. It has a masculine but warm feel to it.
Look 2
Alright, so this is one of the scene that was difficult to screenshot, lol. Daniel's wearing one of those Marine Serre items that's so popular atm in Kpop. I don't think I've seen a turtleneck version of this pattern before.
I like it. The sleeves are interesting. I can't decide if I like them or not. Obviously, I wouldn't mind seeing Daniel's super toned arms. But yeah, I'm undecided on the addition of sleeves.
I do like these black leather pants he's wearing, though. A+. The backup dancer's outfits are odd. I think they're supposed to be scary, but it comes off more as the stylist dabbling in BDSM wear.
Look 3
You definitely get better shots of this look in "Paranoia". It was difficult getting full body shots of this look. But we love an all black moment. Daniel's wearing a black suit, but the jacket also doubles as a corset. That's so sexy of the stylist to put him in that.
We got partially slicked back hair and black eye makeup going on here. Love that. I also noticed the text over him throughout the music video. It reminded me of Wonho's teaser image for "Lose". I wonder if this is another trend we'll see this year.
Look 4
Man, the eye makeup in this shot!!! I love this leather harness thing Daniel's wearing here. I'm undecided (again) on this shirt, though. It looks like my Brown Sugar Milk Tea order from Gongcha before I shake it up. It's not ugly, but I don't know if I would have picked it out if I was his stylist.
I get why they chose another tan/flesh color shirt. White would have stood out too much. Black would have blended in too well. Gray also wouldn't have worked. Too bright.
We could have gone with a tight-fitting shirt to match the background. Yeah. I probably would have gone that route. He still looks good, though. Like that's the thing with the styling in "Paranoia". Everything he wears suits him really well. Almost too well.
Look 5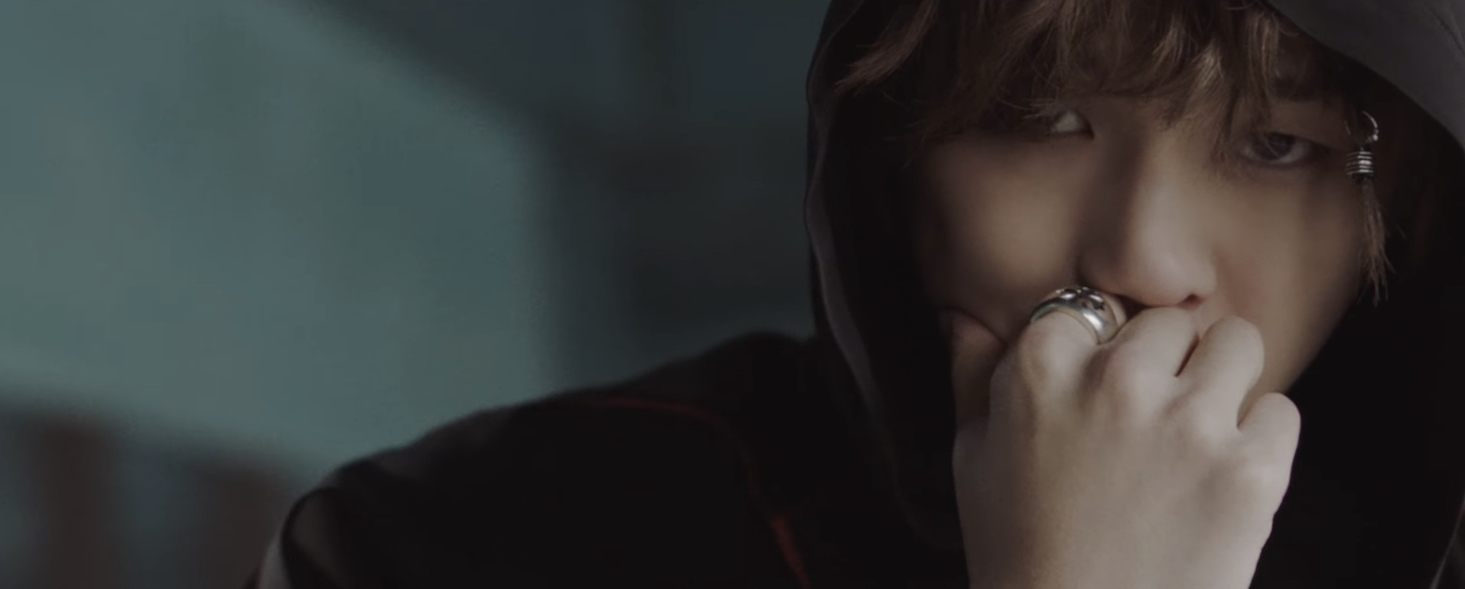 I haven't talked about Daniel's jewelry throughout "Paranoia" yet. So I'm going to do it now. I like the dainty, minimalistic sliver jewelry worn throughout. My favorite piece is the circle necklace he wears with the black suit. Probably should have mentioned it when we talked about that look, huh?
I purposely didn't because I didn't get a screenshot of it. Lmao. You'll have to check the video out for a reference if you don't know what I'm talking about. But I did get this amazing shot of Daniel's ring and hair accessory.
I can't figure out this mans hair color. In some scenes it looks lilac/gray. In others, it looks dirty blonde/brown. Some, I'm assuming it was just shot at different times. Which do I prefer? Uh, I like both. Which do y'all like more?
On to the actual clothing item we see here. I love this hoodie and bomber jacket combo. It follows the color scheme we've already seen in Daniel's previous looks. It also just looks warm. Like if you went to hug him with this on, it would probably make that raincoat noise, but he'd be warm.
Also, I think this scene is supposed to show him fearful out in public, but my gut reaction was, "Wow, look at Daniel giving us paranoid boyfriend vibes." LMAO GIRL WHAT?! I don't know why I thought that. But uh, yeah I wanted, no, needed to share that with someone. Cute outfit.
Look 6
I love this cape jacket thing here!! We got another turtleneck shirt and black leather pants. The stylist just gets it. Why is Daniel dancing and signing in a junkyard? Don't care. Mans look good. That's all that matters. But really…what does this have to do with the plot? Asking for a friend.
Looks 7 & 8
Alright, so the second pic is definitely Daniel and one of the looks in the video. It's hard to get a good look. It looks like some black and white acid wash pants and a green long sleeve shirt.
I like it. It's the first pic that's throwing me off. I'm 90% sure that's him. But that might be the person that's trying to kill him. I like this fit, so regardless of who it is, they're killin it. No pun intended.
Look 9
And on to the final outfit of "Paranoia". I was so excited to talk about this look. I screamed when I saw the cut-out shoulders. We also get another great shot of his rings here. So correct me if I'm picking up the wrong vibes, but the all white symbolizes like mental institution patient uniforms, right?
Because his belt also looks like the jackets they would restrain people in as well. So that's kind of a dark and subtle detail to add. The mask the backup dancers are wearing also looks like patients who've come out of some type of surgery or had a head injury that would be covered in gaze.
That's gotta be the context to this scene. Anyway, back to the clothes. I do really love these white skinny jeans he's rockin. His hair is looking more purple here, and I like that too. His makeup is also a bit lighter here. I like that too.
---
Omgggg I've finally got a new blog post up! I've been so busy trying to get through TTMIK level 1, I'm on chapter 16 out of 25. I'll have that done in by next week, for sure. I ordered level 2 and that should be here tomorrow. I've also just needed a bit of a break. The whole bullying scandal and Kakao and Spotify's beef bummed me out.
So now I'm back. I'm trying to get caught up on everything. I'm still trying to find a balance of writing these blog posts and getting the podcast episodes done. So you'll just have to keep up with my Twitter and Instagram. Those are the best places to get Ash updates.
But anyways, what did y'all think of "Paranoia"? Do you even like Kang Daniel or his music? Sound off in the comments below! I'll see ya next post!
Take care,
Ash💫
I think that star emoji is going to replace the heart signature. That fits my sailor scout aesthetic more, lol